Life Insurance for Widows: How to Protect Your Loved Ones [2020 Quotes]
Widows are at a high risk of falling into poverty after the death of a spouse. For as little as $12.70/month, a life insurance can ensure their financial security of your widow long after you're gone.
Ready to compare quick life insurance quotes?
Your life insurance quotes are always free.
Secured with SHA-256 Encryption
UPDATED: Jul 19, 2021
It's all about you. We want to help you make the right life insurance coverage choices.
Advertiser Disclosure: We strive to help you make confident life insurance decisions. Comparison shopping should be easy. We are not affiliated with any one life insurance company and cannot guarantee quotes from any single company.
Our life insurance industry partnerships don't influence our content. Our opinions are our own. To compare quotes from many different life insurance companies please enter your ZIP code above to use the free quote tool. The more quotes you compare, the more chances to save.
Editorial Guidelines: We are a free online resource for anyone interested in learning more about life insurance. Our goal is to be an objective, third-party resource for everything life insurance-related. We update our site regularly, and all content is reviewed by life insurance experts.
In the United States, there are an estimated 13.6 million widows, with 70,000 new widows added to that number every year. The number of widows is five times greater than the number of widowers. If you are looking for life insurance for widows, you're in the right place.
The average age of a widow in the U.S. is 59 years old, meaning that many are just preparing for retirement when they're faced with a drastic decrease in household income.
The payout from a life insurance policy is the best way to supplement your widow's income so they can maintain their quality of life after you're gone. For as little as $12.70/month, a life insurance can ensure their financial security of your widow long after you're gone.
This guide will give you a complete overview of how life insurance can protect widows from financial hardship. Read on to learn how. After, you can check out our Life Insurance Learning Center for even more info.
If you're ready to secure your widow's financial security now, you can get started right away by clicking on our FREE quote tool above to instantly compare rates from multiple insurers for life insurance for widows.
Top Life Insurance Companies for Widows
There are nearly 1,000 life insurance companies in the United States. With that many options, it can be hard to figure out which is the best for you and your spouse.
To help, we've put together the following table that shows the current top 20 overall providers of life insurance by policies written and market share.
Top 10 Life Insurance Companies by Market Share & Protective Life Market Share
| Rank | Companies | Direct Premiums Written | Market Share |
| --- | --- | --- | --- |
| 1 | MetLife | $10,877,337,000 | 6.7% |
| 2 | Northwestern Mutual | $10,550,806,000 | 6.5% |
| 3 | New York Life | $9,385,843,000 | 5.8% |
| 4 | Prudential | $9,170,883,000 | 5.6% |
| 5 | Lincoln National | $8,825,314,000 | 5.4% |
| 6 | MassMutual | $6,874,972,000 | 4.2% |
| 7 | Transamerica | $4,867,311,000 | 3.0% |
| 8 | John Hancock | $4,657,312,000 | 2.9% |
| 9 | State Farm | $4,636,147,000 | 2.9% |
| 10 | Securian | $4,426,864,000 | 2.7% |
| 20 | DAI-ICHI Life Holdings Inc Grp (Protective Life) | $2,450,639,110 | 1.41% |
| | #blank# | #blank# | #blank# |
Together, these companies are responsible for nearly 65 percent of the 290 million policies in force today. There are plenty of great companies not on this list, but any of these would make a good starting point during your search for the best policy.
Sample Life Insurance Rates
To give you an idea of how much life insurance coverage might cost you, here is a look at average sample premiums for a non-smoker from some of those top companies.
20-Year Term:
Average Monthly 20-Year Term Life Insurance Rates by Age and Gender
| Term Life Insurance Policyholder Age | $100,000: Male Average Term Life Monthly Rates | $100,000: Female Average Term Life Monthly Rates | $250,000: Male Average Term Life Monthly Rates | $250,000: Female Average Term Life Monthly Rates | $500,000: Male Average Term Life Monthly Rates | $500,000: Female Average Term Life Monthly Rates |
| --- | --- | --- | --- | --- | --- | --- |
| 25 | $14.53 | $12.70 | $23.27 | $18.72 | $34.79 | $27.39 |
| 30 | $14.96 | $13.22 | $24.59 | $20.44 | $37.39 | $29.59 |
| 35 | $17.57 | $15.40 | $26.09 | $22.19 | $40.04 | $32.19 |
| 40 | $21.40 | $18.62 | $33.72 | $28.49 | $54.79 | $45.69 |
| 45 | $26.54 | $22.97 | $45.47 | $37.42 | $79.19 | $66.14 |
| 50 | $36.02 | $29.32 | $69.59 | $54.59 | $126.14 | $96.99 |
| 55 | $50.98 | $38.11 | $105.72 | $78.97 | $203.14 | $143.99 |
| 60 | $84.91 | $60.20 | $183.79 | $131.17 | $355.39 | $248.84 |
| 65 | $144.51 | $97.44 | $323.42 | $220.99 | $625.09 | $432.84 |
| | #blank# | #blank# | #blank# | #blank# | #blank# | #blank# |
Whole Life:
Average Monthly Whole Life Insurance Rates by Age & Gender
| Policyholder Age | $100,000: Male Average Monthly Rates | $100,000: Female Average Monthly Rates | $250,000: Male Average Monthly Rates | $250,000: Female Average Monthly Rates | $500,000: Male Average Monthly Rates | $500,000: Female Average Monthly Rates |
| --- | --- | --- | --- | --- | --- | --- |
| 25 | $93.70 | $84.91 | $225.12 | $203.14 | $444.14 | $400.19 |
| 30 | $107.71 | $97.35 | $260.14 | $234.24 | $514.19 | $462.39 |
| 35 | $128.24 | $112.93 | $311.47 | $273.19 | $616.84 | $540.29 |
| 40 | $153.90 | $132.15 | $375.62 | $321.24 | $745.14 | $636.39 |
| 45 | $190.79 | $156.17 | $467.84 | $381.29 | $929.59 | $756.49 |
| 50 | $234.90 | $191.66 | $578.12 | $470.02 | $1,150.14 | $933.94 |
| 55 | $294.84 | $243.17 | $727.97 | $598.79 | $1,449.84 | $1,191.49 |
| 60 | $399.24 | $311.63 | $988.97 | $769.94 | $1,971.84 | $1,533.79 |
| 65 | $528.00 | $421.69 | $1,310.87 | $1,045.09 | $2,615.64 | $2,084.09 |
| | #blank# | #blank# | #blank# | #blank# | #blank# | #blank# |
Rates will vary from company to company based on your age, health, and other risk factors, but these rates can give you a general idea of the cost of coverage.
Your life insurance quotes are always free.
Secured with SHA-256 Encryption
How does life insurance protect widows?
As previously mentioned, the U.S. Census Bureau estimates that there are 13.6 million widows in the United States today. World Health Organization statistics show that women are around four times more likely to outlive men, by six to eight years on average.
The U.S. Government Accountability Office also found that widows see their income fall by an average of 36 percent after their husband's death.
As a result, an estimated 15 percent of widows live in poverty. The following table shows the current poverty guidelines in the United States.
United States Poverty Guidelines
| Number of People in Household | Poverty Guideline |
| --- | --- |
| 1 | $12,490 |
| 2 | $16,910 |
| 3 | $21,330 |
| 4 | $25,750 |
| 5 | $30,170 |
| 6 | $34,590 |
| 7 | $39,010 |
| 8 | $43,430 |
| >8 | Add $4,420 for each additional person |
| | #blank# |
There are a number of widow resources intended to combat that poverty, such as charities that help widows, financial workshops for widows, widow discounts, widow funds, loans for widows, etc.
Unfortunately, few of those resources actually provide enough financial support for widows to them out of poverty and restore them to where they were before their spouse died.
Of course, there are government benefits for widows. Social Security provides some protection, but it is likely to be insufficient for most.
When can a widow draw a husband's Social Security?
As long as you are fully vested, Social Security provides survivor benefits to your spouse and children if they meet the following qualifications.
A widow (or widower) age 60 or older (age 50 or older if he or she is disabled), who has not remarried
A widow (or widower) at any age who is caring for the deceased's child (or children) who is under age 16 or disabled
An unmarried child of the deceased who is younger than age 18
Currently, the Social Security Administration pays an average monthly survivor benefit of $1,470, which translates to $17,640 per year. At the same time, the average household income in the United States is around $63,000.
If your wife depends even partially on your salary, there could be a very significant shortfall between the income she's used to and the Social Security benefits she'd receive.
The death benefit from a life insurance policy can close that gap and replace enough of your income to pay off outstanding debts, cover everyday expenses, and carry your widow into her retirement years.
Life insurance is the simplest solution to all of the problems highlighted here.
Life Insurance for Widows: Payouts
The death benefit is the money paid to the beneficiary when the insured dies. Death benefit claims are typically processed within 30 days of filing and the money is paid in a single lump sum.
How the Life Insurance Payout Works
Every life insurance policy has a face value, which is the total amount of coverage that you're purchasing. When you die, the life insurer pays that total face value amount as a death benefit.
For a term life insurance policy, it's that simple. You die and your beneficiary gets paid that agreed-upon amount. The death benefit for a whole life insurance policy is slightly more involved. It has two separate components.
The first is the face value. The second component is the cash value.
The cash value is the interest your premiums have earned through the policy's built-in savings component.
Your face value is guaranteed, but the amount of the cash value depends on both how well your investments have performed. When you die, the excess cash value could be paid to your beneficiaries along with the face value.
Many policies also allow you to take out personal loans using your cash value as collateral. These loans operate similarly to home equity lines of credit. You must repay them with interest.
Any outstanding balance at the time of your death will be deducted from your cash account. If your cash account isn't large enough to cover the balance, the rest will be deducted from your face value before it's paid.
Types of Life Insurance
All life insurance policies fall into one of two general categories, term or whole. Here's a quick comparison of the two types.

What is term life insurance? Term policies temporary coverage for a specified period, usually between 10 and 30 years. Once that term expires, the insurer cancels the coverage unless you renew for a new term.
Watch the below video for a brief overview of term life insurance.
Whole life insurance (or permanent life insurance) provides permanent coverage for as long as you live.
For example, if a 30-year-old man buys a $250,000, 30-year term policy, that coverage ends at age 60. If he dies any time before 60, the insurer pays his beneficiary $250,000. If he dies any time after, the insurer doesn't pay anything.
If the same man purchased a $250,000 whole life insurance policy, the coverage would never end. As long as he had made all of his payments at the time of his death, the insurer would pay his beneficiary $250,000, regardless of his age.
Watch the below video for a brief overview of whole life insurance.
Whole insurance is the more expensive form of coverage. With a term policy, there's always a chance the insurer won't have to pay a benefit. With a whole policy, they're guaranteed to pay.
To increase their profits on that guaranteed payout, they charge you higher premiums. Therefore, they charge higher rates to minimize their losses when that time comes.
As mentioned, whole policies also come with a built-in savings component.
A portion of your regular premiums is placed in an interest-bearing account that either grows according to a fixed rate set by the insurer or according to market factors similar to an IRA or 401(k).
The money earned from the savings account is either added to the death benefit or used to pay future premiums.
It's important to weigh the benefits and costs when choosing between term or whole life insurance. As you saw in the earlier table of sample rates, whole policies cost anywhere from 200 to 600 percent more than 20-year term policies at the same age and face value.
Your life insurance quotes are always free.
Secured with SHA-256 Encryption
How much life insurance should I get for my spouse?
A life insurance policy needs to cover two types of obligations: immediate and future. The most common among those are income replacement for a spouse, tuition savings for a child, mortgage balances, and other outstanding debts.
A life insurance agent or financial planner can help you determine exactly how much coverage you'll need, but there are simple formulas you can use to give yourself a good estimate.
One popular method used by many online insurance calculators is the DIME method. DIME is an acronym which stands for the following:
D – Debt
I – Income
M – Mortgage
E – Education
Adding up your total obligations in those four categories will give you the approximate face value you need.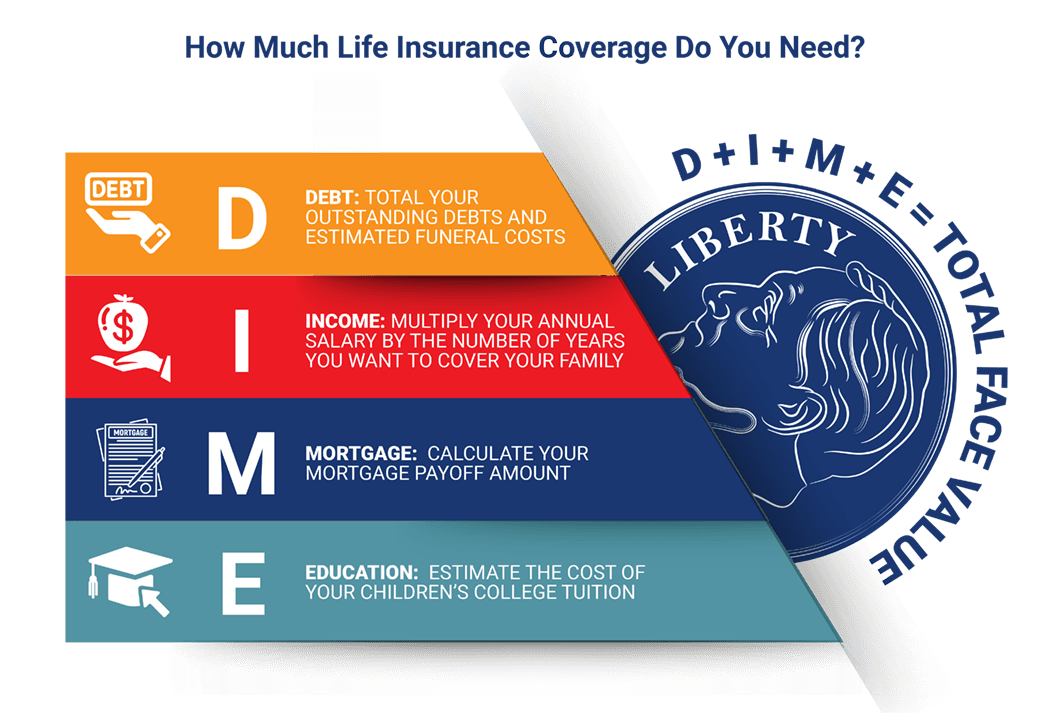 Here's a quick example.
A husband and father of one is shopping for life insurance. His annual salary is $75,000.
The family has a remaining mortgage balance of $100,000, $9,000 left on a car loan, and $6,000 in credit card debt. They also plan to save $30,000 in a college savings fund for their child to cover the average cost of tuition for a four-year degree.
The mortgage is the largest annual expense. With it gone, his wife will be less dependent on his income, but will still need it for everyday living expenses until she can financially adjust to the new status quo.
For that reason, he plans to leave her five years' worth of his full salary.
After factoring in an average funeral cost of around $7,500, the man's insurance needs are as follows:
Debt – $9,000 car loan + $6,000 credit card + $7,500 funeral costs = $22,500
Income – $375,000
Mortgage – $100,000
Education – $30,000
Total need – $527,000
To meet all of those obligations, he would need a life insurance policy with a face value of around $530,000.
Does a widow need life insurance?
Even if you're a widow who has already been the recipient of a life insurance payout, policy of your own could help in the following situations.
Dependent Children
Studies show that widowhood increases mortality risk by 10 to 40 percent. If you're a widow with dependent children, you should consider owning a life insurance policy should something happen to you before they move out on their own.
Estate Planning
If your children are independent, a life insurance policy can still be helpful if you plan on leaving them significant assets such as cash, a business, or real estate.
Because the proceeds from a life insurance policy are generally tax-free, they can be very beneficial in several aspects of creating an estate plan.
Estate Taxes
If you're leaving behind a large estate, your heirs could be hit with a large tax bill. The current maximum estate tax rates are nearly 40 percent. That amount is due in cash within nine months of your passing.
Because the death benefit from a life insurance policy is tax-free, your heirs could use that money to pay the estate taxes.
Wealth Transfer
If you are passing on a significant amount of cash, you can use a life insurance policy to protect your heirs from the tax burden.
Instead of simply leaving the death benefit to pay the tax bill on your cash assets, you could also place all of those cash assets into the cash account of a whole life insurance policy.
You can then establish an irrevocable life insurance trust that owns the policy for you, which removes it from your estate.
That trust then ensures that the proceeds from the life insurance policy (including both the guaranteed benefit and the cash value funded by your assets) pass tax-free to your beneficiaries.
Asset Protection
If you need to protect your assets against liens and creditors, life insurance can help.
Laws vary from state to state, but most consider the proceeds from a life insurance policy to be uncollectible assets. In some states, creditors can collect on the cash value of a life insurance policy, but not the death benefit.
Charitable Giving
Charities are sometimes used to get around estate taxes, and the benefits from a life insurance policy can be an effective part of that strategy.
Charitable donations are estate tax-deductible. If you name a charity as one of your beneficiaries, that money won't be subject to estate taxes when you die.
You can also set up a charitable remainder trust to hold your life insurance policy. When you die, your heirs receive the death benefit from the policy and a charity receives the remaining cash value.
A Widow's Personal Account
For information and advice on some of the financial and emotional aspects of being a widow, read the following personal story from someone in the insurance industry.
Mary Dean, J.D., is vice president of marketing with Prudential Insurance Co. This account was edited from her presentation at the 1997 annual meeting of the MDRT in Atlanta. (Copyright MDRT 1997.)
The Technical Aspects of Being a Widow
After a funeral, friends, and family get to go home and resume their lives. But for the widow or widower, it gets very quiet and lonely and frightening. When I lost my husband a few years ago, all the nitty-gritty details hit me at once. Here are some of the fundamental issues I had to face at a time I was least capable of making sound decisions.
Get Your Financial Affairs in Order
First and foremost, do you have a will? Is it up to date? For many families, the will is something they think about before they go on a distant trip. For families with minor children, it is unconscionable not to have a will.
Imagine the state determining who could best raise your children! My husband, Michael, an attorney, made it a practice to draft wills for many of our friends with children for no charge. But a few of our friends never finalized them.
The night my husband died, I couldn't remember where the will was. I needed a copy to begin making arrangements for his funeral and burial. I remembered a friend of ours was named trustee — fortunately, we'd sent him a copy of the will and he could tell me the provisions relevant to funeral arrangements.
Make sure that the naming of the executor or trustee is carefully thought out. Many people spend a lifetime accumulating property and then willingly place that accumulation after death into the hands of an unqualified or mourning executor. Knowledge, experience, impartiality and availability all must play a role in the choice.
Keep important names and papers in one place. The substantive part of having the paperwork together helps get to these questions: Are your financial affairs in order? Are the assets distributed properly? Where can you draw the necessary funds for short- and long-term expenses?
Determine Your Support Network Now
Is there a family member or a trusted friend who can step in to help make the necessary decisions when something traumatic happens? The decision-making process for the funeral is not a positive one.
Do you have a network of professionals to whom you can turn? I found that we were short. My husband had prepared the wills and all our other legal needs. I had no other attorney to rely on. At such a critical time, it's not appropriate to assess the quality or the competency of a professional.
I received insurance proceeds but, again, I did not have a trusted financial adviser. The person who handled our brokerage account didn't know my personal situation. Think of your relationships with the professionals you deal with today. Do you trust them? Do you have good relationships with them?
How much insurance do you really need?
I've had many discussions with people about the amount of insurance that's needed. I can give you my experience. Estimate your monthly expenses and multiply this by 12 to get total annual expenses. Think of the interest rate you can earn from investments you can live on without touching the principal.
The principal should be a minimum face amount for your insurance policy. If your monthly expenses are $5,000 a month, you need $60,000 after taxes a year. Assuming you can get a 6 percent return on your principal, you need a $1 million policy.
I admit this is very simple, and it doesn't take into consideration expenses like your children's education or your future retirement needs, but I assure you that if I'd done this simple exercise, I'd be in a better financial position today.
I've also heard many fallacies about the widow's needs. One was the thought that "If anything happens to me, my wife won't need such a big house — she can move to a smaller one." The shock of losing my husband was traumatic and I couldn't handle the possibility of moving out of my home.
Another fallacy is that the food and clothing expenses are less after a spouse dies. Not true. One less person doesn't mean you buy half a chicken. It was total havoc when my husband passed away — I didn't know how to shop anymore.
Make sure your loved ones are left financially self-sufficient so they have choices.
Your life insurance quotes are always free.
Secured with SHA-256 Encryption
Life Insurance for Widows: The Bottom Line
Statistically, widows are at high risk for low income and poverty living after their spouses die. A life insurance policy is one of the best ways to protect your spouse from that hardship.
The right coverage can pay all your outstanding debts (thereby freeing up your widow's remaining income) plus provide your regular salary for years after you're gone.
Life insurance can also ensure that your estate gets passed down from your widow to your children without being a financial burden on them.
You promised to comfort and keep your spouse "until death do us part." With life insurance, you can keep doing so long after parting. If you're married, you owe it to your spouse to explore your coverage options.
We wrote this guide to give you a complete overview of life insurance and widowhood. Did we leave any of your questions unanswered? If so, make sure to read the following FAQs where you'll hopefully find the information you need.
After you're done, you can get started on the path to getting life insurance for widows by using the quote tool at the bottom of this page to instantly compare quotes from multiple insurers.
Frequently Asked Questions: Life Insurance for Widows
Here are answers to some frequently asked questions about life insurance and widowhood.
#1 – How long do beneficiaries have to claim a life insurance policy after death?
Life insurance companies have time limits on how long they have to pay after a claim has been filed, but there is no time limit on how long a beneficiary has to file a claim.
#2 – How can you locate a lost life insurance policy?
Locating a lost life insurance policy used to involve a lot of detective work. You'd have to dig through paperwork looking for applications, scour old bank statements looking for evidence of payments, contact previous employers, etc.
You can do so at the National Association of Unclaimed Property Administrators.
#3 – If you receive life insurance, does the estate have any claim to it?
No. Life insurance death benefits are paid directly to the named beneficiary. Unless the estate was directly named as the beneficiary, it has no claim to the payout.
#4 – Can a life insurance policy benefit be paid if the estate is contested?
Yes. The estate does not have a claim to the death benefit. It is paid directly to the beneficiary. The only exception would be if the estate was named as the beneficiary and the estate was then contested.
#5 – Can a widow claim an insurance benefit if they aren't a beneficiary?
A widow could have a partial claim to the death benefit depending on the community property laws in their state.
In many states, a spouse can't give away community property without the consent of both spouses.
If the premiums were paid with the household earnings, and there was no prenuptial agreement saying that the deceased spouse's earnings were separate property, then the insurance was paid for with community property.
In that case, the widow would have a claim to part of the benefit if the deceased named someone else as the beneficiary.
#6 – Is there life insurance for widows of veterans?
Many life insurers don't sell life insurance policies to active duty military members because of the risk involved (though some do). Fortunately, the U.S. Department of Veterans Affairs does sell life insurance for military widows.
References: