AIG Life Insurance Review
This AIG Life Insurance review discusses American General Life Insurance. AIG Life Insurance offers a wide variety of plan options. You can get AIG American General life insurance coverage for as low as $11/mo. Start comparing AIG quotes now with our free tool.
Ready to compare quick life insurance quotes?
Your life insurance quotes are always free.
Secured with SHA-256 Encryption
UPDATED: Jun 29, 2022
It's all about you. We want to help you make the right life insurance coverage choices.
Advertiser Disclosure: We strive to help you make confident life insurance decisions. Comparison shopping should be easy. We are not affiliated with any one life insurance company and cannot guarantee quotes from any single company.
Our life insurance industry partnerships don't influence our content. Our opinions are our own. To compare quotes from many different life insurance companies please enter your ZIP code above to use the free quote tool. The more quotes you compare, the more chances to save.
AIG Life Insurance Company Overview
Key Info
Company Specifics
Year Founded
1919
Current Executives
CEO – Brian Duperreault
CEO, Life & Retirement – Kevin Hogan
CFO – Mark Lyons
Number of Employees
49,000
Total Sales / Total Assets

$47,389,000,000 / $491,984,000,000
HQ Address
175 Water St.
New York, NY 10038-4925
Phone Number
1-877-867-3783
Company Website
www.aig.com/individual/
Premiums Written – Individual Life
$3,336,397,453
Financial Standing
$257,000,000
Best For
Term Life Insurance, Guaranteed Whole Life Policies
#blank#
The AIG Life Insurance Company is one of the largest life insurers, but with almost 1,000 life companies in the United States, shopping for life insurance can be overwhelming.
American General Life Insurance is also known as AIG. It's a highly rated company that offers attractive rates.
Read this review to decide if getting quotes is a good decision for you.
As one of the largest life insurers in America, AIG has a lot going for it.
AIG's selection of policies offers everything from customizable term lengths to no-medical-exam options.
This comprehensive review will give you a full overview of AIG and let you preview the available policies so you can decide if this company is the right one for you.
There are many factors to consider when you decide to buy life insurance and it can be overwhelming. American General Life Insurance Company offers a variety of policies and coverage amounts, and this review will thoroughly explore how this company compares to the competition.
This article will be especially helpful if you're asking yourself questions like: What is term life insurance? What will get me the cheapest rates? How much coverage do I need to purchase?
If you're wondering how much to buy, then this planning tool will help you figure it out.
Before diving into this review, enter your ZIP code into our FREE quote tool above to start comparing quotes from major insurance companies.
How can I get AIG quotes?
Shopping for insurance can be confusing, but we're here to help. We're going to go over some basic lingo in plain language.
Most people don't know this, but your 30s are the best time to buy a policy. During your 30s, you're most likely to have debt and have people who depend on you, like a spouse or children. With some searching, you can find the best life insurance for 30-year-olds.
You'll definitely want to know which companies offer the best coverage and rates, but the price shouldn't be the only factor you consider. Comparing ratings is a good way to determine which companies are reputable.
Each year, it seems that more companies offer more types of policies, and the terminology can be overwhelming.
If you don't already know the basics, that information will help you going forward. And it's a big step in the right direction to read company reviews like this one.
Many people are insured through their employer, but it's usually minimal coverage that ends when employment ends.
At some point, most people decide they need a separate policy to make sure their loved ones are cared for in the event of their death.
An agent or financial planner can help you determine exactly how much coverage you'll need to meet your specific needs.
While each individual will differ, there are some common concerns for virtually everyone:
Medical bills
Funeral and burial expenses
Mortgage balances
Personal loans
Credit card debt
How much coverage do you need? In addition to the immediate expenses after a loved one dies, more long-term expenses to consider include:
Income replacement
Children's college tuition
Spouse's retirement
Emergency savings fund
Each family will have its own version of this list. Once you have an idea of your numbers, AIG offers a calculator to determine the policy amount that would meet your needs.
Your life insurance quotes are always free.
Secured with SHA-256 Encryption
What are the average male vs. female AIG life insurance rates?
The table below compares AIG's average monthly premiums for a 20-year, $250,000 term policy.
AIG Life Insurance Average Monthly Rates by Age, Gender, and Tobacco Use
| Age | Male Non-Smoker Average Monthly Rates | Female Non-Smoker Average Monthly Rates | Male Smoker Average Monthly Rates | Female Smoker Average Monthly Rates |
| --- | --- | --- | --- | --- |
| 25 | $12.90 | $11.33 | $37.57 | $30.78 |
| 35 | $13.53 | $12.69 | $47.45 | $39.11 |
| 45 | $28.28 | $23.06 | $107.09 | $80.15 |
| 55 | $69.89 | $52.58 | $244.10 | $179.76 |
| 65 | $207.36 | $153.90 | $553.55 | $432.20 |
| | #blank# | #blank# | #blank# | #blank# |
As you can see, the cost of smoking increases as you age for both men and women.
What are the average rates by age?
This table shows the average life insurance rates by age.
Average Annual Life Insurance Rates by Marital Status, Age & Gender
| Policyholder Marital Status, Age & Gender | New York Life | Prudential | Lincoln National | Massachusetts Life | Aegon / TransAmerica | John Hancock | State Farm | Average |
| --- | --- | --- | --- | --- | --- | --- | --- | --- |
| Single 25-Year-Old Female | $158.00 | $195.00 | $187.00 | $132.00 | $164.00 | $172.50 | $143.00 | $164.50 |
| Single 25-Year-Old Male | $152.00 | $237.00 | $231.00 | $147.00 | $176.00 | $178.30 | $164.00 | $183.61 |
| Married 35-Year-Old Female | $164.00 | $196.00 | $191.00 | $137.00 | $161.00 | $178.30 | $166.00 | $170.47 |
| Married 35-Year-Old Male | $160.00 | $248.00 | $238.00 | $151.00 | $171.00 | $189.80 | $175.00 | $190.40 |
| Married 45-Year-Old Female | $262.00 | $314.00 | $239.00 | $209.00 | $229.00 | $241.50 | $238.00 | $247.50 |
| Married 45-Year-Old Male | $245.00 | $378.00 | $283.00 | $230.00 | $255.00 | $292.10 | $239.00 | $274.59 |
| Married 55-Year-Old Female | $414.00 | $496.00 | $435.00 | $373.00 | $453.00 | $407.10 | $341.00 | $417.01 |
| Married 55-Year-Old Male | $696.00 | $584.00 | $615.00 | $451.00 | $527.00 | $533.60 | $396.00 | $543.23 |
| Single 65-Year-Old Female | $924.00 | $941.00 | $903.00 | $763.00 | $1,139.00 | $937.30 | $684.00 | $898.76 |
| Single 65-Year-Old Male | $1,416.00 | $1,412.00 | $1,577.00 | $1,049.00 | $1,367.00 | $1,380.00 | $955.00 | $1,308.00 |
| | #blank# | #blank# | #blank# | #blank# | #blank# | #blank# | #blank# | #blank# |
Massachusetts Life and State Farm have the lowest rates. New York Life also has affordable rates. The company with the highest average cost is Prudential.
American General is a subsidiary of AIG. If you want to learn more about the company then you can check out our reviews.
What types of insurance policies are offered?
There are multiple types of insurance to choose from to fit your needs, making affordable rates possible.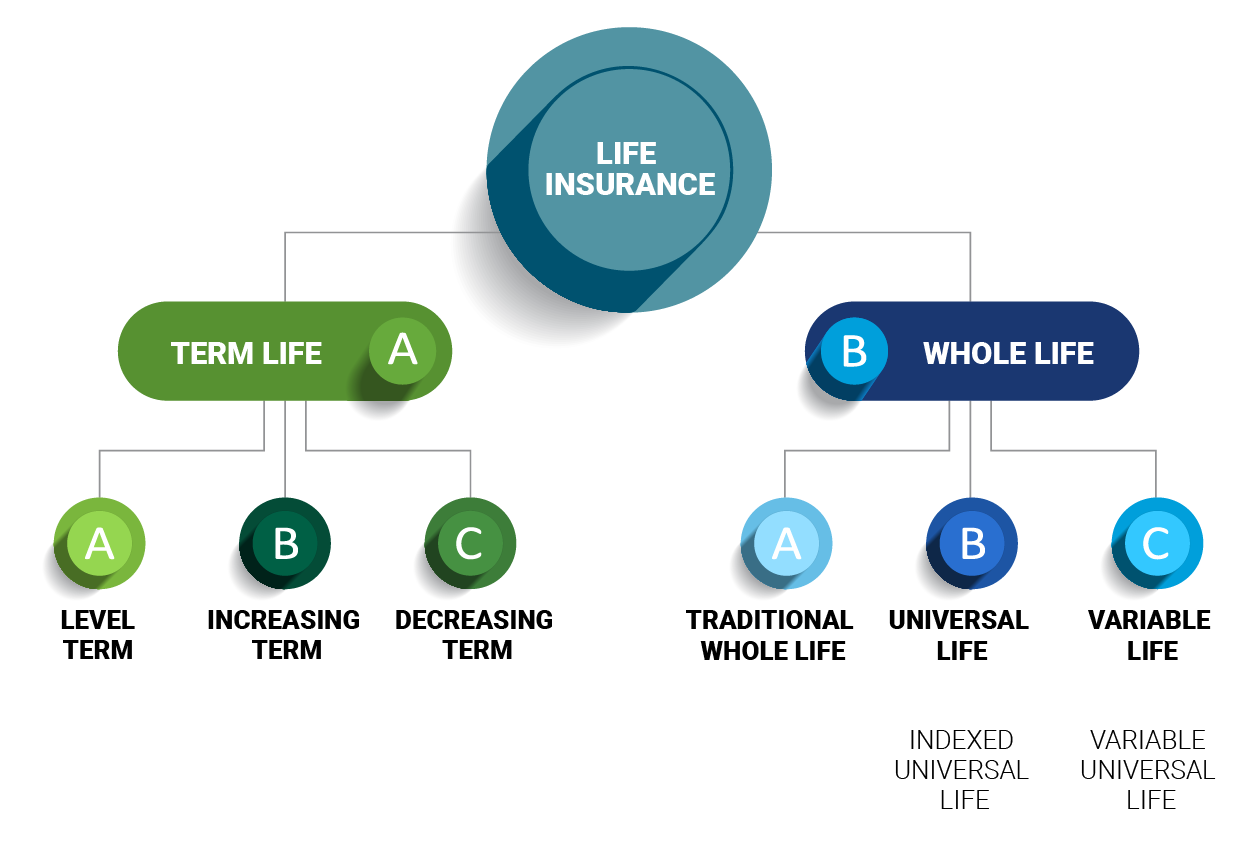 AIG term life insurance is a policy that offers coverage for a predetermined amount of time called a term. Term life is usually offered in terms of 10, 20, 30, and 40 years.
There are multiple types of this coverage, as you can see in the list below.
Level term life offers premiums that stay the same price throughout the term, but the amount of coverage increases.
Increasing term life allows you to buy less coverage at a lower premium and increase the amount of coverage during specific increments over time.
Decreasing term life lets you decrease the amount of coverage over the life of your policy at a predetermined time.
Renewable term life allows you to extend the term of your coverage without having to qualify for new coverage.
Convertible term life can be converted to a permanent policy during a specified period without needing proof of health or a medical exam.
Whole life insurance, also called permanent life insurance, is a policy that is offered for the covered person's lifetime. There are also different types of coverage. See the list below.
Traditional whole life insurance offers you a contract for the entirety of your life.
Universal whole life insurance offers an investment option and low premiums. Some require a single lump-sum premium or fixed, scheduled premiums.
Variable whole life insurance covers you for your entire lifetime and offers you an investment option and a savings component called cash value.
AIG explains the difference between term and permanent life insurance.
The company provides multiple different products including term, whole, and universal life. Any of these types of insurance should help you sleep better at night with financial peace of mind.
Is term life for you? Looking at what AIG has to offer will help you figure that out.
Your life insurance quotes are always free.
Secured with SHA-256 Encryption
What is term life insurance AIG?
AIG term life is available for 35-year, 15-30-year, and 10-year terms. This type of insurance is a good option for single individuals and families. It's affordable and offers basic coverage for a set period. Get moving to save, since premiums go up with age.
The insurer offers two term life products. They are Select-A-Term and the Quality of Life Flex (QoL Flex) Term life options.
Select-A-Term
The Select-A-Term option allows for different term life options. The Select-a-Term product options come in increments of five years, from 10 years up to 35 years. All options have rates guaranteed to remain the same for the entire term period.
Quality of Life Flex Term
The QoL Flex Term life insurance option (see the QoL rapid rater) will allow you to get coverage up to the age of 70. The minimum death benefit is $100,000 and the policy expires at age 95. This policy can be converted to a permanent plan.
What is whole life insurance?
Whole life, also called permanent, is insurance for your lifetime. Some term life policies can be converted to whole life policies.
Guaranteed Issue Whole Life
This coverage is specifically for seniors; to qualify, you must be aged 50-85. The coverage is guaranteed acceptance permanent protection, and the premium payment is fixed and budget-friendly. The coverages for this policy range from $5,000 to $25,000.
Guaranteed Acceptance
AIG also offers guaranteed acceptance coverage. This policy is also for individuals aged 50-85. This guaranteed protection permanent coverage is offered with no health questions or medical exams.
QoL Guarantee Plus GUL II
The QoL Guarantee Plus GUL II is a policy that guarantees the death benefit. It offers the tax advantage of a guaranteed universal life policy and has a lifetime accelerated benefit of up to $2 million.
What is an accelerated death benefit rider? It's a type of policy that will allow you to receive cash advances if you're diagnosed with a terminal illness.
What is universal life insurance?
Universal life coverage is a policy that's good for individuals, and for families who want the potential for living benefits, investment options, and flexible coverage.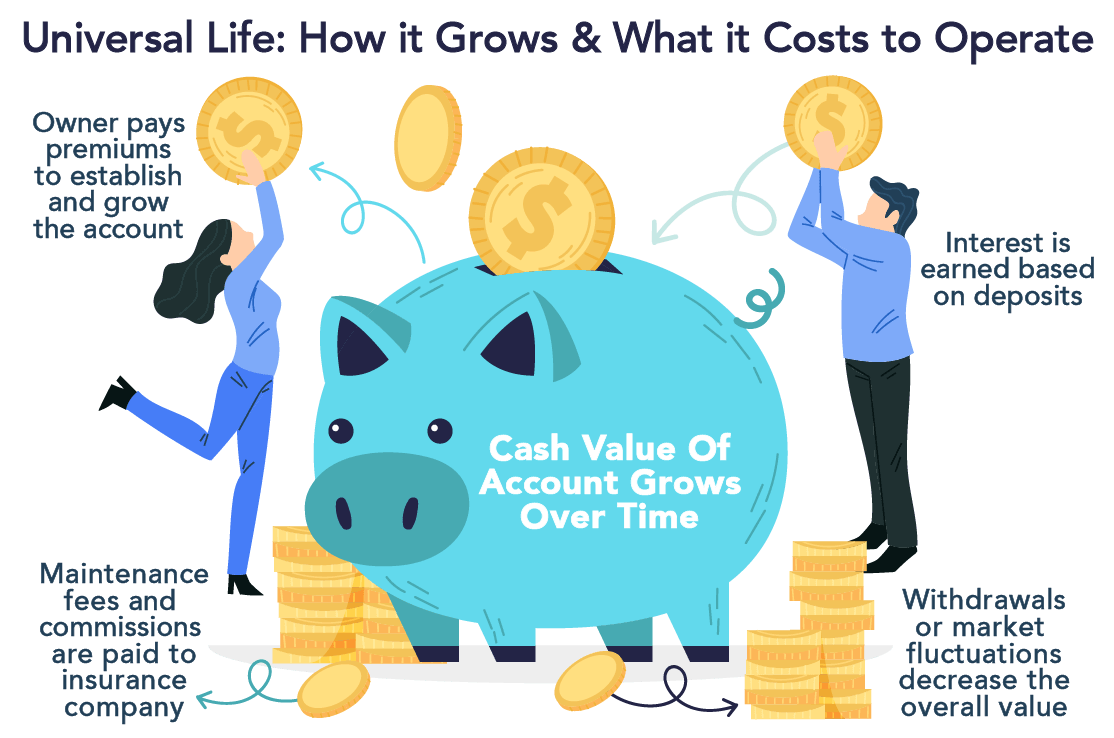 AIG offers many universal life products that have unique features.
Secure Lifetime GUL 3®
The Secure Lifetime GUL 3® is a flexible policy that allows you to choose the number of years, or age, that you want your death benefit.
You can pay premiums over your life or pay an additional premium to shorten the payment period or refund the coverage guarantee. You have a guaranteed return of premium and guaranteed minimum cash value.
Value+ Protector
The Value+ Protector is made for guaranteed protection. The target ages are 40-70 years old. This policy is more tolerant of risk than the GUL policy and it also offers death benefit protection.
A death benefit protection is a designated amount of coverage on a policy or pension that the beneficiary is entitled to when the owner of the policy dies.
This protection will keep the value of the annuity from declining. The annuity will give you a periodic income, and it is normally for life. The policy also has the potential to grow cash value.
Max Accumulator+
The Max Accumulator+ policy is optimized for income and accumulation and is for people aged 35-55.
The policy is best for those who have higher income or investable assets, or small business owners.
The policy will accumulate and generate tax-protected gains that can be used in a variety of situations. It has no direct market exposure and is a supplement to a traditional IRA or 401(k).
Certain types of policies can affect taxes, so you may want to take some time to learn about life insurance and taxes to make sure you submit the necessary tax forms.
There are multiple QoL whole life policies as well.
Your life insurance quotes are always free.
Secured with SHA-256 Encryption
What are life insurance riders?
Riders are additional, optional features that can be added to a policy. Take a look at the next list to see some of the riders offered by the company.
Accidental death benefit rider – Can be used in case of accidental death but doesn't include sickness.
Child rider – Available at an extra cost. Parent issue ages are 20-55 and child issue ages are 15 days up to 19 years old.
Waiver of premium rider – Available at an extra cost. This rider pays the insurance policy premiums if the insured suffers a total disability. This rider is available after a six-month waiting period. Coverage expires when the insured turns 65.
Terminal illness rider – Can be purchased in case you or your family are diagnosed with an illness that you or they probably will not survive.
Riders are additional benefits so you may have to ask an agent about them.
How can I get a quote online?
It's easy to get a quote. Go to www.aig.com/individual. Once there, the first thing you'll see is a place to click to get important information from the company about COVID-19.
If you continue to scroll down the page, you'll come to two Get A Quote boxes. On the left side of the page, there's a box that says AIG offers term life coverage for as low as $14 a month. This is the quote box.
The box on the right side of the page can be used to get a quote for guaranteed acceptance permanent coverage for those 50-85. This policy doesn't require a medical exam.
Click "Get A Quote." This will take you to your online application.

The application page will have a data entry form for you to fill out.
On the form, choose the amount of coverage you want from the scroll-down box. Then fill out your first name. You'll answer whether you're a nicotine user and how long it's been since you used nicotine.
Finally, click Get Your Free Quote.
How can I cancel AIG life insurance?
Your policy should not be canceled if you pay your premiums on time unless your term ends. If you need to cancel, you need to call the company.
While the website doesn't address how to cancel, the phone number is at the top of the page and so is the company's address.
Your life insurance quotes are always free.
Secured with SHA-256 Encryption
How do I make a claim?
The AIG website has a claims header that will give you options on how to make a claim. If the claim has not yet been initiated, you should select the link labeled Report a Death Claim.
If the claim has been initiated and is under $15,000, then you may be able to get an express payment. The check should come to you in the mail within five days of the company receiving proof of death.
If the claim is more than $15,000, then within five days of death notification the company will send forms for you to fill out. You will mail the forms back or fax them back to the company after they've been filled out.
What is the AIG American General customer experience?
AIG appears to have average to below-average customer satisfaction.
American International Group, the parent company to American General Life, has a score of 2.37 on the NAIC Complaint Index.
The NAIC Complaint Index is a tool to use when you want to compare one company's performance to others in the same market. A score of 1.0 is the complaint index average.
The score is found by dividing AIG's share of complaints by its share of premiums. AIG's score of 2.37 is quite high.
J.D. Power has awarded AIG with two circles out of five for customer satisfaction, which is a below-average rating.
What programs does the company have? 
AIG is one of the leading underwriters for Program business. The company programs address multiple markets with Program Administrators supporting an infrastructure that is market-led and with expertise in underwriting.
Your life insurance quotes are always free.
Secured with SHA-256 Encryption
What are AIG life insurance pros & cons?
Every company has pros and cons. Let's see how AIG measures up.
What are the pros?
American General is a good company overall. It's financially strong and rates well with baby boomers and millennials.
What are the cons?
The biggest con is how confusing the company can be. It's hard to research and almost everything directs to AIG. AIG is a solid financial group, but none of the company's subsidiaries are among the top 10 life insurance companies.
What's the bottom line on AIG life insurance?
So, is American General a good company? The insurer is a reputable company that has been around since the 1920s. The company has great ratings and many products to choose from.
Now that you've finished this review, you can also click our FREE quote tool to compare quotes instantly.
In this section, we'll go over some frequently asked questions.
#1 – How do I contact AIG Life Insurance?
The table at the beginning of the article will give you the number to contact the company.
Your life insurance quotes are always free.
Secured with SHA-256 Encryption
#2 – Are AIG auto insurance reviews good?
Reviews of auto insurance from AIG vary. On some review sites, the company doesn't even rank a two out of five stars. It does seem that the company's life division has higher ratings than the auto insurance division.
#3 – Are the QoL Flex term reviews good?
Yes. The QoL Flex term reviews are good. Most customer reviews are satisfactory. That doesn't mean that there are no complaints about the flex term policy, but it is liked by customers overall.
#4 – What is the Select-a-Term policy?
As mentioned earlier, the Select-a-Term product options come in increments of five years, from 10 years up to 35 years. All options have rates guaranteed to remain the same for the entire term period. There are many Select options.
#5 – Is American General dental insurance offered by the company?
The company does have a group dental plan.
#5 – What is a terminal illness in life insurance?
Terminal illness is defined as those who are diagnosed with 12 or fewer months to live.
#6 – Does life insurance payout for terminal illness, and if so, what benefits can you claim if you are terminally ill?
Check out the terminal illness rider. This coverage will be helpful if you or your family are diagnosed with an illness that you or they probably will not survive. Also, it is possible to get hospice care coverage from Medicare if you are terminally ill.
What is the history of American General?
So, what is American General Life and Accidental Insurance? The insurer was founded by Gus Sessions Wortham as a fire and casualty insurance business called American General Insurance Company. In 1926, the company became simply American General. The headquarters is located in Houston, Texas.
Over the years, the company started to acquire other companies. Because of these acquisitions, the company became a general-business holding corporation in 1980.
This parent company was named American General Corporation.
Then the company merged with California-Western States Company into a subsidiary in 1991. This subsidiary was called the American General Life Insurance Company of Delaware.
In 2001, the American International Group (AIG) bought the company for roughly $23 billion.
American General is a subsidiary of AIG, so most information about the company will be based on AIG's numbers.
Are the company's ratings positive?
What are the insurance company's ratings? Comparing company ratings is a good way to determine which companies are reputable. Comparing company rates is important if you want to find the best deal.
A financial strength rating, or FSR, is the estimated likelihood that an insurer can meet financial obligations.
In 2019, American Life Insurance received the following ratings:
A.M. Best – A (Excellent)
Better Business Bureau (BBB) – A-
Moody's – Aaa (Good)
Fitch Ratings – A+ (Strong)
The company ratings are strong and indicate stability. Compare these rankings against the best companies in the industry before making a decision.
What is the company's market share?
A company's market share is its total revenue in sales divided by the total industry sales.
Looking at a company's premiums written is a good way to verify its financial standing.
What is the company's online presence?
Many insurance companies use social media to engage with customers and the market in the community. AIG is no exception.
AIG has a Facebook page that has 266,678 followers. The company posts often about two to three times per week. AIG also has an Instagram account. The account has 40 posts and 279 followers but hasn't posted any content in 2020.
The company's strategy includes a focus on its employees. The company's social media pages often showcase its staff. However, when compared to some other companies, like State Farm, American General's social media campaign is not especially strong.
Are they involved in the community?
Most large businesses give back to the community. AGL Insurance is no exception. The following commercial talks about AIG in the community.
AIG Insurance strives to have a diverse workforce that optimizes creativity, productivity, and innovation. The company offers many programs for its talent and is committed to building a diverse community and positive supplier relationships. AIG has many external partners.
In 2019, AIG was recognized as one of the top companies for executive women by DiversityInc and received a 100 percent score on the Human Rights Campaign's Equality Index.
The company's philosophy about diversity and inclusion is reflected in these and many more awards and recognitions.
Are the employees happy?
At AIG, education and cross-cultural experiences are available through employee resource groups.
On Glassdoor, employees of American General Life have rated the company an average score of 2.5 out of 5 stars. Payscale has given them 3.2 out of 5 stars for overall satisfaction.
They rank close to average on both Glassdoor and Payscale.
What's the history of AIG life insurance?
American Cornelius Vander Starr started the precursor to the American International Group (AIG) in Shanghai, China in late 1919.
The business, American Asiatic Underwriters (AAU), thrived. Two years later Starr formed a specialized life insurance operation and expanded through Asia.
In 1926, Mr. Starr opened his first office in the United States and, in 1939, moved the headquarters from Shanghai to New York.
The company expanded throughout the second half of the 20th century but hit its first real snag during the national financial crisis of 2008.
The company was deemed "too big to fail" because experts feared its failure would threaten the financial viability of other major firms and dozens of European banks.
The federal government decided the potential implications of an AIG collapse would be too far-reaching to allow, so it bailed AIG out for $180 billion.
Experts recognized that while the parent company was struggling, many of its subsidiaries were quite valuable.
AIG subsequently paid the U.S. government back through the sale of its assets including some of those subsidiaries.
At present, AIG is streamlined and focused on three core operations: general insurance, life, and retirement insurance and planning, and technology-centered Blackboard Insurance.
Does AIG have positive ratings?
Third-party ratings give us an overview of AIG's financial strength and anticipated stability in the future, as well as an idea of how satisfied customers are with its services in general.
A.M. Best
A.M. Best has provided credit ratings for insurance companies since 1899 and has a unique standing for measuring the financial strength of insurance companies over time.
In 2018, A.M. Best affirmed AIG Life and Retirement's A rating, indicating AIG should have no problem meeting its financial obligations to policyholders.
AIG was also predicted to have a stable outlook for the foreseeable future.
Better Business Bureau (BBB)
The Better Business Bureau (BBB) assigns ratings from A+ to F, with A+ being the highest, based on its analysis of information received directly from the business and its customers.
AIG regularly scores within the BBB's top three scores, currently holding a rating of A-.
Moody's
As the oldest credit rating agency in the United States, Moody's credit scores for corporations are considered solid predictors of a business's ability to meet its financial obligations.
Moody's affirmed AIG's A2 (Good) rating in 2018, meaning that it's a reliable company with good financial security, though some factors suggest the potential for difficulty in the future.
AIG's steady performance in life and retirement was pointed to in the statement as balancing out some of AIG's weaker areas, which illustrates the strength of that particular division.
Standard & Poor's (S&P)
Standard & Poor's (S&P) is a leading stock index provider (S&P 500) and one of the original big three credit agencies in the United States. Its scale ranges from AAA at the highest end to D at the lowest.
The Life and Retirement division of AIG received an A+ rating from S&P, reflecting the company's strong financial security.
What is AIG's market share?
American International Group (AIG) has long held a substantial market share of the life insurance industry in the United States. Below is a chart comparing it to the top 10 companies.
AIG's earnings were down somewhat from 2017 to 2018, and in July 2018, the New York Times reported that AIG hadn't yet fully recovered from the crisis a decade before.
What is AIG's position for the future?
While the credit agencies award AIG Life & Retirement solid ratings, the outlook for the company as a whole is slightly less certain, though it's still considered to be on overall stable financial ground.
What is AIG's online presence?
AIG is a well-known company for many reasons, not the least of which is its formidable presence both in traditional advertising and online.
The company operates several Facebook pages that are updated regularly, including one specifically for AIG – Life.
It does not use Messenger, though, so there is no direct way to communicate with the company via Facebook.
AIG also maintains a Twitter account that posts every few days, usually about positive financial news or philanthropic information.
AIG Direct is the portion of AIG Life & Retirement that allows you to get quotes online.
AIG's Commercials
AIG commercials aren't often associated with a specific branch of insurance, taking a more general approach instead.
The company is a key sponsor of the Women's British Open golf tournament and also partners with the All Blacks rugby team out of New Zealand in its international campaigns.
AIG in the Community
Through matching employee donations 2:1 (up to $10,000 for each employee), AIG contributed $6 million in 2018 to nonprofit organizations and schools.
AIG encourages and supports its employees in volunteering their time as well, as seen in the AIG Rise Against Hunger program.
AIG also supports museum membership and financial literacy classes for youth in many communities. Its sustainability campaign is multi-faceted, as shown below.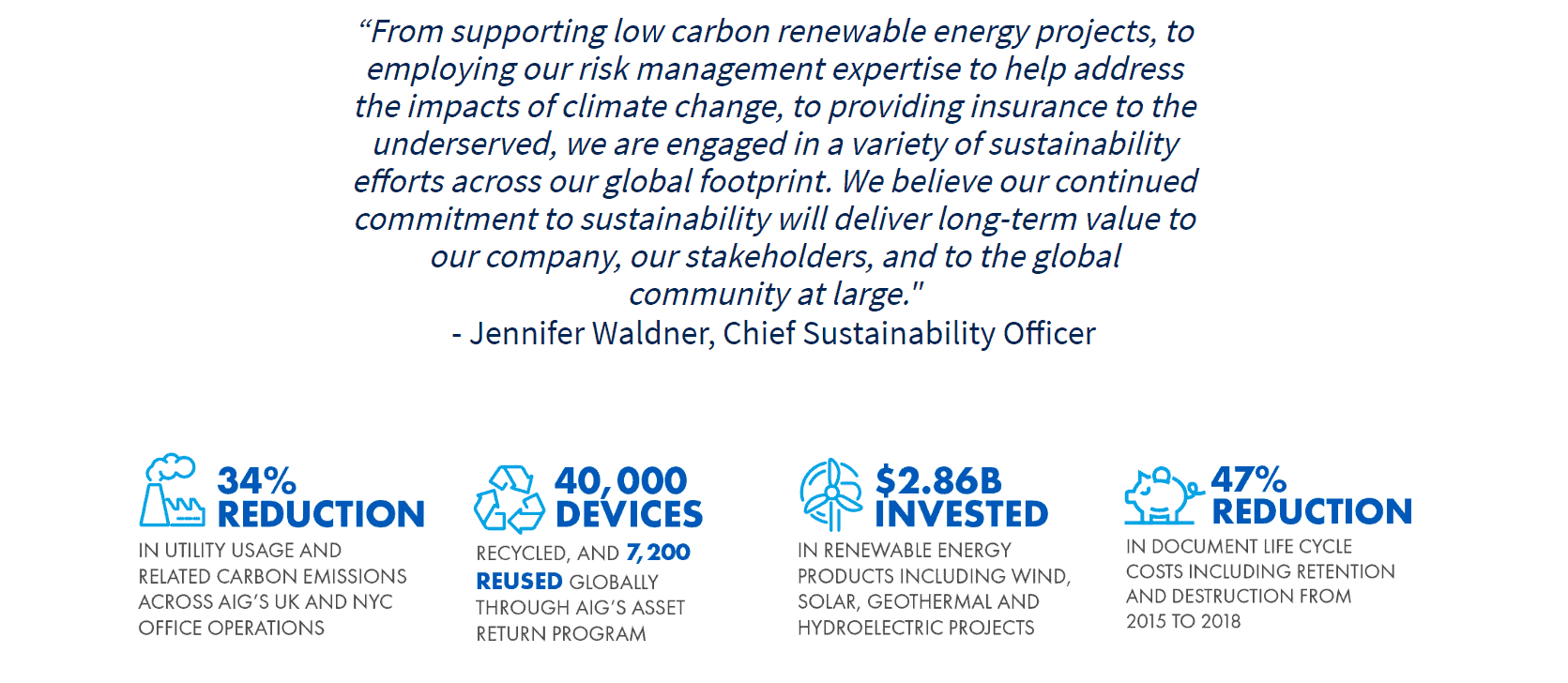 The company provides an annual newsletter on its corporate responsibility, including details about the volunteer hours committed by employees.
AIG's Employees
The number of AIG employees was well above 55,000 at the time of the financial crisis. Because of the necessary restructuring, that number dropped significantly.
Now, over 45,000 people work for AIG around the world. In 2019, AIG was commended for its support of executive women and the LGBTQ community within its corporate structure.
Employees talk about the training they receive from AIG in the video below.
Employees overall rate the company with almost four out of five stars on Indeed. They report work/life balance and compensation and benefits as among the best reasons to work for AIG.
What types of life policies are offered by AIG?
One of AIG's biggest selling points is the abundant variety in its policies. Their level of customizability is relatively uncommon. We'll look at that more closely in a minute.
In truth, virtually everyone can benefit from having a life policy.
Parents get peace of mind that their children will be cared for, single people can know they won't leave debts behind for others to pay, and grandparents leave legacies.
For example, say a 24-year-old man takes out a 20-year, $100,000 policy after graduating college. His only debt is his private student loans, but his parents are co-signers on those.
He uses a calculator to determine that $100,000 will meet his needs.
That inexpensive term policy means he can sleep soundly knowing his parents won't get stuck paying his loans back if the unthinkable happens.
Regarding the types of coverage, AIG offers both term and permanent policies. Each type of coverage has its own advantages, with the primary benefit of term coverage being its affordability.
What is term life?
AIG divides its term life into two types, with the distinguishing factor being the living benefits.
Select-a-Term® Policies
AIG is unique in that its terms are more customizable than most. There is a 10-year policy, which is a typical term length. But between 15 and 30 years, the terms can be incremental.
Say that your main reason for buying a policy is to cover the mortgage in the case of your premature death, and you have 23 years left to pay. AIG will sell you a 23-year term policy.
After the range of terms between 15 and 30 years, the other option is a 35-year term.
These Select-a-Term® policies allow customers to choose the level premium of their policy. Then it will remain the same for the initial duration of the term.
If you opt to extend your coverage, you will do so on a year-to-year basis and your premiums will increase over time after the initial term. Death benefits may decrease as well.
Policyholders also have the option to convert to a permanent policy before age 70 or before a set date, as agreed upon at the time of purchase, without further underwriting.
AIG Quality of Life (QoL) Flex Term
AIG also offers what it calls Quality of Life (QoL) Flex Term policies. These terms are customizable like the Select-a-Term policies, but the riders are wrapped into the policy, not optional.
The riders differ from those listed above and are designed as living benefits of the policy. AIG's literature describes the rider benefits included with its QoL Flex Term policies in detail.
Benefit eligibility requires a waiting period. As with other riders, the exact qualifications for these riders can differ by state. For instance, in New York, the terminal diagnosis must be for 12, rather than 24 months.
Permanent life is a popular alternative to term insurance.
Sometimes a person might find that a combination of the two best suits their needs and purchase one of each.
Permanent policies last the lifetime of the policyholder rather than a set amount of time. They offer living benefits and can preserve retirement savings.
There are three primary types: whole, universal, and variable universal.
Let's take a closer look at the kinds offered by AIG.
AIG Whole Life
AIG offers a Guaranteed Issue Whole Life, for which there's no medical exam. This policy is a guaranteed life insurance option designed to help your loved ones with final expenses such as medical bills, credit card debt, or funeral costs.
Coverage ranges from $5,000 to $25,000, and if you're between the ages of 50 and 85, your acceptance is guaranteed.
This policy has a graded death benefit during the first two years, the policy pays 110 percent of the total premiums paid, full face amount for accidental death, and full face amount in the third year and beyond.
This is sometimes referred to as burial or final expense insurance, though AIG considers it a whole life policy because it lasts your lifetime. The tax-free benefits can help with final expenses.
Level premiums are offered for the duration of the policy. This kind of policy is worth considering, as it provides benefits more quickly and at a better rate than many policies sold simply as burial insurance.
AIG Universal Life Insurance
Universal life insurance (UL) takes several forms. They range from fixed-rate returns to variable ones. In general, universal life insurance policies are more flexible than simple whole life policies.
The main differences are:
You may be able to increase the death benefit contingent on a medical exam.
After cash value accumulates, you can change your premium payments if you have enough value built up to cover expenses associated with the account.
This kind of policy can be helpful if your economic situation changes suddenly.
AIG calls these products its Quality of Life series. On top of standard life insurance protection, living benefits are rolled into the plans through QoL® Accelerated Benefit Riders.
The QoL Accelerated Benefit Riders kick in if you suffer a qualifying event such as a disability or terminal illness.
They provide an advance on your death benefit to cover costs such as lost income, home health care, and others.
AIG's Quality of Life gives you your choice of face value amount and duration, up to your entire lifetime, along with the option to add coverage for yourself, your spouse, or your children.
AIG offers its Quality of Life (QoL) Guarantee Plus GUL II, which is a lifelong insurance option that builds cash value and includes built-in benefits you can access while still alive.
The guarantee refers to the guaranteed minimum death benefit. Additionally, the QoL Guarantee Plus GUL II provides an option to receive supplemental retirement income.
AIG Indexed Universal Life
This type of insurance permits the policyholder to disburse cash values to either a fixed account or an indexed account, which resembles a mutual fund.
Thus, the cash value can potentially accumulate at a greater interest rate than that offered by simple universal life.
The variety in these accounts can get complex, and if you're interested in indexed universal policies, it's helpful to familiarize yourself with them in general.
AIG offers two universal life policies: the Value+ Protector and the Max Accumulator+.
Both policies include lifetime coverage and invest part of your premiums to build cash value.
With the QoL Value+ Protector, the invested portion of the cash value is held in a fixed interest rate sub-account of your policy, thus minimizing your risk but allowing for gains, too.
It also offers built-in living benefits, cash accumulation, and a guaranteed death benefit up to age 100.
QoL Max Accumulator+ policies have built-in living benefits, the potential for cash accumulation, supplemental retirement income, and long-term wealth accumulation rolled into a single policy.
The cash value accumulation depends on the performance of an index, and AIG offers either three or four index account options, depending on the policy.
As noted above, AIG's expansive range of policies is unusual and may be a selling point for you if you're looking for a particular feature.
AIG Burial & Final Expense
As noted above, policies like AIG's Guaranteed Issue Whole Life Insurance are sometimes known as burial and final expense policies.
They're typically issued for smaller amounts to help specifically with those expenses.
The table below illustrates a sampling of AIG rates for this policy.
This is a rare instance where smoking doesn't increase your premiums, so there's no distinction made between smokers and non-smokers in the table.
Wondering what insurance companies consider when giving you a quote? We'll examine that in the next section.
AIG Riders
AIG offers four riders with its policies.
The table summarizes the types of riders generally available. Specifics may vary by state, and a local agent can help you with those details.
What factors affect AIG life insurance quotes?
A 2018 Life Happens study found that half of all consumers were more likely to buy life policies if they could buy them without a medical exam.
Consumer demand is pushing the industry in that direction, and AIG's guaranteed policies reflect that. But your rates for these will often be higher than for comparable underwritten policies.
Insurance companies hire underwriters to look at your information and then gauge your chances of suffering a premature death. The higher the risk, the higher your premium.
Lies or intentional omissions during the application process are considered fraud and will invalidate the policy.
Let's look more closely at the most common factors underwriters consider.
Demographics
Demographics are characteristics we're categorized by for statistical purposes, such as age, gender, and marital status.
Age
It's a fact of life that the older we get, the more likely we are to die. So, the older you are when you purchase a life insurance policy, the higher your rate will be.
This may be even more important when buying a term policy, as your rates will be higher each time you renew or repurchase it.
For example, the same 20-year, $500,000 contract that would cost a 25-year-old non-smoking man $19.57 a month at AIG would cost that same man $48.60 per month if he were 45 years old.
Gender
Women typically live about six years longer than men and consequently have slightly lower premiums.
In the past, transgender or nonbinary people have encountered significant hurdles in getting life insurance. This was mostly because a lack of information led insurers to act conservatively to hedge their bets.
In the absence of research to tell them where such individuals fall in regard to mortality rates and risk, insurers usually accept only the gender assigned at birth.
That is slowly evolving, though. As information becomes more widely available, some companies are changing their approach.
If this is your situation, it's important to find a well-educated insurance agent or financial professional you trust to walk you through the application process.
Current Health & Family Medical History
Just like we know intuitively that the older we are, the more likely we are to die, we also know that the better health you're in, the longer you're likely to live.
Because of this, your life insurance premiums will be lower if you're healthy.
One of the first steps is completing a health and family medical history form.
Insurance companies examine whether your family suffers from any health issues such as cancer, heart disease, or diabetes that you may be genetically predisposed to contract.
Many policies require a comprehensive medical exam, including bloodwork. Underwriters may also request access to your medical records.
AIG describes its exam process in the video below, and you can also learn more about the exam here: What to Expect From a Life Insurance Medical Exam.
It's important to be upfront about your health. Underwriters may compare your answers to the information available to them in public prescription and Medical Information Bureau (MIB) records.
The Medical Information Bureau (MIB) tracks health information relevant to life insurers.
If you want to know what's in your record, you can request a copy of it from the agency.
High-Risk Occupations
Insurance companies look at all the aspects of your lifestyle that could negatively impact your life expectancy. Some jobs such as police work, piloting, and mining are deemed high-risk.
But the U.S. Bureau of Labor Statistics notes that people working in construction, roofing, and logging are also prone to relatively high numbers of work-related fatalities.
High-Risk Habits
Base jumping, rock climbing, or motocross may seem like high-risk hobbies, and the insurance companies agree, but insurers also consider less obvious risks.
Underwriters may ask about your travel habits and will often look at your driving record and credit history. (Learn more about how your driving record could affect your life insurance at the link.)
However, smoking and tobacco use remain among the most common high-risk behaviors. Please note that vaping is increasingly considered dangerous as well.
Smoking marijuana is often viewed as equally harmful to tobacco use by insurance companies, and they will test for it, so it's important to be upfront if you use it.
Veteran or Active Military Status
Serving in any branch of the military complicates the process of getting life insurance. The military does cover its people while they're on active duty.
If you want supplemental insurance, be aware that some policies contain exclusion clauses, like being in a war zone. Some companies won't sell military personnel life insurance at all.
Veterans may also suffer service-related health problems that will impact their eligibility or rates, but there are companies that market specifically to veterans, too.
This is something to discuss with your agent or advisor to find the right match.
How can I get the best rate with AIG?
Unaffiliated financial advisors and insurance agents can help you decide what insurance would best suit your needs and whether AIG policies are a good fit.
They will ask about your risk factors to determine how much more than the base premiums the insurer will ask you to pay.
Base premiums are calculated by evaluating mortality, projected interest, and the company's expenses.
Although the NAIC advocates for more consistent laws between states, base premium rates currently vary from state to state.
To get the best rates available, buy a policy when you're younger. Age is the number one factor affecting policy rates so buying a policy earlier in life will get you better prices.
For example, a 20-year, $250,000 policy with AIG for a 30-year-old female non-smoker costs an average of around $138.48 a year, while the same policy will cost $193.08 if she's 40. That 10-year age difference results in a 40 percent increase.
Manage risk factors you can control. Stop smoking. Many insurers ask that you're tobacco-free for a year or more before they consider you a non-smoker. Maintaining a healthy lifestyle and shedding those extra pounds helps, too.
Pay on time. Paying late will affect your future rate, especially if your policy is canceled for non-payment.
How can I get AIG quotes online?
AIG Direct is the path to an online life quote from AIG.
That's a good overview, and for more details on getting an AIG direct life quote online, the step-by-step process is outlined below.
#1 – Visit the Life Insurance Section of the AIG Website
Scroll down to find the type of insurance you'd like a quote for:
You'll have the option to learn more about each type of policy AIG offers or get an AIG term life quote.
#2 – Select "Get a Quote"
If you select Guaranteed Issue Whole Life, you'll see a place to enter your ZIP code.
After you click "Get my free quote" and enter your name, gender, birth date, and phone number, an agent will contact you. Or you can call 1-855-408-2965 to get a quote right away.
For the other two options, you'll complete a form asking for a little more detailed information.
You'll be asked for basic information including contact numbers and an email address.
#3 – Submit Info
Enter your information into the form and click "Get Your Quote Today!" for an agent to contact you with your individualized AIG direct life quote.
How do I cancel my AIG policy?
There are many reasons you may need to cancel your life policy.
Your financial situation may have changed due to divorce or other circumstances, leaving you unable to afford the premiums or in need of the money, you'll receive upon closing it.
Or you may be ready to switch companies and purchase a different policy. Or you may want to update the beneficiaries for your policy if you get divorced.
You typically won't receive a refund of any premiums. A possible exception is if you pre-paid on a term policy; that amount may be refunded.
How do you cancel AIG life insurance? 
Before canceling your policy, make sure to read through it carefully.
#1 – Visit Your Account Online
Go to aig.com/login and choose the applicable section: Consumer Life Portal (eService).
#2 – Enter Your Information and Sign In
Once in your account, you may view or print your policy.
#3 – Read Through Your Policy Carefully
You'll want to check for any early termination fees associated with your policy, and for universal policies, look at whether you can retrieve the cash value.
The policy may indicate whether you can expect to have any premium payment amounts returned.
#4 – Contact Customer Service
Call customer service at 1-800-888-2452. This line is open 24/7, but you may be asked to leave a message so a representative can get back to you.
You'll be asked to enter the policy number or the policyholder's Social Security number.
How do I make a claim with AIG?
Being prepared with the specifics will make filing a claim against an AIG policy a smoother process.
#1 – Have Your Documents Ready
If possible, have the following paperwork on hand:
The full name, date of birth, and state of residence of the insured
The life insurance policy number
Social Security numbers for the insured and the beneficiary
A notarized death certificate for the insured
The name of the person reporting the claim and their relationship to the deceased/insured
#2 – Contact the Claims Department
You can initiate a claim online by completing the form on the "Report a Death Claim" page, or you can call the claims department at 1-800-888-2452 and use the automated menu to initiate your claim.
#3 – Wait to Be Contacted by an AIG Claims Team Member
If the total benefit amount of the policy is $15,000 or less:
A member of the team will contact the beneficiary within 24 hours to verify that person's identity and the information needed to process the claim.
The claim may then be eligible for expedited processing. If so,
Payment by check is disbursed within five business days after AIG receives proof of death — allow three to five days for a check to arrive by mail.
If the total benefit amount of the policy is greater than $15,000:
A claims packet will be sent by mail or email to each beneficiary within five business days of the claim initiation.
The packet will include all of the forms and information needed to complete your claim.
#4 – Return Completed Forms
Return all of the completed forms to AIG by mail or fax:
Mail
AIG Life Claims
P.O. Box 305301
Nashville, TN 37230-5301
Fax
(855) 601-1834
#5 – Wait for Claim to Be Processed and Receive Insurance Payment
Most claims will be reviewed and processed within five business days once all required forms are completed and returned.
Some claims require an investigation and will take longer to review. See the website's section on claims requiring an investigation for more information.
Payment is made according to the beneficiary's preferences. Please allow three to five days for check payments to arrive once mailed.
AIG will notify you within five business days and follow up as needed if any additional information is required or if they have questions regarding the claim.
What is the customer experience with AIG?
So, what do customers think about AIG? Read on to find out.
NAIC Complaint Index
The National Association of Insurance Commissioners (NAIC) is governed by the chief insurance regulators of the 50 states, the District of Columbia, and five U.S. territories.
The organization gathers statistics about consumer complaints against insurers and publishes those numbers online, where you can compare the numbers and subjects of complaints.
The NAIC complaint index operates around a median of 1.00. AIG's complaint ratio is 2.37, much higher than would be expected.
J.D. Power
J.D. Power measures overall customer satisfaction rather than focusing on customer complaints or credit risk. It conducts surveys of customers of the top 25 life insurance carriers by market share in the United States.
Unfortunately, AIG falls in the bottom quarter of these companies as determined by consumer-rated criteria like price and application process.
AIG's Programs
AIG's website offers information specifically about its policies, but it also has a wealth of general financial and insurance information.
The blog covers topics like the impact of new tax laws and retirement and how to recognize elder exploitation.
Design of Website/App
The AIG website is relatively slow to load and navigate from page to page. That said, it's easily navigable both on a desktop and mobile or tablet.
AIG allows policyholders to manage their accounts online. To register, you'll need your policy number, address, and full name as it appears on your paperwork.
Once you register, you'll be able to:
Set up automatic payments of your premiums
Change your account information including your contact information and beneficiary
View policy documents
Initiate a request for a loan against your cash value, if applicable
The app is designed for mobile phones only — both Apple and Android — and it's primarily a means of connecting consumers in a social manner, rather than offering customer service options.
There are a couple of customer service-oriented apps, but they are localized, like AIG South Africa.
What are the pros & cons of AIG?
Just like you would do when buying a car or appliance, comparing the positives and negatives of a product is an essential step to making a sound choice.
Pros
AIG has a wide variety of policy offerings, including no-exam policies and incremental terms.
Registering for online access allows quick and easy account management.
AIG Life & Retirement is one of the pillars of AIG's financial strength.
Cons
There is no customer app that allows for account management from mobile devices.
AIG receives low ratings in customer service across both the official forums and social media.
AIG has a recent history of being bailed out financially.
What's the bottom line?
AIG offers competitive AIG term life rates and may be perfect for people who can foresee converting a term policy to a permanent one, where the AIG return of premium option would be valuable.
This company also offers several methods of tapping into the cash value of your policy while still alive. However, its customer service ratings could be improved.
Here are some common questions about AIG.
#1 – Is AIG life insurance available in all 50 states?
Yes, though some riders and policy details may vary from state to state.
#2 – Can I get AIG quotes online? 
You can enter your information into the online quote form and receive a call from an agent who will then give you an AIG quick quote.
#3 – Will my beneficiary be taxed on the money they get from my policy when I die?
As long as the benefits are paid directly to a beneficiary, such as a spouse or a child, they won't be taxable.
However, if your estate is named as the beneficiary, the benefits then become a part of the estate and are subject to estate taxes, which can be as high as 40 percent.
#4 – Will my AIG universal life policy continue to earn interest if I borrow from it?
Yes, but the amount you withdraw will be deducted from the cash value that earns interest.
#5 – Are there any fees associated with AIG life insurance riders?
Yes. AIG charges a $500 service fee for accessing the accelerated death benefit rider.
#6 – Can AIG cancel my policy without my approval?
AIG is only allowed to do this if you stop paying your premiums, or if you were dishonest when applying for the policy in the first place.
#7 – Will marijuana use disqualify me from getting life insurance?
Not necessarily — each situation is evaluated on an individual basis. If the use is medicinal, the underwriter may want more information about the condition being treated with marijuana.
And AIG, like other insurers, may offer marijuana users its standard smoker rates because of the associated health risks.
#8 – Will I be taxed on money I withdraw or borrow from an AIG permanent policy?
Typically, withdrawals and loans from the cash value of a policy aren't taxable, but it's always advisable to speak with a tax professional before initiating such a transaction.
AIG Contacts
2727 A Allen Parkway
B-F4
Houston, TX  77019
800-231-3655
www.americangeneral.com
Company Info
Year Founded:  1926
AM Best Rating:  A (as of 2017)
S&P Rating:  A+ (as of 2017)
Included AIG Term Life Features
Exchange Option:  Included with no extra premium. The insurance policy may be converted to an eligible permanent life plan during the conversion period without evidence of insurability. The conversion period extends to the earlier of the end of the term period or the insured's attainment of age 75.
Terminal Illness Endorsement: Included with no extra premium. This benefit is a one-time acceleration of up to 50% of the death benefit proceeds payable under the base insurance policy, not to exceed $250,000. An insured may become eligible for this benefit if diagnosed by a qualified physician as having 12 months or fewer to live. Not available in CT, IN, KS, MI, NJ, NY, PA, SC, VA, and WA.
Optional AIG Term Life Features
Child Rider: Available with extra premium. Parent issue ages are 20-55 and child issue ages are 15 days up to 19 years of age. Coverage expires on the earlier of the insurance policy anniversary nearest the child's age 25 and parent's age 65. One unit of coverage equals $1,000 with a maximum of 10 units. The annual cost per unit is $5.00 for insured issues ages 20-50, and $7.50 for insured issues ages 51-55. For Return of Premium Policies, the cost per unit is $5.50 for insured ages 20-50 and $8.00 per unit for insured ages 51-55.
Waiver of Premium Rider:  Available with extra premium. This rider will pay insurance policy premiums in the event of the insured's total disability after a six-month waiting period. Issue ages depend on the policy term. Coverage expires following the insured's attainment of age 65. Not available on policies with face amounts greater than $5,000,000. Please email or call for details and premium rates.
AIG Legal Info
A two-year contestable and suicide provision applies in most states, including TX. Policies issued by American General Life Insurance Company (AGL), Policy Form Numbers ICC16-16901, 16901;  Rider Form Numbers, ICC14-14012, 14012, ICC16-16420, 16420, 91401, ICC14-14001, 14001. ROP Select-a-Term Policy Form Number 100001.
Issuing companies AGL and US Life are responsible for financial obligations of insurance products and are members of American International Group, Inc. (AIG).
Products may not be available in all states and product features or rates may vary by state. Guarantees are backed by the claims-paying ability of the issuing insurance company.
AIG Company Products
Select-a-Term 10 – 10-year term life with rates guaranteed to remain the same for the entire 10-year term period.
Select-a-Term 15 – 15-year term life with rates guaranteed to remain the same for the entire 15-year term period.
Select-a-Term 20 – 20-year term life with rates guaranteed to remain the same for the entire 20-year term period.
Select-a-Term 25 – 25-year term life with rates guaranteed to remain the same for the entire 25-year term period.
Select-a-Term 30 – 30-year term life with rates guaranteed to remain the same for the entire 30-year term period.
Select-a-Term 35 – 35-year term life with rates guaranteed to remain the same for the entire 35-year term period.
ROP Select-a-Term 20 – 20-year term life with rates guaranteed for 20 years. The plan returns all premiums, minus any fees, extra charges, or premiums for optional riders paid by the policy owner at the end of the 20-year term if no claim has been made. A portion of the paid premiums may be returned if the policy is terminated prior to the end of the term.
ROP Select-a-Term 30 – 30-year term life with rates guaranteed for 30 years. The plan returns all premiums, minus any fees, extra charges, or premiums for optional riders paid by the policy owner at the end of the 30-year term if no claim has been made. A portion of the paid premiums may be returned if the policy is terminated prior to the end of the term.
AIG American General Extends Term Life Coverage to 35 Years
AIG recently extended the term life coverage length on its AIG Select-a-Term product to 35 years.
This is the longest term length available from a major life company in the industry. The longest term length before this change was 30 years.
Consumers can now choose from additional term lengths of 31, 32, 33, 34, and 35 years for term life. With these new term lengths, a 45-year-old applicant can purchase a 35-year term length policy and have continuous term life coverage to age 80.
With the existing 30-year term length product, a 55-year-old applicant could have coverage all the way to age 85.
AIG Unveils New Accident Insurance Policy
AIG recently launched AIG Accident Expense Plus, a health insurance product that provides accidental injury coverage.
AIG Accident Expense Plus is designed to provide first-dollar coverage for accidents as a way to help those with large deductibles on their existing health insurance policies.
Policyholders will also be able to purchase a critical illness rider with the policy that provides benefits in the event of a heart attack, stroke, or cancer.
"To combat rising premiums in their major medical plans, many individuals and families are increasing their deductibles, co-payments, and other out-of-pocket expenses," said Jay Drucker, vice president of Accident and Health.
AIG Accident Expense Plus offers an easy and affordable solution to help ensure that out-of-pocket costs from an accident or critical illness don't jeopardize a customer's financial stability.
AIG Accident Expense Plus is an ideal way to protect against the sometimes staggering financial burdens associated with an unforeseen accident, and those can include sports-related injuries, which many of today's active families face.
The new product offers the following benefits:
Coverage is available for individuals and families.
Policyholders can select any physician, hospital, or medical facility for their care.
Policy benefits are paid directly to the policyholder.
What are the options for AIG's Select-a-Term life?
AIG's new term life product, AIG Select-a-Term, has many options with the potential to help life consumers.
For example, let's say you have a mortgage with 16 years remaining on it. Until now, to fully protect the mortgage with term life, you would have to purchase a 20-year term policy. You could then cancel the coverage after 16 years when your mortgage was presumably paid off.
On the surface, this seems like a reasonable approach. However, when we consider the fact that you must pay premiums for 16 years on a policy that is priced for 20 years, we begin to realize that you will end up overpaying for the actual coverage you need, which is 16 years, not 20.
AIG Select-a-Term was designed to eliminate this type of scenario. The product allows you to "dial in" the exact term of coverage for your needs, while at the same time, paying for exactly the term of coverage you need.
Using our example above, let's look at the advantage of purchasing a 16-year term life policy (example for a 45-year-old male, Preferred rating class, $500,000 coverage amount):
| | | |
| --- | --- | --- |
|   | 16-Year Term |  20-Year Term |
|  Annual Premium |  $685 |  $820 |
|  Total Policy Cost (16 Years) |  $10,960 |  $13,120 ' |
|  Additional Cost |  0 | $2,160 |
' Assumes 20-year term life policy is canceled after the mortgage is fully paid (16 years).
Our example policy owner would pay an additional $2,160 by purchasing a 20-year term life policy and canceling it after 16 years. This clearly demonstrates the tremendous opportunity this new product provides consumers.
Please contact us for help customizing a term life policy to your needs.
AIG has released a new innovative term life product that allows consumers to select a term length more specific to their needs. AIG Select-a-Term allows the choice of a 10-year, 12-year, or any period from 15-year through 30-year term life policy.
This innovation should prove beneficial for consumers caught between the traditional terms of 15-20 or 20-30. Consumers will now be able to tailor the coverage to their individual circumstances, such as the completion of a mortgage or the beginning of retirement.
Please view our term life quoting system for AIG term life quotes on the traditional terms (10, 15, 20, 25, & 30).
What is the company? 
American General is a U.S.-based company of American International Group and was founded in 1926. Its mission is to be the premier provider of protection, investment, and income solutions needed for financial and retirement security.
They are committed to providing better, more innovative ways of helping to protect you and your family's financial security. It's a responsibility They confidently embrace.
With a wide range of flexible and highly differentiated products, they provide peace of mind to more than 12 million families and businesses.
The company has an A rating from AM Best rating service, and an A+ rating from Standard & Poor's rating service. These company ratings represent a measure of a company's claims-paying ability and overall performance.
As an online broker, we're not limited to working with one specific life company. By definition, a broker typically works with several companies but represents you, not the company.
Every insurance company we make available to you has been carefully chosen to provide competitive prices, fast application processing and underwriting, and excellent customer service. Today, we'll take a closer look at one such company: American General.
What features are included with every term life policy?
These features are often called "riders" in life insurance lingo. This simply means they "attach to" or "ride-along" with your policy. These two are included for free with your policy.
1. Terminal Illness Rider
American General includes a Terminal Illness (TI) rider at no extra cost to you (in approved states). This benefit allows you to receive a portion of the death benefit if you become terminally ill, with a life expectancy of 12 months or less.
The policy owner can request payment of up to 50 percent of the eligible death benefit, with a maximum of $250,000.
2. Exchange Option
An Exchange Option (EO) is included with no extra premium. You may convert the policy to select permanent life policies issued by American General.
You do not need to show evidence of insurability to convert your policy, as long as you do it during the guarantee period of the policy, which expires at the end of the policy term or when you reach age 70.
What optional features can I add to my AIG life insurance policy?
You can buy these optional riders and they will also become a part of your policy.
1. Waiver of Premium Rider
A Waiver of Premium (WOP) rider is available with extra premium. If you have a total disability, and after a waiting period of six months, your premiums will be waived retroactively from the beginning of the disability.
The premiums will continue to be waived for the duration of your total disability. It will expire on the policy anniversary nearest your 65th birthday.
2. Accidental Death Benefit Rider
An Accidental Death Benefit (ADB) rider is available with an extra premium. This rider pays in addition to the base policy death benefit if you were to die in an accident.
The benefit amount is up to the face amount of the base policy or a maximum of $250,000 on any one life (includes any such benefit already in force).
For example, let's say you have a $250,000 term life policy with the ADB rider attached. If you die in a covered accident, they will pay your beneficiary an additional $250,000 death benefit, for a total payout of $500,000.
You can buy this rider if you are between the ages of 18 and 65. It will expire on the policy anniversary nearest your 70th birthday.
3. Child Rider
The Child rider is also available with an extra premium. It provides level term insurance on each insured child, up to age 25. One rider covers all children in the family and any new children born or adopted after the policy is issued, with no increase in cost when buying insurance for children.
The minimum amount of coverage available is $500 and the maximum is $25,000. You can buy this Rider if you are between the ages of 20 and 55 and your children are between the ages of 15 days to 19 years.
It expires if you reach age 65, or when your youngest child reaches age 25, whichever happens first.
4. Disability Income Rider
The Disability Income (DI) rider can provide a regular monthly benefit for up to two years if you are unable to work due to a covered illness or injury. There is a 90-day waiting period.
The definition of disability is your "own occupation" for the first 12 months and "any occupation" after the first 12 months.  The rider is available on policies issued at a Standard rating class or better with a minimum face amount of $250,000.
What are the available policies?
Term life policies include term lengths of 10, 15, 16, 17, 18, 19, 20, 21, 22, 23, 24, 25, 26, 27, 28, 29, and 30 years, during which your rates are guaranteed to remain the same.
The minimum coverage amount is $100,000 and the maximum is $65 million. A paramedical exam is required to apply for all policies.
Remember, working with an online broker has its advantages. Buying online allows you to complete the process at your own pace while avoiding pressure to buy. It also gives you a variety of companies to choose from.
Researching reviews like this one is a great way to start shopping. Ready for the next step?
Type your ZIP code into our FREE tool to get your quote comparison.