Haven Life Insurance Review
Haven Life, founded in 2014, is backed and wholly owned by leading life insurer MassMutual. Use our free comparison tool below to compare Haven Life Insurance quotes and other companies near you.
Ready to compare quick life insurance quotes?
Your life insurance quotes are always free.
Secured with SHA-256 Encryption
UPDATED: May 12, 2022
It's all about you. We want to help you make the right life insurance coverage choices.
Advertiser Disclosure: We strive to help you make confident life insurance decisions. Comparison shopping should be easy. We are not affiliated with any one life insurance company and cannot guarantee quotes from any single company.
Our life insurance industry partnerships don't influence our content. Our opinions are our own. To compare quotes from many different life insurance companies please enter your ZIP code above to use the free quote tool. The more quotes you compare, the more chances to save.
Editorial Guidelines: We are a free online resource for anyone interested in learning more about life insurance. Our goal is to be an objective, third-party resource for everything life insurance-related. We update our site regularly, and all content is reviewed by life insurance experts.
Key Info
Company Specifics
Year Founded
2014
Current Executives
CEO – Yaron Ben-Zvi
CTO – Todd Rogers
Number of Employees
120
Total Sales / Total Assets
$1,900,000 / $8,470,000
HQ Address
60 Madison Ave., New York, NY 10010
Phone Number
1-855-744-2836
Company Website
www.havenlife.com
Premiums Written - Individual Life
$200,000,000
Financial Standing
+3.83% from the Previous Year
Best For
No-Exam up to $1,000,000; Strong Financial Ratings; Online Application Without an Agent
#blank#
The importance of owning life insurance tends to reveal itself over time. Buying a policy isn't typically at the top of your list once you forge out on your own and start making grown-up decisions.
When you're young and single, there is less need for it. But once you get older, those significant life events start coming along: getting married, buying a house, starting a family.
Once you have loved ones who depend on you financially, the importance of protecting them in the event of your unexpected death starts to become clear.
Unfortunately, along with that understanding comes the realization that the buying process can be complicated.
There are nearly 1,000 life insurance companies in the United States. Each sells multiple policies, all with their own unique benefits and features.
To further complicate matters, you have to buy most policies through an agent or broker, and approvals can take weeks.
Haven Life seeks to simplify the buying process and usher the life insurance industry into the digital age.
It holds the distinction of being the first simple, streamlined solution to buying affordable term life insurance policies completely online.
This extensive Haven Life insurance review is designed to give you a complete overview of this revolutionary company and preview all their policies to help you decide if Haven Life is the insurer for you.
Start comparing life insurance rates now by using our FREE quote tool above!
Are Haven Life insurance reviews positive?
The following third-party ratings give insight into Haven Life's financial strength, business practices, and quality of customer service.
Your life insurance quotes are always free.
Secured with SHA-256 Encryption
A.M. Best
A.M. Best ratings measure an insurer's financial strength and its ability to pay all its policy obligations.
Haven Life has the highest possible rating of A++, meaning they have a superior ability to meet their financial obligations.
Better Business Bureau (BBB)
The Better Business Bureau assigns one of 13 letter grades based on factors such as time in business, open complaints, resolved complaints, and federal action against a company.
Haven Life currently holds a perfect A+ rating.
Moody's
Similar to A.M. Best, Moody's long-term obligation ratings measure an insurer's credit risk. Haven Life holds a high-quality Aa3 rating, the fourth-highest rating possible.
Your life insurance quotes are always free.
Secured with SHA-256 Encryption
Standard & Poor's (S&P)
Standard & Poor's ratings also measure an insurer's credit risk. Haven Life has a very strong AA+ rating, the second-highest of 21 overall scores.
NAIC Complaint Index
The National Association of Insurance Commissioners Complaint Index or NAIC compares the number of complaints registered against an insurer each year with that of other companies.
The NAIC sets the index at an average score of 1.00. Haven Life has a score of 0.12, significantly lower than the industry standard.
What is the company history?
CEO and co-founder of Haven Life, Yaron Ben-Zvi, started the company in 2014 to improve what he saw as a glaring shortcoming in the life insurance buying process.
When he and his wife were expecting their first child, he realized (like many) the need for life insurance. He assumed he could quickly and easily purchase a policy online.
In a world of mobile banking, digital streaming, instant downloads, and same-day drone delivery, that's an easy assumption to make.
After all, car insurance, homeowner's insurance, and renter's insurance can all be bought instantly online. Why would life insurance be any different?
Instead, he discovered that nobody sold on-demand life insurance online. He would have to apply through an agent and wait several weeks for a decision.
Ben-Zvi started Haven Life to address those issues directly; the company sells term life insurance policies online through a simple application.
Their advanced underwriting algorithms can determine insurability and offer instant approval to many applicants, sometimes with no medical exam required.
For those who do require an exam, the company offers temporary coverage that begins immediately and lasts until their application is either approved or denied.
Haven Life is backed and wholly owned by leading life insurer MassMutual.
Although the startup is only a few years old, its policies are issued by one of the oldest life insurance companies in the country, so you don't have to worry about getting cut-rate coverage from a provider that might not be around in a few years.
In that sense, Haven Life operates more like a life insurance agency than they do an actual insurance company.
However, even though they are owned by an industry giant, the small company is completely autonomous.
Their parent company chose to keep Haven Life as a distinctly separate entity to foster the creativity and entrepreneurial spirit it needs to revolutionize the life insurance buying process.
The policies Haven Life sells are exclusive to it and can't be purchased directly from MassMutual.
When the company officially launched in May 2015, it sold policies only in the state of Massachusetts. Since then, they've quickly expanded and are now licensed to sell their policies nationwide.
Your life insurance quotes are always free.
Secured with SHA-256 Encryption
What is Haven Life's market share?
Haven Life has been selling life insurance policies for only the past four years, and they've been selling in all 50 states for just the past two years. As a result, they have a negligible market share compared to traditional insurers.
Plus, the policies they do sell are attributed to their parent company, which issues them — at least as far as official market share numbers are concerned.
What Haven Life does have is a significant presence (and a good head start) in the niche insurance market that they created: online, direct-term life insurance.
Since their founding, several other startups have thrown their hats in that digital ring (along with a few of the larger, traditional life insurers), but Haven Life will always hold the distinction of being first.
They are also backed by a much larger insurer than most of their startup competitors.
Because of that, they can offer policies with higher face values and more options than many of the other companies fighting to carve out a share of that new market.
What is Haven Life's position for the future?
Haven Life underwent a relaunch in late 2017. Since then, they have grown at a rapid pace.
They described the relaunch as stepping out of a proof-of-concept phase into a more ambitious phase in which they expanded and developed a completely new type of life insurance brand.
The initial launch showed the world they could do it, and with the relaunch, they are poised to do it.
In 2018 alone, they
Raised their maximum coverage amount from $1 million to $3 million;
Expanded their eligibility to cover non-U.S. citizens and those with complicated medical histories;
Acquired online insurance broker Quilt;
Debuted a new suite of benefits for their term policies; and
Increased their number of policyholders by 250 percent.
Startup companies come and go every day. It can be hard to speculate on the future of a company that's only 5 years old.
However, because Haven Life is backed by a financially strong industry leader, it's unlikely that they'll disappear anytime soon.
If the company keeps expanding and innovating as they have been (while still keeping the buying process simple), it will likely be a leader in on-demand life insurance for years to come.
What is Haven Life's online presence?
Haven Life is an entirely digital company. Its only presence is online. Their website is a one-stop-shop for your life insurance needs.
They offer the ability to request a quote, apply, modify your policy, file a claim, and so much more on its website.
They also have an active social media presence.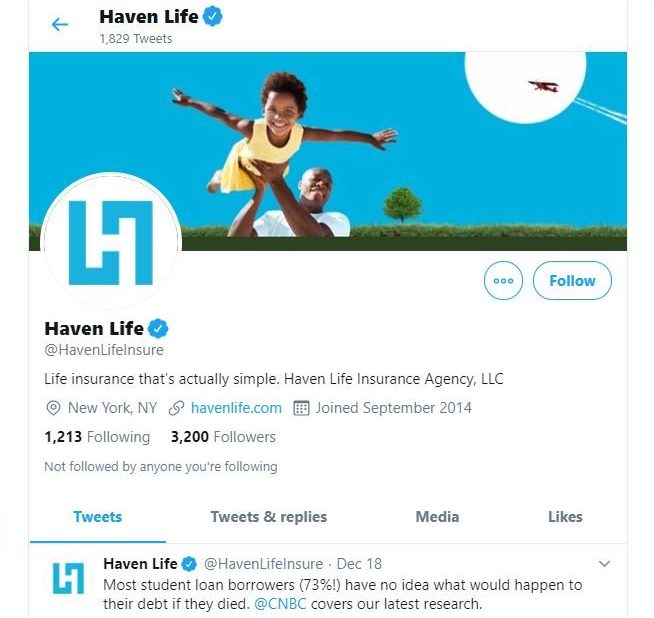 Both their Facebook and Twitter pages are actively updated with useful information on the life insurance industry and their specific product offerings.
Their Facebook page also has an automated chatbot that can help you get started on a quote.
Your life insurance quotes are always free.
Secured with SHA-256 Encryption
Does Haven Life have commercials?
In February 2019, Haven Life debuted its first television commercial titled "What is Haven Life?"
The brief spot introduces the company to the world and touts the simplicity of its online platform.
What is Haven Life's contribution to the community?
As a very young startup, Haven Life doesn't have as much of a community presence as the larger, more established insurers.
It doesn't have an extensive track record of charitable giving or corporate social responsibility initiatives that many people expect out of much larger companies.
As a subsidiary, it does contribute to the many initiatives of its parent company, but there are no events or programs that solely bear the name Haven Life.
As a young company that actively promotes social and environmental responsibility on its website and social media channels, it's only a matter of time before Haven Life can give back to the community in those areas.
Are Haven Life's employees happy?
Haven Life employs about 120 people.
Glassdoor employee reviews for Haven Life averaged 4.7 out of five stars based on 30 reviews. A staggering 92 percent of current employees say they would recommend the job to a friend.
Since it's such a new company, Haven Life does not rank on any notable lists of best places to work. However, if their employee reviews are to be believed, you can expect them to start placing on some lists in the years to come.
Your life insurance quotes are always free.
Secured with SHA-256 Encryption
How can I shop for life insurance?
If you're reading Haven Life's insurance review, you most likely understand the importance of owning a life insurance policy. If you're still unsure, consider the following.
According to the 2018 Insurance Barometer Study from Life Happens and LIMRA:
35 percent of households would be financially affected within one month of the primary wage earner's death
90 percent agree that the primary wage earner should carry insurance
60 percent of all people living in the United States have life insurance
20 percent of those with a policy feel their coverage is insufficient
Once you've decided to purchase coverage, there are some key things to keep in mind as you shop. In general, life insurance needs to cover two types of obligations: immediate and future.
Immediate obligations are the things that need to be paid soon after your death. These include:
Funeral costs
Medical bills
Mortgage balances
Personal loans
Credit card debt
Future obligations are all the expenses (either planned or unexpected) that you want to pay for after your death. They include:
Income replacement
Spouse's retirement
Emergency savings fund
Children's college tuition
A life insurance agent or financial planner can help you determine exactly how much coverage you'll need to meet all of those obligations.
For now, here is an example using a basic life insurance calculator.
A husband and father of one is shopping for life insurance. He is the sole wage earner for his family, with an annual salary of $100,000.
The family has a remaining mortgage balance of $150,000, $10,000 left on a car loan, and $5,000 in credit card debt.
They are also $20,000 short of their $35,000 college savings goal meant to cover the average cost of four years of in-state tuition at a public university for their child.
His wife has a graduate degree and plans to return to work once their child graduates from high school in six years. Therefore, she would need roughly six years' worth of income replacement in the interim.
After factoring in an average funeral cost of around $7,500, the husband's insurance needs are as follows:
Immediate need: $150,000 mortgage + $10,000 car loan + $5,000 credit card + $7,500 funeral costs = $172,500
Future need: $500,000 income replacement + $20,000 college fund = $520,000
Total need: $692,500
That total means he should purchase a life insurance policy with a face value of $700,000.
What are the average Haven Life male vs female life insurance rates?
The following table illustrates how Haven Life's average annual rates on a 20-year, $100,000 policy in key demographics compare to the average of the top 10 insurers by market share.
| Demographic | Annual Premium: Male | Versus Average Top 10 Insurers | Annual Premium: Female | Versus Average Top 10 Insurers |
| --- | --- | --- | --- | --- |
| 25-Year-Old Non-Smoker | $114.12 | -$64.42 | $104.64 | -$55.93 |
| 25-Year-Old Smoker | $257.88 | -$63.88 | $215.64 | -$33.11 |
| 35-Year-Old Non-Smoker | $115.20 | -$69.84 | $107.76 | -$58.15 |
| 35-Year-Old Smoker | $319.20 | -$41.03 | $273.24 | -$12.94 |
| 45-Year-Old Non-Smoker | $199.80 | -$68.09 | $163.92 | -$76.33 |
| 45-Year-Old Smoker | $662.76 | +$25.25 | $516.48 | +$23.28 |
| 55-Year-Old Non-Smoker | $429.12 | -$95.83 | $323.40 | -$83.54 |
| 55-Year-Old Smoker | $1,444.92 | +$80.83 | $1,024.80 | +$33.17 |
| Average Non-Smoker | $214.56 | -$74.55 | $174.93 | -$68.49 |
| Average Smoker | $671.19 | +$0.29 | $507.54 | +$2.60 |
| | #blank# | #blank# | #blank# | #blank# |
For many demographics, Haven Life's premiums are significantly below average, but older smokers could end up paying higher-than-average rates.
What types of coverage are offered?
Haven Life offers a single, simple term life insurance policy. You can also choose from three riders to further tailor your coverage.
Your life insurance quotes are always free.
Secured with SHA-256 Encryption
Types of Coverage Offered
Life insurance policies fall into one of two general categories: term or whole.
Term life insurance policies pay only if the death occurs within a set time frame, usually between 10 and 30 years.
Permanent life insurance policies have no term and pay whenever a death occurs, regardless of age. Some also build cash value by allocating a portion of your monthly premiums into an interest-bearing account.
They can also come with two benefit options: fixed and increasing.
With a fixed death benefit, the policy premiums decrease over time as the cash value increases, so the payout is always equal to the initial face value.
With an increasing death benefit, the premiums and face value remain the same over time. As the cash value increases, the overall death benefit increases.
Whole policies have multiple variations: traditional whole life insurance, universal life insurance, guaranteed universal life insurance, indexed universal life insurance, and variable life insurance.
For now, Haven Life is only focused on selling term life policies.
Term
A term policy is payable only if the death of the insured occurs within a specified period, usually between 10 and 30 years.
Once the term has passed, the insurer cancels the coverage. There are generally no refunds on the premiums paid. Most policies can also be converted to a whole policy before they expire.
The specifics of Haven Life's term policy are as follows.
Term: 10, 15, 20, or 30 years
Flexibility: Face value can be decreased at any time, but not increased; term lengths can't be changed
Minimum: $100,000
Maximum: $3 million
Issue age: 18-64
To qualify for coverage with Haven Life, you must meet the following criteria:
U.S. resident
Not active military or in the process of enlisting
Not intending to use the policy for business purposes
Not planning to use the policy to replace another policy
Qualified applicants under age 59 who are applying for $1 million in coverage or less could qualify for instant, medically underwritten coverage with no exam.
You can customize Haven term policies with the following traditional riders:
Accidental death benefit: Pays a benefit in addition to the death benefit of the policy if the insured dies as a result of qualifying accidental injuries
Waiver of premium: Waives the policy premiums if the insured becomes disabled
Haven Life also offers a non-traditional rider (which is less of a rider and more of a bonus feature), called Haven Life Plus, at no additional cost.
Haven Life Plus gives policyholders access to the following benefits and services to help them live happier, healthier lives:
Aaptiv: A fitness app with thousands of on-demand workouts ($99/year value)
Trust and Will: A digital solution for creating legal wills for you and your partner ($129 value).
LifeSite: A secure online safe deposit box for storing, managing, and sharing your family's important documents ($80/year value)
Timeshifter: Unlimited personalized travel plans for preventing jet lag ($24.99/year value)
MinuteClinic: A 15 percent discount voucher for family health services at MinuteClinic, inside CVS Pharmacy and Target stores
Haven Life Plus is not available in California, Florida, New York, North Dakota, South Dakota, and Washington.
While the rider itself is not available in California, California residents may still be able to opt into some of the benefits.
What factors affect your rate?
Anything that increases your risk of an early death increases the chances the insurer will have to pay out on your policy. That higher risk classification will result in a higher premium.
Let's take a look at some of the most common factors that affect your rate.
Demographics
Several demographics can have a big impact on your life insurance premium.
Age: Age is one of the most important factors in determining insurability. Older people obviously have a shorter life expectancy than younger people.
You can expect your rate to climb higher with each year you wait to purchase a policy. Some insurers also limit coverage amounts for people over certain ages.
Gender: Gender also plays a significant role. Statistically, women live longer than men. For that reason, men in the same risk classification will almost always pay higher premiums than women.
Current health & family medical history
Healthy people have longer life expectancies than those who aren't. Longer life expectancy means lower premiums.
To determine your overall health, insurers will require you to fill out a health questionnaire and may request access to your medical records. Some may require a complete medical exam and bloodwork.
Even if a policy doesn't require a medical exam, underwriters still have access to public prescription and Medical Information Bureau (MIB) records, so you need to be honest on your application.
Most insurers will also examine the health history of your immediate family to identify any potential hereditary medical issues such as diabetes, heart disease, or cancer. Learn more about how family history affects your life insurance rates.
High-risk occupations
Some jobs are more dangerous than others.
The Bureau of Labor Statistics' Census of Fatal Occupational Injuries shows that positions such as police officers, firefighters, and construction workers have a higher risk of accidental death on the job than other, less hazardous occupations.
A dangerous job will earn you a higher risk classification, which equals higher premiums.
High-risk habits
Similarly, high-risk habits outside of work can also result in more expensive life insurance.
The most common high-risk habit that insurers look for is tobacco use. Smokers almost universally pay higher rates than their non-smoking counterparts in every demographic.
For example, the average 35-year-old male non-smoker pays around $115 per year for a 20-year, $100,000 policy with Haven Life. A 35-year-old smoker pays $320 for the same policy.
That's an extra $4,100 paid over the life of the plan.
In addition to smoking, insurers will also look to see if you pursue any high-risk hobbies outside of your occupation, such as mountain climbing, skydiving, scuba diving, or car racing.
A single excursion won't earn you a higher premium, but a regular hobby could place you in a higher risk category.
Veteran or active military status
Military status falls under the category of high-risk occupations. Most insurers charge higher rates to active duty military service members, and some (such as Haven Life) don't sell them policies at all.
How can I get the best rate with Haven Life?
Your risk classification determines whether an insurer will raise your price from their base premiums. Those base premiums are generally based on three factors: mortality, interest, and company expenses.
Insurers use statistical mortality tables to estimate how many people in every demographic are likely to die each year. If they insure people in demographics with a high likelihood of death, they'll raise their rates on them to minimize losses.
Premiums are also influenced by current interest rates.
Insurers increase their profits by investing the premiums you pay into bonds, stocks, and mortgages. A low return on those investments could result in higher premiums.
They also factor in all of their operating expenses. The more a company spends maintaining their business, the more of that cost they pass onto their policyholders.
Rates can also vary from state to state, although the NAIC is currently encouraging states to adopt laws that would provide more uniformity nationwide.
With so many variables affecting premiums, how can you get the lowest possible rates?
A lot of these variables, such as gender and family medical history, are beyond your control. The best way to lower your rates is to change what you can.
First, make healthy lifestyle changes. Blood pressure, BMI, and cholesterol are key measures on a medical exam. Do what you can to improve them through diet and exercise.
Also, read up on the medical exam process so you know what to expect.
If you do smoke, not only should you quit, but you should do so as soon as possible. Haven Life requires you to be tobacco-free for a year before you can claim a non-smoking rate.
Second, buy your policy early. As previously discussed, waiting to buy insurance will increase your premiums. Rates never go down with time.
For example, the average 30-year, $500,000 policy for a 35-year-old male non-smoker is around $445 per year. That same policy for a 40-year-old costs $645. That 10-year jump increases the price by 45 percent, so lock in the best life insurance in your 30s.
Finally, you need to pay your premiums on time. Like any bill, late payments on life insurance result in penalties and could even lead to the cancellation of your policy.
If you have a policy canceled for non-payment, you can expect additional fees to get it reinstated, or higher rates at the next insurer.
| Age | $100,000: Male | $100,000: Female | $250,000: Male | $250,000: Female | $500,000: Male | $500,000: Female |
| --- | --- | --- | --- | --- | --- | --- |
| 25 | $8.85 | $7.75 | $10.53 | $9.86 | $13.95 | $12.66 |
| 30 | $8.85 | $7.75 | $10.53 | $9.86 | $13.95 | $12.66 |
| 35 | $8.94 | $7.75 | $10.62 | $9.86 | $13.95 | $12.66 |
| 40 | $10.13 | $9.00 | $13.17 | $12.07 | $18.60 | $16.88 |
| 45 | $12.24 | $10.65 | $18.01 | $16.26 | $28.18 | $24.91 |
| 50 | $15.77 | $13.39 | $25.72 | $21.54 | $42.78 | $35.47 |
| 55 | $22.54 | $18.32 | $40.47 | $30.79 | $70.74 | $52.85 |
| 60 | $34.87 | $27.04 | $65.77 | $48.09 | $119.75 | $79.75 |
| | #blank# | #blank# | #blank# | #blank# | #blank# | #blank# |
As you can see, we've compiled a list of monthly sample rates for Haven Life's 10-year instant term no-exam policy for non-smokers at key ages to give you an idea of how much a term life policy might cost.
What are Haven Life's programs?
Haven Life has little additional life insurance resources on its website, but what they do have is extensive.
They have a basic life insurance calculator that can help you determine your specific life insurance needs before requesting a quote or starting an application.
The main resource is an extensive blog on a wide variety of topics. The blog is updated frequently and provides answers to a majority of life insurance questions.
There are also a larger number of posts dedicated to general wellness topics and social issues, along with some lighthearted fun ones sprinkled in there for good measure.
Even if you decide that Haven Life isn't the insurer for you, their blog is worth a read if you have any questions or want some clear, concise insight into the life insurance process.
How do I cancel my policy?
If you need to cancel your policy, you can do so at any time.
There are generally no refunds on premiums when you cancel a life insurance policy. For a term policy, you would only receive a refund on prepaid premiums for an upcoming period.
How to cancel
Everything about Haven Life is designed to be self-directed. To cancel your policy, all you have to do is log in to your account and follow the simple instructions.
If you do have problems for any reason, you can contact customer service, and they can help you.
How can I make a claim?
The overall process of filing a death benefit claim with Haven Life follows general industry-standard steps:
Initiate a claim
Fill out company-specific paperwork
Submit the paperwork along with a death certificate and any other requested documents
Choose a disbursement method
Receive the benefits
To initiate a claim with Haven Life, call their policy service center at 1-855-744-2836. The claims department will then send the appropriate claims forms to the beneficiary.
When initiating a claim, Haven Life asks that you have the following information on hand:
Relationship to the deceased
Personal information about the insured and beneficiary, including Social Security number and date of death
Policy number
Final death certificate for the insured
How can I get a quote online?
Filling out an application with Haven Life will instantly give you your real rate. Your real rate is a more accurate version of a quote based on your application and third-party data obtained during underwriting.
Because it's a more involved process, it'll give you a price that will be closer to your actual rate than a simple quote based on some general demographic information. The application consists of 30 questions.
You aren't obligated to buy a policy after filling out an application to get your real rate.
However, Haven Life does offer a quicker, more traditional quote if you don't want to go through the full application process. Here's how to get yours.
#1 – Go to the Haven Life website
The link to the quote tool is located front and center on the Haven Life homepage.
#2 – Enter your personal information and desired coverage
Clicking the link will take you to the quote tool. Enter some basic personal and demographic information, along with your desired coverage, then click the Calculate button.
#3 – Get your quote and apply
Once you submit your information, the tool will display your estimated rate. You can then apply for coverage to get your real rate.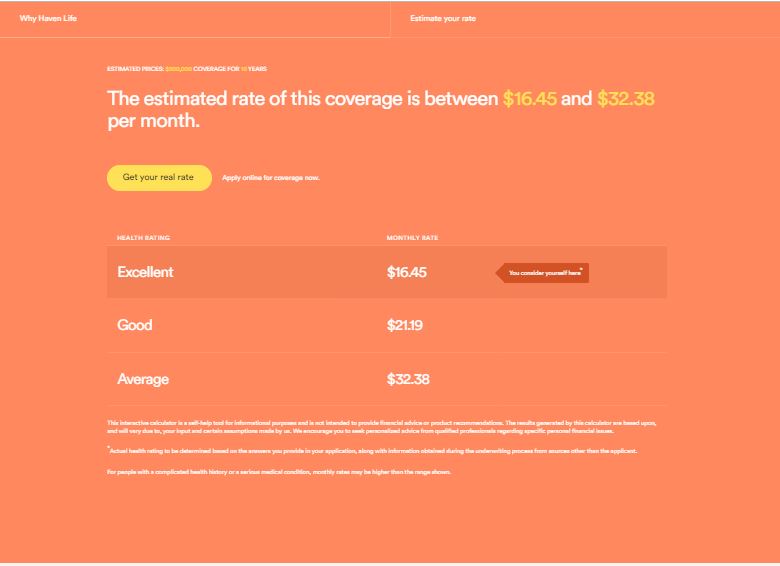 How is the design of the website/app?
The Haven Life website is well-designed and simple to navigate, which is a must for a company that exclusively sells life insurance online.
Information is readily available, and instructions are always clear.
Haven Life doesn't have an app for managing your policy, but their website is optimized for mobile viewing.
The quote tool is just as simple to use on your phone or tablet as it is on a computer.
The result is quite user-friendly.
What are the pros & cons?
As with any company, there are pros and cons to shopping with Haven Life. Here are some of the biggest.
Pros
On-demand insurance with no agent
Instant approval for qualified applicants
Temporary coverage while waiting for approval
Below-average rates for several demographics
Some policies are available with no medical exam
Cons
No whole policy options
Limited amount of riders
What's the bottom line?
Haven Life is an innovative company offering simple, direct-term policies online.
They are a young startup, but they're backed by an industry leader. If you buy from them, you can rest assured that you're getting quality, secure life insurance.
They make the buying process as simple as it can be, and their rates are below average for many demographics (though smokers may want to shop around with other providers).
They only offer a single policy type, but if you just need basic coverage to give your family peace of mind and don't want to deal with the hassle of going through an agent, Haven Life is worth a look.
Is Heaven Life tech focused?
Haven Life is a tech-focused life insurance company that offers the only affordable, fully medically underwritten term life insurance policy that you can purchase entirely online without a medical exam. We're transforming the typically time-consuming and confusing process of buying life insurance into one that's easier, faster, and just plain better.
MassMutual is a mutual company. That means we don't have shareholders. Instead, our members and participating policy owners are often described as sharing in our ownership. This means that, if you're insured under a MassMutual whole life insurance policy, for example, you are a member entitled to vote for our Board of Directors. And if you own that participating policy, you may be eligible to share in any dividends we may declare.
As a mutual company, we operate for the benefit of our members and participating policy owners. We manage the company with a focus on their long-term interests and are not subject to the expectations of Wall Street analysts or stockholders.
Throughout our history, this focus on the long-term has helped us provide financial and retirement security to millions of people. And while they're not guaranteed, we've consistently paid dividends to eligible participating policy owners since the 1860s. Our success is reflected in our financial strength ratings, which are among the highest of any company in any industry.
60 Madison Avenue, Floor 7
New York, NY 10010
855-744-2836
Year Founded:  1851 (MassMutual)
AM Best Rating:  A++ (as of 2016)
S&P Rating:  AA+ (as of 2016)
What Haven term life features are included?
accelerated death benefit:  Included at no extra cost. The Accelerated Death Benefit (ADB) payment is payable in the event of a qualifying terminal illness. The ADB is based on a portion of the policy's death benefit, subject to a maximum benefit amount, which is the lesser of $500,000 or 75% of the death benefit. The ADB is treated as a lien, which accrues interest. Upon the death of the Insured, the death benefits payable are reduced by the total ADB lien. Available in all states except CT.
Conversion Option:  Included at no extra cost. The policy is convertible to a qualified permanent life insurance policy for the duration of the guaranteed level premium period or up to the Insured's attained age 70, whichever comes first. Policies issued at age 66 or over are convertible during the first five policy years.
MediGuide Medical Second Opinion:  Included at no extra cost. The MediGuide Medical Second Opinion Program provides services should the Insured be diagnosed with a qualifying life-threatening condition or disease. MediGuide America will collect and assemble all medical records and obtain a medical second opinion and recommend three facilities, at no cost to the Insured. Available in all states except KS, NY, WA.
What Haven term life features are optional?
Additional Term Insurance Rider:  Available with extra premium. Additional Term Insurance Riders (AIR) can provide additional temporary life insurance coverage for 10, 15 or 20 years, after which coverage ceases.
Children's Life Insurance Rider: The Children's Life Insurance Rider (ICC14-CLIR) provides death benefit protection for families with one or multiple children. A single rider covers all eligible children to the earlier of the child's 25th birthday, the insured's 65th birthday or policy termination. Eligible children of the policy insured (not owner) include any unmarried child, stepchild or legally adopted child, who is not beyond his or her 18th birthday at the time of application. Available only at policy issue when the primary insured person is between the ages of 20 and 55, age nearest birthday.
Waiver of Premium Rider: Available with extra premium. Banner Life Insurance Company will waive all premiums that are due during total disability if given due proof of total disability and such total disability has then existed continuously for at least six months. Waiver of Premium coverage ceases at the Insured's attained age 65.
A two-year contestable and suicide provision applies.
Haven Term is a Term Life Insurance Policy (DTC, ICC14DTC) issued by Massachusetts Mutual Life Insurance Company (MassMutual), Springfield, MA 01111 and offered through Haven Life Insurance Agency, LLC.
What are Haven Life Company Products?
InstantTerm 10: Term life insurance with level premiums during the initial 10-year period. Premiums increase annually in years 11 and later.
InstantTerm 15: Term life insurance with level premiums during the initial 15-year period. Premiums increase annually in years 16 and later.
InstantTerm 20: Term life insurance with level premiums during the initial 20-year period. Premiums increase annually in years 21 and later.
InstantTerm 30: Term life insurance with level premiums during the initial 30-year period. Premiums increase annually in years 31 and later.
Haven Life FAQ
Here are some frequently asked questions about Haven Life and their policy offerings.
#1 – Does Haven Life offer a no-exam life insurance policy?
Haven Life offers instant term coverage with no medical exam to qualified applicants on policies with face values of $1 million and below.
#2 – Does Haven Life offer any supplemental coverage?
No. Haven Life only offers a single term life policy.
#3 – How does temporary coverage work?
Haven Life's temporary coverage allows your life insurance coverage to begin while you complete a medical exam or wait for approval (if not approved instantly).
To start temporary coverage, you make a payment equal to a month's premium on the policy for which you applied. The coverage equals the amount you applied for, up to $1 million.
The coverage will last either until you receive full coverage, you decide to cancel your application, or your application is declined.
If you accept the policy, your temporary coverage payment is applied toward your first month of full coverage. If you don't accept or get declined, the payment will be refunded.
#4 – Can non-U.S. citizens apply?
Yes. As of 2018, Haven Life policies are available to U.S. residents (regardless of citizenship) and those with certain visas.
Face values for non-U.S. citizens are limited to $1 million. All policies require a medical exam, and applicants must supply a copy of all supporting documents (such as a Green Card or visa).
#5 – Can I change my face value?
Haven Life allows you to decrease your face value at any time during your term but doesn't allow any increases.
#6 – Can I change my term length?
No. Haven Life doesn't allow you to change your term length once coverage starts.
#7 – Does Haven Life offer group life insurance?
No. Haven Life does not offer employer-sponsored life insurance.
#8 – How do I make a payment on my Haven Life premiums?
The only payment method is to have your premiums automatically debited from your checking account.
#9 – Can I pay my premiums annually?
Premiums must be paid monthly. You can't pay annually or pay an entire year in advance.
#10 – How easy is it to change my beneficiary?
You'll need to fill out a beneficiary change form, which can be filled out and submitted online on your account page.
#11 – How long does it take for Haven Life to pay death benefits on a life insurance policy?
Death benefits are typically processed within 10 days of the claims department receiving all required paperwork.
#12 – Are the life insurance benefits taxable?
Life insurance benefits are non-taxable when they are paid directly to a beneficiary, such as a spouse or a child. However, if you name your estate as the beneficiary, the benefits become a part of the estate and are then subject to estate taxes.
#13 – Are all Haven Life insurance policies available in all states?
Yes. Haven Life is licensed to sell all its policies in every state, though their Haven Life Plus rider is not available in California, Florida, New York, North Dakota, South Dakota, and Washington.
Start comparing life insurance rates now by using our FREE quote tool below!