Penn Mutual Life Insurance Review [2023]
Our Penn Mutual Life Insurance review finds the company with strong financial ratings and customer reviews. To get free life insurance quotes, scroll down to take advantage of our free quote calculator below.
UPDATED: Feb 28, 2023
Fact Checked
Ready to compare quick life insurance quotes?
Your life insurance quotes are always free.
Secured with SHA-256 Encryption
Benjamin Carr
Former State Farm Insurance Agent
Benjamin Carr worked as a licensed insurance agent at State Farm and Tennant Special Risk. He sold various lines of coverage and informed his clients about their life, health, property/casualty insurance needs. Assessing risks and helping people find the best coverage to suit their needs is a passion of his. He appreciates that insurance was designed to protect people, particularly during times...
Former State Farm Insurance Agent
UPDATED: Feb 28, 2023
It's all about you. We want to help you make the right life insurance coverage choices.
Advertiser Disclosure: We strive to help you make confident life insurance decisions. Comparison shopping should be easy. We are not affiliated with any one life insurance company and cannot guarantee quotes from any single company.
Our life insurance industry partnerships don't influence our content. Our opinions are our own. To compare quotes from many different life insurance companies please enter your ZIP code above to use the free quote tool. The more quotes you compare, the more chances to save.
Editorial Guidelines: We are a free online resource for anyone interested in learning more about life insurance. Our goal is to be an objective, third-party resource for everything life insurance-related. We update our site regularly, and all content is reviewed by life insurance experts.
UPDATED: Feb 28, 2023
It's all about you. We want to help you make the right life insurance coverage choices.
Advertiser Disclosure: We strive to help you make confident life insurance decisions. Comparison shopping should be easy. We are not affiliated with any one life insurance company and cannot guarantee quotes from any single company.
Our life insurance industry partnerships don't influence our content. Our opinions are our own. To compare quotes from many different life insurance companies please enter your ZIP code above to use the free quote tool. The more quotes you compare, the more chances to save.
On This Page
UPDATED: Feb 28, 2023
Fact Checked
Key Info
Company Specifics
Year Founded
1847
Current Executives
CEO - Eileen C. McDonnell
COO - David O'Malley
CFO - Susan T. Deakins
Number of Employees
3,140
Total Sales / Total Assets
$3,231,252,000 / $33,164,151,000
HQ Address
600 Dresher Road, Horsham, PA, 19044
Phone Number
1-215-956-8000
Company Website
www.pennmutual.com
Premiums Written - Individual Life
$1,895,794,744
Financial Standing
10% Increase in Revenues from Previous Year
Best For
Whole & Universal Life Insurance
Life insurance isn't usually on your mind when you first start out in life. And certainly, there's less call for it when you're a single, young adult. But you get older and take on more responsibility by getting married, buying a home, and maybe having children.
And suddenly, when you realize there are people who depend on you financially, the importance of protecting them in the event of your unexpected death becomes clear.
With almost 1,000 life insurance companies in the United States, shopping for life insurance can seem overwhelming. There are dozen of different types of life insurance. On top of that, each company offers multiple policies with unique features to set itself apart from the crowd. How can you tell which company will best serve your needs?
As one of the oldest life insurers in America, Penn Mutual takes that question seriously. They offer a variety of insurance options and focus on building relationships with policyholders through their advisors.
This extensive review will give you a thorough overview of this venerable company and preview its policies so you can decide if this is the company for you.
Take control of your future today. Click above for a FREE life insurance quote.
Are Penn Mutual life insurance's ratings positive?
Third-party ratings offer a snapshot of the insurer's financial strength, predicted stability, and the quality of its customer service.
A.M. Best
A.M. Best has been providing credit ratings for insurance companies since 1899 and has a unique standing for measuring the financial strength of insurance companies over time.
The company's A+ Superior rating was reaffirmed in April 2019, and the company has maintained its place on A.M. Best's list of companies rated A or higher for 75 years.
Additionally, A.M. Best has awarded the company a Superior rating in its Long-Term Issuer Credit Rating since 2004, which attests to a stable outlook for the foreseeable future.
Better Business Bureau (BBB)
The Better Business Bureau (BBB) assigns ratings from A + to F, with A + being the highest based on its analysis of information it receives directly from the business and customers who contact them. Penn Mutual consistently scores within the BBB's highest range, currently an A -.
Moody's
The first credit rating agency in the United States, Moody's provides credit scores for corporations based on a cross-analysis of factors such as previous performance.
The company scores an Aa3, the fourth-highest possible rating with Moody's, illustrating Penn Mutual's high quality and low credit risk. The insurer's rating with Moody's has remained steady throughout the last decade and before, even though the financial crisis of 2008.
Standard & Poor's (S&P)
Standard & Poor's (S&P) is a leading stock index provider (S&P 500) and one of the original big three credit agencies in the United States. Their scale ranges from AAA at the highest end to D at the lowest.
S&P awarded the company a rating of A+ in both credit and financial strength in 2013 and has continued to affirm that, saying in November 2019: "Penn Mutual has a strong competitive position with diversified distribution channels and a solid market presence in U.S. markets."
Check out our guide if you're unsure of any of the life insurance terms used.
NAIC Complaint Index
The National Association of Insurance Commissioners (NAIC) gathers statistics about consumer complaints against insurers and publishes those numbers online.
The NAIC website allows you to compare the numbers and subjects of complaints made against insurance companies like Penn Mutual.
Insurers are grouped by size, as well, enabling consumers to make at-a-glance comparisons. This organization is governed by the chief insurance regulators of the 50 states, the District of Columbia, and five U.S. territories. The raw data comes directly from these state offices.
The complaint index operates around a midpoint of 1.00.
The company's index of 0.18 is noticeably lower than would be expected on average, which echoes the BBB rating and reflects the company's emphasis on its role as a trustworthy custodian.
J.D. Power
J.D. Power measures customer satisfaction, rather than focusing on customer complaints or credit risk. Here, the insurer falls a little short, given its two stars out of five possible on overall customer satisfaction, price, offerings, and statements.
However, the company boasts a focus on relationships and "conscious intention to do the right thing" that's reflected in the J.D. Power rating "Better than Most" (four out of five) regarding customer interaction.
Customers consistently report the company as accessible, informative, timely in its communication, and clear about upcoming changes.
Your life insurance quotes are always free.
Secured with SHA-256 Encryption
What is the history of Penn Mutual life insurance?
When Penn Mutual was chartered in 1847 in Philadelphia, Pennsylvania, it became the seventh life insurance company in the country. It paid out its first death claim the following year and first issued annuities in 1888.
Over its 173-year history, the company has maintained a place at the forefront of the insurance industry, becoming the first major East Coast mutual company to offer universal life insurance in 1982.
What is Penn Mutual's market share?
Here is how the company's market share compares to the top 10 market share companies for individual life policies:
| Company | Market Share |
| --- | --- |
| Northwestern Mutual Group | 6.42% |
| Metropolitan Group | 6.00% |
| New York Life Group | 5.68% |
| Prudential of America Group | 5.57% |
| Lincoln National Group | 5.36% |
| Mass Mutual Life Insurance Group | 4.19% |
| AEGON US Holding Group | 2.94% |
| John Hancock Group | 2.83% |
| State Farm Group | 2.83% |
| Minnesota Mutual Group | 2.70% |
| Penn Mutual Group | 1.16% |
Despite an increasingly competitive field, Penn Mutual, which lands at number 25, continued to gain market share in the United States and its territories over the past three years. Penn Mutual's direct premiums written increased by $434.2 million between 2016 and ‬2018.
Relative to comparable companies, its market share rank rose from 27th to 25th in that same period. This speaks to not only the historical stability of Penn Mutual but to its predicted stability in the future.
Penn Mutual includes the parent company and its subsidiaries: Penn Insurance and Annuity Company, Penn Mutual Life Insurance Company, Longevity Insurance Company, and Vantis Life Insurance Company.
Read out Vantis Life Insurance review for more information on that subsidiary.
When talking about corporations, net income is the bottom line. At its most basic, it amounts to revenue minus expenses.
If the expenses incurred by a company exceed the revenue, the company is said to have suffered a net loss.
At year-end 2018, Penn Mutual reported a net income of $333.4 million, down from $593.97 million in 2017.
Penn Mutual points out that the effect of the 2017 Tax Cuts and Jobs Act reduced the corporate tax rate, which increased net income by $362,100,000 for that year. The company excludes this one-time impact when reporting nine consecutive years of net income growth.
What is the company's position for the future?
Both A.M. Best and S&P consider Penn Mutual a stalwart of the life insurance industry. Though growth has been limited by the diversification of the field, Penn Mutual maintains a steady place near the top quarter of companies in market share and direct written premiums.
Your life insurance quotes are always free.
Secured with SHA-256 Encryption
What is the company's online presence?
Penn Mutual's website allows policyholders to manage their accounts online. You can view transactions, update contact or beneficiary information, initiate claims, and find out about premium payment modes.
Penn Mutual also allows claims to be filed via its website. Penn Mutual also maintains an active presence on Facebook and Twitter.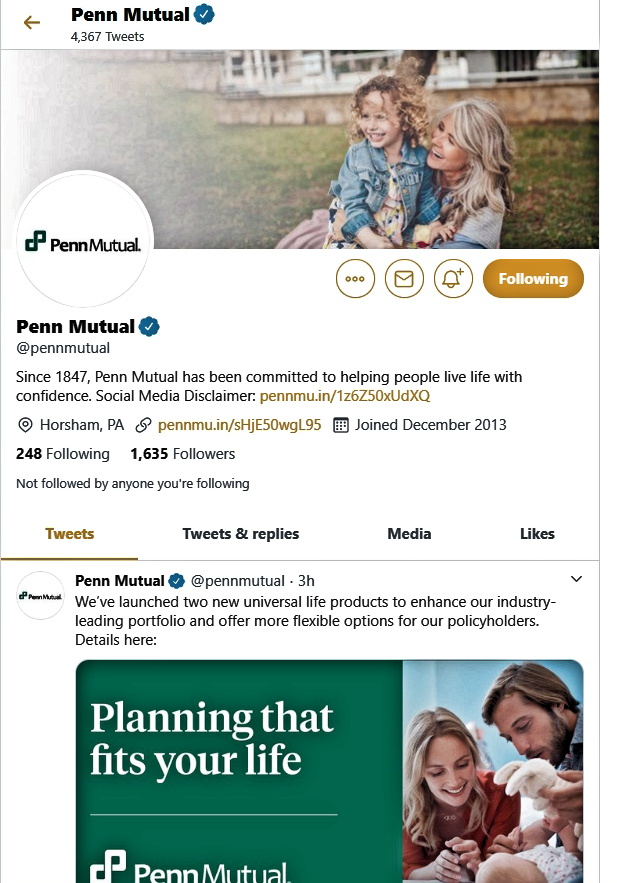 In addition, the Penn Mutual YouTube channel offers videos that range from explaining multi-generational legacies and how Penn Mutual can help with college funding to policyholder testimonials.
Does Penn Mutual life insurance have commercials?
Television spots for Penn Mutual often depict rugby games because it's a major sponsor of collegiate rugby. The ads are generally youth-centric with depictions of Penn Mutual and its advisors guiding young adults through starting businesses and families and finally, into retirement and life insurance retirement plans.
The message is clear that life insurance buying isn't just for older people and that Penn Mutual emphasizes a lifetime relationship between advisors and policyholders.
Is Penn Mutual active in the community?
Penn Mutual sponsors or is supportive of numerous formal programs or foundations that give back to communities, including Girl Scouts of America, the American Cancer Society, and Alex's Lemonade Stand.
Since 2012, Penn Mutual, in collaboration with The American College, has sponsored the American College Penn Mutual Center for Veterans Affairs, providing educational support and career opportunities for people who honorably served in the Armed Forces.
They can even help with end-of-life planning for veterans and their families. Through this organization, Penn Mutual has provided over 450 full scholarships to veterans and their spouses.
Are the company's employees happy?
Penn Mutual employed 3,140 people at the end of 2018. Its employees rate the company as slightly above average to work for, awarding it 3.4 of 5 stars on Glassdoor.com. The highest scores were in the areas of work/life balance and culture and values.
Penn Mutual scored lowest with its employees when they rated the senior management. Half of the employees surveyed would recommend working for the company to a friend.
The interview and hiring process is reported to be average in its difficulty and straightforward.
The company has committed to helping America's military veterans find work and helping employees find higher-paying positions. The company also reports programs in place to foster a diverse and inclusive workforce.
Out of the Fortune 1000 companies, only 53 have female CEOs, including Eileen McDonnell of Penn Mutual. Penn Mutual received the Game Changer Award (Southeastern, Pennsylvania) from the United Way of Greater Philadelphia and Southern New Jersey in 2014.
Your life insurance quotes are always free.
Secured with SHA-256 Encryption
How can I shop for Penn Mutual life insurance?
The first step is to learn the basics of what life insurance is and what it can do. Many people are insured through employer-provided life insurance, but that's usually for a minimal amount and typically ends when employment ends.
For that reason, most people find they need a separate policy to make sure their loved ones are cared for in the event of their death. A life insurance agent or financial planner will help you determine exactly how much coverage you'll need to meet your specific needs.
Managing your life insurance policy is important, and there are many details to consider. Some of the costs people use life insurance to cover after their loved one dies are the same ones you should discuss prior to buying it. They include funeral costs as well as the following:
Medical bills
Mortgage balances
Personal loans
Credit card debt
So who should buy life insurance and how much life insurance do they need? The short answer is almost everyone and the amount varies based on life circumstances.
Parents especially appreciate the peace of mind life insurance gives them that, if the unthinkable happens, their children will be taken care of financially. Even if you don't have children, life insurance can be a worthwhile investment.
A life insurance policy helps cover funeral expenses and any outstanding debts you leave behind.
If you're living a single life with no spouse or kids, a life insurance policy could help protect anyone who cosigned a loan with you, such as parents cosigning a private student loan or first mortgage.
If the unexpected were to happen, the funds from a life insurance policy would help them pay those.
For those who are married, funeral expenses and medical bills can strain a couple's budget. Usually, beneficiaries are responsible for the debts of the deceased. But a life insurance policy can pay those, too.
And of course, when you have children, the expenses in life increase. And people often want to leave those they love with more money than they need to cover their basic expenses. There are a lot of life insurance laws and legal questions to consider when making these decisions.
The insurer calls this legacy planning and works from the idea that life insurance can be the cornerstone of your family's financial health.
A recent study by Life Happens and LIMRA found that:
Nine of 10 people believe a family's primary wage earner needs to own life insurance
More than a third of households would feel the financial impact within the first month following a primary wage earner's death
How much life insurance do you need? In addition to the immediate expenses after a loved one dies, more long-term expenses to consider include:
Income replacement
Children's college tuition
Spouse's retirement
Emergency savings fund
Using a term life insurance calculator can help you get a general idea of how much life insurance you need.
For example, imagine a husband and father of two is the sole wage earner for his family, with an annual salary of $100,000.
The family has a remaining mortgage balance of $175,000, $12,000 left on a car loan, and $3,000 in credit card debt. They are also $50,000 short of their $70,000 college savings goal for their children.
His wife has a degree and plans to return to work once their children graduate from high school in eight years, so she would need roughly eight years' worth of income replacement in the meantime.
After factoring in an average funeral cost of around $7,500, the husband's insurance needs are as follows:
Immediate need – $175,000 mortgage + $12,000 car loan + $3,000 credit card + $7,500 funeral costs = $265,000
Future need – $800,000 income replacement + $50,000 college fund = $850,000
Total need – $1,115,000
Therefore, he should buy a life insurance policy valued at $1.5 million.
This seems like a lot, and these numbers deter some people from shopping for life insurance.
However, recent data from the 2018 Life Insurance Barometer Study from Life Happens and LIMRA shows that 44 percent of millennials overestimate the cost of life insurance by five times the actual amount.
Learning the details of a company's policies can help you decide which type of insurance better suits your needs.
What types of insurance coverage are offered?
Penn Mutual offers both term life insurance and permanent life insurance, sometimes called guaranteed universal life insurance.
Comparison of Whole and Term Life Insurance
| Policy Feature | Term Life | Whole Life |
| --- | --- | --- |
| Coverage | Set period of time, usually 10, 20, or 30 years | Valid until the date of the insured's death |
| Expense | Less expensive monthly premium | More expensive monthly premium |
| Investment/Rates | You pay only for insurance, these policies don't accumulate any cash value over time. | Along with the death benefit, part of your payments are invested and the value accumulates over the years. Can be borrowed against and paid back at lower rate than available commercially |
| Renewability | Will need to be renewed at the end of each term, and each renewal will reflect your increase in age and any health issues you've developed. | Lifetime policy, so once in place does not need to be renewed. |
Each type of life insurance has its own advantages, with the primary benefit of term life insurance being its affordability.
Because the life insurance company does not pay the beneficiary anything unless the insured dies within the time frame covered by the policy, the risk to the company is lower. Thus, it costs less to buy a term life insurance policy.
What is a term policy?
Most people think of term coverage when they think of life insurance. There are several types of term life insurance policies.
These policies cover the death of the insured for a set amount of time and are especially affordable when you're young. For instance, consider a 26-year-old, recently married man who just purchased his first apartment based on his income. He doesn't want to leave that $250,000 mortgage to his wife, who's still finishing college, to pay in the event of his death.
Using a term life insurance calculator to determine his needs, he decides to purchase a 15-year, $1.5 million policy that coincides with his 15-year mortgage and names his wife as his beneficiary.
She would receive the death benefits from the policy without having to wait for the estate to be settled, so it could be used to pay for funeral expenses, as well as to pay the mortgage while completing her degree.
While this would be a tragic situation, life insurance would spare his wife the added pressure of selling their apartment quickly.
Term life insurance can be very inexpensive if you're young and in good health.
Medically underwritten term life insurance requires a medical exam, but it's a good choice for people who are in generally good health and want to save on premiums.
However, no medical exam term life insurance is also an option if you wish to avoid a medical exam.
Simplified issue term life insurance is a better choice for people who don't want to take a medical exam, but premiums will be higher.
Penn Mutual offers two types of term life insurance:
Protection Non-Convertible Term
Non-Convertible Term life insurance is Penn Mutual's most affordable coverage option.
It's available for terms of 10, 15, 20, or 30 years. The premiums won't change over that time.
Optional life insurance riders include a disability waiver of premium rider that waives the premiums if you become totally disabled during the term; an accidental death benefit rider that pays a benefit if you die in an accident, and a children's term insurance rider, which extends coverage to the insured's children and offers them the chance to convert to a permanent policy when they turn 23 years old.
Guaranteed Convertible Term
This policy offers the same term coverage as the Non-Convertible Term, with the same benefits.
Penn Mutual also guarantees you can upgrade the coverage to whole life insurance without any further proof of insurability at a later date.
An additional disability rider includes automatic conversion in the event of a long-lasting disability.
However, a popular alternative to term insurance is permanent life insurance, which lasts the lifetime of the policyholder. Permanent life insurance also comes with financial benefits during the policyholder's lifetime and can form a foundation for financial security and preserve retirement savings.
There are three primary types: whole, universal, and variable universal.
What is a whole life policy?
Penn Mutual's whole life policies last your lifetime and pay death benefits when you die — up to 121 years old. Both the death benefit and the premium are designed to stay the same throughout the policy.
You can choose how long you take to pay the policy in full, as long as it's done before you turn 100 years old.
For more details on whole life policies, see term life vs. whole life insurance. 
Versatile Choice
This whole life policy boasts long-term cash value that grows tax-deferred and is predictable because it doesn't depend on the stock market.
Because Penn Mutual is a mutual company, policyholders receive dividends when policies perform more positively than what was built into the premiums.
Numerous riders are available with the Versatile Choice policies, including an Enhanced Permanent Paid-Up Additions rider that allows you to make additional payments to buy more whole life insurance to increase the death benefit and cash value of your life insurance policy.
Survivorship Choice Whole Life
The features of these policies are almost identical to those in Versatile Choice, but with Survivorship Choice Whole Life, two people are covered in the same policy.
Because the death benefit isn't paid until after the second death, this is sometimes a more cost-effective option and easier to qualify for than two separate policies.
This is especially true when one person is significantly older or in worse health.
Your life insurance quotes are always free.
Secured with SHA-256 Encryption
What is a universal life policy?
With Guaranteed Protection Universal Life®, Penn Mutual sets aside a portion of each payment that's then added to the life insurance policy's cash value and invested.
Penn Mutual's Guaranteed Protection means that the company will pay the death benefit even if the cash value of the policy falls below zero due to market issues.
But typically, your cash value builds as you pay your premiums. After your cash value has accumulated, you can borrow from your life insurance policy or change your premium payments in the event your economic situation changes suddenly.
Remember that it's best to speak with your financial advisor before changing your payment amount.
Accumulation Builder Flex Indexed Universal Life Insurance
With Penn Mutual's Accumulation Builder Flex policy, you can choose to apply your payments to one or more accounts with growth potential tied to the performance of the S&P 500 Index.
These accounts are known as indexed universal life insurance accounts and earn interest based on the percentage change in the index between two points in time, 12 months apart.
In exchange for a guaranteed minimum return of 1% interest regardless of index performance, Penn Mutual sets an interest cap that will limit any gains to that rate.
In this way, Penn Mutual offsets the risk for the customer by limiting their potential gains. Like other policies, these offer riders, such as an Overloan Protection Benefit Rider that keeps your policy from lapsing in the event outstanding loans exceed 96 percent of the total cash value.
Survivorship Plus Select Indexed Universal Life®
Much like Penn Mutual's Accumulation Builder Flex policy, this policy guarantees a death benefit while allowing flexibility in the investment of the cash value and the use of those funds.
But like the Survivorship Whole Life policy, this option only pays a death benefit after both covered parties' deaths. This enables the surviving spouse to use the funds from the investment portion of the policy while also ensuring there is wealth to be transferred to children, grandchildren, a charity, or a business after the policyholders' deaths.
Penn Mutual offers regular updates and conversations about indexed universal life insurance on its YouTube channel. 
Variable Universal
This insurance couples the investment opportunities and risks of variable life insurance with the ability to adjust your premiums and death benefit that's typically affiliated with universal life insurance.
Penn Mutual's Diversified Advantage Variable Universal Life policies couple the investment opportunities and risks of variable life insurance with the ability to adjust your premiums and death benefit typically affiliated with universal life insurance.
These policies offer highly customized accumulation options to build cash value ranging from predictable, guaranteed growth based on a fixed rate to buying one or more of 24 investment funds, thus creating and actively managing a custom investment portfolio through your policy.
An assortment of riders is available as well.
What factors affect your rate?
A 2016 Life Happens study found that over half of the general population sees buying life insurance as complicated. In 2018, the same group reported half of all consumers were more likely to buy life insurance if they could skip the physical exam.
There are moves in that direction, but underwriting maintains a key role in determining how much you'll pay for a life insurance policy. And anything that increases your chances of an early death also increases the odds the insurer will have to pay out on your policy before your premiums have earned them the money to cover it.
Let's look more closely at the most common factors underwriters consider.
Demographics
Demographics refer to traits we are categorized by for statistical purposes, such as age, gender, and marital status.
Age – Increasing age is still the best predictor of death, so the older you are when you purchase a life insurance policy, the higher your rate will be. This is also something to consider when shopping for term life insurance, as your rates will be higher each time you renew or repurchase it.
Gender – Women live an average of six years longer than men in high-income countries like the United States. Thus, even with everything else the same, women's premiums will be lower than men's.
Check out our chart for more information on life insurance rates by age and gender.
Current Health & Family Medical History
Statistically, the healthier you are, the longer you'll live. The longer your life expectancy, the lower your life insurance premiums.
When you buy life insurance, one of the first things you'll be asked to do is complete a medical history questionnaire about both your health and that of your extended family.
Insurance companies want to know if you're likely to suffer any health issues that are passed along genetically, such as cancer, heart disease, or diabetes. Learn more about how family history affects your life insurance rates at life insurance by health history.
Some policies require a thorough medical exam, including blood work. Underwriters may also request consent to access your medical records.
It's important to be forthright about your health because life insurance underwriters will compare your answers to the information available to them in public prescription and Medical Information Bureau (MIB) records.
What is the MIB?
The Medical Information Bureau (MIB) tracks health information relevant to life insurers. In fact, you won't have a MIB consumer file if you haven't previously applied for individually underwritten life or health insurance, typically within the preceding seven years.
Underwriters and medical directors working for MIB member insurers are the only people authorized to use MIB codes and access the data. You, as a consumer, can get a copy of your MIB record by requesting it from the agency.
What are high-risk occupations?
Again, the insurance company is assessing all factors that could negatively impact your life expectancy.
Some jobs such as police work, piloting, and mining seem inherently high-risk. Those occupations could raise life insurance premiums. But the U.S. Bureau of Labor Statistics notes that people working in construction, roofing, and logging also experience relatively high numbers of work-related fatalities.
Your life insurance quotes are always free.
Secured with SHA-256 Encryption
What are high-risk habits?
You might think of a paragliding or rock climbing hobby as high-risk and the insurance companies would agree with you.
Smoking and tobacco use remain among the most common high-risk behaviors, but insurers also consider less obvious risks. For example, they often check your driving record for a history of accidents or exceeding the speed limits. 
If you find yourself in a high-risk category, check out our guide to life insurance for high-risk individuals.
What if I'm a veteran or active?
Being in any branch of the military can complicate the process of getting life insurance. Sometimes, policies will contain exclusion clauses that apply to service members.
For example, war zone exclusions are common. Some insurance companies won't sell active duty military personnel life insurance at all, though there are some companies that tailor life insurance for veterans' needs.
How can I get the best Penn Mutual life insurance rate?
The 2018 study by Life Happens and LIMRA found that despite half of all consumers wanting a primary financial advisor, only 37% have one, while 14% are looking for one.
Life insurance is an investment, and it's imporatnt to undertand the role of life insurance in your financial plan. Take the time to go to a financial advisor who's knowledgeable about the various companies and products available. They can help you tailor your life insurance to your lifestyle and family.
The advisor will ask about your risk factors. That helps them estimate how much an insurer will raise your price above base premiums.
Base premiums are largely established using three factors: mortality, projected interest, and the company's operating expenses.
Using statistical mortality tables, insurers estimate how many people in every demographic are likely to die each year. If a group shows an increase in their likelihood of death, the company will increase rates for people in that demographic.
Interest rates influence premiums because insurers maximize profits through investments — the lower the return, the higher your premium
Insurance companies also consider their operating expenses when establishing a base rate. The more it spends maintaining its business, the more they charge the policyholders.
Rates also vary from state to state, although the NAIC is working to get laws adopted that would create more consistency nationwide.
But there are some ways to make sure you get the best rates available.
The earlier in life you buy life insurance, the better. Because age is the number-one factor affecting policy rates, the younger you are when you buy a policy, the better your price will be.
For example, a 20-year, $500,000 policy for a 30-year-old female non-smoker averages around $206 per year. The same policy for otherwise identical 40-year-old costs $307. That 10-year age difference results in a 49 percent increase. Life insurance for 30-year-olds has better premiums than life insurance for those in their 40s due to the locked-in rates.
Manage risk factors within your control. In particular, stopping smoking and tobacco use is imperative. Many companies require you to be tobacco-free for a year or more before you can declare yourself a non-smoker. Even e-cigarettes can affect life insurance eligibility. Losing weight and maintaining a healthy overall lifestyle will help, too.
And, as with any financial obligation, not paying your premiums on time will negatively impact your future rate, particularly so if your policy is canceled for non-payment.
Your life insurance quotes are always free.
Secured with SHA-256 Encryption
What are the company's programs?
Penn Mutual maintains an informative YouTube channel and a blog on its website that are the primary resources it offers for those shopping for life insurance. Videos include discussions between policyholders and their financial advisors, interviews with the CEO, and straightforward information.
The Penn Mutual blog is updated fairly often, sometimes with guest posts attesting to the value of Penn Mutual products. But other times, the blog covers more general topics, like looking forward to changing trends in life insurance, or how the company is trying to reward its healthiest policyholders.
How can I cancel my policy?
There are numerous reasons you may need to cancel your life insurance policy. Your financial situation may have changed, leaving you unable to afford the premiums or in need of the cash you'll receive upon closing it.
Or you may be ready to switch companies and purchase a different policy, or you may need to change your life insurance beneficiary if you have term life insurance when you get divorced. It's important to talk with a financial or tax advisor ahead of time about the potential consequences of canceling the policy, though.
Penn Mutual L
ife Insurance Login Help
To cancel a policy with Penn Mutual, just log in to your account and follow the simple instructions under "Manage My Account." You can also contact the advisor who helped you set up the policy to cancel it.
If you have any problems, call Penn Mutual's Client Services at 1-800-528-0650 for assistance.
Your life insurance quotes are always free.
Secured with SHA-256 Encryption
How can I make a claim?
How does life insurance work? Penn Mutual follows the industry-standard steps when making a claim, which makes it a straightforward process.
Initiate a Claim
Either call 1-800-523-0650 or go to pennmutual.com and choose "For Individuals, Families & Businesses" from the top-left corner.
On the drop-down menu that appears, click "Client Services" and then, "Initiate a Claim."
Complete the form and click "Submit." You'll be asked to submit a death certificate for the insured along with the paperwork.
Gather the Necessary Information
We recommend that you be prepared with the following information when initiating a claim.
Relationship to the deceased
Personal information about the insured and beneficiary, including Social Security number and date of death
Policy number
Final death certificate for the insured
Choose a Disbursement Method
You'll have the opportunity to create a Beneficiary Account on pennmutual.com. This account will allow you to manage and track disbursement online.
Receive the Benefits
The death benefit may be paid out in as little as a few days, but sometimes takes up to 30-60 days.
How do I get a Penn Mutual life insurance quote online?
Penn Mutual does not offer an online quote tool, as they emphasize the relationship between the customer and the financial advisor in purchasing a life insurance policy.
When you're ready to begin the process of purchasing life insurance from Penn Mutual, start at pennmutual.com.
Because they don't have an online quote tool, you'll need to use their "Find an Advisor" tool in the upper right-hand corner of the screen. This will pull up the map below to find their main office nearest to you.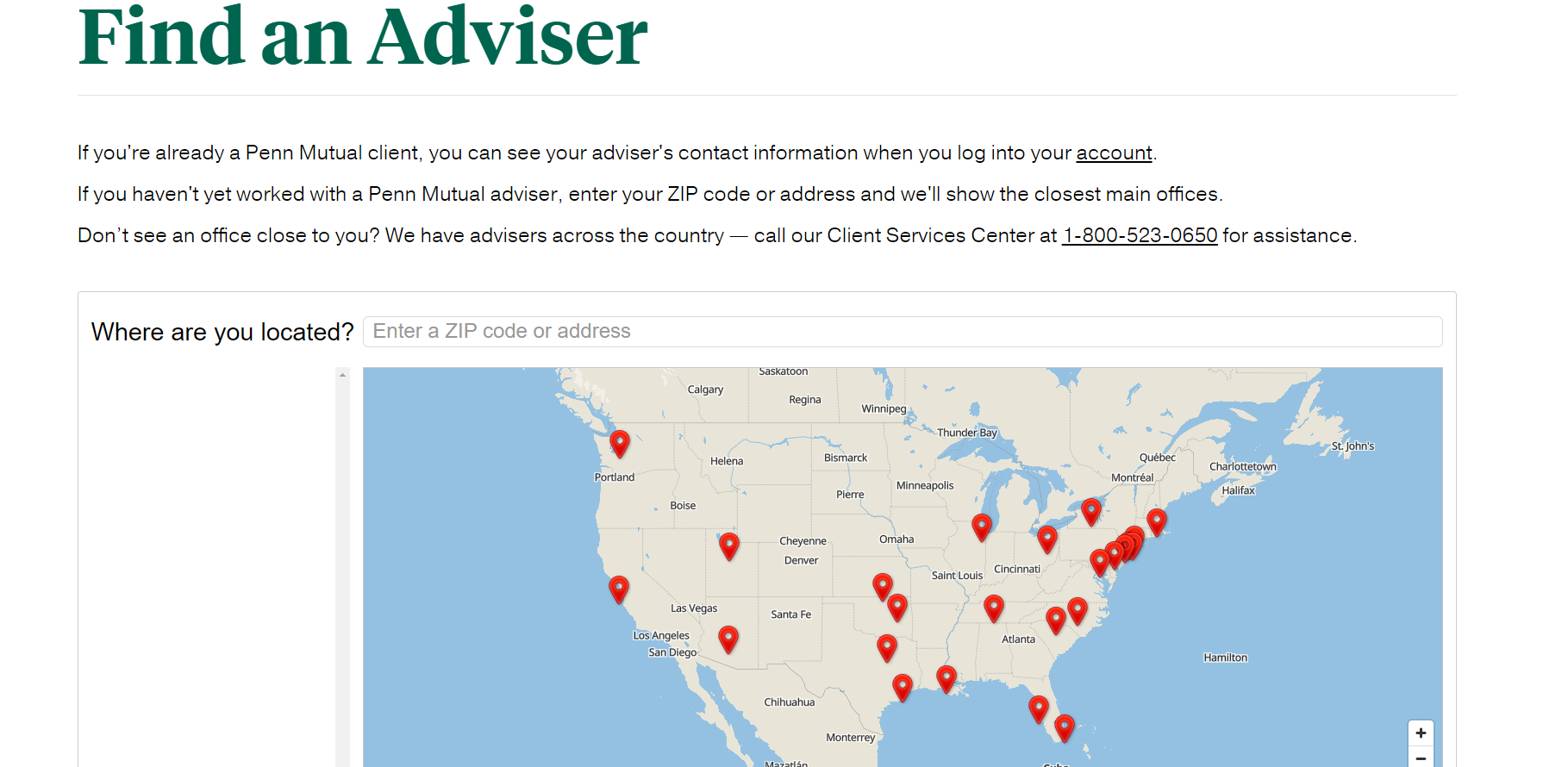 Or, you can call 1-800-523-0650 to speak with someone who will help you locate an advisor near you.
Are the designs of the website and app adequate?
Penn Mutual's website has a clean interface that makes it simple to navigate on a phone, as well as on a tablet or computer. The appearance is the same on iPhones, Androids, and iPads and is equally easy to use on each device.
Penn Mutual doesn't have an app for customers at this time.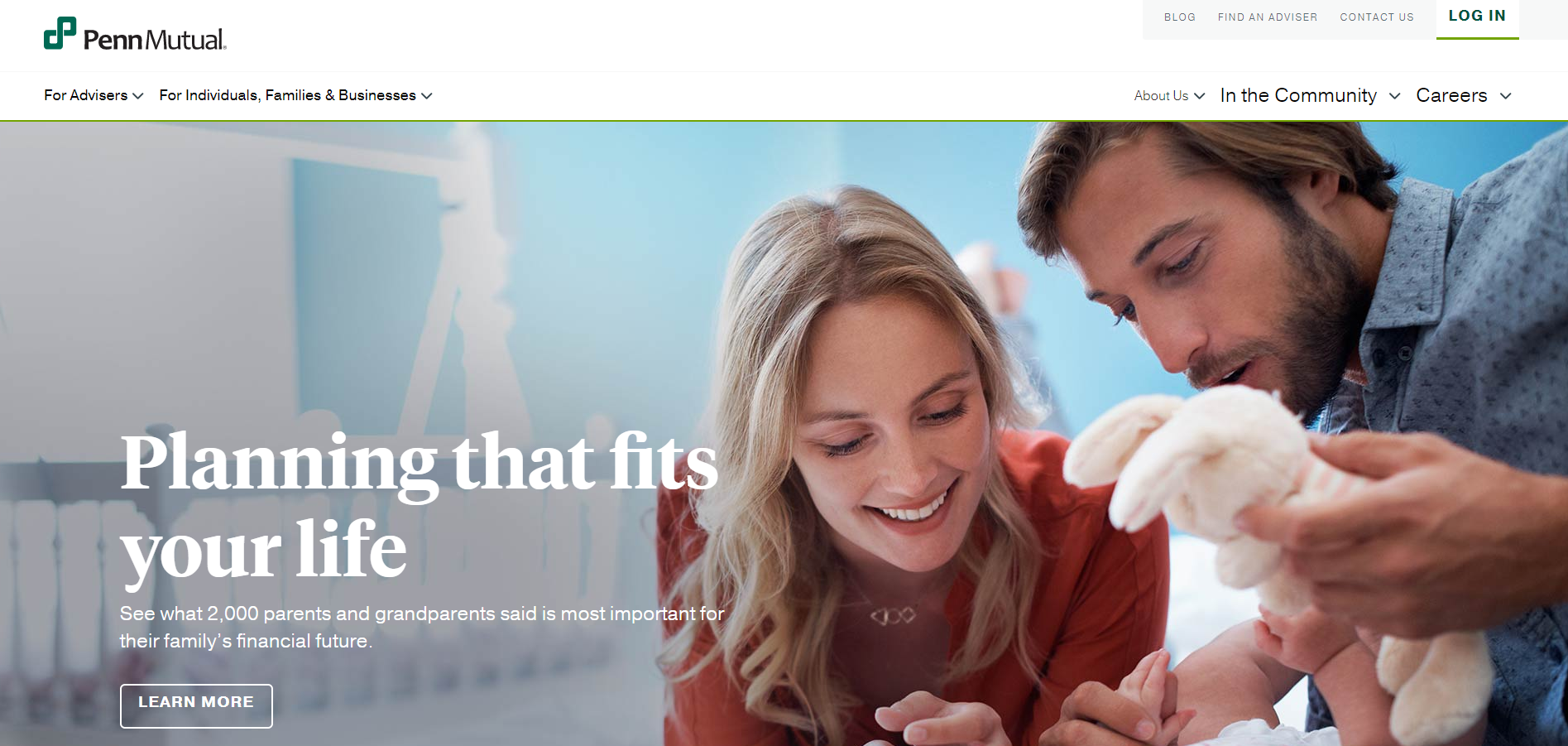 Penn Mutual InSight was released in 2019 and is available in the Apple Store, but its use is limited to advisors right now. Penn Mutual also touts an "Accelerated Client Experience (ACE)" that's accessible through an advisor.
The company boasts that a decision can be made in as little as 24 hours. For term life insurance, this is a step behind its competition in that many companies offer at least some online access to rates and quotes to the general public.
But right now, there's no way to receive a quote from Penn Mutual without going through an advisor.
Your life insurance quotes are always free.
Secured with SHA-256 Encryption
What are the pros & cons of Penn Mutual life insurance?
As with any choice, it's important to look at the overall plusses and minuses.
Pros
Long-term financial stability — the company has been in business for over 170 years.
Top ratings testify to Penn Mutual's financial strength and integrity.
They offer several life insurance policy options with numerous riders available.
The website provides detailed information, allowing consumers to research independently of an advisor.
Cons
The company remains focused on selling policies exclusively through advisors. There is no online quote tool.
Premiums can be expensive.
There is no phone app for policyholders.
What's the bottom line?
Penn Mutual's financial strength and integrity are competitive and it continuously strives to contribute to the communities where it's active.
There's a lot to like about this company if your focus is wealth management and legacy-building because it offers several outstanding high cash value growth life insurance policies.
Read more about cash value vs surrender value to help understand your options.
As a mutual company, it shares dividends with its policyholders and has a long history of backing this promise up, weathering both the Great Depression and the Great Recession.
If you're shopping for permanent coverage from a reliable mutual company, Penn Mutual is a solid choice.
Want to know more? Get started now and compare life insurance quotes below with our FREE tool.
Still have questions about Penn Mutual life insurance?
Here are some common questions about Penn Mutual.
#1 – Does Penn Mutual offer life insurance without a medical exam?
Yes, Penn Mutual recently rolled out its Automated Accelerated Underwriting program, a term life insurance with living benefits option. Advisors collect and enter information and can get approvals in as little as 24 hours, pending qualification based on your risk class.
The program provides approvals for policies up to $2,500,000 in value for customers ages 20–65 in standard, or better, risk classes. Penn Mutual makes this accelerated program available for its primary fixed individual life insurance products.
#2 – How hard is it to change my beneficiary?
It's not hard at all! Simply log in to your Penn Mutual account and complete the Beneficiary Change form.
#3 – Are life insurance benefits taxable?
Life insurance benefits are non-taxable when they are paid directly to a beneficiary, such as a spouse or a child. However, if you name your estate as the beneficiary, the benefits become a part of the estate and are then subject to estate taxes.
#4 – Do life insurance benefits go through probate?
As long as the named beneficiaries are available to receive the life insurance benefit payout, there's no need for policies to go through probate, even if probate is required for other property in the insured person's estate.
#5 – Are life insurance premiums tax-deductible?
No, life insurance premium payments aren't tax-deductible for individuals.
#6 – If I borrow money from the cash value of my life insurance policy, will I be taxed on that?
Withdrawals and loans from the cash value of your policy aren't typically taxable. There are a few circumstances where they are, so it's important to consult with a tax professional beforehand to ensure you won't be liable for any taxes.
#7 – Will the cash value of my policy continue to grow if I withdraw or borrow funds from it?
Yes, but the cash value that earns interest will be reduced by the amount you withdraw.
#8 – Can Penn Mutual cancel my policy without my approval?
There are only two conditions under which a life insurance company can cancel your policy without your approval: If you stop paying your premiums, or you were dishonest, i.e., committed fraud, when applying for the policy in the first place.
Your life insurance quotes are always free.
Secured with SHA-256 Encryption
Benjamin Carr
Former State Farm Insurance Agent
Benjamin Carr worked as a licensed insurance agent at State Farm and Tennant Special Risk. He sold various lines of coverage and informed his clients about their life, health, property/casualty insurance needs. Assessing risks and helping people find the best coverage to suit their needs is a passion of his. He appreciates that insurance was designed to protect people, particularly during times...
Former State Farm Insurance Agent
Editorial Guidelines: We are a free online resource for anyone interested in learning more about life insurance. Our goal is to be an objective, third-party resource for everything life insurance-related. We update our site regularly, and all content is reviewed by life insurance experts.