Erie Life Insurance
Erie life insurance includes both term and whole life insurance policies with a variety of options and riders. Erie life insurance rates are below the national average and can be less than $19 a month for a 25-year-old female applicant. Erie life insurance applications can be completed online for some products, and quotes are easy to obtain.
Ready to compare quick life insurance quotes?
Your life insurance quotes are always free.
Secured with SHA-256 Encryption
What is Erie Life Insurance Company?
This Erie life insurance review contains everything you need to know before deciding if this is the company for you. You might be asking: What is the best life insurance? Is Erie Insurance legit? Or even, Does Erie Insurance have life insurance? Is Erie Insurance cheap?
Maybe you've seen commercials for competing insurance companies and you wonder, "Is Erie Insurance better than State Farm?" Read on to learn about the types of term life insurance and other coverage offered by Erie so you can decide which company is right for you.
Before you decide to buy Erie life insurance, click on our FREE quote tool above, enter your ZIP code, and get free life insurance quotes today.
Your life insurance quotes are always free.
Secured with SHA-256 Encryption
How Can I Shop for Erie Life Insurance Quotes?
You need to shop around for life insurance quotes before deciding on one, and this guide will help you with that decision. Is affordable Erie life insurance available to you? Read on to find out.
Our price comparisons to the industry average below will help you make that call. Maybe even while shopping around for life insurance you even wonder: Who has the cheapest car insurance?
A few states can be serviced for Erie Insurance. NY, California, Colorado, Evansville, Indiana are popular searches for individuals so if Erie isn't servicing across the whole country (see below "About Erie Insurance"), they're missing out.
Did you know that 61 percent of people don't buy life insurance or more of it because they say they have other financial priorities?
We'll get you the rates for Erie Life Insurance so you know what you're paying for. We'll divide rates by age into smokers and non-smokers so you can see the difference between the two. We'll also give you the average Erie life insurance rates by age.
What Are the Average Erie Life Insurance Rates by Age?
Below is more information on national average non-smoker and smoker rates, grouped by age. The data in these tables are from the NAIC:
You can see Erie's rates are on par with the national average.
As you can see, smokers pay significantly more than non-smokers as age increases. If you're thinking about quitting smoking, you're already making progress in the right direction. If you quit, your life insurance rates should improve.
Erie premium rates rival that of the industry average. In some cases, the Erie rates are more than the industry average, but in general, they are less than the industry average (see: 25-year-old female smoker/non-smoker). The rates are more in some cases, but they soon drop again below the average (see: 65-year old male smoker/non-smoker).
What Types of Life Insurance Policies Are Offered?
There are tons of different variations of life insurance policies for adults on the market. There's term life insurance, whole life insurance, and variations on universal life insurance. Let's see below what Erie offers.
Erie Term Life Insurance
Erie offers term life in a 10-, 15-, 20-, or 30-year plan to protect your loved ones.
Term life insurance quotes are best for people who need cost-effective protection for loved ones left behind.
They even state: "With Erie, it's easy to get up to $90,000 worth of term life insurance coverage by answering a few medical questions. You'll get an answer within 15 minutes."
Erie also offers level term insurance. It provides life insurance for the period of time that best suits your needs. If you'd like, you can also convert your term policy to a permanent life plan, which provides coverage for your whole life.
Erie Whole Life Insurance
In addition to term life, Erie also offers whole life insurance, with premiums and coverage that are guaranteed to remain the same for your lifetime. If you're deciding between term life insurance versus whole life insurance remember this:
Whole life is best for people who need protection for their families for their entire lives with a guaranteed premium. An Erie whole life insurance policy offers the following:
Guaranteed life insurance protection that won't decrease
Guaranteed cash value that can be borrowed from to take advantage of future opportunities
Payments guaranteed not to change, regardless of changes in health
Additional accelerated death benefit options for terminal illness included at no charge
Whole life is there for you, whether it's for your children, whether you're in your 30s and 40s, or whether you're age 50 and retirement age. Regardless, it's there to support you.
Erie Universal Life Insurance
Universal life, another type of permanent life insurance, is also available through Erie. It has protection for your entire life and includes a policy cash value on the account with a flexible payment schedule.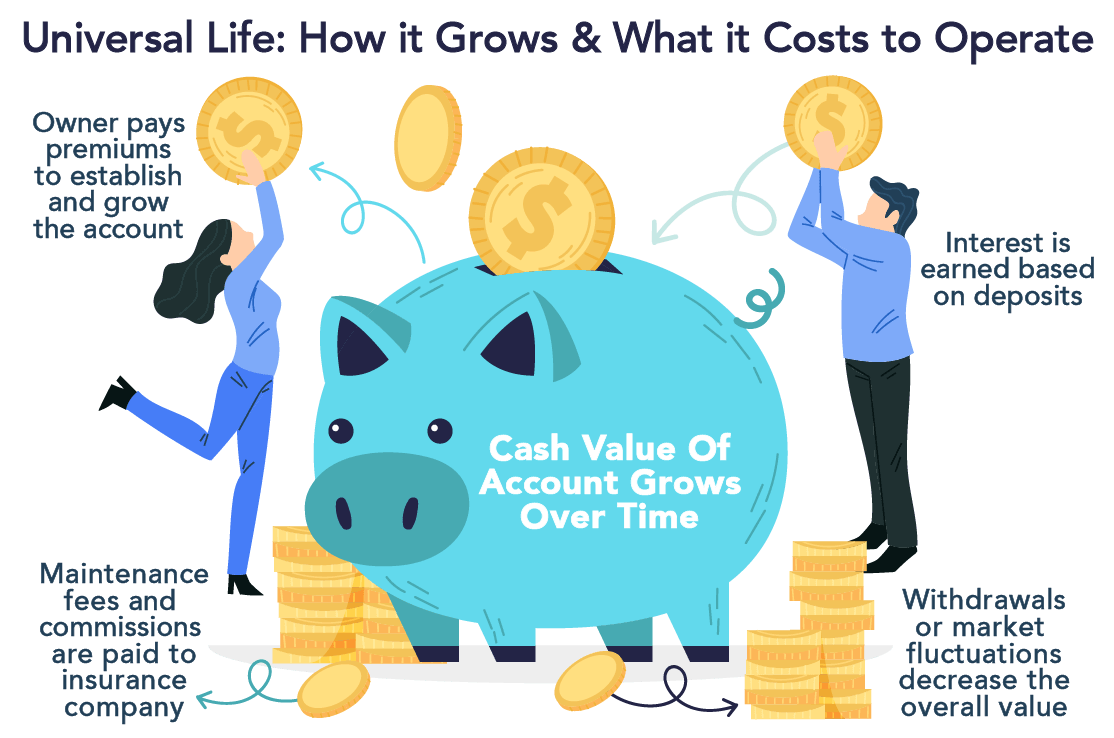 According to Erie's website, universal life insurance is ideal for:
Income replacement
Estate planning
College expense planning
Inheritance or wealth transfer
Charitable giving
Paying off mortgage or debt
Deferred compensation
Retirement income planning
Business continuation coverage
Key person coverage (for the sudden loss of a key executive or employee)
Universal life offers a lot of options, as do whole life and term life.
Other Erie Life Insurance Products
Erie doesn't specifically have a single insurance policy called "burial and final expense life insurance," but by definition, its term policies (and other policies) can cover any final expenses that the family of the passed may face.
Erie also offers personal catastrophe liability coverage (or personal umbrella insurance), which can give you an extra layer of protection in case something tragic happens.
Erie offers identity theft recovery coverage as well. Identity theft is frighteningly common. According to the iii.org: "The number of consumers who were victims of identity fraud fell to 14.4 million in 2018, down from a record high of 16.7 million in 2017." Erie also offers a Medicare supplement insurance, which will cover costs that Medicare might not.
Erie Life Insurance Riders
According to Erie's site, a long-term care accelerated death benefit rider is a Universal Life or Whole Life add-on that provides valuable coverage that may cost less than you think. This is a unique rider that doesn't require underwriting.
When signing up for it, you provide age and gender, but not specific medical conditions during the application process. This relatively new rider is easy to purchase as part of a life insurance policy from Erie Family Life Insurance Company.
How Can I Get a Quote Online?
You might be wondering how to get life insurance quotes online. With Erie, they make it simple. You can always call an agent, but you can also use their "Get a Quote" feature on their site. Let's dive into how to navigate to that:
First, go to ErieInsurance.com and click "Insurance."
Then navigate to "Life & More" > "Life Insurance." You'll see it navigates you to this page, where "Request a Quote" is an option.
Click "Request a Quote." It will take you to a life insurance quote form that you fill out with your information — your name, preferred contact format, email, phone, and message. Their response to you submitting the form is to please allow 24-48 hours for a response.
The website makes requesting more information for a quote fairly simple.
Your life insurance quotes are always free.
Secured with SHA-256 Encryption
How Do I Cancel My Life Insurance Policy?
Can you cancel your life insurance policy? If you need to then yes, you can. The best way to cancel a policy is to call Erie at 1-800-367-3743.
How Can I Make a Claim With Erie?
On their site, Erie can handle auto, home, and business insurance claims online, but for a life insurance policy claim, Erie instructs you to contact them directly. Here are the steps to making a life insurance claim with Erie, according to their website.
To start a claim under a life insurance policy or an annuity contract, the beneficiaries will need to contact the policy owner's Erie Insurance agent or Erie Family Life at 1-800-458-0811, option 3.
Erie will ask you to provide the following documents:
A life insurance claimant's statement or an annuity claimant statement
A certified copy of the insured's death certificate
A notarized signature on the claim form or a clear copy of your driver's license or state-issued identification for signature certification
The original insurance policy or the annuity contract, if available
You'll also be asked to provide the insured's full name and state of residence, date of birth, date of death, policy issue date, and other details.
Submit your documents. Please mail all the documents to:
Erie Family Life Insurance Company
100 Erie Insurance Place
Erie, PA 16530
If you have questions at any time during the process, you'll want to contact Erie Family Life or your local Erie agent.
How is the Customer Experience?
The NAIC has a Complaint Index where they rank the national average of complaints (n=1.0) and calculate the number of complaints they've received over a single year. Here are the last three years, beginning with 2017:
As you can see, Erie made major progress between 2017 and 2018, where their Complaint Index dropped a whole 0.57 points; they dropped by more than half of the national average for complaints.
Unfortunately, their Complaint Index increased between 2018 and 2019, but they're still technically below the national average of complaints, sitting at a 0.99. It'll be interesting to see where they land after 2020.
The best customer experience reviews can be found on Erie's website. Michael U. of Blairsville, Pennsylvania had this to say: "Last month, I had to file a claim. My agent Carol was prompt, courteous, professional, and realistic. I've been a customer since 1974. I'd recommend Erie to anyone because Carol isn't the exception — she is the norm."
Erie's Programs
Erie has a few programs to give back to the community. The first is Erie Agents Giving Back, where Erie agents have established partnerships in their communities to support first responders and those on the front lines of the COVID-19 pandemic.
Their site says: "Through Erie Agents Giving Back, we've unlocked additional funding to help continue their good work in communities throughout Erie's footprint. As part of the program, Erie is reimbursing agents up to $1,000 and matching additional activities at 50 percent."
Every November for the last 33 years, Erie has participated in the Thanksgiving Dinner Drive. This event was previously helmed by Erie Insurance retiree Rick Hinman, who earned the nickname "The Turkey Man" as he organized increasingly more donations over nearly 30 years to nonprofits until he stepped down from this position.
Both programs show how Erie as a company wants to give back and make their respective communities better. We here at QuickQuote think this is an exemplary and selfless effort.
Design of the Erie Website/App
If you're wondering how best to conduct business with Erie, the Erie Life Insurance login and the option for an Erie life insurance one-time payment are available on their website, which is something you don't want to have to dig too deeply to find.
Erie has some auto-based apps, but nothing for life insurance. They have the following apps on the Apple App Store and Google Play Store:
ERIE YourTurn – A program based in rewards-driven telematics and helps you track good driving behaviors and patterns.
ERIE EnRoute – This app is built for commercial auto drivers to track driving patterns, improve safety, and potentially reduce their insurance costs.
You can make an Erie life insurance payment online. You can also find important life insurance forms, such as the Erie life insurance beneficiary change form.
Your life insurance quotes are always free.
Secured with SHA-256 Encryption
What's the History of Erie Life?
The Erie Life Insurance Group was founded in 1925. The company headquarters are in Erie, Pennsylvania. Erie services 12 states and Washington, D.C. You might be wondering, is there Erie auto insurance? Well yes, Erie offers auto insurance, in addition to home insurance, business insurance, and life insurance.
Erie Life is ranked number 381 on the list of Fortune 500's companies.
Erie Life is a smaller life insurance company, much smaller than powerhouses like MassMutual or John Hancock, but they still landed on the Fortune 500 list.
Erie's Ratings
Insurance companies are rated by agencies like A.M. Best and the Better Business Bureau (BBB). What is the rating for Erie Life Insurance Company? For A.M. Best, Erie received a score of A+ (Superior). Erie was awarded an A+ (the highest grade available) with the BBB. We looked at Erie reviews. BBB ranked Erie well with that A+ grade.
Both rating systems are outlined in the below table for ease of reference since not all the scales are the same.
These ratings are great. They're highly ranked on their respective scales.
Erie's Market Share
Erie Life isn't a huge company, but it's large enough to make the National Association of Insurance Commissioners' Top 125. Here's a breakdown of Erie's market share compared to the competition:
This information above is from the NAIC. As you can see, the percentage of market share is much smaller for Erie than for massive companies like State Farm or New York Life, but it still ranks on the Top 125 list.
Let's dive deeper into their market share over the years, based on data from the NAIC:
As you can see, Erie hovers around numbers 90 and 91, with their market share switching between 0.11 percent and 0.10 percent. Trends show that over the years, Erie has remained constant in ranking and in market share value.
Erie's Online Presence
It's common for insurance companies to use social media, and Erie is no exception. Erie has a Facebook page, LinkedIn account, Twitter feed (seen below), and a YouTube page.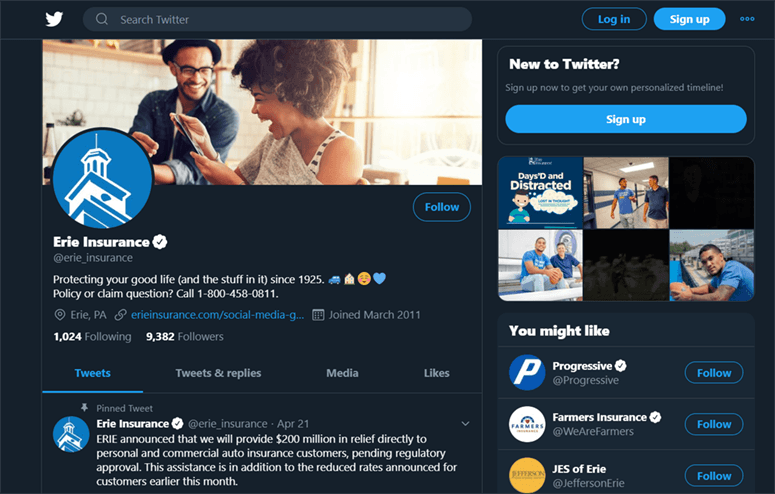 It's great that they make themselves accessible with quick blurbs containing the Erie life insurance phone number for claim questions on their Twitter page.
Erie's Commercials
Erie's commercials are rather dry and simple. In this one, they highlight the fact that they're not hiring funny actors for their commercials, but instead are using their air time to promote their great insurance:
And in this one, they get straight to the point that they sell "seriously good insurance":
Quite a simple set of ads.
Erie in the Community
Erie's webpage has an entire section describing their efforts to give back to the Erie, Pennsylvania community. Their site says: "Our employees and agents build homes, feed families, and tutor young students." Businesses that help the community are always refreshing to discover. Erie's efforts to give back focus on the following three areas:
Community building
Safety
Environmental responsibility
These are great areas of focus for a business. For community building, they support the United Way. For safety, they support disaster relief by organizations like the American Red Cross. And for environmental responsibility, they plant community gardens. Erie has volunteered with Habitat for Humanity in the past, as recognized on the cover of an iii.org publication.
Erie's Employees
Erie Life Insurance's employee reviews are at fantastic, 4.1 out of 5 stars on Glassdoor. Eighty-seven percent would recommend them to a friend, and 98 percent approve of the CEO. Benefits are ranked at an even higher 4.6 out of 5 stars on Glassdoor. It sounds like, based on their employee reviews on Glassdoor, benefits are very good. A North Carolina employee states: "Fantastic benefits, health, dental vision, etc."
Erie insurance is also expanding their office space, according to this Penn State press release, where 200 Erie employees will be based in the Penn State's Knowledge Park.
Awards and accolades:
According to its website, Erie is ranked high in the industry. Erie's awards are the:
12th largest auto insurer in the country
Ninth largest home insurer
12th largest business insurer
Erie also has been awarded in 2018:
Customer Satisfaction with the Auto Insurance Purchase Experience, J.D. Power, 2018
Erie Family Life – A (Excellent), A.M. Best, 2018
Erie Insurance Group – A+ (Superior), A.M. Best, 2018
Ward's 50 Property-Casualty Top Performers, Ward's 50, 2018
Fortune 500 (378), Fortune, 2018
Confirmit ACE Award, Confirmit, 2018
Best Employers for Healthy Lifestyles, National Business Group on Health, 2018
We're particularly impressed by the Best Employers for Healthy Lifestyles. Reviews boast a good work/life balance, and images of the workplace offer a peek into their on-site gym.
What Are the Pros & Cons of Erie Life Insurance?
So, is Erie life insurance good? All insurance companies have pros and cons; here we discuss them.
Pros of Erie Life Insurance
Erie's premium rates rival the industry average rates, and in some cases are less than the industry averages.
Erie has phenomenal ratings on Glassdoor; 4.1 out of 5 stars and 4.6 out of 5 stars, respectively.
Erie treats its employees well. They offer great benefits and reviews which make the employees sound satisfied. They even have a gym in their Erie, Pennsylvania location.
Erie likes to give back to their community with their annual November Thanksgiving Dinner Drives, in addition to other programs.
Erie's website is very easy to navigate.
Erie has great ratings with the BBB and with A.M. Best.
We were impressed with Erie's rates, as seen in the charts above.
Cons of Erie Life Insurance
Erie only services the Midwest and a few Eastern states (12 plus Washington, D.C. in total).
Erie does not have a life insurance app for your phone.
Their Complaint Index, while not over the 1.0 threshold, is still rather high at 0.99.
Although you can request a quote online, you'll need to speak with a representative to get the actual premium quote.
It's too bad that Erie doesn't offer an online experience of receiving a quote.
Erie Life Insurance: What's the Bottom Line?
Erie impressed us, from their low rates to their high BBB and A.M. Best ratings. In our anecdotal experience, Erie Life Insurance's customer service was fantastic, as we reached out to Erie for specific premium quotes and they provided a wealth of information. They even have an insurance calculator on their website.
Now that you've read our review, don't wait. Click on our FREE quote tool below to help you while shopping for insurance quotes. Get started today by entering your ZIP code to begin your research.
Your life insurance quotes are always free.
Secured with SHA-256 Encryption
Frequently Asked Questions: Erie Life Insurance
Here we answer some popular Erie questions.
#1 – What does Erie homeowners insurance cover? Does Erie homeowners insurance cover mold?
Erie insurance covers liability coverage (both for your home and for you if you're traveling), living expenses if you can't live in your home temporarily due to repairs, and Guaranteed Replacement Cost if parts or all of your home needs to be replaced. They also offer add-ons you can discuss with your agent that include:
Water backup and sump overflow
Personal liability
Identity recovery
Service line protection
Regarding mold, a standard homeowners policy limits coverage for loss caused by mold.
#2 – How do I contact Erie Insurance? What is the Erie life insurance contact number?
You can go to ErieInsurance.com to start and can use their "Request a Quote" form to reach out to a representative (that step is highlighted above), or you can call them directly at 1-800-458-0811.
#3 – How does Erie car insurance stack up?
How is Erie Insurance versus State Farm? Does Erie Insurance have accident forgiveness? Is there an Erie car insurance in California? And, is there an Erie insurance group in Maryland?
Erie car insurance is highly rated and available in many states. It's best to visit the Erie site with car insurance questions.
References: