Auto-Owners Life Insurance Reviews
Auto-Owners Life Insurance reviews find the company with an A++ financial rating from A.M. Best, an A+ rating from the Better Business Bureau, and a 0 rating from the NAIC Complaint Index, meaning Auto-Owners Life Insurance had zero customer complaints in the last year. Use our free tool below to compare Auto-Owners life insurance quotes against other companies.
Ready to compare quick life insurance quotes?
Your life insurance quotes are always free.
Secured with SHA-256 Encryption
UPDATED: Mar 24, 2022
It's all about you. We want to help you make the right life insurance coverage choices.
Advertiser Disclosure: We strive to help you make confident life insurance decisions. Comparison shopping should be easy. We are not affiliated with any one life insurance company and cannot guarantee quotes from any single company.
Our life insurance industry partnerships don't influence our content. Our opinions are our own. To compare quotes from many different life insurance companies please enter your ZIP code above to use the free quote tool. The more quotes you compare, the more chances to save.
Editorial Guidelines: We are a free online resource for anyone interested in learning more about life insurance. Our goal is to be an objective, third-party resource for everything life insurance-related. We update our site regularly, and all content is reviewed by life insurance experts.
Auto-Owners Life Insurance Summary
| Key Auto-Owners Life Insurance Info | Auto-Owners Life Insurance Data |
| --- | --- |
| Year Founded | 1916 |
| Current Executive | Chairman & CEO - Jeffrey S. Tagsold |
| Number of Employees | 5,517 |
| Total Sales / Total Assets | $7,999,300 / $24,476,400 |
| HQ Address | 6101 Anacapri Blvd, Lansing MI, 48917 |
| Phone Number | 1-517-323-1200 |
| Company Website | www.auto-owners.com |
| Premiums Written - Individual Life | $124,303,398 |
| Financial Standing | $29,167,694 |
| Best For | Bundling Coverage, Buying Through an Agent |
| | #blank# |
What is Auto-Owners life insurance?
One of the largest super-regional insurance companies in the country, Auto-Owners covers 26 states and enjoys a solid reputation. Although the company focuses mainly on home and auto, the life insurance sector of its business is growing steadily.
Unusual for so large a company, Auto-Owners continues to operate with an emphasis on the agent and is one of the few companies of its size that still doesn't provide online quotes. More than 47,000 independent agents across the service area sell Auto-Owners products.
The business approach the company calls refreshingly human℠ is certainly working well for them, but is Auto-Owners life insurance right for you?
Choosing your life insurance company is a long-term decision. You need a company that will be there should tragedy strike tomorrow or 25 years into a 30-year term policy.
We'll provide the in-depth look you need at Auto-Owners life insurance products and the company's reputation here. And if you're ready to start comparing life rates, you can simply enter your ZIP code in our easy-to-use quote box above right now.
Your life insurance quotes are always free.
Secured with SHA-256 Encryption
Are Auto-Owners' ratings positive?
A number of independent rating agencies can help form a picture of how an insurance company is performing. The information below provides both financial ratings and complaint ratios.
Financial ratings can tell us how strong the company is and how likely they are to have financial problems in the future. A company with a good financial rating can be counted on to pay claims well into the future, which is important when it comes to life insurance.
Auto-Owners Life Insurance Agency Ratings
| Ratings Agencies | Auto-Owners Insurance Ratings |
| --- | --- |
| A.M. Best | A++ |
| Better Business Bureau | A+ |
| NAIC Complaint Index | 0 |
| J.D. Power | 5/5 (U.S. Independent Agent Satisfaction) |
| | #blank# |
A.M. Best
As the most recognized name in credit and financial reporting for insurance companies, an A.M. Best rating carries a lot of weight. They rank on a letter-graded scale.
Auto-Owners has earned A.M. Best's top possible score, an A++ or Superior ranking. That means the company is on a solid financial footing with a positive outlook for the future.
Better Business Bureau (BBB)
The BBB is a very well-known name in consumer ratings. They rank companies on a multi-factor scale and also gather and respond to customer complaints.
Auto-Owners has an A+ rating with the BBB, with 117 customer complaints on file. That number is low for a company as large as Auto-Owners.
Your life insurance quotes are always free.
Secured with SHA-256 Encryption
NAIC Complaint Index
Auto-Owners' solid reputation continues with the National Association of Insurance Commissioners (NAIC) complaint index.
The company's 0 rating here means they have no complaints recorded for 2018.
J.D. Power
While Auto-Owners isn't large enough in the life insurance sector to earn a place on J.D. Power's study, they do have several J.D. Power ratings worth mentioning. These point to the reputation of the company overall, even if they don't directly relate to life insurance.
First of all, Auto-Owners won the 2019 J.D. Power award for U.S. Independent Insurance Agent Satisfaction with a five out of five rating.
That's important because the company relies entirely on independent agents to sell its products. Auto-Owners also ranks third on the Auto Insurance Shopping Study and is in the top five companies on both of J.D. Power's homeowners insurance studies. Again, this shows a company that's performing well in terms of customer satisfaction overall.
What is the company's history?
Auto-Owners was founded in 1916 in Mount Pleasant, Mich., and moved to its current headquarters in Lansing the following year. In 1935, the company began expanding beyond its home state, first offering policies in Indiana.
The company began selling life insurance policies when Auto-Owners Life Insurance Company was established in 1966. In spite of the name, they offer home and specialty insurance in addition to life and auto owners insurance.
Growth and expansion continued over the decades, and today Auto-Owners operates in 26 states, mainly in Central and Southeastern states.
They continue to sell their products exclusively through independent agents and operate as a mutual company.
Auto-Owners has been on the Fortune 500 list for the past 17 years, ranking at number 382 for 2019. Let's take a closer look at how they're performing and where they are headed.
Your life insurance quotes are always free.
Secured with SHA-256 Encryption
What is the company's market share?
Auto-Owners Life Insurance Company operates as a subsidiary of Auto-Owners Insurance Group. Other companies in the group include:
Auto-Owners Insurance Company
Home-Owners Insurance Company
Owners Insurance Company
Property-Owners Insurance Company
Southern-Owners Insurance Company
Atlantic Casualty Insurance Company
Since 2017, Auto-Owners insurance has also been affiliated with Concord Insurance Group. Auto-Owners claims a fairly large portion of the auto and home insurance market, but isn't as large when it comes to life.
According to NAIC data, Auto-Owners Life Insurance Company ranks at number 102 of the 125 largest life insurance companies in the United States for 2018. They're not the biggest, but they're doing well. Here's a closer look at the numbers.
Auto-Owners Insurance Market Share and Premiums Written by Year
| Years | Premiums Written | Market Share |
| --- | --- | --- |
| 2016 | $112,068,281 | 0.07% |
| 2017 | $117,055,959 | 0.07% |
| 2018 | $124,303,398 | 0.08% |
| | #blank# | #blank# |
While there hasn't been a huge increase in market share, the company had seen a steady increase in premiums written each year.
In the 2018 annual report, Auto-Owners reported a net income of $29,167,694 for their life insurance branch.
Here's a look at how they stack up when compared to the top 10 life insurance companies by market share in the United States.
Direct Premiums Written and Market Share for the Top 10 Life Insurance Companies
| Life Insurance Companies | Direct Premiums Written | Market Share |
| --- | --- | --- |
| Northwestern Mutual Life Insurance Co. | $10,517,115,452 | 6.42% |
| Metropolitan Group (MetLife) | $9,821,445,953 | 6.00% |
| New York Life Insurance Group | $9,295,848,300 | 5.68% |
| Prudential Financial Inc. | $9,128,805,060 | 5.57% |
| Lincoln National Corp. | $8,769,303,174 | 5.36% |
| Massachusetts Mutual Life Insurance Co. | $6,854,713,057 | 4.19% |
| Aegon US Holding Group (Transamerica) | $4,809,856,650 | 2.94% |
| John Hancock Life Insurance Co. | $4,640,905,017 | 2.83% |
| State Farm Mutual Automobile Insurance | $4,633,004,963 | 2.83% |
| Minnesota Mutual | $4,422,100,028 | 2.70% |
| Auto-Owners | $124,303,398 | 0.08% |
| | #blank# | #blank# |
When compared to the life insurance industry overall, Auto-Owners is performing well. The NAIC reports a 6 percent increase overall in direct premiums written between 2016 and 2017. That number includes life and related products such as annuities.
Auto-Owners has followed that trend, with year-over-year increases in direct premiums written.
Auto-Owners Life Insurance Premiums Written vs. Industry Averages
| Years | Auto-Owners Life Insurance Premiums Written | Life Insurance Industry Average Premiums Written |
| --- | --- | --- |
| 2016 | $112,068,281 | $824,400,000,000 |
| 2017 | $117,055,959 | $848,000,000,000 |
| 2018 | $124,303,398 | $898,500,000,000 |
| | #blank# | #blank# |
What is the company's position for the future?
According to the company's annual report, 2018 saw a 7 percent increase in life insurance applications. That's a good sign that the company is seeing growth, which puts them on solid footing into the future.
That same report states that the company saw an increase of 7.2 percent in life insurance policies in force between 2017 and 2018.
Auto-Owners Group has seen seven consecutive years of profit and premium growth of more than $700 million in 2018. Overall, the company is very healthy.
The ongoing stance of using agents and not providing online quoting doesn't appear to be hurting Auto-Owners, at least not at the moment. In spite of the insurance industry's trend toward online-everything, this company's old-school approach is working just fine.
Does the company have a strong online presence?
We've just noted that Auto-Owners doesn't provide online quoting, but that doesn't mean they have no online presence. The company website is comprehensive and informative. It just doesn't provide rates, nor can you purchase coverage online.
Customers can perform a wide variety of tasks online, including paying bills, filing claims, and reviewing policy information.
The site provides an agent search that will point visitors in the direction of their nearest local agent. The agent will provide quotes and complete policy applications. Agents also handle policy changes, but most other needs are met by the website.
Your life insurance quotes are always free.
Secured with SHA-256 Encryption
Does the company have commercials?
Auto-Owners keeps its commercials straightforward and gimmick-free, albeit with some humour injected. They focus on the benefits of having an independent agent and their company's dedication to being there for its customers.
Spots like the one above are aimed at showing potential customers why Auto-Owners is still using the agent model when so many other companies focus on mobile apps and a less personal approach.
The company also showcases its big sponsorship, which is NASCAR driver Martin Truex and his car. In addition to sponsoring the car, Auto-Owners also uses Truex as a spokesperson.
Unlike many other insurance companies, Auto-Owners doesn't aim too much for heavy humor in their advertising but instead relies on relatable scenarios and customer testimonials.
Is the company active in the community?
Auto-Owners supports a number of charities and tries to focus their philanthropic efforts on the communities in which they do business. Their list of causes includes:
They also work with the foundation of their spokesperson, Martin Truex, Jr. This foundation is dedicated to supporting underfunded cancer research, including childhood cancers.
The A-O Gives Back program is more locally focused. Through this program, the company funds initiatives by its employees and agents to help the communities they serve.
Are the company's employees happy?
A great place to work is often a place that's great to its customers, as well, so let's take a look at Auto-Owners' employees.
Auto-Owners overall is a fairly large company, with more than 5,000 direct employees. That doesn't include the 47,000 independent agents. Overall, the employees seem to enjoy their work.
Auto-Owners is a Great Place to Work certified company.
The workforce trends to the younger side. About half of the company's employees (49 percent) are millennials. Another third of the employees are Generation X, with older employees of the baby boomer generation making up the rest.
Almost a quarter of the company's employees have been there for more than 15 years. Almost half (likely the younger employees) have been employed by Auto-Owners for five years or less.
According to Great Places to Work, 85 percent of the employees surveyed said it was a great place to work. Glassdoor reviews of the company add up to an overall 3.6-star rating, with 74 percent saying they'd recommend working at Auto-Owners to a friend.
Your life insurance quotes are always free.
Secured with SHA-256 Encryption
How can I shop for life insurance?
Given that Auto-Owners isn't one of the big names in life insurance, it's likely that a lot of their new business comes from current customers. If you're already happy with your home or auto insurance company, they're a logical first step when shopping for life coverage.
According to the 2018 Life Insurance Barometer Study by Life Happens and LIMRA, one in three people shopping for life insurance bought or attempted to buy it online.
That means the other two-thirds of policyholders looked to an agent or insurance company representative for help buying an Auto-Owners policy. Auto-Owners' agent-driven approach is well-suited to that majority.
What types of insurance coverage are offered?
Auto-Owners offers a full range of life insurance products, as well as annuities, disability, and long-term care products. Their life insurance options include both temporary and permanent insurance options.
Let's break down the options that are available from Auto-Owners for life insurance.
Types of coverage offered
Auto-Owners writes all three of the most common types of life insurance policies. The site doesn't offer much in the way of detail on these products, but we'll take a look at what we know about each option.
Your life insurance quotes are always free.
Secured with SHA-256 Encryption
Term
Term life provides coverage for a specified period of time, after which the coverage can usually be converted to whole life or renewed. The longer the term length, the more you can expect to pay for coverage.
Auto-Owners writes term life insurance policies in 10, 20, and 30-year term lengths. The coverage can be extended up to the age of 95.
There's no detailed information on these policies, including issue ages and benefit amounts. They appear to be standard term policies, offered at common term lengths.
Whole
Whole life is permanent, straightforward coverage that remains in force as long as premium payments are made. It also includes a cash value account that accumulates over time and can be accessed as a loan, withdrawal, or surrender.
The Auto-Owners site states they offer flexible payment options but doesn't say what those are. Coverage stays in place for the insured's entire life, with a guaranteed death benefit.
Universal
Like whole life, a universal policy provides lifelong coverage but is more flexible than a whole policy. Universal life policies offer flexibility in the premium payments as well as the coverage amount, which can be increased or decreased.
Like the rest of the life coverage types, there's little information on policy specifics available. A basic overview of the policy is offered in general terms. Auto-Owners Insurance directs site visitors to contact an agent for more information and to get a quote.
What factors affect your rate?
A lot of different factors will affect how much you pay for life insurance. Most of them are the same regardless of the insurance company, although insurers may weigh each factor differently.
What will affect a quote you receive from Auto-Owners? Let's take a look at the common rating factors involved in life insurance.
Demographics
Who you are will an impact on what you pay for life insurance. Life insurance companies have a lot of statistics and research available to them that they use to determine what increases the risk a person will pass away during the policy term and how long they will likely live to pay premiums. In other words, life expectancy.
Three main demographics are used in calculating rates: age, gender, and marital status. Of these, the first is the most important.
Your age, for obvious reasons, tells an insurance company some basic information regarding your life expectancy. The older you are, the more you'll pay for life insurance, because the remaining number of years you're expected to live reduces each year.
Life insurance companies will also consider your gender in calculating rates. That's because women have a longer life expectancy on average than do men in the United States. Women pay lower rates because they'll likely be paying for longer.
Finally, marital status is also a factor, particularly for men. Research has shown that married men live longer and are healthier than men that were never married.
Current health & family medical history
Right up there with your age among the most important rating factors are your health and your family medical history. Both current and past health concerns can cause an increase in your rates, as can hereditary conditions (whether you have them or not).
Life insurance companies will look closely at your health through a variety of means. First, they will ask you some health questions on the application. When you sign that application, you will also give your permission for the insurance company to gather health records about you from:
Your doctor
Pharmacy records
Medical Information Bureau Group
Results of a medical exam performed as part of the application process
If you've applied for a simplified issue policy with no medical exam, you'll still need to sign off on a certain amount of health information. This includes the records from the MIB Group, and you might be wondering right about now what exactly that is.
The MIB (Medical Information Bureau) is a group dedicated to gathering records on everyone that applies for life insurance with a member company.
When you apply for life insurance, any data gathered by the insurance company is submitted to the MIB. The main purpose of this is to prevent fraud by comparing what an applicant states on a new application to the information on a previous one.
If you've never applied for life insurance before, you don't have an MIB record.
In addition to the facts on your current and past health, life insurance companies will look at your family history. Some conditions are known to be hereditary, and an increased risk of diseases such as heart disease or cancer means higher rates for life insurance.
High-risk occupations
In some cases, what you do for a living can mean higher rates for life insurance. When you think of high-risk occupations, you likely think of firefighters and police officers. There are actually a lot of less obvious occupations that life insurance companies view as high-risk. They include:
Commercial fishing
Truck driving and other jobs involving a lot of hours behind the wheel
Mining and other extraction jobs
Pilots
Construction
Not all police officers will see increased rates. It depends on the type of police work. Generally, if danger pay is provided for the job, such as for a SWAT team member, the job would be classified as high-risk.
High-risk habits
It's not only what you do for a living that can increase your risk level, but also what you do in your free time.
The most well-known of the high-risk habits life insurance companies look for is smoking. Because it greatly increases the risk of a variety of health problems and shortens life expectancy, smoking will result in paying more for life insurance.
Other high-risk habits include drinking alcohol and the use of recreational drugs.
Outside of these habits, there are some hobbies that will raise concerns for life insurance companies. If you enjoy skydiving or mountain climbing, for example, you're a higher risk for a life insurance company than someone whose favourite hobby is knitting.
Veteran or active duty military status
Military members have traditionally been one of the harder groups to insure. Life insurance was once so difficult to obtain that insurance companies such as USAA were created to cater to the needs of the military.
Many insurance companies today provide good coverage for those in the military, both active duty and veterans.
It's important, though, to look for exclusions and clauses in the policy that may limit coverage. Of specific concern to active duty military members is the war exclusion, in which the policy won't pay out if the insured dies in a war.
How can I get the best rate?
We've talked a little about the things that affect life insurance rates, but is there a way to ensure that you're getting the best rates Auto-Owners has to offer?
Without much information on the website, it's hard to say what kind of weight this particular company gives to each rating factor.
Every company adds up each of these factors to determine that one big overall factor mentioned above life expectancy. Insurance companies are all about balancing risk.
How likely is it that they will have to pay out a death benefit during a term policy? How many years can they expect to receive premiums on a whole policy before a claim is made? These things all help determine what the company will charge you for your policy.
In addition to the factors regarding life expectancy, rates are also based on the amount of the death benefit and the length of the coverage. That means a 10-year term policy with a $100,000 death benefit will cost less than a 30-year term policy with a $500,000 death benefit.
A permanent policy, like whole life, costs the most because there is no end date to the coverage. As long as the policy stays in force, the insurance company will have to pay that claim eventually.
The longer the term, the more likely the insured will die during that time period. And the more the insurance company stands to pay out on that policy, the more they need to charge in premiums to be sure they can cover their claims.
If you have shopped for car or home insurance before, you have probably qualified for some policy discounts that can bring your rates down. Unfortunately, there's not a lot of discount options when it comes to life insurance.
Auto-Owners doesn't list any savings for life insurance, but they do offer a multi-policy discount for bundling your home and auto with your life insurance.
What that means is you'll get a discount on your home policy as well as your auto policy when you take out a life policy. That can decrease your insurance costs overall, but won't reduce the cost of the life insurance itself.
That's pretty common when it comes to bundling discounts. They can make a big dent in your total insurance bill, but it's important to do the math to see if it adds up to savings versus buying cheaper life insurance somewhere else.
So aside from bundling, how can you get the best rates on your Auto-Owners life insurance policy? There are some tips that are standard across the board:
Buy life insurance when you're young and healthy(this really can't be stressed enough)
Buy the correct amount upfront so you don't pay more to add coverage later
Don't smoke, and if you do smoke, quit (yes, you can qualify for a lower rate after quitting)
Make an effort to live a healthy lifestyle, maintain a healthy weight, and reduce unhealthy habits such as drinking too much
Consider giving up dangerous hobbies
Sometimes waiting to apply for life insurance can make sense, particularly if you can quit smoking or improve your overall health in some way. Quitting smoking can make a big difference in what you pay for life insurance, and locking in a lower rate on your policy will save you a lot in the long term.
What are the company's programs?
Auto-Owners is very focused on getting people off of the website and in contact with an agent. Their website is set up to make that clear, as well as to explain why they feel so strongly about their stance on agents.
They do offer life insurance needs estimator that can help you to calculate how much coverage you need before you reach out to an agent for a quote.
The A-O blog is full of articles that include tips and advice. The articles cover all types of insurance and include helpful information for existing and new potential customers alike. Categories include business, personal, and safety and prevention.
What's really missing from the company's website is any sort of specific and detailed information about the life insurance products themselves.
Even for a company that relies on agent sales, it's expected in this day and age that insurance shoppers can gather information and compare options before having to talk to someone directly about a quote.
This lack of information may drive away modern insurance shoppers that don't want to wind up on a solicitation list for a company they are only just beginning to research as an option.
How do I cancel my policy?
When it comes to cancelling your policy, Auto-Owners Insurance sticks to its "contact your agent" approach. There's no information on the website about how to cancel a life policy.
In the contact section of the website, general contact information is provided for policyholders, with a reminder that your agent can assist you with "anything policy-related."
There is a customer login section of the site where existing customers can access their account. It's possible that you can find cancellation information once logged in. It's not one of the options that are listed on the Customer Center page, however, so it's difficult to say for certain.
How do I make a claim?
It won't surprise anyone to find out that Auto-Owners directs their customers to file a claim by contacting their agent. They do offer an after-hours claims line, but it's unlikely that life claims can be filed this way.
In fact, the claims section doesn't mention life insurance claims at all. It covers auto, home, worker's compensation, and catastrophe claims.
In general, life insurance claims follow the same steps. The claim must be filed by the beneficiary. Certain documentation is required, including a copy of the death certificate and a beneficiary statement. Life claims usually require filing in writing.
Auto-Owners Insurance touts their "No Problem"® claims service. They promise to:
Pay as quickly as possible
Pay the amount they owe
Provide the best claims service in the industry
Of course, these promises are common to most insurance companies. Since most of the claims satisfaction information out there is for either auto or homeowners insurance, it's hard to say whether they live up to the promise for life claims.
Is the design of the website and app adequate?
The Auto-Owners website is clean and easy to navigate. As we've already mentioned, the main problem with the site is the lack of detailed information.
The site requires few clicks to get to the page you want, although once there, the details are sparse.
The company does have a mobile app that provides access to a variety of services. These include:
Policy documents
Billing
Claims tracking
It's not clear whether any life insurance policy information is available in the Auto-Owners app.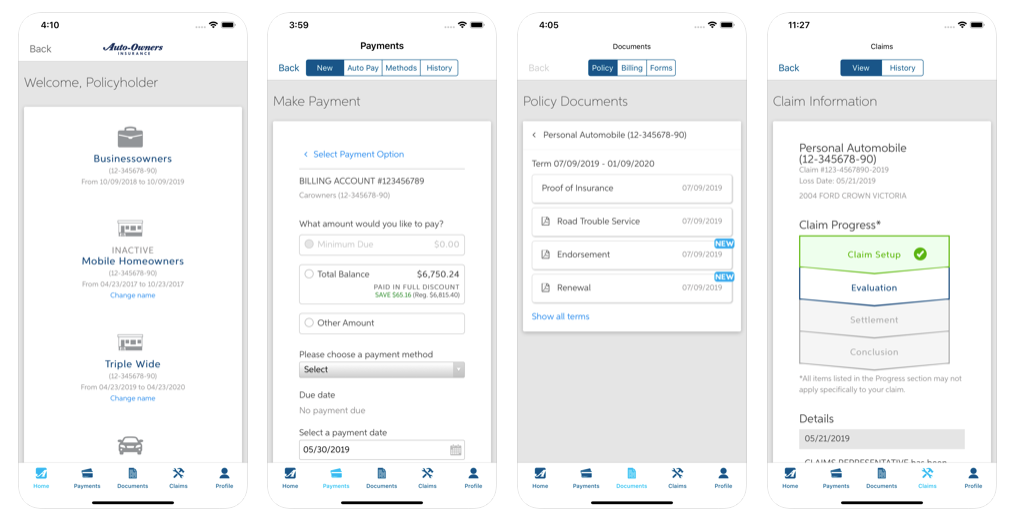 Customers rate the app a 3.4 overall out of five on the Apple store, and over on Google Play it rates at 4.1 out of five. Customers like the convenience of the app but there are complaints of crashing and difficulty logging in.
The app is basic compared to what other insurance companies offer. Auto Owners' Customers can view basic information and make payments, but there are no policy changes and claims can't be filed through the app.
What are the pros & cons?
As with all insurance companies, there are good and not-so-good points about Auto-Owners Insurance. Here's a look at some of the big pros and cons of choosing this company.
Auto-Owners Life Insurance Pros and Cons
| Pros | Cons |
| --- | --- |
| Highly rated for customer service | No online quoting |
| Variety of policy types | The website provides little detail on the policies |
| Financially stable | Not available in all states |
| | #blank# |
What's the bottom line?
Auto-Owners Insurance is a highly-rated and regarded company, but their approach to selling insurance may frustrate online shoppers.
Having an insurance agent help you to choose and purchase a policy is very helpful, and even recommended when it comes to a life insurance policy. Insurance customers today, however, expect to be able to research thoroughly online.
If you like the customer service aspect of working with an agent and don't mind the lack of online resources, Auto-Owners might be right for you. They're especially worth a closer look for life insurance if you are already an auto or home customer.
Auto-Owners' FAQs
#1 – What does it mean that Auto-Owners uses independent agents?
There are two types of insurance agents: independent and captive. A captive agent works only for one company. An example of a company with captive agents is State Farm. Auto-Owners sells its policies through independent agents, which means they may sell products from a variety of companies including Auto-Owners.
#2 – Which is better, whole or universal life?
Both whole and universal life have similar features, but universal is more flexible. The best way to determine which type of insurance is best for your personal needs is to speak to an insurance expert who has knowledge of your needs and financial goals.
#3 – Do I have to have another policy with Auto-Owners to buy life insurance?
No. While there are policy discounts available for your auto and home insurance when you buy life as well, you can have a life policy as your sole Auto-Owners product.
Ready to start comparing quotes? Enter your ZIP code into our Free Tool below to find your best rate!