State Farm Life Insurance Review
State Farm life insurance (review below) offers term and whole life policy options with a respectable industry reputation and an A++ financial rating from A.M. Best. You could qualify for State Farm life insurance rates starting as low as $11/mo, or you may find cheaper quotes when you comparison shop online. Start now with free life insurance quotes from our comparison tool below.
Ready to compare quick life insurance quotes?
Your life insurance quotes are always free.
Secured with SHA-256 Encryption
UPDATED: May 12, 2022
It's all about you. We want to help you make the right life insurance coverage choices.
Advertiser Disclosure: We strive to help you make confident life insurance decisions. Comparison shopping should be easy. We are not affiliated with any one life insurance company and cannot guarantee quotes from any single company.
Our life insurance industry partnerships don't influence our content. Our opinions are our own. To compare quotes from many different life insurance companies please enter your ZIP code above to use the free quote tool. The more quotes you compare, the more chances to save.
State Farm Life Insurance Overview
Key Info
Company Specifics
Year Founded
1922
Current Executives
CEO – Michael L. Tipsord
Number of Employees
56,788
Total Sales/ Total Assets
$959,000,000,000 / $16,000,000,000
HQ Address
One State Farm Plaza
Bloomington, IL 61710
Phone Number
1-800-782-8332
Company Website
www.statefarm.com
Premiums Written – Individual Life
$65,861,617
Financial Standing
$100,900,000,000
Best For
Strong Financial Ratings
#blank#
State Farm is most known for car insurance, so you may be asking yourself "does State Farm offer life insurance?" The answer is yes. This review will answer any questions you may have about choosing State Farm life insurance and will tell you what to look for when shopping for term life insurance quotes.
Shopping for life insurance isn't something most of us look forward to, but knowing about the company and range of products you're interested in will relieve some of your stress. Even if you have done the research, there are lots of questions you might still have, like: What is term life insurance? Why do I need life insurance protection? How much life insurance should I get? How do I find the best rates?
Even if you have a life insurance company in mind, it's always wise to shop around. This review will ensure that you find the best deal and the best coverage available.
Let's get started. Before jumping into our review, start comparing State Farm life insurance with other life insurance companies now with our FREE quote tool.
How can I get State Farm life insurance quotes?
When shopping for life insurance, you need to do research. That research should include learning the basics of insurance. Also, make sure to compare coverage and rates from different companies.
When deciding what insurance to buy, it would be smart to learn basic information about individual life insurance. Remember that you should buy a policy that will help replace the income that will be lost in the case of death, barring you don't have a high mortality risk for any medical or vocational reason. You'll need to identify how long you want to provide and if you need to replace your entire income or only a portion.
Life insurance will allow financial peace of mind that your loved ones will be taken care of.
Your life insurance quotes are always free.
Secured with SHA-256 Encryption
What are the average life insurance rates by age?
I am sure you are asking yourself, what is the average life insurance cost per month? The table below will help you find the average life insurance rate by your age.
State Farm Average Annual Life Insurance Rates
| Policy Holder Age, Marital Status, & Gender | State Farm Average Rates | Average Annual Rates |
| --- | --- | --- |
| 25-Year-Old Single Female | $143.00 | $164.50 |
| 25-Year-Old Single Male | $164.00 | $183.61 |
| 35-Year-Old Married Female | $166.00 | $170.47 |
| 35-Year-Old Married Male | $175.00 | $190.40 |
| 45-Year-Old Married Female | $238.00 | $247.50 |
| 45-Year-Old Married Male | $239.00 | $274.59 |
| 55-Year-Old Married Female | $341.00 | $417.01 |
| 55-Year-Old Married Male | $396.00 | $543.23 |
| 65-Year-Old Single Female | $684.00 | $898.76 |
| 65-Year-Old Single Male | $955.00 | $1,308.00 |
| | #blank# | #blank# |
Almost all of State Farm's rates are under the average.
It should be noted that there was a rates increase. 2019 was a year in which most companies raised their policy premium rates.
What types of insurance policies are offered by State Farm?
The insurer is located all over the world so it should be easy to find one near you. Google it. For example, just type in State Farm Life Insurance and the state you live in.
Life insurance is like a box of chocolates. There are many different options for you to choose from.
Like their home insurance, the company's life insurance branch is lesser-known. Although it is not as well-known as their car insurance, the life insurance branch of the company offers multiple types of life insurance coverage: term, whole, and universal coverage.
They offer return of premium and instant answer term life insurance. The company offers limited pay, single-premium, and final expense whole life insurance. They also have survivorship, joint, and universal life insurance.
All of these policies have different features depending on the type of policy.
.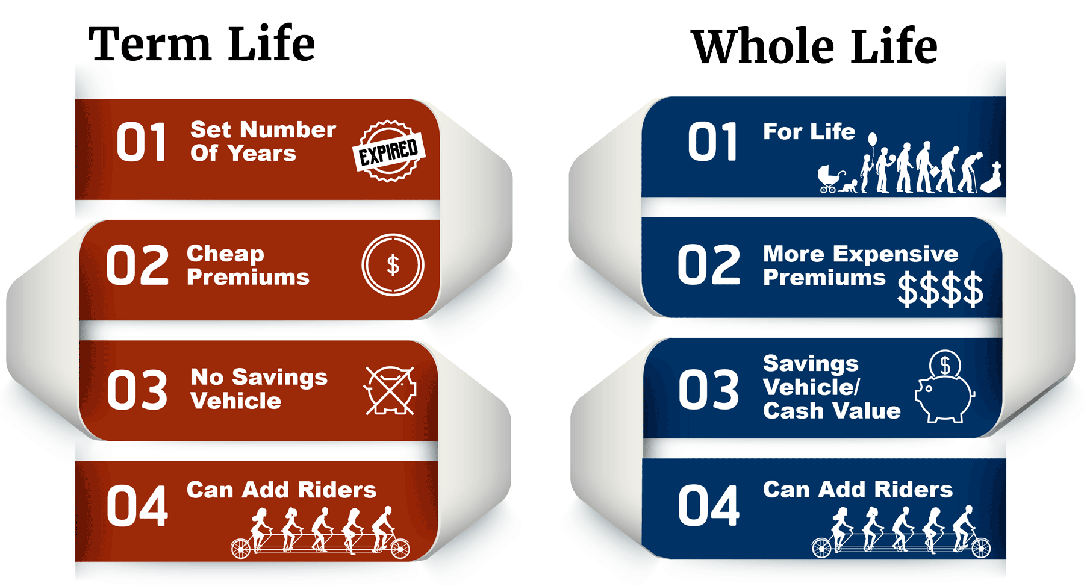 Keep reading for a more thorough explanation of the differences and to get a basic description of coverages available.
State Farm Term Life Insurance
State Farm is one of the best term life insurance companies. Consumer reports usually rank it towards the top of their lists.
Term life insurance is insurance that's offered for a specified set of time, called terms. Terms are often in 10-year, 20-year, 30-year, and 40-year chunks of time. The return of premium term life insurance is a level premium payment that's available for 20 or 30 years.
If you outlive the life of the coverage, then you'll receive all the premiums back.
The Instant Answer term life insurance will provide a death benefit of $50,000. It will provide a death benefit until the age of 50 or a maximum of 10 years. You can apply, get an underwriting decision, and purchase your policy on the same day.
There are many different types of life insurance to choose from.
Your life insurance quotes are always free.
Secured with SHA-256 Encryption
State Farm Whole Life Insurance
Whole life insurance, also called permanent life insurance, will cover you for your entire lifetime. You can get whole life insurance from State Farm.
Limited Pay whole life insurance is a type of life insurance that can be paid in full in 10, 15, or 20 years. This means that you could avoid paying premiums during retirement if you purchase the permanent policy young enough. This is a good policy for families and most adults.
Single-Premium whole life insurance is a type of insurance that will cover you for your life after you pay a single lump-sum premium. If you are asking, can I take money out of my  life insurance, then yes. This coverage does offer a cash value along with lifetime coverage. The premium will be $15,000 and is available to ages 0–80.
Final Expense insurance is insurance that will pay a $10,000 death benefit for final and burial expenses.
State Farm Universal Life Insurance
Universal life insurance is a type of permanent insurance. It offers low premiums and an investment portion in your coverage.
The Survivorship universal life policy covers two people. The policy won't pay out until both of the covered individuals die. It's an affordable option that's less expensive than buying two individual policies and is a great option for spouses who want to leave money for their children or grandchildren.
The coverage eligibility starts at 20 years of age until 90. If you reside in California, then the eligibility ages are 20 to 78. This policy offers coverage starting at $250,000. This is still a good option for seniors.
A joint universal life policy also covers two people. This type of coverage is very similar to survivorship universal life insurance except it will pay out the death benefit when the first of the two insured parties passes away.
State Farm Burial & Final Expense Life Insurance
Many people don't realize how expensive burials can be when they're considering coverage options.
State Farm offers Final Expense insurance. This insurance is a death benefit that will be paid to the beneficiary for a funeral and final expenses. The policy amount is $10,000. You must be 50 to 70 years of age to qualify unless you live in New York. If you live in New York then the ages of eligibility are 50 to 75.
Many insurance companies will have you take a medical exam and fill out questions about your health. You can get life insurance with a medical condition or if there are conditions that are hereditary in your family will.
The VA's website explains the government's life insurance and how to gain access to that life insurance if you qualify.
Your life insurance quotes are always free.
Secured with SHA-256 Encryption
What other State Farm life insurance products are offered?
State Farm is actually very famous for their car insurance. Many people are not aware that the company offers auto, home, and health insurance. The car insurance portion of the auto insurance company offers many policies and options.
If you are interested in refinancing your home or getting health insurance, while getting life insurance, then ask an agent if they have any bundles available. You can pay for multiple types of insurance, with one company, in one bill.
What are life insurance riders?
Most life insurance companies offer riders that you can pair with your traditional policy. Riders are supplemental insurance.
State Farm's website only features their Flexible Care Benefit Rider.
This rider is for the event that you become chronically ill. If you are eligible, the rider will allow you to access a portion of the policy's death benefit every month. The site says to contact an agent or start a quote to learn about additional riders.
How can I get a State Farm life insurance quote online?
Go to the company's home page at www.statefarm.com.
Find the header that says Get A Quote and click it.
Choose Life as your product. Also, pick the state you live in from the drop-down box.
Press Start A Quote.
This page will complete your life insurance quote pre-check. You will simply be entering basic information.
First, select your birth month. Then, choose your birth date. Next, select the year you were born.
Now, click continue. Fill out your basic information.
This page will have you answer demographics to give you a quoted rate for the plans available to you.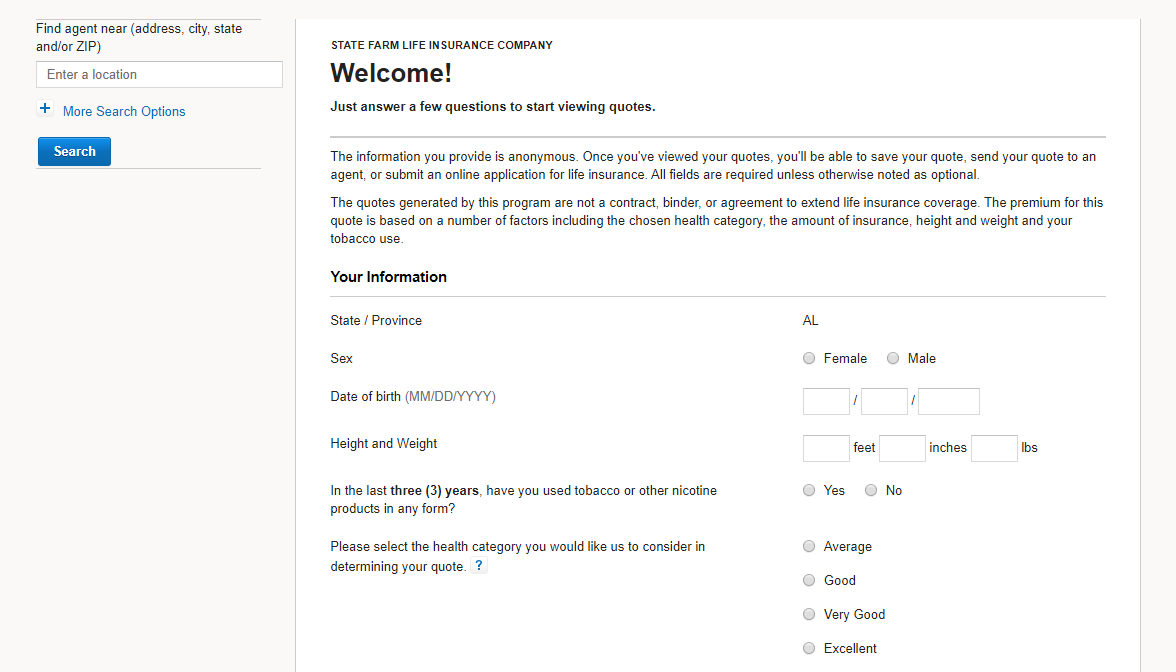 The bottom part of the application is a breakdown of the amount of coverage you will need.
Fill out the coverage amount you'll need. The site offers a coverage tool for a detailed estimate of your monthly premiums.
Click Get Quote when you're finished with the form.
Get your life insurance options and your quoted rates. This format gives you a visual comparison of all the different policy quotes at once.
If you would like to compare life insurance options, then just click the Compare Policy box under the plans you're interested in.
Customize your policy. If you pressed Select and Continue, then the next page will allow you to customize your policy. You simply have to press the Select and Continue button.
If you chose to compare policies, then the site will bring you to a page that shows you the policy options that you were interested in, side by side.
If you want further information about a specific policy then press Select and Continue under that policy.
Your life insurance quotes are always free.
Secured with SHA-256 Encryption
How can I cancel my State Farm life insurance policy?
Canceling your policy is very easy. They offer you a wide range of options to choose from when canceling.
How to Cancel
The insurer has made it fairly easy to cancel if your life insurance plans or needs change.
Go to the homepage. The website can be found at www.statefarm.com. The homepage has recently changed.
Scroll to the bottom of the page. You want to find the box at the bottom that has hyperlinks to many parts of the site.
Find the heading that says Customer Care Center. Now, find Manage Your Account.
Click Manage Your Accounts it will be under the Customer Care Center heading. Scroll down the page until you find the heading "Have More Questions?" then click "How to cancel your policy." Clicking will take you to a new page.
This page gives you multiple options on how to cancel your insurance policy. The first option is to Cancel By Phone. The life insurance phone number is located in the table at the top of the page.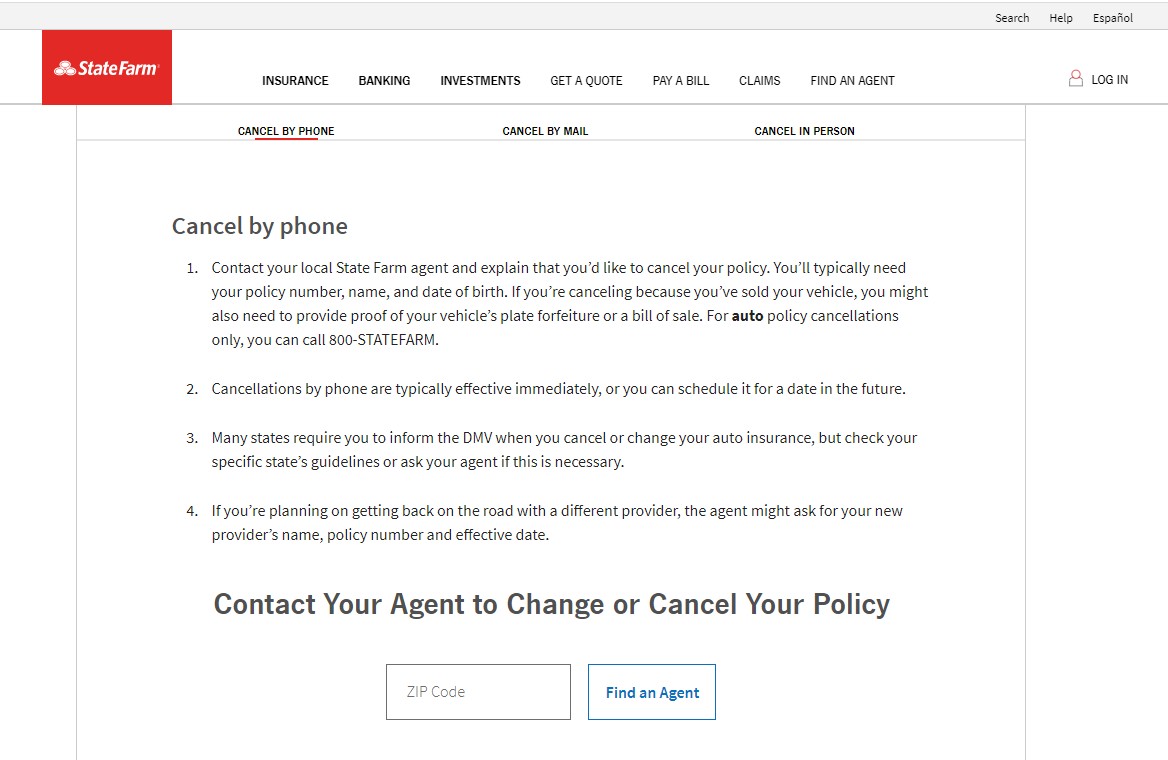 The next option is to Cancel By Mail followed by Cancel In Person. This option also allows you to find an agent in your area by typing in your zip code and clicking Find an Agent.
How can I make a claim?
If you want to make a claim, then go to www.statefarm.com.
Find the heading named Claims and click it. A box will pop-up and ask if you would like to File a Claim or Track a Claim.
It will take you to a new page.
Click Start a Claim and choose Life as your claim type. You'll need the insured party's name, date of birth, state of residence, your policy number, and the date and cause of death of the insured party.
If you're having problems with your claims, State Farm also offers a live chat option. This is found in the red bubble that says Chat. Just click the button if you're interested in the chat option.
What are the State Farm life insurance reviews from customers?
The NAIC Complaint Index will give you information about the number and types of complaints that are made about a company. The NAIC has provided 55 complaints against State Farm life insurance.
J.D. Power's highest award that they give is the Among the Best Award. This is the award that J.D. Power gave State Farm in 2018. State Farm is still in the top-ranking life insurance companies, according to J.D. Power.
Your life insurance quotes are always free.
Secured with SHA-256 Encryption
What programs are offered?
They offer many resources on their website to help you learn about life insurance. They provide many tools to help assist you in your search. They offer a life insurance calculator and links to learn enough about life insurance to make an informed decision.
When it comes to programs, it seems that the company offers more information about car insurance.
Are the website and app easy to use?
The design of the website is very user-friendly. It's as easy as filling out the information inside of the box and receiving an immediate quote.
The headers at the top of the site make it easy to find what you're looking for.
For life insurance, click Life. This will give you access to all of the information and tools related to life insurance.
What is the history of State Farm life insurance?
The insurer was founded on June 7, 1922. It was started by a retired insurance agent named George Jacob Mecherle as a single-line automobile insurance agency. They now own five lines of business.
Mecherle's dream was to do the right things and operate his company fairly. The company states that they still follow his vision today, having passed many seat belt laws and fighting for driver safety.
It's one of the most well-known and used life insurance companies. Now, they even have a banking division.
Your life insurance quotes are always free.
Secured with SHA-256 Encryption
Are State Farm life insurance reviews and ratings positive?
There are multiple life insurance company rating websites that you can check to see how reliable the company you're interested in is.
Comparing credit ratings can be useful when comparing companies. It can help you answer the question, "What is the best life insurance company?" State Farm has very good ratings.
A.M. Best gave an A++ rating. The Better Business Bureau (BBB) rated the company with an A+. Moody's has rated the insurer with an Aa. Standard & Poor's (S&P) rating system gave them an AA.
What is the State Farm's market share?
The market share as of 2018 was 6.42 percent. In 2017, the company's market share was 6.38 percent. In 2016, the company had a market share of 6.48 percent.
The company's market share was highest in 2016.
Top 10 Life Insurance Companies by Market Share (NAIC)
| Companies | Market Share 2018 | Market Share 2017 | Market Share 2016 |
| --- | --- | --- | --- |
| Northwestern Mutual | 6.42% | 6.38% | 6.48% |
| Metropolitan Group | 6.00% | 7.37% | 7.65% |
| New York Life | 5.68% | 5.70% | 5.61% |
| Prudential | 5.57% | 5.48% | 5.49% |
| Lincoln National | 5.36% | 4.55% | 4.44% |
| MassMutual | 4.19% | 4.37% | 4.27% |
| Aegon | 2.94% | 2.89% | 2.96% |
| John Hancock | 2.83% | 2.80% | 2.93% |
| State Farm | 2.83% | 2.76% | 2.82% |
| Minnesota Mutual Group | 2.70% | 2.52% | 2.51% |
| | #blank# | #blank# | #blank# |
The market share of a company is the total industry sales over a fiscal year divided by the company's total revenue of sales.
State Farm's position for the future looks promising.
How is State Farm's online presence?
The insurer has 2.15 million people who've liked their Facebook page. They post multiple times a week. The company also posts video content regularly.
The company's YouTube page has 170,000 subscribers and its page has many videos.
State Farm offers a Color Full Lives series.
This series is a podcast featuring Angela Yee, Tonya Rapley, and Aminatou Sow. These three women of color discuss their lives and financial tips. The series is meant to be a celebration of African American women and meant to start discussions about their financial future.
The video below is a preview of Season 4 of the podcast.

State Farm's Twitter page has 102,900 followers. They tweet multiple times a week. They also have a State Farm Latino Twitter that's in Spanish.
State Farm's LinkedIn account has 325,724 followers. The company LinkedIn profile posts almost every day. They also have a company Instagram account. The company's Instagram account has 58,100 followers. There are 659 posts.
Does State Farm life insurance run commercials?
There are many commercials. You can find them on the insurer's official YouTube account. The company has a new Jake from State Farm, and he is featured often on their website and commercials.
The company motto is, "Like a good neighbor, State Farm is there." You'll hear the company motto often in its commercials.
They have recently had Chris Paul, Terry Crews, Alfonso Ribiero, and Aaron Rodgers in the company's commercials.

There are even commercials in Spanish.
Is State Farm involved in the community?
The business is extremely active in the community. They have multiple company grants, foundations, and initiatives that they use to help.
The Good Neighbor Citizenship® company grants fund organizations and institutions. Their State Farm Companies Foundation has a matching gift program. This program was started to encourage associates to support higher education and charitable organizations.
The business serves many different communities. They have designated initiatives to attempt to serve the African-American, the Asian and Pacific Islander, the Hispanic, and the LGTBQ communities.
What are the State Farm life insurance reviews from employees?
State Farm is actually considered one of the best life insurance companies to work for. There are reviews from employees on Indeed, PayScale, and Glassdoor.
Indeed has rated the work-life balance is rated 3.6 of 5. PayScale has a lot of ratings. They have an overall company rating of 3.3 out of 5. Glassdoor has given them a ranking of 3.2 out of 5.
Reviews seem generally average across the board.
State Farm Life Insurance Review: What are the pros & cons?
Let's take a look at the pros and cons.
What are the pros?
They are a very well-known and trusted company and consistently rank among the top 10 insurance companies.
They are also very philanthropic and do a substantial amount of volunteer work and donating to the community. They have a stable looking financial outlook and offer very low life insurance premiums. They did write more premiums in 2018 than in 2017.
What are the cons?
One con is that the company market share did decrease. The company would seem more financially stable if its numbers had not dropped.
Not all of the policies can be adjusted or changed unless you go in person.
Many people like the availability of being able to do everything online and there are specific issues that have to be dealt with in person and with an agent.
There are some states that the company does not sell in or that they offer policies for a smaller amount of ages.
What's the bottom line?
State Farm is a very well known and respectable company. They are extremely involved in the community, and they are financially stable. Now that you've learned about this company, are you ready to compare other companies?
Don't wait! Now that you've read our review, click our FREE quote tool below to get quotes from top life insurance companies.
Do you have more questions about State Farm life insurance?
Here are answers to frequently asked questions about State Farm.
#1 – What do I need to do to change my beneficiary?
Unfortunately, the company doesn't allow you to change a beneficiary online. You'll have to make an appointment with a local agent, and they will help you.
#2 – Will the company still pay if the cause of death is suicide?
On the website, in the fine print, it does say that there may be limitations on payment in the case of suicide within the first two policy years. Call your insurance agent to discuss if the policy can be paid out. They should know all of the payout options.
#3 – Can I combine my auto insurance, life insurance, and homeowner's insurance?
Yes, most companies will let you bundle different types of insurance together. You should make sure that this will be a cheaper option than buying them separately. Bundles may save you money, but they may not.
#4 – Does State Farm offer any no medical exam life insurance policies?
Yes, the business does offer insurance that has a no medical exam term life feature. The no medical exam policy that it offers is the Instant Answer Term Insurance policy.
#5 – Can I change my life insurance policy?
State Farm will adjust many types of insurance policies. You must contact your local life insurance agent to make sure that your policy can be changed.
#6 – What happens if I apply online and my application is rejected?
If your application is rejected and you applied online, then the application will be sent to an agent. You can contact a local agent to continue the application process.
#7 – How does State Farm Life Insurance work?
It is as easy as going to your local State Farm Agency or signing up or inquiring online. The company will ask for basic information, a medical exam, and you will pay them a monthly, or one-time sum, for a policy that your beneficiaries will receive when you die. For more detailed instructions, read the article above.
#8 – What is the cost of a $500,000 State Farm term life insurance policy?
A $500,000 term life policy would be more expensive than a whole life policy of the same amount. The amount you will pay each month largely depends on the amount of the policy you purchase and how long the term is.
Editorial Guidelines: We are a free online resource for anyone interested in learning more about life insurance. Our goal is to be an objective, third-party resource for everything life insurance-related. We update our site regularly, and all content is reviewed by life insurance experts.