Guide to End-of-Life Planning for Veterans and Families
End-of-life planning for veterans involves more than writing a will and buying life insurance, although these things are important. As an honorably discharged veteran, military funeral honors may be available to you. You will also want to consider end-of-life care options for veterans and be prepared with an advance directive. Planning ahead of time can be difficult, but will ensure your end-of-life requests as a veteran will be honored.
Ready to compare quick life insurance quotes?
Your life insurance quotes are always free.
Secured with SHA-256 Encryption
UPDATED: Jun 29, 2022
It's all about you. We want to help you make the right life insurance coverage choices.
Advertiser Disclosure: We strive to help you make confident life insurance decisions. Comparison shopping should be easy. We are not affiliated with any one life insurance company and cannot guarantee quotes from any single company.
Our life insurance industry partnerships don't influence our content. Our opinions are our own. To compare quotes from many different life insurance companies please enter your ZIP code above to use the free quote tool. The more quotes you compare, the more chances to save.
Editorial Guidelines: We are a free online resource for anyone interested in learning more about life insurance. Our goal is to be an objective, third-party resource for everything life insurance-related. We update our site regularly, and all content is reviewed by life insurance experts.
Quick Facts
Veterans may have some special considerations for end-of-life planning
There are special resources available to veterans, including funeral planning
Life insurance is an important part of end-of-life planning for veterans

End-of-life planning is much more than finalizing your affairs and getting your will in order. Especially if you're a veteran, end-of-life planning involves accounting for how your legacy will be honored, and how future generations will remember you and your service.
Making end-of-life plans can be less than comfortable, but these are incredibly important conversations to have. You're not only planning for yourself, but also for your family and beneficiaries. You want to ensure your family is well taken care of even when you're not around, and having well-established end-of-life plans all but guarantees they'll have everything they need.
End-of-life planning for veterans and families generally includes three categories: estate planning, care planning, and legacy planning. When paired with life insurance for military personnel, you and your family should have everything you need for solid plans that prioritize you and your comfort. Read on for more information on how to have effective end-of-life planning conversations as a veteran.
Do you need life insurance for an active or retired military member? Enter your ZIP code now to compare rates.
End-of-Life Estate Planning for Veterans
When it comes to end-of-life estate planning, you will traditionally look at a few different areas of settling your estate, including deciding on control for end-of-life documents, life insurance policies, designating control of your affairs, and more.
Planning for Life Insurance
Life insurance is an often-overlooked area of end-of-life planning, but unless you have plenty of money stored away to care for your spouse and family should something happen, you should investigate what sort of coverage you'll need.
A good rule of thumb when planning how much life insurance coverage you'll need, or when shopping around for life insurance quotes, is to figure out how much it would cost to both pay off your debts and continue to contribute to any savings goals, such as college funds for your grandchildren or your spouse's 401(k). Divide that amount by 5% to determine how much coverage you'll need.
Once you have this number in mind, you can then find the best life insurance policy for you and your family's needs. You want your loved ones to be well taken care of, and having a quality life insurance plan will ensure that they're set up financially should anything happen to you.
Writing Your Will
If something happens to you and you pass away without a will, also known as dying intestate, estate lawyers and other professionals will decide how your estate should be split up amongst your beneficiaries. Rather than leave these important decisions up to chance, you should take the necessary steps and write your will to decide how your assets (including money, property, and heirlooms) will be distributed.
Depending on your circumstances, you have a few choices when it comes to crafting your own will. You can write it yourself, use a site with pre-written templates, or you can hire a lawyer that will help you make an estate plan that includes a will and trust. The latter option is a good idea if your situation is complex or requires legal documentation, as it's overseen by a licensed attorney.
Once your will has been written, don't file it away for good. You should update your will and other documents to account for major events, like the birth of a new child or grandchild. Keep this and other important documents in a safe, secure place that you can easily access when needed.
Designating Control
For some, being out of control is an unthinkable fear. To better protect yourself and ensure the best people are making decisions on your behalf if you cannot, it's important to designate control for certain areas of your life, including designating power of attorney, having an advanced directive, and signing a release of information form with your healthcare providers.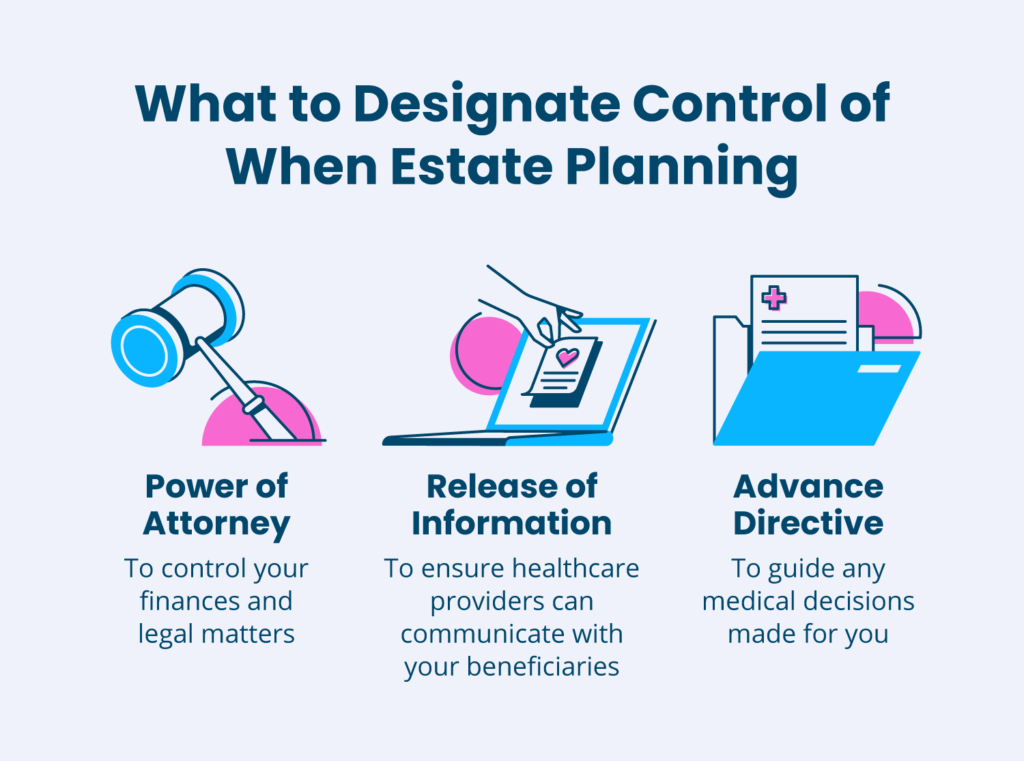 Power of Attorney
Should you need one, the power of attorney lets your legal representative manage any finances and legal affairs in your name. This includes executing your will and trust, making any decisions regarding custody, and overseeing the distribution of finances you decide upon in your will. Having a trustworthy, reliable attorney to take control of your affairs when you can't is incredibly important.
Advance Directive
Essentially, an advanced directive is a written statement of your wishes when it comes to medical treatment. When paired with a living will, this designates your healthcare wishes should you be unable to communicate them to a doctor.
If you're unsure you want one of these, you can also have someone make medical decisions on your behalf should you be unable to — such as a spouse, partner, or child. If you decide to have someone make these choices for you, be sure to have a conversation with them beforehand.
A living will spells out the medical treatment you do or don't want at the end of your life, such as pain management or do-not-resuscitate orders. This also includes your preferences regarding other medical decisions, including organ donation.
Release of Information
If you have a complicated medical history, or any medical history at all, you should discuss a release of information form with your healthcare provider(s). This gives your doctors permission to share your records with pre-decided representatives or beneficiaries, including a spouse or child.
Just like with advance directives, you should have a conversation with whom you want to name a representative of your release of information before doing so.
Once you've confirmed your estate plans, it's time to consider end-of-life care plans. While it's not the most fun subject to think about, having a plan in place well before it's needed will help ease the stress and uncertainty for your family and loved ones.
Your life insurance quotes are always free.
Secured with SHA-256 Encryption
Planning for Veteran End-of-Life Care
End-of-life care, or advanced care planning, involves what kind of care you want to receive at the end of your life. This includes hospice considerations and other medical needs you or the veteran in your life may need to make them as comfortable as possible. Below, we've outlined some considerations to keep in mind when planning for end-of-life care.
Medical Needs
Veterans may very well experience end of life differently than someone who has not served. From post-traumatic stress disorder to injuries sustained in war, the medical needs of a veteran at the end of their life will be different and should be prepared for.
When evaluating the medical needs you or the veteran in your life may need, be sure to understand their unique needs. This will differ for every veteran, and will likely require a conversation so that all family members and caregivers are on the same page. This may look like:
Recognize if they served in combat or non-combat times
Understanding if they have post-traumatic stress disorder
Knowing the war in which they served
Whether they enlisted or were drafted
Being cognizant if they had a prisoner-of-war experience
Knowing all of these details, plus any other relevant information about their service experience, will enable veterans and their families to make well-informed decisions about any needed medical care at the end of their life.
Hospice Considerations
Another end-of-life care decision that should be kept in mind is whether or not to have hospice care. Hospice care focuses on the quality of life for individuals and their families or caregivers who are experiencing a life-limiting illness or other circumstance.
Generally, there are two different choices when it comes to hospice care: you can have a hospice care worker come to your home, or you can stay at a hospice care facility. The best option for you depends on the exact circumstances and what would make you or the veteran in your life the most comfortable.
If a doctor recommends hospice care for you or your loved one, it's important to know that this doesn't mean the end of life is rapidly approaching. Rather, it means they want you or your loved one to be as comfortable as they can be and have the best quality of life possible.
If the veteran in your life is recommended hospice care, be sure to share the same considerations discussed in the medical needs section above. Their caretakers should know how best to take care of them, and this involves knowing their military history.
Veteran Legacy Planning After End of Life
Besides family, the area of a veteran's life they're most proud of is their legacy as a military servicemember. Whether you're a veteran or the family member of one, preserving their memory is an incredibly important part of end-of-life planning.
From military funeral honors to the burial itself, knowing what veteran rites should be included in the funeral and celebration of life is important to preserve this legacy. We've outlined what to keep in mind when planning for a veteran after the end of their life.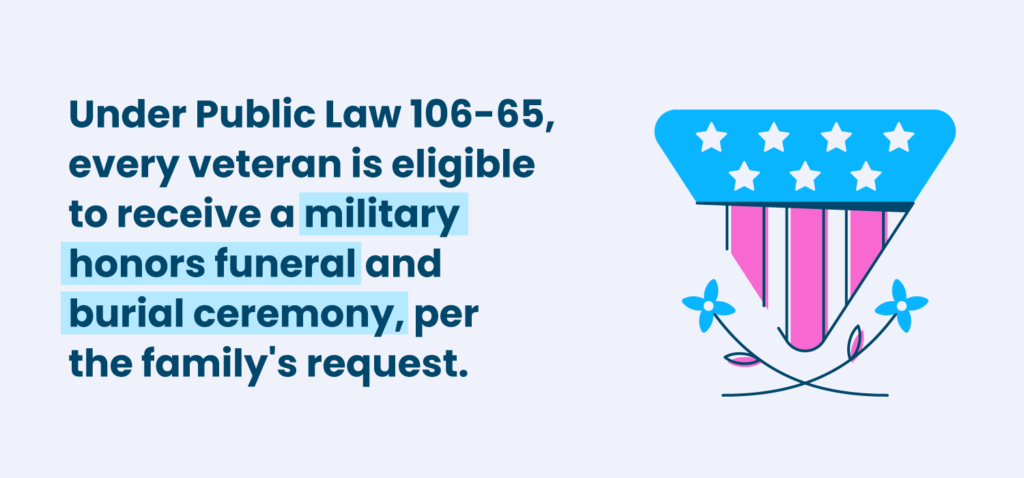 Veteran Burial Benefits
A military burial is how your country thanks veterans for their service, up until the very end. This covers internment in a Veteran's Affairs cemetery and full military honors provided by the Department of Defense during the funeral itself; it also includes the playing of "Taps" and the presentation of a United States burial flag.
When planning a funeral for a veteran, it's important to know who is eligible for a traditional military funeral. The following are eligible to receive the full honors of a military funeral:
Veterans who served in the active military, naval or air service and were honorably discharged or discharged "under honorable conditions"
Members or former members of the selected reserve who were honorably discharged or discharged "under honorable conditions"
Members of the Commissioned Officers Corps of the Public Health Service and National Oceanic and Atmospheric Administration
Civilian or contractual groups who have been given active-duty determinations (when named active-duty for the military, Navy, or Air Force)
If you need to establish a veteran's eligibility for military funeral honors, you're required to have a DD Form 214: Certificate of Release or Discharge From Active Duty or other documentation showing honorable discharge or "discharge under honorable circumstances."
After eligibility for a military funeral has been established, the family will need to plan the burial at a burial plot in a Veterans Affairs cemetery. To do so, contact your local VA chapter about scheduling. It should be noted that military spouses, under certain circumstances, can also be buried with their spouse in a military cemetery.
Before end of life, a veteran can also fill out a pre-need eligibility form with the VA to determine their burial eligibility in a VA cemetery ahead of time. This makes the burial process easier on family members in what can be a stressful time.
Veteran Memorial Items
When planning a funeral service for a veteran, the family can apply for memorial items to help honor their loved one's service when they're no longer around. This includes gravestones, burial flags, medallions, and Presidential Memorial Certificates, all of which can be obtained through application with the U.S. Department of Veteran's Affairs.
5 Tips on How to Have End-of-Life Care Conversations with Veterans
For both veterans and their families, having a conversation about end-of-life care can be uncomfortable, emotional, or even awkward. It's important to work through these emotions to have productive, meaningful conversations about the end-of-life care you or your loved one deserves.
To help facilitate meaningful conversations, along with making them a little easier, we've put together some advice on how to broach these topics with your loved ones and ensure both parties are able to have a productive talk. If you need a little extra help, use our printable conversation starters below if you get stuck or need assistance facilitating the discussion.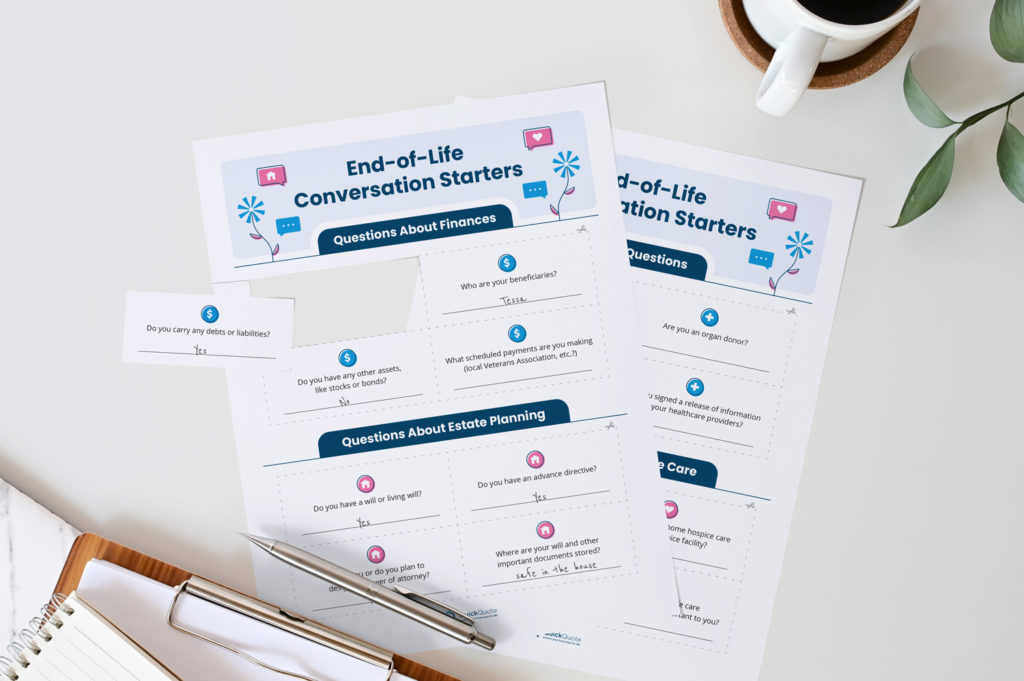 1. Have Conversations Early
The last thing you or your family wants is to spend precious time taking care of end-of-life business. To ensure all parties are happy and able to take their time making these important decisions, try and broach these topics early. It's better to be prepared should something happen, and you always want a contingency plan, just in case, for your loved ones.
While the best time to have these conversations is different for everyone, pick a time when the veteran in your life is lucid, conversational, and able to make these often-tough decisions for themselves. If possible, pick a time when all of their beneficiaries are present and able to weigh in and give their opinions on choices being made.
2. Prepare Yourself and Others
If one party isn't expecting to talk about end-of-life care, bringing these conversations up can feel like an ambush. To ensure that emotions are kept to a minimum and you're all able to have a productive conversation that establishes real plans, try to bring this up as naturally as possible — or, if at all possible, inform both parties ahead of time that this is the intended conversation.
Doing so allows for everyone involved to prepare themselves for what can be an emotionally charged conversation. If you know an end-of-life conversation is coming, give yourself time to process; then, you can bring any resources you think necessary to have as productive a talk as possible. Giving yourself (and everyone else involved in the conversation) time to process these emotions means no one is put on the spot, and everyone can prepare themselves emotionally and mentally to have this conversation.
3. Control Your Emotions
To have the best end-of-life care conversation as possible, it's important for both parties to recognize that it isn't easy. For the veteran, these conversations mean coming to terms with the end of their life; and for their families, this means preparing for a time when your veteran is no longer with you. Allow everyone involved to feel these emotions ahead of time, so you can try and have a conversation free from sadness, anger, or grief.
4. Take Notes
When making end-of-life care plans, it's important to ensure everyone is on the same page and knows what the plan is. Taking notes here allows you and everyone in your family to know what decisions you've made, and is especially helpful if these conversations don't happen all at once and are split up over several days, weeks, or months.
If you have a large family, are spread out geographically, or things tend to get lost in translation when making decisions, designate one family member as the scribe. This way, one person is always responsible for collecting and then disseminating information to everyone involved so that everyone is on the same page, regardless if you're all together or not.
5. Know When to Stop
These can be difficult conversations that cause one party or another to come face-to-face with their own mortality, which isn't easy for everyone. An important part of having end-of-life care conversations is knowing when to take a break, as the conversation may become unproductive at some point.
There are many different warning signs that the conversation has taken a turn for the upsetting, so keep an eye out for emotions running high. If possible, try and split the talk about end-of-life plans over a series of meetings or days, as it can be a tiring topic for both parties. Remember that your loved one isn't bringing these topics up to cause you pain — they want to ensure their family is taken care of and has what they need to make the end of life as comfortable and pain-free as possible.
Your life insurance quotes are always free.
Secured with SHA-256 Encryption
Additional Resources for Veterans and Their Families
Below, we've gathered up 10 additional resources to help you when making end-of-life plans as a veteran. From will preparation and estate planning to general veteran services, these resources are sure to be helpful when making these decisions for yourself or loved one.
Making end-of-life plans as a veteran can be complicated, but it doesn't have to be. Knowing how to have productive end-of-life conversations about life insurance, estate planning, care, and more with your loved ones can ensure that you and your legacy will be around for generations to come.
Enter your ZIP code below to get free quotes for the life insurance military and veterans need.