11 Ways Walking Meetings Can Benefit Your Health and Productivity
Walking meetings have a number of benefits. For successful walking meetings consult the group ahead of time and assign roles including a scribe to keep notes.
Ready to compare quick life insurance quotes?
Your life insurance quotes are always free.
Secured with SHA-256 Encryption
UPDATED: Apr 20, 2022
It's all about you. We want to help you make the right life insurance coverage choices.
Advertiser Disclosure: We strive to help you make confident life insurance decisions. Comparison shopping should be easy. We are not affiliated with any one life insurance company and cannot guarantee quotes from any single company.
Our life insurance industry partnerships don't influence our content. Our opinions are our own. To compare quotes from many different life insurance companies please enter your ZIP code above to use the free quote tool. The more quotes you compare, the more chances to save.
Quick Facts
Walking meetings are an alternative to sitting in a conference room or an office
A walking meeting provides an opportunity for exercise, fresh air, and greater employee engagement
Some types of meetings, like one-on-one meetings, are better suited to walking
When you picture a meeting, what comes to mind? Is it a sit-down conversation in a conference room, a presentation by a coworker, or a screen share over Zoom? While these types of meetings may serve the purpose of getting employees together to discuss a work-related matter, they generally don't excite or motivate employees.
Walking meetings are a type of meeting (generally one-on-ones or with smaller groups) that take place while walking a designated path, usually outside. By taking your meeting on the go, you not only inspire your employees and give them a change of pace from their offices, but also help them be healthier.
The benefits of walking speak for themselves — walking every day can help lower heart rate, aid weight loss, and lead to a longer life that can be protected by a great life insurance policy. When coupled with an already healthy lifestyle, walking meetings can help everyone in the office be healthier and more creative.
Read on for more ways walking meetings can benefit health and productivity, or jump down to the infographic.
Before you learn more about walking meetings, take a minute to compare free life insurance quotes right now.
1. Engages Employees
At its core, a walking meeting is a way for employees to get up out of their chairs for a work-related activity. Walking meetings are great ways to engage employees in more than just the office, and give them ample opportunities to participate in more than just their day-to-day work and regular meetings.
The level of engagement employees feel at work isn't just good for their own purposes, but their productivity levels as a whole. According to a study by Johnson & Johnson, after 90 days of walking meetings employees felt higher levels of energy, focus, and engagement.
Your life insurance quotes are always free.
Secured with SHA-256 Encryption
2. Fosters Teamwork
If your work is spread out across remote environments, chances are you won't get the opportunity to directly work with every other team member. Having small, introductory walking meetings with employees across departments can help foster a sense of teamwork between employees, especially employees of different backgrounds.
A 2017 study conducted by the Harvard Business Review found that employees who have close bonds at work report being in a good mood more often, leading to positive feelings toward work itself. Taking the time to foster good working relationships isn't just advised, but often necessary for employees.
3. Improves Communication
A walking meeting could be exactly what your team needs to unplug and get them away from workplace distractions. By leaving phones and laptops in the office, everyone on the team can enjoy a change of pace, while waking up and energizing their brains with some exercise.
This can lead to more open, honest, and productive conversations than you might have in a conference room. This can be helpful for managers looking for feedback, a brainstorm in need of fine-tuning, or a team leader who may need additional input on an idea.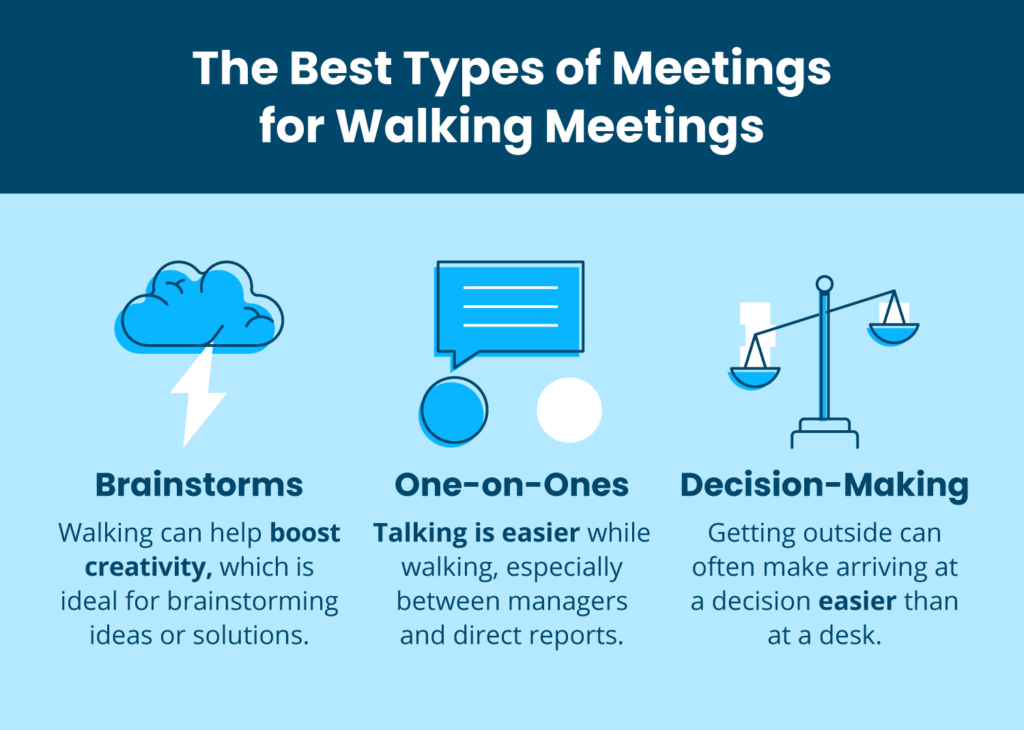 4. Offers a Change of Scenery
Whether you work in a company office or home office, chances are you could use a change of scenery. Taking a meeting outside provides a change of pace, a chance to breathe in fresh air, and the opportunity to be more stimulated and inspired by different environments than the one you work in every day.
We've all needed to take a step back from our work and clear our heads. A walking meeting can help workers take a step back from the work at hand, and gain a new perspective on an issue they may be having. Taking a time out to walk around in a new place can help make decision-making easier, as well as lead to happier employees.
Your life insurance quotes are always free.
Secured with SHA-256 Encryption
5. Prioritizes Wellness
Most companies want their employees to lead healthy lives, and some make that easier by offering standing desks, healthy snack options, or flexible start and end times during the workday. Having walking meetings is another way that companies can show employees that their health matters by having real-life instances that help employees exercise during work hours and make healthy choices.
Walking meetings do more for employee health than just helping them get their steps in. The Centers for Disease Control found that a single bout of moderate physical activity, such as walking, can improve sleep quality, memory, the ability to think and learn, as well as reduce anxiety symptoms.
6. Promotes Collaboration
Especially in a large company, some team members may rarely work together or have a chance to collaborate. Bringing employees together for a walking meeting helps promote a sense of teamwork and communication, particularly when in a smaller group.
Since walking meetings are ideal for decision-making and brainstorming sessions, this collaborative spirit could be helpful for arriving at a tough decision or coming up with new ideas. This also allows employees to bounce ideas off of each other, and enables them to help each other level up their ideation processes.
7. Boosts Energy Levels
On average, American workers sit for nine hours a day, which is up to six hours longer than the recommended three hours of sitting per day. A 2019 Harvard study found that sitting for too long and other forms of habitual inactivity can lead to increased risks for obesity, metabolic syndrome, deep-vein thrombosis, diabetes, and cardiovascular disease.
Employees who take walking meetings report feeling higher energy levels after their meeting, which in turn leads to a happier and more productive work environment.
Your life insurance quotes are always free.
Secured with SHA-256 Encryption
8. Removes Hierarchy
In a traditional meeting, the boss is standing and leading the conversation, while their employees are sitting and listening. A walking meeting removes this hierarchy and the barriers employees may feel between themselves and their bosses in a traditional meeting structure, leading to a more comfortable and open conversation.
The removal of this power dynamic can help employees get to know their bosses in a less stressful environment, making a walking meeting a great option for one-on-one meetings. This can also help employees feel more comfortable making suggestions on subjects they might not otherwise.
9. Simplifies Decision-Making
Have you ever gone back and forth over a work-related decision, agonizing over which choice is the better one to make? If so, you're not alone—decision fatigue affects nearly everyone at some point in their lives. A walking meeting could give you the answer you need; or, at the very least, help you gain a different perspective on the matter at hand.
By walking around outside during a meeting, you're stimulating some of the most creative parts of your brain. Coupled with getting out of what can be a stressful area (your office and desk), you're doing all the right things to help alleviate the stress that comes with decision-making. If you find yourself spinning your wheels endlessly over one choice, grab a coworker and pound the pavement—you may arrive at your answer sooner than you'd think.
10. Sparks Inspiration
No matter who you are, you've experienced a brain block at work. Whether this is writer's block, a sudden lack of motivation, or just the loss of creativity, everyone will need the opportunity to improve their creativity at some point in their working career. Luckily, walking meetings can do just that: Spark inspiration and produce higher outputs of creativity.
In fact, a 2014 study conducted by Stanford University discovered a direct correlation between increased feelings of creativity and walking—among 48 participants, 81 percent improved their creative output while walking. Keep this in mind the next time you're having a creative block and get to walking!
Your life insurance quotes are always free.
Secured with SHA-256 Encryption
11. Supplies Fresh Air
Whenever you're feeling down or in need of a pick-me-up, there's a reason experts recommend getting outside. A 2019 study by the National Institute of Health found that the quality and type of air breathed has a direct correlation to feelings of happiness and/or depression.
If your team has the ability to take a walking meeting outside, this is another perk of taking your meetings on the go. Giving employees a respite from filtered air and instead giving the team a chance to breathe in fresh, clean air can help lift any bad spirits and get them re-focused on the tasks at hand.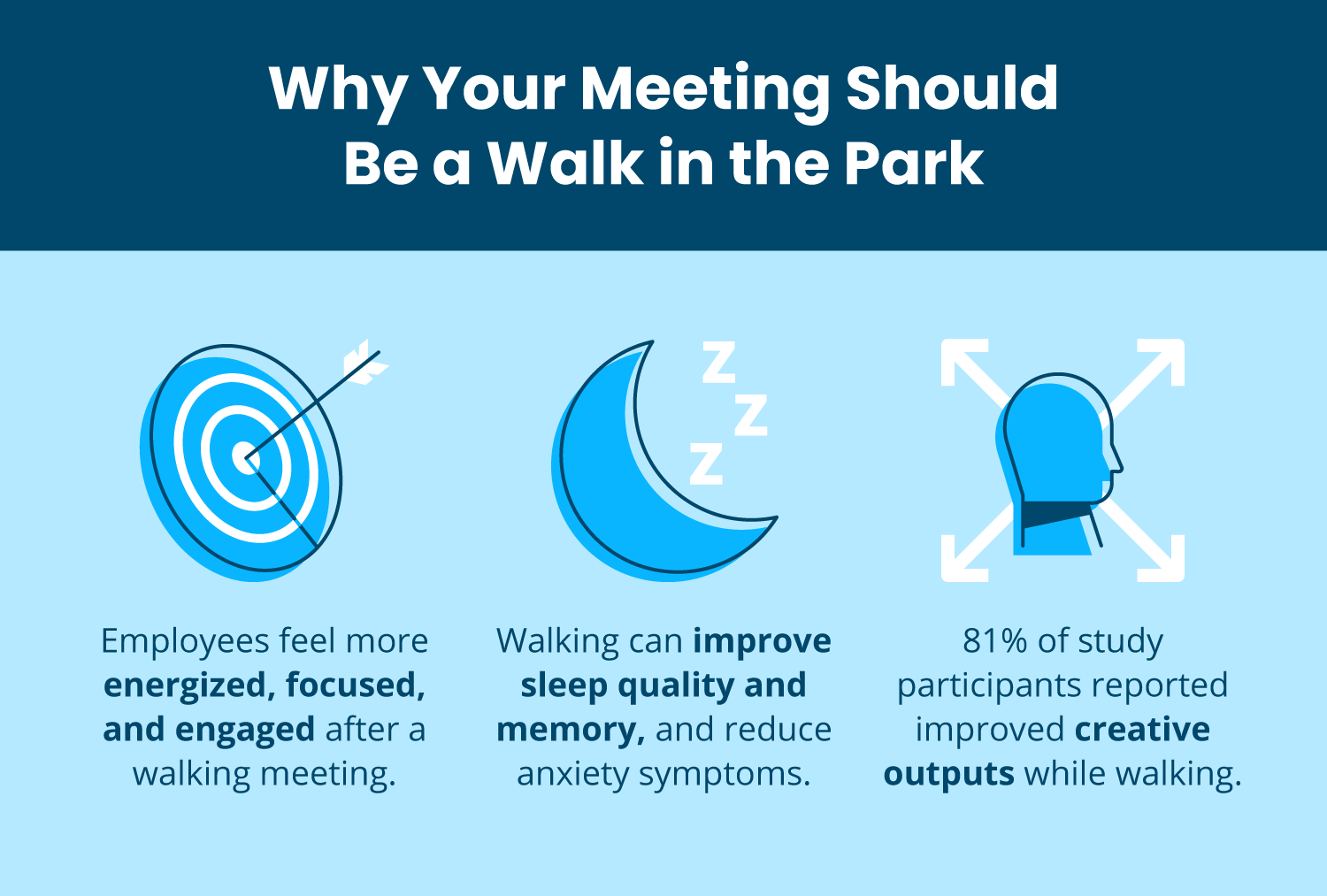 How to Organize Walking Meetings
Now that you know why walking meetings are a great option for smaller groups or one-on-one meetings, you should consider how to best organize them so everyone can reap the benefits of getting some exercise in during a meeting.
Consult Your Walking Meeting Group
As sold as you may be on having a walking meeting, it's still a good idea to ensure your team is on board before making it official. Here are a few subjects to clear with everyone before deciding whether or not your next meeting should be held on foot:
Is everyone on board for a walking meeting?
What speed and distance are comfortable for the team?
Is this kind of meeting conducive to a walking meeting?
Will everyone be comfortable if we take this meeting on the go?
Once you've gotten a clear answer from everyone on their preferences, you can go ahead and schedule. If you move forward with a walking meeting, be sure to remind everyone the day before to wear comfortable clothing and shoes.
Assign Roles
Much like any other meeting, a walking meeting should have designated roles to best optimize everyone's time and skill sets. When having a walking meeting, you won't have traditional meeting roles like speaker and presenter; instead, you'll have three roles of equal importance.
The leader, the guide, and the scribe are all roles you'll want filled in any given walking meeting, though one person can fulfill one or two of these roles at a time.
The Leader: This team member puts the "meeting" in "walking meeting." They'll set and share the meeting agenda, lead the group discussions, ask for input, and follow up with any questions after the meeting has ended.
The Guide: This member of the meeting will handle the "walking" portion of a walking meeting. Their job is to ensure that the team stays on the designated route, gives directions when necessary, and steers the group toward the office when it's time to head back.
The Scribe: This team member is responsible for taking notes and noting any action items to be handled after the meeting. This role can be fulfilled by either the Leader or the Guide in addition to their own responsibilities if it's a small group.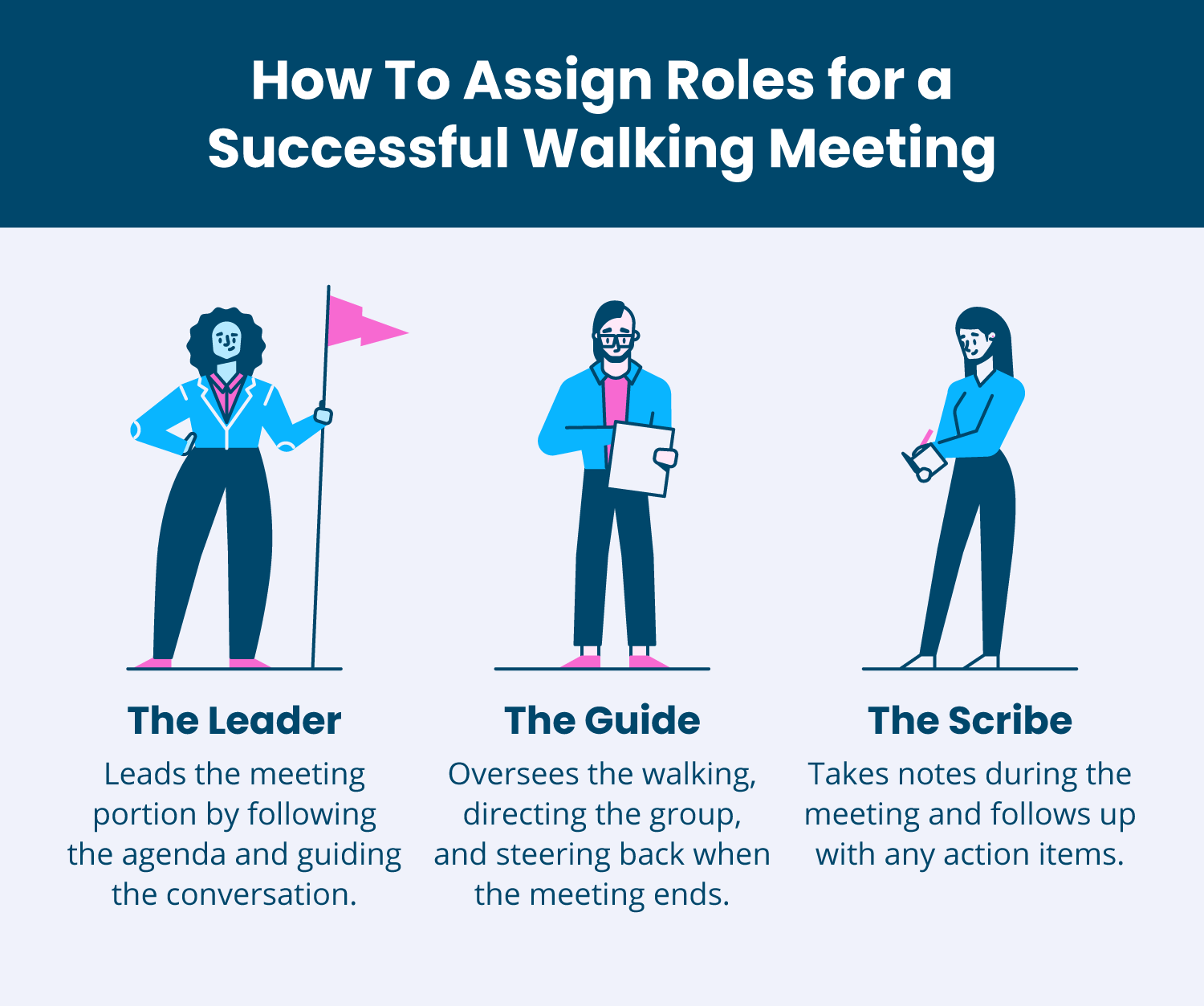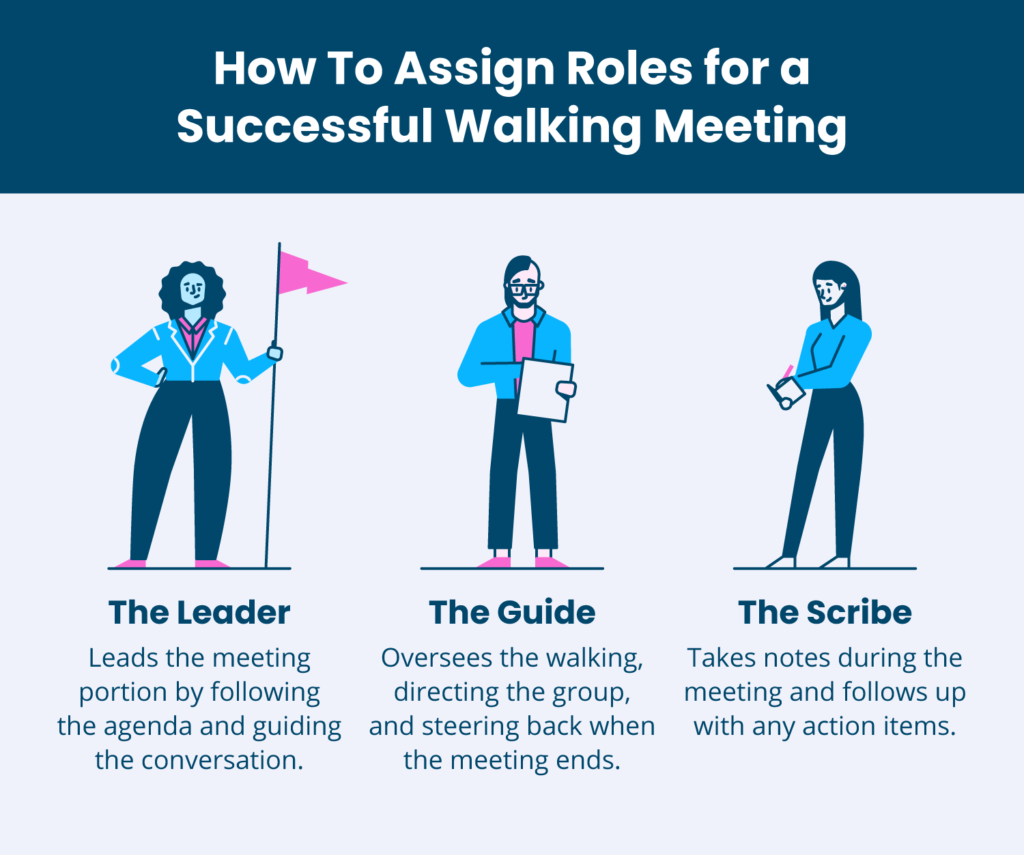 Know the Destination of Your Walking Meetings
A walking meeting should have a planned route and destination. As nice as it is to have a change of scenery and be able to get outside, a walking meeting won't be as productive if your group is aimlessly wandering around. Plan a specific destination or route and stick to it; such as three loops around the parking lot, walking two blocks to a landmark and back, or walking up to the top of your building and back down.
It's also a good idea to have a contingency plan in case of bad weather or other instances that may get in the way of your ability to have a walking meeting. If the meeting must be held that day, you might want to book a conference room at the same time as your walking meeting is scheduled in case of bad weather. If you have the ability to reschedule, poll your team and see what they'd like to do.
Plan Walking Meetings Group Size Accordingly
Walking meetings are ideal for certain types of meetings, including smaller, one-on-one meetings or brainstorms. While having a walking meeting with a larger group is possible, they best lend themselves to casual meetings or meetings where employees can break into smaller groups.
If you're deciding whether or not to schedule a walking meeting for your team, look at the type of meeting you're having as well as group size. If it's a smaller meeting with four people or less or a brainstorming session, then a walking meeting could be a great option for you. Walking meetings are also helpful for talking through decision-making, so keep that in mind when seeing if a walking meeting works for your purposes.
However, if your group is six people or more, requires one person to be speaking, or needs presentation materials, you're probably better off hosting a traditional sit-down meeting in a conference room.
Structure Your Walking Meeting
Just like any other meeting, you should have a general meeting structure or agenda in mind before your walking meeting takes place. The last thing you want is for your carefully thought-out meeting to turn into a chatting session due to lack of structure.
Though you won't have your computer or traditional presentation tools, bring along an agenda and share it with the group so they're all on track and know what to expect. If you have more than one or two action items, it might be a good idea to have a printed agenda to pass out to the team so everyone knows what's expected of them. This will help everyone stay on track.
Whether you're in-office or working remotely, pounding the pavement during a meeting can help you think clearer, give you a break from the same walls of your office, and help you lead a healthier life.
Regardless of if you take walking meetings, choosing to be healthy is important. Regularly getting exercise, drinking enough water, and taking care of yourself and your health will all help you lead a long, healthy life. To keep yourself and your loved ones protected, consider further investing in a permanent life insurance policy. Even if you're healthy, you want to ensure your loved ones are taken care of in the event of the unexpected.

As your office becomes more innovative, why not update your meeting style as well? Ready to plan your first walking meeting? Before you get started, get one more thing off the to-do list with free life insurance quotes. Enter your ZIP code now to get started.
Editorial Guidelines: We are a free online resource for anyone interested in learning more about life insurance. Our goal is to be an objective, third-party resource for everything life insurance-related. We update our site regularly, and all content is reviewed by life insurance experts.