Body Part Insurance: Top 10 Pieces of Anatomy Americans Want Protected
The heart, eyes, and legs are the three body parts Americans want to protect the most. At least 46% of Americans say they would insure each of those. Body part insurance is a rare insurance policy that allows you to insure a specific body part, with coverages sometimes worth millions of dollars.
UPDATED: Dec 7, 2021
It's all about you. We want to help you make the right life insurance coverage choices.
Advertiser Disclosure: We strive to help you make confident life insurance decisions. Comparison shopping should be easy. We are not affiliated with any one life insurance company and cannot guarantee quotes from any single company.
Our life insurance industry partnerships don't influence our content. Our opinions are our own. To compare quotes from many different life insurance companies please enter your ZIP code above to use the free quote tool. The more quotes you compare, the more chances to save.
Editorial Guidelines: We are a free online resource for anyone interested in learning more about life insurance. Our goal is to be an objective, third-party resource for everything life insurance-related. We update our site regularly, and all content is reviewed by life insurance experts.
Quick Facts
Six organs and four other body parts make up the top 10 body parts people want to insure most
Sexual organs are the body parts with the widest split between sexes
Among all generations surveyed, the most popular body part each generation wanted to insure the most was either the heart or eyes
Some celebrities and athletes get body part insurance worth hundreds of millions of dollars
What body part would you insure?
Arms? Legs?
It's the age-old question of what body part is most important to you — and if you had the cash and the resources, which one would you protect with body part insurance? It's not as far-fetched as you might think.
Celebrities and athletes dating back to the 1920s have had body parts insured. These were pieces of themselves that were so crucial to their livelihood that losing or damaging them would result in a loss of money.
Celebrities are one thing, but what about everyone else?
We turn our attention, in this article, from the rich and famous to the everyday person and ask them — what body parts would you like to insure?
Check out the top 10 body parts people say they'd like to insure in the graphic below.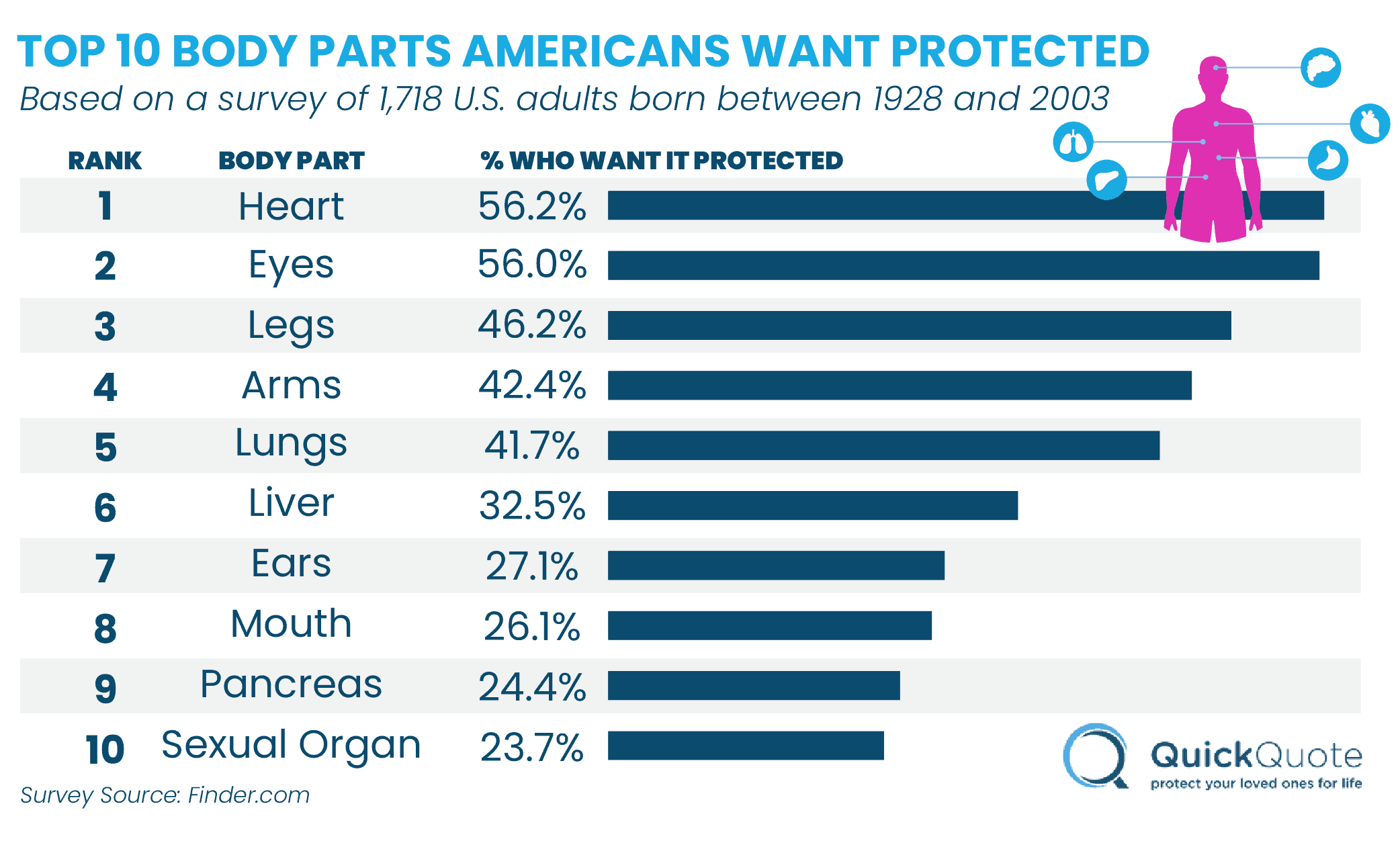 In the ranking section below, we'll break down each body part and provide context. After the ranked list, we'll cover how you can get body part insurance and why most people opt for more common types of coverage like accidental death life insurance.
Now, buckle your seat belts and hang on tight. We're going on a wild ride through the heart of one of the most specialized of specialty coverages: body part insurance.
Let's get started.
10 Body Parts Americans Want Insured the Most
Ready, set, go. Here we have the results of the survey: the top 10 body parts Americans most want insured. Some are organs while some are limbs.
By the end, you'll know which body parts your fellow Americans find most valuable. Let's take a look at that list.
#10 – Sexual Organ
Americans kicked off the voting with the organs that are used for procreation. Ranked 10th on this list, 23.7% of Americans said this was one of the body parts they'd insure, placing value on — among other things — their future children.
Sexual organs had the biggest split among genders out of all body parts. So which gender wanted them insured the most? Find out after the ranking.
#9 – Pancreas
The organ that helps break down food and secrete hormones comes in 9th, with 24.4% of Americans saying they'd insure their pancreas if they could.
Part of the exocrine system, the pancreas plays a crucial role in regulating blood sugar by producing insulin, a hormone that helps move glucose from blood cell to blood cell. Thus, the pancreas is an important player in the fight against diabetes, which may be a reason people voted it 9th in this ranking.
#8 – Mouth
The mouth, used for eating and talking, ranks No. 8 in this list, with 26.1% of Americans saying they'd insure it if they could.
This body part has dozens of biological functions, including roles in breathing, balance, posture, coughing, spitting, and, of course, taste. It is also a valuable body part for communication.
#7 – Ears
Coming in 7th is another body part related to the five senses — the ears. Twenty-seven percent of Americans say they'd insure their ears, and it's no surprise that they would.
Having three main sections — external, middle, and inner — the ears are most associated with hearing and balance. Losing either is considered debilitating to an individual.
#6 – Liver
Ah, the liver, the blood balancer, our first major organ on this list. Americans highly value it, ranking it 6th, with 32.5% saying they'd insure it if they could.
It performs hundreds of important biological functions, such as removing toxins from the blood, aiding in blood clotting, and producing bile, which carries away waste.
#5 – Lungs
The main drivers of the respiratory system — the lungs — come in at No. 5 on this list. Nearly 42% of Americans say they'd insure them, a large jump from the 32.5% that wanted to insure their liver.
The lungs are critical to survival, with it being impossible to survive without them (unless hooked up to some serious medical equipment). They take oxygen from the air and transfer it to red blood cells while also expelling carbon dioxide every time we exhale.
They are crucial for helping us sleep well, too.
#4 – Arms
Americans ranked arms 4th with 42.4% saying they'd insure them if they could.
Arms perform functions related to picking up, lifting, holding, exerting force, and many others. Arms are valuable to many professions as well.
There are other ways of protecting them besides getting a policy, of course. Working out frequently can help. And never fear — you'll almost never be considered "too muscular" for a term life insurance policy either.
#3 – Legs
Legs come in 3rd, with 46.2% of Americans saying they'd insure them.
Legs play a crucial role in motor function, walking, standing, stooping, squatting, and running. From professional athletes to doctors, the legs are essential to most careers and activities, which is likely why a lot of people want to protect them.
The healthy activities your legs help you engage in can lead to lower rates on another type of insurance — life insurance. For example, rates on life insurance for runners are some of the most competitive, for instance.
#2 – Eyes
What's the second-most valuable body part, according to Americans? Our eyes. A clean 56% of Americans say they'd insure this body part if they could.
The eyes are highly complex with over a dozen parts, and they are used to organize and interpret the visual world. In surveys, sight is often the sense people say they would miss the most.
#1 – Heart
Coming in first as, perhaps, the most vital organ of them all — the heart. Fifty-six percent of Americans say they would insure the heart if they could, just a smidge above the eyes but enough to push it to the title.
With four main functions, the heart is best known for pumping oxygenated blood throughout the body. It is crucial. Even small changes in the heart can lead to problems in the body.
Further, heart disease is the No. 1 cause of death in America and has been for a number of years.
Is there any difference among sexes in insuring body parts?
Now you know the top 10 body parts Americans want insured.
Surprises? Shocks? Here's where we break down this information into subsets.
First: Do males and females differ in which body parts they want insured. If so, which ones?
Take a look at the graphic below. It shows the five body parts with the biggest differences in how much males wanted it insured versus females.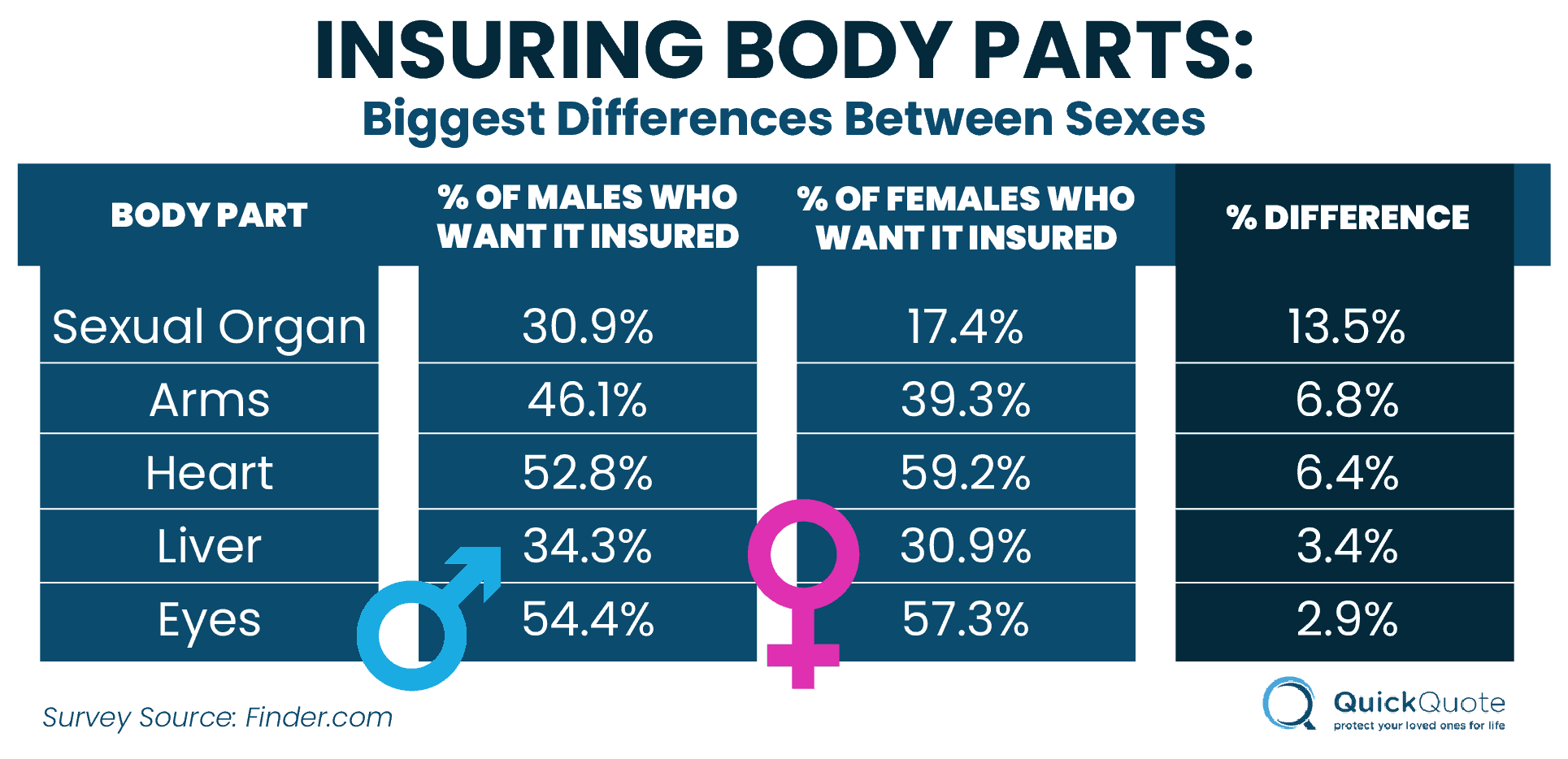 We analyzed the body parts with the greatest differences between how much males wanted a body part insured compared to females. The biggest difference was between sexual organs, the only body part with a difference between males and females wider than 10%.
Are there any generational differences in insuring body parts?
While males and females were split on some body parts, did age groups differ as well?
The graphic below shows the body part that each generation, from the silent generation to Generation Z, wanted to insure the most.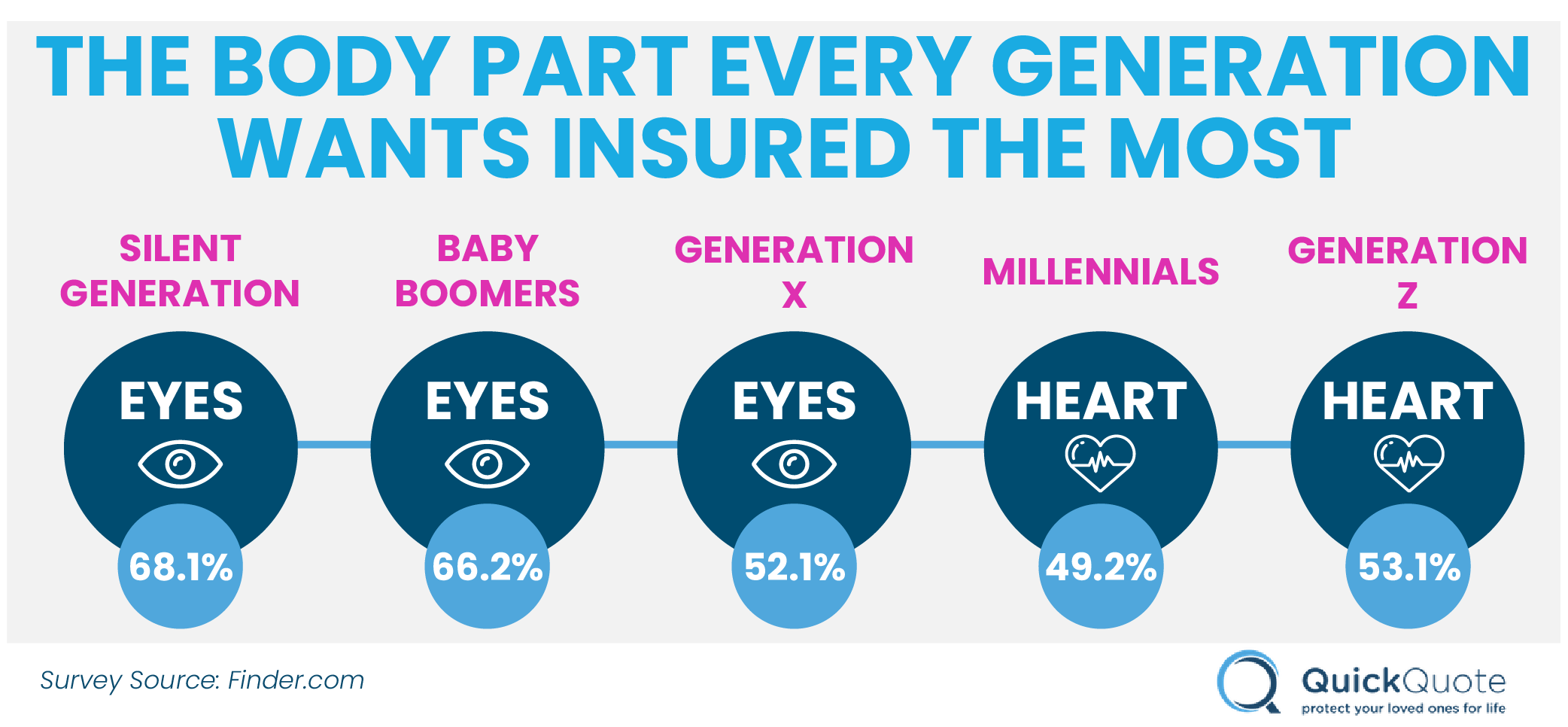 While the silent generation, baby boomers, and Generation X wanted to insure their eyes the most, millennials and Generation Z voted for another body part: the heart.
Even within the three generations that voted for the eyes, that percentage drops among the younger generations.
What's body part insurance?
Now, you might be excited and want to know — "How exactly do I insure a body part?"
It might help to know that this type of insurance is rarer than typical insurance types. You might be out of luck if you call up your regular insurance provider and request a quote. To buy body part insurance, you'll often have to find a specialty insurance company.
Shopping around can give you the best options. And Konstantin, founder of Cat Motors, adds that you should know your policy through and through. Some insurance companies will leave you without coverage if you get injured in a certain context.
Most high-profile body part insurance policies come from one place: Lloyd's of London. And be prepared for a serious and individualized process. A medical practitioner will probably have to evaluate your body part to determine its quality and health.
How much does body part insurance cost?
Because the whole process is so personalized, including the policy itself, expect high rates for insuring a body part.
There's a reason only the rich and famous typically get these types of policies. Most people opt for basic health insurance and accidental death or life insurance policies, which are common and cheaper.
Body part insurance would be considered an unusual insurance policy. But if you can afford the body part insurance premium, it's all yours. You may be off going another direction, however.
Linda Chavez, founder and CEO of Seniors Life Insurance Finder, says, "The average person would be better off buying a traditional form of insurance or general disability insurance. Body part insurance costs far more than regular insurance and does not offer coverage if they suffer injuries on other parts of their bodies."
Which celebrities are insuring their body parts?
The purchase of body part insurance by celebrities started in the 1920s with Ben Turpin, the silent film actor. He allegedly took out a tens-of-thousands of dollars worth policy for his crossed eyes. If they ever went straight, his Lloyd's of London body part insurance policy would pay him an undisclosed sum.
Since then, numerous stars and athletes have purchased body part insurance to protect themselves from lost wages. Some of them are:
America Ferrera's smile ($10 million)
David Beckham's legs and face ($140 million)
Bruce Springsteen's voice ($5 million)
Heidi Klum's legs ($2 million)
Keith Richard's hands ($1.6 million)
Lower profile celebrities have had their tastebuds (chefs, food tasters) or noses (sommeliers) insured.
Why do celebrities insure body parts, sometimes for millions of dollars? Simple: If they damaged said part, they'd lose out on a lot of money.
Thought Leaders Discuss Body Part Insurance
In this section, we polled leaders in the fields of insurance, health, and more to learn their takes on body part insurance.
You'll learn more about why celebrities insure their body parts, other insurance types that are similar to body part insurance, and why body part insurance might become more popular in the future.
"Body part insurance is not something the average person should be looking into getting. Most people would not benefit from this type of insurance.
You don't have to be a celebrity to insure your body parts — anyone can order up some specialty insurance if it's needed.
Body part insurance is not something you would want to get unless you work in a profession that has a high risk of injuring the body part in question. For example, if you're a professional athlete or stuntman, then it would be in your best interest to insure that body part.
Additionally, you would need to have an insurance provider that can offer you this type of premium, as it is a specialty niche.
The hype and attention from this type of insurance originally came from reports of Jennifer Lopez insuring her bottom, and then Mariah Carey insuring her legs after that. However, these should not be taken at face value, as Ms. Lopez has denied this on various occasions.
That said, CNBD ran a feature on 10 famous people and the body parts they had insured — most of them are to do with their professions. For example, if David Beckham injured his legs, then he wouldn't be able to work (play football).
There are a few select companies that offer body part insurance. A Google search will find the most obvious ones. People shouldn't scrimp on insurance as you will have to pay more in the long run if you need it but don't have it.
Reading the small print and checking with other experts in normal insurance will allow you to see what is what and if there are any caveats, i.e., if an accident occurs when working or on personal time. People have been stiffed before due to being injured during a time not covered by insurance."
Brad Cummins is the CEO of Insurance Geek.
He has over 15 years of experience as an insurance agent.
---
What is the reason for insuring a body part?
"Most of the time, people seek body part insurance to reimburse any lost income if the body part becomes non-functioning from injury. Many workers depend on their body parts to generate income. Whether they are a celebrity, football star, or hand model, their income source can require these body parts.
For example, if you are a professional quarterback, you rely on your hand being used to throw a football. If you can't use your hand or it becomes injured, ultimately you will not be able to generate any income, in a sense or generally speaking, their hand is considered an asset for this reason."
What type of insurance companies offer body part insurance?
"Any company that offers general disability insurance will typically cover any injury to all body parts if the injury is severe enough to stop the person from working. It's worth noting that you should always review the policy and address any specific needs that are not stated directly.
If you are seeking body part insurance, be sure to call various companies and review and compare the gathered policies to determine what plan is best for you. Furthermore, you have to consider that the cost of the insurance is reflected by various risk & liability factors."
Should the average person insure a body part or get a more common type of insurance and why?
"General liability insurance is a great option that has the ability to protect us from the unexpected: you never know when a work-stopping injury is going to occur. You don't need to be a chef or stunt man to lose a body part, and the unexpected can always occur. However, if you prepare for the worst, you can expect the best outcome, financially speaking."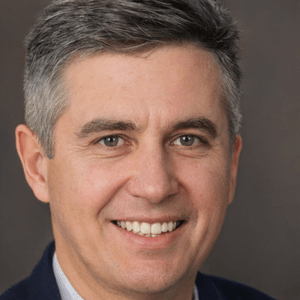 Daniel Pratt is an accountant with Consumers Health Report.
He has over 10 years of experience in consumer safety research.
---
What is the reason for insuring a body part?
"People insure their body parts because they need coverage for lost income if any part of their body is injured or disabled. Many people have income sources or jobs that are heavily reliant on one of the body parts, such as an odor tester who would get their nose insured."
What type of insurance companies offer body part insurance?
"Most of the standard insurance companies in the U.S. do provide body part insurance or general disability insurance."
Should the average person insure a body part or get a more common type of insurance and why?
"The average person should opt to go for general disability insurance because those policies have more coverage and cost less at the same time.
Body part insurance is very expensive and is specifically tailored to one body part. If some other injury causes you to lose your income, it won't be covered by your insurance policy. The average person should go for general disability insurance policies."
Do you think insuring body parts will become more popular in time and why?
"I believe insuring body parts will become more popular in the future. This is based on the fact that people have been finding new ways to earn their living. The younger generations are more inclined to use their personal skills, like drawing, as their income source instead of corporate jobs.
While this trend is on the rise, more and more of these people will get their body parts insured."
Have you insured a body part? Why or why not?
"I have never insured any of my body parts because the quotes always seem to be astronomically high. Even if you compare premiums between several insurers, there is no best option as most of them seem to be quite high."
If not, what body part would you insure first and why?
"If I could, I would get both of my hands insured first. This is because I use my hands the most for work, and any injury that leaves my hands inoperable would be a devastating blow to my income source."
Greg Rozdeba is the president of DundasLife.com
Dundas Life is a tech-driven digital insurance brokerage.
Full Body Part Insurance Survey Results
The following table shows the complete list of body parts included in the survey and the corresponding percentage of Americans that wanted them insured.
The only one that didn't make our top 10 list was the nose, with just 21.36% of Americans wanting it insured.
Next is a table that shows the differences between males and females in what body parts they most wanted insured (the difference is calculated in percentage split):
Eight of the 11 body parts in the survey had a split between sexes of 4% or less. The three with the smallest splits were the nose, mouth, and pancreas.
Last is a table that reveals the complete differences between the generations for which body parts they would most like to insure:
Interestingly, the younger the generation, the more balanced the results.
The body part each generation least wanted to insure was split between "sexual organ" (silent generation, baby boomers), "nose" (Generation X), and "pancreas" (millennials, Generation Z).
Frequently Asked Questions: Body Part Insurance Expanded Upon
Want to learn more about body part insurance? Below are five frequently asked questions about the topic from the broad to the specific — and, yes, you'll learn about some more famous celebrities who have had their body parts insured.
#1 – Can you get insurance on body parts?
Yes, you can. Although the process is very personalized and specific to the body part you want insured, you can get it done through some specialty insurance companies like Lloyd's of London. Be prepared to pony up though — this insurance costs some serious money.
#2 – What does it mean to have a body part insured?
Having a body part insured means that if you damage or lose that body part under the terms of the insurance contract, you'll be reimbursed, similar to other types of insurances.
For instance, if you insure your arm and damage it to the point where you can't use it for the function related to why you got it insured, you'll be compensated.
#3 – Can I insure eyes?
You can insure any body part, contingent that you can find a specialty insurance company that will protect it for you and if you can pay their desired price tag.
Although most people think of legs or arms when insuring a body part, many have insured less likely parts, like taste buds and noses.
Methodology: Determining the Body Parts Americans Most Want to Insure
For this study, 1,718 U.S. adults from five different generations (Silent Generation, Baby Boomers, Generation X, Millennials, and Generation Z) were asked questions. The sample is representative of the U.S. adult population.
The data was further broken down into three categories:
Percentage of Americans that wanted a certain body part insured
Desire to insure a body part by gender
Desire to insure a body part by generation (age group)
The generations were bracketed into the following years:
Silent generation (1928-1945)
Baby boomers (1946-1964)
Gen X (1965-1980)
Millennials (1981-1996)
Gen Z (1997-2003)
All data was received from a survey conducted by Finder.com.