Pets for Seniors: The Benefits of Animal Companions
The benefits of pets for seniors include companionship, increased activity, and even assistance in times of need. Studies have shown that seniors with pets enjoy life more and are less lonely. Seniors with pets should make a plan for what will happen to their pets when they are no longer able to care for them, including arrangements for a new home and life insurance to help pay for their care.
UPDATED: Jul 19, 2021
Fact Checked
Ready to compare quick life insurance quotes?
Your life insurance quotes are always free.
Secured with SHA-256 Encryption
UPDATED: Jul 19, 2021
It's all about you. We want to help you make the right life insurance coverage choices.
Advertiser Disclosure: We strive to help you make confident life insurance decisions. Comparison shopping should be easy. We are not affiliated with any one life insurance company and cannot guarantee quotes from any single company.
Our life insurance industry partnerships don't influence our content. Our opinions are our own. To compare quotes from many different life insurance companies please enter your ZIP code above to use the free quote tool. The more quotes you compare, the more chances to save.
Editorial Guidelines: We are a free online resource for anyone interested in learning more about life insurance. Our goal is to be an objective, third-party resource for everything life insurance-related. We update our site regularly, and all content is reviewed by life insurance experts.
UPDATED: Jul 19, 2021
It's all about you. We want to help you make the right life insurance coverage choices.
Advertiser Disclosure: We strive to help you make confident life insurance decisions. Comparison shopping should be easy. We are not affiliated with any one life insurance company and cannot guarantee quotes from any single company.
Our life insurance industry partnerships don't influence our content. Our opinions are our own. To compare quotes from many different life insurance companies please enter your ZIP code above to use the free quote tool. The more quotes you compare, the more chances to save.
On This Page
UPDATED: Jul 19, 2021
Fact Checked
Quick Facts
Pets improve quality of life for seniors
The best pets for seniors provide companionship and comfort
There are a lot of organizations that can help seniors adopt a pet
What do a puppy, cat, bird, and lizard have in common? Besides all being some kind of animal, it may not seem like these animals have much (or anything) in common — however, all of them can make great pets, especially for senior citizens.
Towards the end of their lives, seniors can feel anxious, alone, scared, or sad. Studies show that animals of any size, from birds to beagles, can help ease these worried feelings. From being something to care for to simply providing a comforting presence, a pet can make a huge difference for seniors concerned with end-of-life matters like choosing between types of life insurance, estate plans, and more.
If you're a senior looking for a new addition to your household, or a caregiver curious about the benefits of pets for seniors, read on for more information. Before you do, enter your ZIP code now for free life insurance quotes to make sure you have financial protection.
Benefits of Pets for Senior and End-of-Life Companionship
There are several benefits of bringing a pet home for seniors, especially for those nearing the end of their lives. Not only do pets provide something for seniors to look after and care for, but animals also provide companionship and comfort during what can be an anxiety-inducing phase of life.
Read on for more information on the many benefits of getting a pet to serve as an end-of-life companion for seniors.
Provide Something to Look After
Seniors who live alone, especially after the death of a spouse, face a unique set of challenges in that they don't have anyone to care for or a dedicated daily routine, which could cause feelings of depression or like they don't have a purpose in life. However, bringing home a pet provides seniors with something to care for that is a bit more animated than a plant or garden.
Seniors can choose between a relatively low-maintenance animal, like an adult cat, or something that requires all of their daily attention, like a 12-week-old puppy. Having something that requires care can help seniors feel like they aren't alone and that they have something that needs them.
Pets also provide structure and routine to any given day, from walking schedules to feeding times. This can help keep seniors consistent during the day, which can lower stress levels and provide a schedule both seniors and their pets can look forward to.
Offer Companionship and Comfort
Pet owners will swear that their animal has saved their life — and there's evidence from the Centers for Disease Control that suggest having an animal companion can add years to your life, while isolation and depression can shorten life spans. Pets like dogs and cats form a special bond with their owners, while pets like birds and other small pets create cheerful environments and provide a comforting presence.
If you or the senior in your life seems lonely, see if a pet would be a good idea. Animals are very intuitive to their owner's emotions, and provide comfort when they're sad, stressed, angry, or lonely; studies have shown that petting a dog or cat can lower feelings of stress and anxiety.
Especially if seniors live alone or far away from their families, a pet could provide some much-needed companionship on days that seem lonelier than others.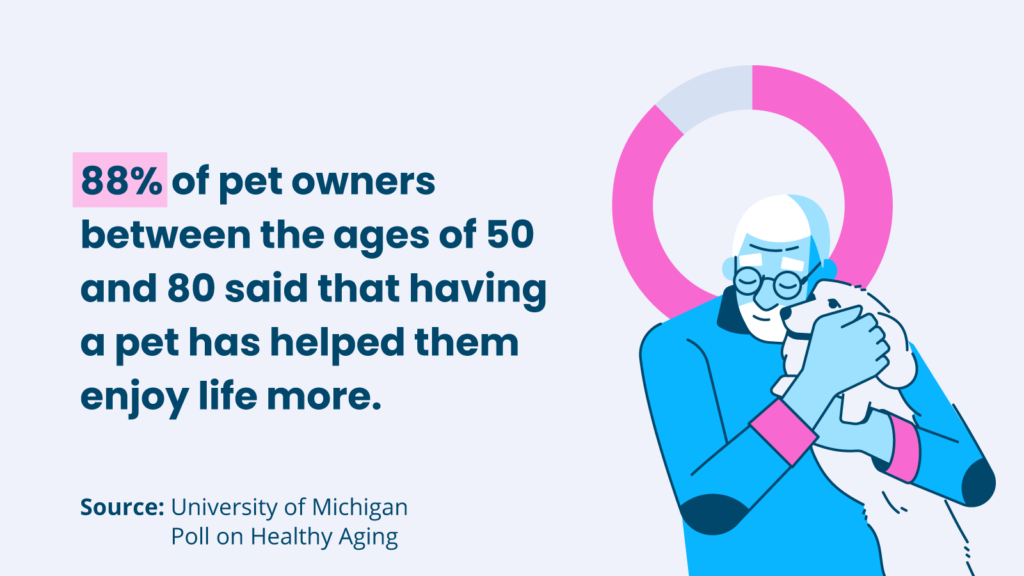 Assist in Times of Need
Everyone has heard a story about a dog that jumped in the water to save his drowning owner, a bird that alerted neighbors of a house fire, or a cat that's trained to press a button if their owner falls. These stories aren't just heart-warming — they're accurate accounts of the ability of pets to assist their owners in times of need.
Seniors that live alone are especially high-risk when it comes to dangers like falling or having a medical episode and no one being around to help. Well-trained animals, such as service dogs, are equipped to assist in moments like these, and either help their owner or alert neighbors or caretakers that they need to call 911.
If you're a senior or care for a senior who's high-risk and lives alone, consider discussing a service animal with them — it could make a big difference in the event of a medical emergency.
Boost Social Interaction
Social interaction as a senior can often fall to the bottom of the to-do list. It can be tiring and overwhelming, especially with large groups of people. However, it's vital for seniors (especially those that live alone) to get out of their houses and see others a few times a week.
Animals can provide an easy segue to socialization, whether at a dog park, in a local cat-owners group, or at a puppy training class. Having a pet also gives seniors a go-to conversation topic when meeting new people, making socializing with strangers easier.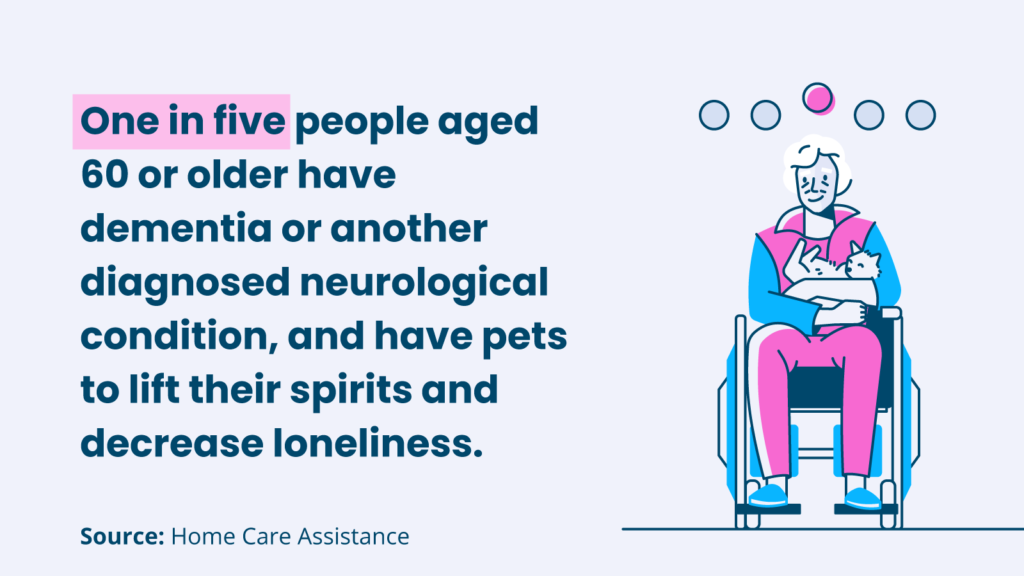 Increase Activity Levels
Whether by choice or because of a medical condition, some seniors aren't as active as they were 20 years ago. Introducing a pet can help seniors incorporate more activity and movement into their day-to-day lives.
Not all seniors have the same movement goals, so pets can be chosen according to the activity levels of their owner. For example, a labrador retriever would be a great choice for a senior who enjoys long-distance walking or even running; playing with a laser pointer with a cat would work well for a senior who enjoys being on their feet but doesn't enjoy intense exercise.
Your life insurance quotes are always free.
Secured with SHA-256 Encryption
Best Pets for Seniors
Now that you know why having a pet as a senior can be beneficial, it's time to learn about which pets are best for seniors. There are various considerations when it comes to picking out a pet as a senior, such as the amount of work and effort they require and how long their expected lifespan is, so read on for more information on what pet may work best with your lifestyle.
1. Dogs
When you think of a loyal, furry friend that will stay by your side for a run and then curl up beside you on the couch, what comes to mind? Odds are, it's man's best friend — a dog.
These pets make great companions when you have a family or enjoy being active with runs, hikes, or walks. Certain breeds are well-known for being helpful for seniors, including the three listed below.
Labrador Retriever
It's no surprise that labrador retrievers are one of the most popular dogs in America. This lovable, friendly, and gentle breed is highly adaptable, whether they're a family dog getting pulled on by toddlers or as a service dog for seniors. They are regarded as being among the best dogs for those with anxiety, as they are highly attuned to the moods of their owners.
Labs are often a little under two feet tall, weigh in around 55–80 pounds, and have an average life expectancy of 10–12 years. They are highly energetic, so they'll often need a rousing round of fetch or a lake to paddle around in to tucker them out — perfect for any senior with grandchildren.
Cavalier King Charles Spaniel
These dogs love nothing more than to snuggle with their owners and are often happy to curl up on the couch after playtime in the yard for an hour or two. Weighing about 15 pounds and usually about a foot high, these dogs do require frequent brushing—which they're happy to do during an evening couch and TV session.
These pups are affectionate and gentle, which, when paired with their miniature size, makes them ideal lap dogs for seniors. Give these dogs a yard, one or two hours of playtime, and a warm lap to curl up in at the end of the day, and they're set. They usually live around nine to 14 years.
French Bulldog
Weighing in between 15 and 25 pounds, the French bulldog is known for its recognizably scrunched face, big ears, and tiny body, usually no more than a foot tall. These pups are extremely friendly and cuddly, and their small stature makes them ideal for seniors who live in pet-friendly assisted living or apartment homes, as they do not bark very loud (though they do drool and shed).
French bulldogs require a quick run around a park or a short walk, and then are more than happy to snuggle up with their owner on the couch. These dogs thrive on human contact, so they make a great, purse-sized companion for any senior. Their average life expectancy ranges from 10 to 14 years.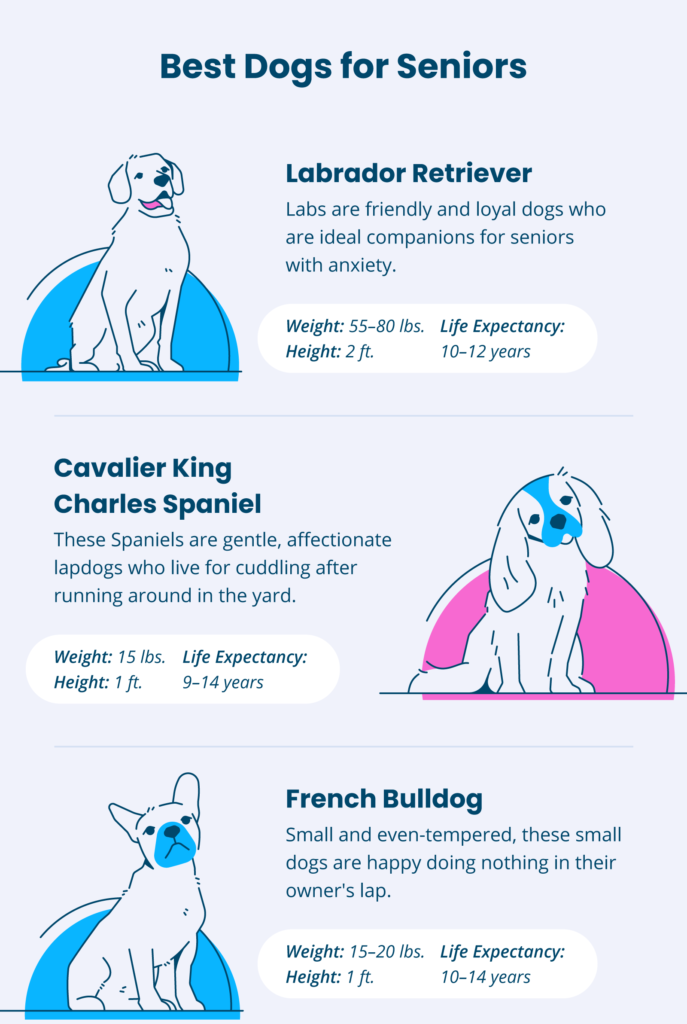 Additional Dog Breeds for Seniors
Here are some additional breeds that may work well for you or the senior in your life:
Shih tzu: Excellent lap dogs with little exercise needs
Greyhound: Happy to relax on the sofa after one long walk or run
Poodle: Smart, trainable, gentle animals that are loyal to their owners for life
Maltese: Often used as therapy dogs, happy to sit in their owner's lap and be brushed for hours on end
Boston terrier: Adaptable and mild-tempered dogs who love to loaf with their owners
2. Cats
If you're in the market for an end-of-life companion who doesn't need walks, but is happy laying in the sun for hours on end and is mostly independent, then a cat may be the ideal addition to your home.
Cats can be great companions for the introverted senior who wants the pet equivalent of a roommate — an animal that is happy doing its own thing, but will also be happy with head scratches on their own terms. Learn more about the best cat breeds for seniors below.
Birman
Birman cats are highly regarded for forming close bonds with one particular owner, so these cats are ideal for seniors that live alone. This breed is easily recognizable from the darker coloring on their ears, face, and tail, along with the four white "socks" on their paws.
Birmans are affectionate, intelligent, and friendly animals who are often happy to run after a laser pointer for an hour and spend the rest of the day laying around. They weigh around 10 to 12 pounds, have silky, thick coats that usually require frequent grooming, and have an average life expectancy of 14 years.
Ragdoll
These cats, well-known for their striking blue eyes and fluffy white coats, are ideal for seniors who want a lovable, laid-back furry friend who stays calm (for the most part). These cats are highly loyal, docile, and affectionate without being needy.
These cats are semi-longhair, so like most other cats they'll need a good brush every now and again and an owner that's okay with getting cat hair just about everywhere. They weigh in around 10 to 20 pounds, are usually 17–21 inches long (excluding the tail), and can live up to 15 years.
British Shorthair
These cats are known as the "teddy bear" of the cat family, and are extremely playful as kittens but mellow out quickly as they mature. These cats can be distinguished by their dense, thick coat and distinctive "British Blue" coloring. They weigh anywhere from seven to 17 pounds, and are usually around 22 to 25 inches long.
Ideal for busy seniors or those who require low-maintenance animals, British Shorthair cats are highly independent and are content to spend their days sleeping in the sun or curling up at the end of their owner's bed for hours on end. Their life expectancy is usually around 15 years.
Additional Cat Breeds for Seniors
In addition to the breeds listed above, there are a number of other cat breeds that work best for seniors, including:
Russian Blue: Quiet, loving cats who don't require tons of activity and enjoy being close to their owners
Moggy: Varying personalities, but older moggy cats are ideal for seniors
Burmilla: Gentle, happy cats who are affectionate and enjoy being around their owners
Scottish Fold: Quiet, loyal, smart, and get along well with people and other animals
Snowshoe: Even-tempered, loyal, and intelligent, vocal but get along well with both people and pets
3. Birds
Birds are another type of pet that may work well for seniors, especially considering that these pets are relatively low-maintenance and are mostly independent. The ideal companion for a creative, introverted senior, these animals are happy to be trained and chatted to for hours on end.
There are many types of domesticated birds, and some of the best breeds for seniors include:
Parakeets
Parakeets (also known as "budgies") are among the most popular bird breeds, known for both their bright coloring and infectious personalities. These birds are usually around seven inches in length, weigh around one ounce, and can live for up to 15 years in captivity with the proper care.
These birds are highly vocal and can talk and sing for hours. Being a relative of the parrot, they also require a good bit of human interaction and care. Their ideal owner would be able to interact with them for around an hour a day, either playing, training, or singing.
Lovebirds
These birds work best in pairs or small groups, but are not loud or overly vocal—instead only chattering quietly amongst themselves. They usually weigh around two ounces, are five to six inches in length, and are well-known for their brightly colored, usually green and orange coloring.
Though they are quiet, these birds have intelligence and personality for days; so much so that they may be a little assertive and opinionated. Lovebirds can live up to 30 years, so consider adopting older birds if this breed speaks to you.
Canaries
These ½ ounce birds pack quite a punch with their serene, soft songs that are known to calm down their owners and those lucky enough to hear them sing. Coming in at five to six inches in length, canaries can live up to 10 years in captivity.
These happy, yellow birds are small and relatively easy to look after, and are ideal for seniors that want a companion they don't have to worry about or be too involved in the care for. They're also fun to watch and admire, which makes them great companions in long-term care housing.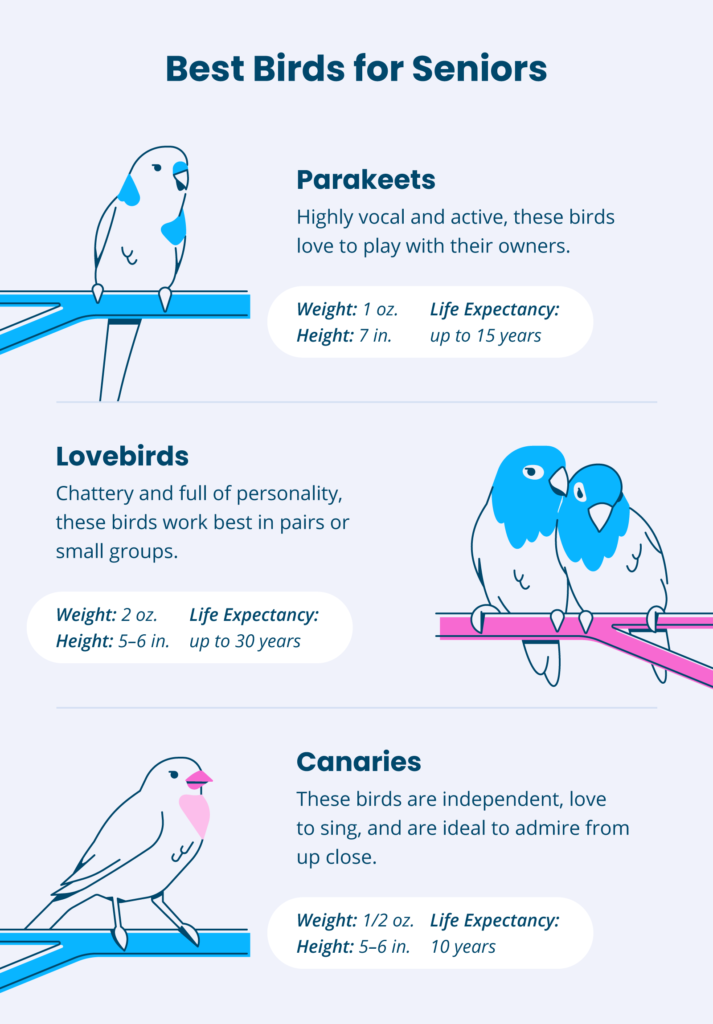 Additional Bird Breeds for Seniors
Finches: Happiest in groups of 3–4, sweet, vocal and require little interaction to be happy
Cockatiels: Interactive and a joy to watch, listen to, or play with
Parrotlets: Small, active, and full of personality, love people and being active
Doves: Gentle, calming, and love socializing with their owners, though they are best in pairs
Macaws: Large, colorful, and in charge, best paired with active seniors who will play with them
Other Pets for Seniors to Consider
There are many additional pets that may work well for seniors that aren't listed above. These include, but aren't limited to:
Hamsters: Low-maintenance, furry little pets with low life expectancies
Guinea pigs: Larger and more attentive than hamsters, these pets are happy to run around for a bit then be stroked to sleep
Rabbits: Intelligent, loyal animals who love to spend time with their owners
Fish: The ultimate low-maintenance pet who is fine to swim in circles and be looked at from time-to-time
Lizards: Smart, loyal reptiles who enjoy basking in the sun and laying around
Considerations for Seniors Owning Pets
It's clear that there are a number of reasons why owning a pet as a senior and at end-of-life is beneficial. But before fully making up your mind on whether or not to bring home a new furry (or feathery) friend, there are some additional considerations senior pet owners should evaluate.
What Are the Financial Obligations?
Pets can be expensive—from vet appointments and medication to toys and state-of-the-art kennels, owning a pet introduces a set of costs that many new pet owners are surprised to see. In the first year post-adoption, the ASPCA lists pet costs ranging from $227–$670 for smaller animals, such as fish, guinea pigs, and birds; they note $800–$2,000 for larger pets like rabbits, cats, and dogs.
If you have no other financial obligations, such as medical bills, grandchildren, or home repairs, then a pet may be a welcome addition to your home. If you don't have much extra money lying around for pet costs, then a lower cost animal (such a ferret, hamster, or bird) may make the most sense for your needs and situation.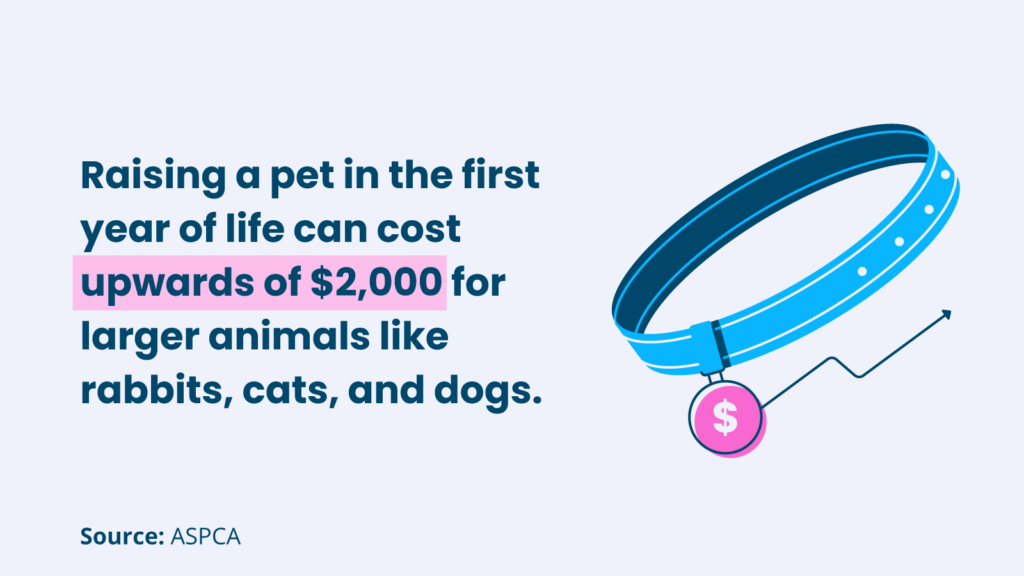 What Are Your Current Activity and Mobility Levels?
Unless you opt for a low-maintenance or senior animal, odds are that bringing home a pet will require more activity and mobility than your life may have previously included. Your schedule may now involve playing, refilling their food and water, and picking up after them.
Below are a few questions seniors can use to evaluate their activity and mobility levels before bringing a pet home:
How comfortable am I bending over multiple times a day?
Can I play with my pet for longer than five minutes?
What is the maximum time I could go for a walk with my pet without getting tired?
Can I keep up with my pet on a run or walk?
Can I keep my pet fully occupied until they run out of energy?
You can use these questions to guide not only whether or not you should get a pet, but what kind of pet to get. If you answer "no" to a majority of these questions, you may want to consider a lower maintenance pet, like a senior cat or dog, or even a bird or fish.
Who Would Care for Them In Case of An Emergency?
Adopting a pet as a senior to be an end-of-life companion means you may need to prepare plans for your pet if they outlive you, or if you end up needing to be hospitalized in case of an emergency.
Many seniors include plans for their pet in their will, including who will care for them after they pass. It's important to ask yourself who would care for your pet if you're no longer around or cannot care for them any longer in the event of an emergency; and it's especially important to see if there's anyone who can.
If there is no one who could care for your pet, including family or friends, then you run the risk of your pet ending up in an animal shelter. Be sure to carefully consider this, and include any plans for your pets as part of your end-of-life care planning.
Is Pet Therapy a Better Fit?
Pet therapy is, much like it sounds, a method of therapy where patients interact with service or emotional support animals to benefit from the mood-lifting, anxiety-busting properties of pets.
This may be a good fit for seniors that want an animal in their lives, but maybe don't have the time, energy, money, or resources to care for a pet of their own. This way, you can get all the benefits of owning a pet (such as the cuddles and companionship) without the responsibility of actually having an animal depend on you for everything.
If this sounds like it would be a better fit, talk to a shelter or local counselor about pet therapy in your area.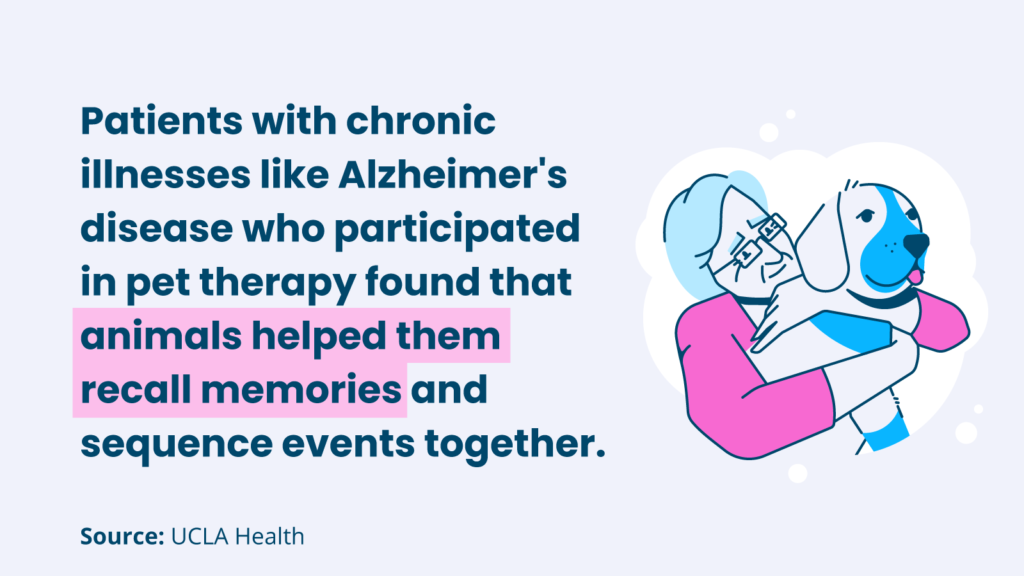 Your life insurance quotes are always free.
Secured with SHA-256 Encryption
Where to Find Pets for End-of-Life Companionship
Now that you've been sold on why to get a pet as your companion, you may be wondering where to get one. Below, you can find out more information on finding your new best friend through a shelter, adoption agency, or service animal center.
Local Shelters
Unless you have very specific restrictions that mean you can only adopt a certain breed (such as housing or mobility limitations, or allergies), it's recommended to adopt from a local shelter. Shelters are often non-profits that run low on space to help as many local animals as they can.
Shelters will usually post their available animals on their website, so you can browse at your leisure until you find a pet that matches your needs, such as high-energy or a couch potato; good with kids or likes to be alone; or a young or senior animal. Animal shelters often offer a mix of animals, from dogs and cats to bunnies and birds, and adoption rates run between $20 and $100.
Many shelters have high numbers of senior animals that make great companions toward the end of life, as they are often very relaxed, low-maintenance, and just want to spend time with their owners. With many shelters, you can meet and take your new friend home the very same day.
To find a shelter near you, find a Humane Society, ASPCA, or other local shelter online.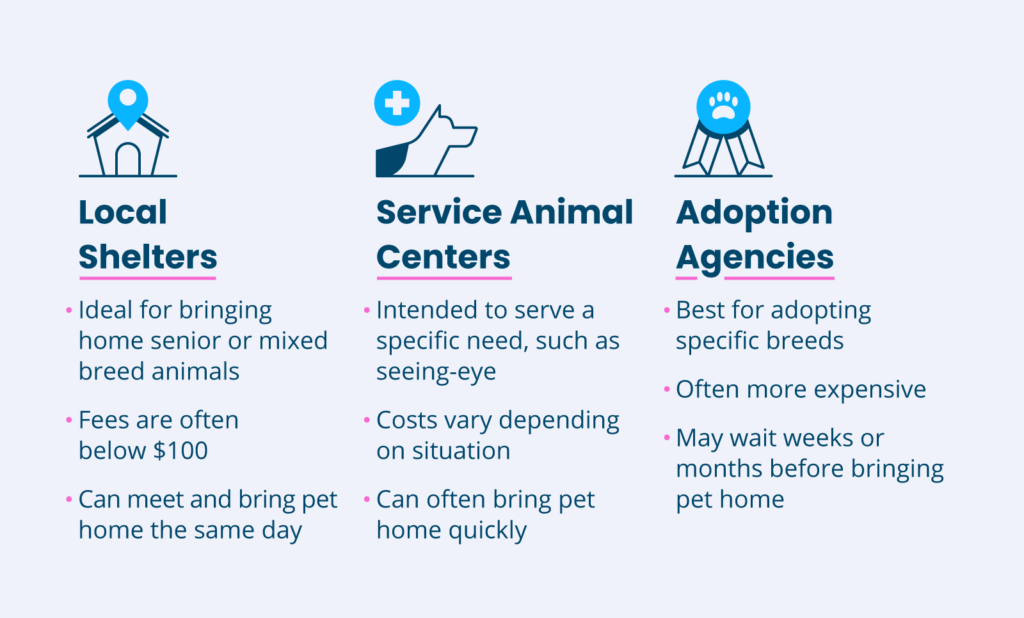 Adoption Agencies
If you have factors that prevent you from bringing home an animal of unknown background, such as an allergy or housing restriction, you can look up local adoption agencies near you. These agencies often match specific breeds to owners by working with breeders. This is the best way to find a specific breed if you have one in mind, though adopting through an agency such as this is often more expensive than going to the local shelter.
It's important to work through licensed adoption agencies and not "backyard breeders" to adopt this way. Though backyard breeders may be cheaper, adoption agencies have the resources to vet how the animals are treated, how they're breeded, and other factors that at-home breeders often do not do — ensuring a healthier pet that comes from an ethical place.
If you have a breed in mind, look up local adoption agencies that specialize in that breed or talk to a local vet who can connect you. Since animals are only available as they're born, it may be a few weeks or months before you're able to meet your pet if you adopt through an adoption agency.
Service Animal Centers
If you or the senior in your life need an animal that can help out for medical reasons, a service animal may be the best route. These are animals that are specially trained from a young age to serve as guide dogs, emotional support animals, or service animals that assist their owners.
Unless you've trained service animals before, it's advised to adopt a service animal from a training program or center that specializes in training service animals. Look up local trainers or programs who train service animals, and discuss your needs with them—do you need a dog to be your seeing-eye animal, a cat to be emotionally supportive, or an animal that can help if you fall and can't get back up?
These services should be able to match you with a service animal that best suits your needs and lifestyle, and you can often take them home quickly. Be sure to check local ordinances when bringing home a service animal, such as how to register them as a service animal.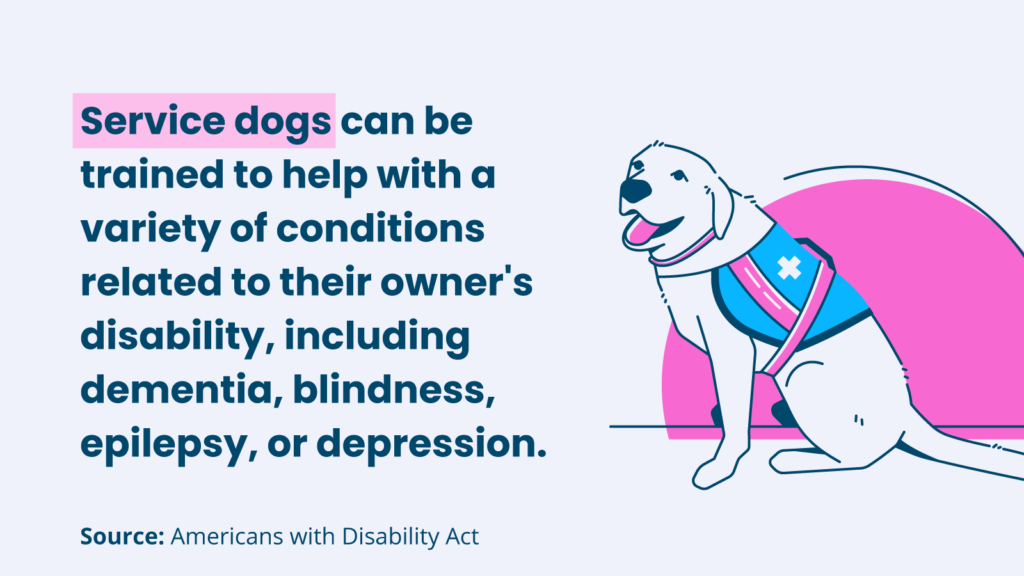 Additional Resources
When considering how many different types of animals you can adopt or have as your service animal, it's important to find a pet that's exactly right for you and your needs. These resources provide information on how to find the ideal pet as a senior, along with additional resources on aging and end-of-life care.
Aging Resources:
End-of-Life Planning:
Pet and Service Animal Resources:
Having a furry, feathery, or flocked friend at the end of life for seniors often means having a companion that makes a scary, uncertain time seem less intimidating and a little easier to navigate. Whether you opt to bring a pet home from a shelter, attend pet therapy classes, or have a service animal, having a pet as a senior means having a dedicated companion.
While end-of-life planning may be scary, it doesn't have to be. With your pet by your side, be sure you're equipped with a senior life insurance plan that can help ensure your furry friend is well cared for if you're not around.
Enter your ZIP code now to find life insurance that will provide for your pet and your loved ones.
Your life insurance quotes are always free.
Secured with SHA-256 Encryption
Editorial Guidelines: We are a free online resource for anyone interested in learning more about life insurance. Our goal is to be an objective, third-party resource for everything life insurance-related. We update our site regularly, and all content is reviewed by life insurance experts.