Official Guide: Types of Term Life Insurance
There are five types of term life insurance, each following a basic model of coverage for a set period of time. The types of term life insurance include Level, Increasing, Decreasing, Renewable, and Convertible.
Ready to compare quick life insurance quotes?
Your life insurance quotes are always free.
Secured with SHA-256 Encryption
UPDATED: Apr 20, 2022
It's all about you. We want to help you make the right life insurance coverage choices.
Advertiser Disclosure: We strive to help you make confident life insurance decisions. Comparison shopping should be easy. We are not affiliated with any one life insurance company and cannot guarantee quotes from any single company.
Our life insurance industry partnerships don't influence our content. Our opinions are our own. To compare quotes from many different life insurance companies please enter your ZIP code above to use the free quote tool. The more quotes you compare, the more chances to save.
Editorial Guidelines: We are a free online resource for anyone interested in learning more about life insurance. Our goal is to be an objective, third-party resource for everything life insurance-related. We update our site regularly, and all content is reviewed by life insurance experts.
Which types of term life insurance are best for you? In today's world, insurance is a simple fact of life.
We buy health insurance to protect our bodies, auto insurance to protect our cars, homeowners insurance to protect our houses, equipment replacement plans to protect our electronic devices, and more.
Life insurance is unique in that it isn't intended to protect you or your possessions at all. Instead, it's something you buy for yourself to protect those closest to you by leaving them a sum of money in the event of your death.
By design, you aren't alive to see a majority of the benefit yourself.
If you have a family that depends on you for financial support, buying a life insurance policy is one of the most important decisions you can make.
Term life insurance is one of the simplest and most reliable forms of coverage you can buy. This guide will give you a complete overview of policy types, the buying process, sample rates, and how to find the best provider.
Before you delve into understanding the differences between the types of term life insurance take a quick moment to compare term life insurance quotes.
Enter your ZIP code above to start using our FREE quote tool. With a real instant term life insurance quote on hand, you can better inform your research as you read on.
What is term life insurance?
Life insurance policies fall into one of two general categories, term or whole. Before we get into the details, let's take a moment to just summarize the purpose and goals of life insurance and understand how it will be a benefit for you and your family.
Life Insurance Basics
Life insurance is an agreement between the insured and insurer to cover the life of an individual for a stated death benefit in the event of the insured's death in exchange for a predetermined set of premium payments.
Life insurance is intended to provide financial stability and support to the dependents and beneficiaries of the insured.
While the general concept of life insurance seems simple enough, there is nothing simple about the overwhelming number of policy options available in the marketplace today.
Our discussion will focus primarily on one of the  two basic types of life insurance, term life insurance, although we will also provide some information on permanent insurance options.
Term Life Insurance Basics
Term life insurance provides coverage for a specified period, usually between 10 and 30 years. Once that period expires, the insurer cancels the coverage unless you opt to renew or convert the policy.
https://www.youtube.com/watch?v=hR2MaPaMgdU
Term policies are mostly designed to cover final expenses and outstanding debts in the event of an unexpected death, so those left behind are not left with a burden.
On the other hand, permanent life insurance provides coverage for as long as you live with no set time limits. As long as your premiums are current, the insurer will pay a guaranteed benefit upon your death, whenever that may be.
For example, with term life insurance, if a 25-year-old man buys a $500,000, 30-year term policy, his coverage ends at age 55. If he dies any time after age 55, the insurer won't pay anything to his beneficiaries.
It's similar to buying an extended warranty on a new appliance.
You pay extra money out-of-pocket for protection over a set period. If the appliance breaks down during that period, the company replaces it. If it breaks down after the warranty ends, they don't replace it, regardless of the extra money you paid.
In contrast, with a whole life policy, as long as our candidate's life insurance payments weren't late at his time of death, the insurer would pay $500,000 to his beneficiaries, regardless of how old he was.
Whole insurance is like buying a lifetime replacement plan versus an extended warranty.
Term policies are designed for those who want to plan for an unexpected death before they've paid their debts or set up their family with adequate savings.
Whole policies are made for those who want to leave money behind regardless of their financial situation or time of death.
Your life insurance quotes are always free.
Secured with SHA-256 Encryption
Who should buy term life?
According to the 2018 Insurance Barometer Study from Life Happens and LIMRA, 35 percent of households would be financially impacted within one month of the primary wage earner's death.
Still, almost half of all adults in the United States don't have life insurance. Of those that do, 20 percent feel their coverage is insufficient to meet their financial needs.
Given those findings, it's easy to conclude that you need to buy a life insurance policy, even if you're in good health. In fact, buying a life insurance policy in good health is one of the best ways to save. The hard part is deciding which type. The first of many decisions on the road to purchase is choosing between term life or whole life.
Cost is a determining factor for many families. Insurers price policies based primarily on financial risk.
Term life insurance represents less of a risk to the insurer. Because traditional term life policies expire after a set period, there's always the possibility that the company will never have to pay a benefit.
A whole policy is a greater risk because the benefit is guaranteed. The insurer is eventually going to have to pay out on the policy. On top of that, there is a possibility that they'll have to do so before they've made enough profit on the premiums to cover the payment.
Insurers pass that risk onto the policyholder in the form of higher premiums. So a traditional term life policy will always cost less than a whole policy with the same face value.
Whole life insurance also comes with savings and investment components that add to the cost. Those components might be more than most people need out of a policy.
For that reason, many financial planners and consumer advocacy organizations suggest that a term policy is a better choice for a majority of families.
Why is a term life insurance plan a good choice?
The 2018 Insurance Barometer Study from Life Happens and LIMRA found that 61% of people don't buy life insurance because they have other financial priorities. They think the cost of coverage could derail their budget and keep them from paying their other obligations.
That same study found that 44 percent of millennials overestimate the cost of insurance by five times the actual amount.
The truth is, traditional term life insurance can be very affordable. It provides substantial benefits for a low cost. Depending on your age and health, you can often get $500,000 in coverage for less than a dollar a day.
Term policies are the perfect life insurance plan for young families on a budget because they offer large benefits for a low price.
One of the main reasons for buying life insurance is to pay off outstanding debts so your loved ones aren't burdened with the expense after you die.
Paying Off Large Debts
One of the main reasons for buying life insurance is to pay off outstanding debts so your loved ones aren't burdened with the expense after you die.
Families often use life insurance benefit payments to pay loans. For example, a mortgage is typically structured to be paid over 15-30 years.
If you reach the end of that period and pay the loan in full, insurance coverage isn't as necessary, since you won't be leaving your family with a large, outstanding bill.
Traditional term life insurance allows you to buy coverage that lasts only as long as the repayment period on your debts.
If you die during the term, your death benefit will pay the debt. If you pay it off yourself before you die, your policy ends at the same time as the obligation.
You don't have to pay extra for permanent coverage if your main priority is protecting your family against debt.
Protecting Savings
If you already have a savings plan in place to cover your future needs (such as replacing your income or paying college tuition for a child), you won't have as much need for life insurance.
Unfortunately, you still run the risk of dying unexpectedly before you save enough to cover all those costs.
With traditional term life insurance, you can buy temporary coverage that lasts until you reach your savings goals. Once you have enough set aside to cover your obligations, you can cancel your policy or allow it to expire.
What does term life cover?
Life insurance is generally used to cover two types of obligations: immediate and future.
Immediate obligations are the things that need to be paid soon after your death. These include:
Funeral costs
Medical bills
Mortgage balances
Personal loans
Credit card debt
Future obligations are all the expenses (either planned or unexpected) that you want to pay for after your death. They include:
Income replacement
Spouse's retirement
Children's college tuition
Emergency savings fund
You and your family can work together to decide on possible future obligations. After that, you need to figure out what it will take to meet them.
Your life insurance quotes are always free.
Secured with SHA-256 Encryption
Should I consider increasing term insurance?
Most term life insurance remains the same (payments, death benefit) over the years, which usually ranges 10-30. There may be instances where you need your coverage to increase because of your circumstances.
Increasing term life insurance allows the increase of your death benefit and the amount of coverage grows during the policy's duration. As time passes, this particular insurance gives additional protection that deals with expanding expenses.
For example, buying a new house. Increasing term life insurance can cost more than the standard policy; however, this means that there is a bigger payout.
How much coverage do you need?
To decide on the appropriate amount of coverage you'll need from your individual policy, you need to answer two questions:
How much money do I need?
How long do I need coverage?
Here are some tips to help you find the answer to each.
Face Value
As previously discussed, a life insurance policy needs to cover two types of obligations: immediate and future.
Immediate needs are easier to figure out since the process mostly involves adding up all of your existing debt. Deciding on an amount for your future needs takes a little more thought and planning.
For example, if your family depends on your income, your future obligation needs to include a sum large enough to replace your salary for however long it will take for your family to become financially independent. That timeline can vary from family to family.
Also, if you plan on covering an unknown future expense such as college tuition, you need to both identify the expense and predict how much it will cost.
If you're unsure about any of these things, a life insurance agent or financial planner can help you determine exactly how much coverage you'll need.
In the meantime, there are simple formulas you can use to give yourself a rough estimate as you shop.
One popular method used by many online insurance calculators is the DIME method. DIME is an acronym that stands for the following:
D: Debt
I: Income
M: Mortgage
E: Education
Adding up your total obligations in those four categories will give you the minimum face value you need.
Here's a simple example using the DIME method:
A husband and father of two preteen children is the majority wage earner in his family, with a wife who works part-time. He has an annual salary of $80,000.
The family has a remaining mortgage balance of $75,000, $7,500 left on a car loan, and $5,000 in credit card debt.
The wife plans to work full time once the children graduate high school, so he plans to leave five years' worth of salary to cover the family until that time.
He also wants to leave both children $35,000 each to cover the average cost of four years of in-state tuition at a public university.
After factoring in an average funeral cost of around $7,500, his insurance needs are as follows:
Immediate need: $75,000 mortgage + $7,500 car loan + $5,000 credit card + $7,500 funeral costs = $95,000
Future need: $400,000 income replacement + $70,000 college fund = $470,000
Total need: $565,500
That total means he should buy a life insurance policy with a face value of around $600,000.
Length of Coverage
At a minimum, your life insurance term should cover the duration of your outstanding financial obligations.
For example, if you have 15 years left on a 30-year mortgage, you need a life insurance policy with a term of at least 15 years.
If you've determined that it will take 10 years to save for a future obligation such as a retirement fund or a child's college tuition, you should choose at least a 10-year policy.
The simplest thing to do is pick your longest financial obligation and choose a term length to match, along with a face value to cover it and all of the shorter obligations within that time frame.
In the example above, that would mean choosing a 15-year term since the mortgage obligation will outlast the savings period.
What types of term life insurance policies are there?
All term life insurance follows the basic model of providing coverage for a set period of time. Within that general category, there are several types of term life insurance.
Types of Term Insurance:
Level Premium
Increasing
Decreasing
Renewable Term Insurance
Convertible Term Insurance
Return of Premium Insurance
No Medical Exam Life Insurance
Variations on term life insurance include options that meet the needs of business owners, separated couples, and mortgage holders. Let's get into some details for the different types of term insurance.
Level
A level term policy is the most basic type of term insurance. The premiums never increase, and the amount of the death benefit remains the same throughout the entire term.
Term policies are typically sold with terms of five to 30 years, in five-year increments.
Some companies do offer single-year policies that renew annually, which is a type of renewable term life insurance. They're technically level policies since the premium remains the same throughout the term. However, since each term is only one year, you may see annual rate increases.
Increasing
For an increasing term policy, the death benefit increases each year you have the policy at a fixed percentage, usually between 2-10 percent. As the death benefit goes up, so will your premium.
For example, a $250,000 policy might increase by 10 percent every year as follows.
Year 1: $250,000
Year 2: $250,000 + 10 percent = $275,000
Year 3: $275,000 + 10 percent = $302,500
Year 4: $302,500 + 10 percent = $332,750
Year 5: $332,750 + 10 percent = $366,025
This type of policy might not be the best option if you want long-term coverage. As you can see, the benefit (and resulting premium) can grow substantially over a short period.
After 20-30 years, the policy could become cost-prohibitive, especially if your financial situation changes for the worse during that time.
The higher premiums of an increasing term will eventually reduce the overall value of the policy.
The premiums could even increase at a higher rate once the benefit crosses a certain threshold.
Decreasing
Decreasing term insurance is sometimes called mortgage protection insurance. The benefit decreases every year of the term.
Ideally, you'll be paying down the balance on your large debts (like a mortgage) during your life insurance term. As your debt obligation shrinks, so does the amount of coverage you need.
The premiums don't decrease with the benefit as you might expect. Instead, decreasing policies offer a much lower annual premium from the beginning and stay level throughout the term.
Renewable
Renewable term policies allow you to extend or renew your policy for an additional term after the expiration date with no new medical exam.
Some renewable policies automatically renew every year up to a specific age (typically 65). Policies that renew annually usually see premiums increase each year as well.
Other policies automatically renew for your original term length once the first one ends.
Convertible
A convertible term policy lets you convert your temporary coverage into a permanent policy with the same face value at any time during the term, usually without a new medical exam.
Converting from term to whole insurance will increase your premiums (as discussed earlier). Some insurers also place age limits on conversions. Most won't let you convert after age 65.
Return of Premium (ROP) Term Life Insurance
Return of Premium (ROP) term life insurance is a relatively new product that combines the advantages of traditional term life insurance such as affordable, guaranteed level premium periods (10, 20 or 30 years), with a return of premium feature.
At the end of the level premium period, the company will return 100 percent of the premiums paid to the policy owner (excluding substandard fees and any extra charges).
Of course, there is a price to be paid for this added benefit. The premiums for ROP policies are higher than premiums for standard term life policies.
The insurance company will invest these additional premium dollars during the term of the policy, which allows them to return your premiums to you at the end of the term period.
One factor to consider is that term life insurance rates have dropped considerably over the past decade, mostly because people are living longer.
If you own a standard term life policy, there's no harm done in dropping that policy for a newer and cheaper term life policy.
But if you own an ROP policy, dropping the policy before the full term has expired means that you will have paid a high price for your life insurance coverage and the premiums you've paid may only be partially refunded.
No Medical Exam Term Life Insurance
No medical exam term life combines the advantages of traditional term life insurance such as affordable, guaranteed level premium periods, with simplified underwriting. Policies can be approved and in force in as little as 24-48 hours, with no medical exams and no lengthy underwriting.
Qualified applicants can currently select coverage amounts from $50,000 to $400,000 and coverage periods of 10, 15, or 20 years. Applications are completed by telephone, and you can sign the forms electronically. There are no forms to fill out or mail.
Included Features vs. Available Options (Riders)
Many term life insurance policies include specific features with the policy that do not require additional premium. QuickQuote refers to these throughout the site as 'Included Features.' An example of a typical Included Feature is the accelerated death benefit provision. This provision typically allows for the one-time acceleration or advance of up to 50 percent of the death benefit proceeds payable under the base insurance policy, not to exceed $250,000.
An insured may become eligible for this benefit if diagnosed by a qualified physician as having 12 months or fewer to live. Specific requirements and limits vary by company.
Nearly all term life insurance policies in the marketplace offer optional benefits the policy owner can add to the policy for an additional premium. These benefits are commonly called optional riders. QuickQuote refers to these throughout the site as 'Available Options.' Examples of common riders are:
Accidental Death Benefit Rider: This benefit is optional with many policies today. It provides an additional death benefit when the insured's death is caused by accident.
Children's Term Life Insurance Rider: An optional policy provision that provides a small amount of life insurance coverage on the lives of the primary insured's children. The amount of coverage varies by company, and one rider typically covers all of the insured's eligible children.
Waiver of Premium Rider: An optional policy provision that provides for the continuation of life insurance coverage without further premium payments if the insured becomes totally disabled.
Your life insurance quotes are always free.
Secured with SHA-256 Encryption
How do I choose the right term life policy?
Choosing a term life insurance policy is based on considering your needs in a few specific areas:
How much benefit do you want for your family
How long do you want to be covered by your term life policy
How much can you afford to pay in premiums
Will you require any specific riders
Do you need a specific structure for your term life policy
Use these term life insurance examples as a construct to help you with your decision.
Example 1:
Chris is 34 years old, newly married, with plans for children in the next few years. He and his wife have a $475,000 mortgage on their home. Both have enough income to cover the mortgage.
Chris wants to get basic coverage for now and then look into a permanent insurance policy a few years down the road when the couple may have children.
For now, he wants to make sure that if anything happens, his wife can purchase their property outright and cover some other basic expenses. Chris opts for a five-year convertible term life policy with a $500,000 benefit.
Example 2: 
Jeanine is a business owner. In order to get funding for her business, she took a 10-year loan from a bank for $350,000.
In order to secure the loan, Jeanine was required to secure a term life insurance policy that would cover the balance of the loan. Jeanine opted to purchase a 10-year decreasing term life policy.
This allowed Jeanine to keep her premium payments as low as possible and cover just the remaining balance of the loan with each payment she makes.
How do you shop for term life insurance?
Because they lack the sometimes-complicated investment component, term policies tend to be simpler to shop for than whole policies. You can even purchase some directly online without ever talking to an agent.
Here is some key information to keep in mind while you shop.
What is the average cost of term life?
As previously discussed, term coverage is among the cheapest form of life insurance. Premiums vary based on risk factors, but for the most part, coverage is very affordable.
Most people can get up to $500,000 worth of coverage for pennies a day.
Your life insurance quotes are always free.
Secured with SHA-256 Encryption
What factors affect rates?
There is no industry-standard price for life insurance. Rates vary from company to company and from person to person.
Insurers start with a base premium and then raise it based on risk. Some of the primary factors in determining risk are as follows.
Age: Age is one of the most important risk factors. The older you are, the closer you are to death. Every year you wait to buy a policy, it will likely result in a higher premium.
Gender: Statistically, women live longer than men. Because of that, women pay lower premiums.
Health history: Healthy people generally have a longer life expectancy, which translates to lower premiums. To determine your overall health, insurers may require a complete medical exam and bloodwork.
Family medical history: Because many diseases are hereditary, most insurers will also examine the health history of your immediate family.
Occupation: Some jobs have a higher risk of accidental death than others. The more dangerous the profession, the more likely an insurer is to pay out an early death benefit, which means higher premiums.
High-risk habits: Regular, high-risk habits such as flying, racing, or mountain climbing could result in increased premiums.
Tobacco use: The most common high-risk habit that insurers look for is tobacco use. Smokers pay higher rates than their non-smoking counterparts in every demographic.
Once the insurer determines your rate based on these risk factors, it's typically fixed, meaning that it won't change for any reason over the life of the policy.
Your choice of payment plan can also affect your rate. For example, some policies also come with a limited pay option which allows you to pay for the policy in full over an initial limited period.
You might pay a higher premium at the beginning of a 20-year policy to pay the full balance in 10 years, then have another 10 years of coverage without a monthly payment.
Sample Term Life Rates
To give you an idea of how much a life insurance policy will cost you, here's a look at the combined average premium of the top 10 insurers by market share for a 20-year, $100,000 term policy for key demographics.
Average Annual Life Insurance Rates by Age, Gender, and Smoker Status
| Policy Holder Age and Tobacco Use | Average Annual Rates: Female | Average Annual Rates: Male |
| --- | --- | --- |
| 25-year-old non-smoker | $160.57 | $178.54 |
| 25-year-old smoker | $248.75 | $321.76 |
| 35-year-old non-smoker | $178.54 | $165.91 |
| 35-year-old smoker | $321.76 | $286.18 |
| 45-year-old non-smoker | $165.91 | $185.04 |
| 45-year-old smoker | $286.18 | $360.23 |
| 55-year-old non-smoker | $185.04 | $240.25 |
| 55-year-old smoker | $360.23 | $493.20 |
| 65-year-old non-smoker | $240.25 | $267.89 |
| 65-year-old smoker | $493.20 | $637.51 |
| Average annual rates for non-smokers | $267.89 | $406.94 |
| Average annual rates for smokers | $637.51 | $991.63 |
| | #blank# | #blank# |
If you're shopping for a policy with a higher face value, here are some average monthly sample rates for the same insurers. These rates assume that the person is a healthy non-smoker.
Average Term Life Insurance Rates
| Age | $100,000: Male | $100,000: Female | $250,000: Male | $250,000: Female |
| --- | --- | --- | --- | --- |
| 25 | $11.03 | $10.02 | $22.10 | $12.91 |
| 30 | $11.12 | $10.07 | $15.31 | $13.02 |
| 35 | $11.12 | $10.07 | $15.42 | $13.02 |
| 40 | $12.65 | $11.12 | $17.94 | $15.21 |
| 45 | $14.57 | $13.31 | $21.55 | $19.69 |
| 50 | $18.60 | $17.20 | $30.19 | $27.02 |
| 55 | $24.51 | $20.61 | $42.88 | $34.35 |
| 60 | $35.88 | $27.48 | $71.10 | $50.86 |
| 65 | $51.06 | $37.76 | $109.82 | $75.14 |
| | #blank# | #blank# | #blank# | #blank# |
The following are the average smoking rates for the same policies.
Life: Average Male vs. Female Rates for Top 10 Insurers - Smoking
| Age | $100,000: Male | $100,000: Female | $250,000: Male | $250,000: Female | $500,000: Male | $500,000: Female |
| --- | --- | --- | --- | --- | --- | --- |
| 25 | $22.32 | $18.73 | $37.85 | $30.96 | $68.91 | $55.13 |
| 30 | $22.80 | $19.08 | $39.38 | $31.83 | $71.98 | $56.88 |
| 35 | $23.15 | $19.52 | $40.58 | $33.36 | $74.38 | $59.94 |
| 40 | $33.95 | $27.26 | $65.63 | $51.30 | $124.47 | $95.82 |
| 45 | $42.01 | $34.66 | $82.69 | $66.50 | $158.60 | $126.22 |
| 50 | $63.49 | $52.85 | $134.10 | $108.83 | $261.41 | $210.88 |
| 55 | $83.53 | $62.61 | $182.77 | $131.36 | $358.76 | $255.94 |
| 60 | $139.17 | $98.14 | $312.82 | $216.46 | $618.85 | $426.13 |
| 65 | $194.69 | $122.90 | $435.86 | $274.43 | $864.94 | $542.07 |
| | #blank# | #blank# | #blank# | #blank# | #blank# | #blank# |
As you can see, non-smoking rates are significantly lower than smoking rates.
Do rates change over time?
As previously discussed, premiums on term insurance can increase annually, depending on the type of policy you choose.
For the most part, however, they don't. The most common type of term insurance is level term insurance. Your premiums are guaranteed to stay the same for the entire policy term.
The only time you're likely to see an increase is if you renew your policy for a new term once the original one expires.
Your life insurance quotes are always free.
Secured with SHA-256 Encryption
Will I need to have medical exams?
When applying for term life, insurers will require you to fill out a health questionnaire and may request your medical records. Some will also require a complete medical exam and blood work.
The basic life insurance medical exam process looks like this:
The customer fills out an insurance application, along with a medical questionnaire.
The insurer schedules an in-home medical exam.
The medical examiner conducts a brief interview, which includes an overview of your family's medical history (learn more about how family history affects your life insurance rates)
The examiner measures your height, weight, and vitals, and then takes a urine sample, blood sample, and oral swab.
Lab results from the samples are sent to the underwriter for review.
The insurer assigns a risk classification and informs the applicant of final premiums.
Some term life insurance policies advertise the fact that they don't require a medical exam. Some might see that as a benefit, but it could cost them more over time than the convenience is actually worth.
A young, healthy person might not see much of a difference in rates between an exam and no-exam policy, but older people can expect to pay more.
A no-exam policy is riskier for the insurer. They pass that increased risk along to you in the form of higher premiums.
Depending on your health, taking the exam could show the insurer that you're a lower risk than they might assume you are with a no-exam policy. No-exam might make more sense if you want to buy life insurance with a medical condition.
What are substandard ratings?
Applicants don't always qualify for Preferred or Standard rating classes. In these cases, the insurance company may offer a Substandard rating class.
Substandard rating classes are sometimes called "table rates" and can range from one level below Standard to several levels below. These are the two most common designations used by life insurance companies:
Table A – Table H
Table 1 – Table 8
The difference in cost for each table is about 20 percent more than the Standard rate. For example, if a Standard policy cost $1,000, then a Table B (or Table 2) policy would cost about $1,400. As with most other things, this will vary by company.
How can I find the best provider?
Here are some important tips to remember as you shop for a term life insurance policy.
#1 – Buy from a Reputable Company
Make sure the company you're buying from is reliable.
Start by researching an insurer's market share. If they have a significant presence in the industry, with a lot of policies in force, then they're more likely to be an established, respectable company.
If you haven't heard of them and you can't find their name on any notable lists, you might want to look elsewhere.
Any of the top-ranking companies would be a good place to start.
Top 10 Life Insurance Companies by Market Share & Protective Life Market Share
| Rank | Companies | Direct Premiums Written | Market Share |
| --- | --- | --- | --- |
| 1 | MetLife | $10,877,337,000 | 6.7% |
| 2 | Northwestern Mutual | $10,550,806,000 | 6.5% |
| 3 | New York Life | $9,385,843,000 | 5.8% |
| 4 | Prudential | $9,170,883,000 | 5.6% |
| 5 | Lincoln National | $8,825,314,000 | 5.4% |
| 6 | MassMutual | $6,874,972,000 | 4.2% |
| 7 | Transamerica | $4,867,311,000 | 3.0% |
| 8 | John Hancock | $4,657,312,000 | 2.9% |
| 9 | State Farm | $4,636,147,000 | 2.9% |
| 10 | Securian | $4,426,864,000 | 2.7% |
| 20 | DAI-ICHI Life Holdings Inc Grp (Protective Life) | $2,450,639,110 | 1.41% |
| | #blank# | #blank# | #blank# |
From there, read reviews of the company that focus on policy offerings, financial stability, and reputation. You can also do your own research in those areas by using the following resources.
Third-party rating agencies such as A.M. Best, the Moody's Investors Service, and Standard & Poor's (S&P) measure an insurer's financial strength and its ability to pay all of its policy obligations.
J.D. Power's annual U.S. Life Insurance Study measures overall customer satisfaction in four areas: annual statement and billing, customer interaction, policy offerings, and price.
The Better Business Bureau uses 13 factors such as time in business, open complaints, resolved complaints, and legal action against a company to assign one of 13 letter ratings, A+ through F.
The National Association of Insurance Commissioners Complaint Index compiles the number of complaints filed against an insurer each year and compares it to that of other companies.
#2 – Compare Policies
Once you have a list of reputable companies, compare the policy offerings of each to find the one that suits you best. It's important to make sure you compare policies of the same type.
For example, a level term policy has different benefits and drawbacks than an increasing term policy with the same face value. The same is true of an increasing term policy versus a decreasing term and a renewable versus a convertible.
Always compare apples to apples.
#3 – Get Quotes
Quotes are an easy way to compare prices between companies and policies. Quotes are available online through convenient quote tools or local insurance agents.
Try to find the policy with the greatest benefit for the lowest annual cost.
Your life insurance quotes are always free.
Secured with SHA-256 Encryption
How do I get a quote?
There are two main ways to get quotes: online or through an agent.
Online
Whole life insurance has a lot of variations and more factors that influence its premiums. Because of that, insurers rarely give out quotes for them online. You have to meet with an agent to find out how much a policy will cost.
On the other hand, term quotes are widely available. Many insurers have quote tools on their website.
You simply choose your desired coverage, enter some basic personal information, and the tool will return an estimated cost.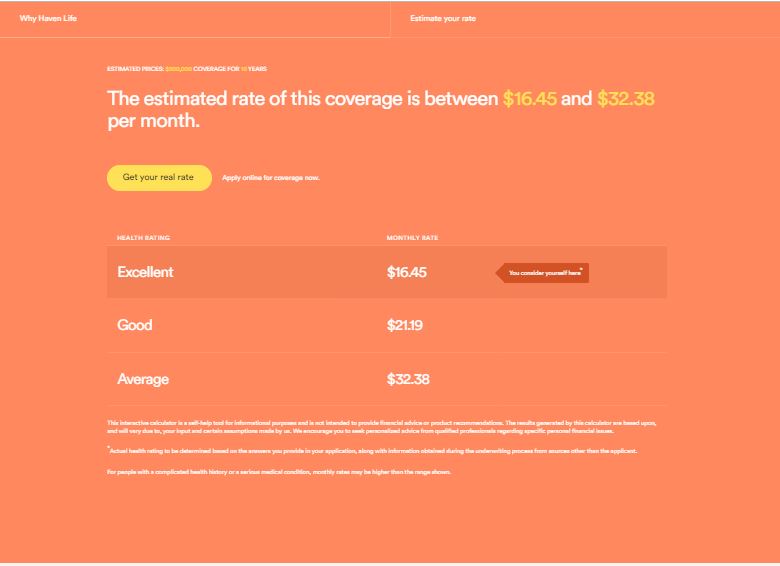 There are also independent quote tools that can give you term life insurance quotes from multiple insurers at once, allowing you to compare prices quickly and easily without having to jump around between multiple web pages.
Some insurers also sell direct term policies. After getting your quote, you can immediately apply for the policy online without ever having to talk to an agent.
Agents
A majority of life insurance policies are sold through agents, even if the insurer provides online quotes. Insurance agents fall into one of two categories: independent agents or captive agents.
An independent agent is free to shop and sell policies from multiple agencies to find the best policy for their clients.
A captive agent works for a single insurer and will only market and sell their employer's policies. They more closely resemble customer service reps than actual insurance brokers.
One is not necessarily better than the other.
If you want to compare costs and policies across multiple insurers, you will need to find an independent agent.
If you've already done the homework yourself and have decided on a specific insurer, the captive agent can help you choose the right policy and tailor it to your financial needs.
Most insurers have an agent finder tool on their websites.
You enter some basic personal information, location, and type of coverage you want, and agents will contact you to discuss your options.
Keep in mind that not all companies make it clear whether they are connecting you to a captive agent or an independent one.
If you know that you want to compare multiple policies from multiple providers, you might be better off searching for an independent life insurance agency on your own, rather than being referred to an unknown agent by an insurer.
What are my options at the end of a life insurance term?
If your financial situation changes during the life of your policy, you can sometimes alter your coverage to match it.
Converting Term Life
There may come a time when you decide you need permanent coverage rather than temporary. A permanent policy could be beneficial for the following situations.
Estate planning: If you're leaving behind a large estate, your heirs might be faced with a large tax bill. The current maximum estate tax rates are nearly 40 percent. Proceeds from life insurance policies are typically tax-free. Your beneficiaries can use the death benefit from a whole policy to pay the taxes.
Asset protection: If you need to protect your assets against liens and creditors, the proceeds from a life insurance policy are generally considered to be uncollectible assets.
Establishing long-term care: If you're the primary caregiver for a spouse or loved one with special care needs, the proceeds from a whole life policy can be used to ensure they get the care they need long after you're gone.
Many term life plans can be converted to whole life plans. Some can be converted at any point, while others only let you convert during a certain period, such as within the first 10 years. Let's take a quick look at the types of permanent insurance options you might have available.
Permanent Life Insurance
Permanent life insurance provides lifelong protection. As long as the premiums are paid, the policy will stay in force until a death benefit is paid. These policies are designed and priced to keep over an extended period.
They are recommended for people who believe they will have a lifelong need for life insurance coverage or for coverage that extends beyond the maximum allowed by term life insurance (currently 30 years).
Another characteristic of permanent life insurance is a feature known as cash value or cash-surrender value.
In fact, permanent life insurance is often referred to as cash value life insurance because these types of policies can build cash value over time, as well as provide a death benefit to the beneficiaries.
Cash values, which accumulate on a tax-deferred basis just like assets in most retirement plans, can be used in the future for nearly any any purpose.
Policy owners can borrow cash value for a down payment on a home, to help pay for their children's education or to provide income for retirement.
When money is borrowed from a permanent life insurance policy, the policy's cash value is used as collateral, and the borrowing rates tend to be relatively low.
And unlike loans from most financial institutions, the loan is not dependent on credit checks or other restrictions. The loan must ultimately be paid back with interest, or the beneficiaries will receive a reduced death benefit and cash surrender value.
If the policy owner needs or wants to stop paying premiums, the cash value can be used to continue the current life insurance protection for a specified time or to provide a lesser amount of protection for the remainder of the policy.
If the policy owner decides to stop paying premiums and surrenders the policy, the guaranteed policy values will be paid to him/her.
There are several types of permanent life insurance policies available including whole life, universal life, and variable life. Each offers its set of options and features including fixed or variable premiums, fixed or variable death benefits and policy loan provisions among others.
Whole Life Insurance
Whole life insurance is also referred to as ordinary life. This is the most common type of permanent life insurance. It provides the certainty of a guaranteed amount of death benefit and a guaranteed rate of return on cash values.
The premium is also level and guaranteed never to increase. Some types of whole life insurance policies allow policy owners to participate in the financial prosperity of the insurance company by receiving dividends.
Dividends can be used to grow the death benefit and the cash value of the policy.
Universal Life Insurance
Universal life insurance is also referred to as adjustable life insurance. It allows policy owners to pay premiums at any time, in virtually any amount, subject to certain minimums and maximums.
Policy owners can also reduce or increase the death benefit of a universal life insurance policy more easily than with other types of permanent life insurance policies.
Universal life insurance policies provide the certainty of a guaranteed minimum amount of death benefit, as long as premiums are sufficient to sustain that death benefit.
Most universal life insurance policies will also provide a guaranteed rate of return on the policy's cash value.
However, it is possible a policy will not accumulate cash value if the insurance company's administrative expenses increase, mortality assumptions are changed, investment portfolio does not perform as expected, or the policy premium payments are insufficient.
Variable Universal Life Insurance
Variable Universal life insurance is similar to universal life insurance. It is a flexible premium, permanent life insurance policy that allows policy owners to have premium dollars allocated to a variety of investment options, including a fixed account.
The policy allows for changes to the death benefit and policy premium. Variable universal life insurance may be a good option for people who want to combine life insurance with a higher potential for investment return at a higher risk.
Renewing Term Life
You can renew many term insurance policies for additional terms once the original expires. Some will let you do so without taking a new medical exam.
Keep in mind that every time you renew the policy, you'll likely get charged a higher premium than your initial term. Since you're starting a new term at an older age, the insurer will charge you for the added risk.
Some insurers sell policies that renew at a guaranteed fixed rate, but those policies usually come with higher premiums from the beginning.
Just like conversions, most plans place an age limit on renewals.
Changing Your Death Benefit
A change in your financial situation might necessitate a change in your life insurance policy's face value. For example, you might need an increased benefit to cover the mortgage on a new house or the future needs of a new child.
Some policies allow you to increase your coverage during a certain time period, while others let you change at any time. If you think you might need additional coverage, it's better to do it early because the best life insurance for 30-year-olds is much cheaper than 40-year-olds.
Remember, premiums increase with age. The longer you wait to increase your face value, the more expensive it will be.
What are the pros and cons of term life insurance?
Term life comes with benefits and drawbacks. Here are some of the biggest to consider.
Pros
Simpler
Cheaper
No investment risk
Online quotes easily available
Can sometimes be purchased directly online
No-exam options
Cons
Not very flexible
Coverage expires
No potential for cash growth
If you're looking for cheap, temporary coverage, the pros outweigh the cons.
What's the bottom line?
Term life insurance is one of the simplest forms of life insurance but you do have to spend a bit of time understanding the types of term life insurance to determine what is best for you.
Term life insurance also offers the largest death benefit for the lowest cost. It's the type recommended for most families.
Term insurance is also the easiest to buy. It only takes a few minutes to get quotes, compare prices, and schedule appointments with many of the top providers. Some will even sell you a direct policy just as quickly.
Regardless of your budget, there's a policy that can provide your family with protection against financial hardship in the event of your unexpected death.
If you have loved ones who depend on you, you owe it to them to explore your many term life options.
Start comparing life insurance rates now by using our FREE quote tool below.
References: