Life Insurance Underwriting Guidelines
Knowing how life insurance underwriting guidelines work can help you get life insurance rates as low as $12.50/mo or $150/yr. Underwriting in life insurance varies slightly by company, but the basics are the same.
Ready to compare quick life insurance quotes?
Your life insurance quotes are always free.
Secured with SHA-256 Encryption
UPDATED: Apr 21, 2022
It's all about you. We want to help you make the right life insurance coverage choices.
Advertiser Disclosure: We strive to help you make confident life insurance decisions. Comparison shopping should be easy. We are not affiliated with any one life insurance company and cannot guarantee quotes from any single company.
Our life insurance industry partnerships don't influence our content. Our opinions are our own. To compare quotes from many different life insurance companies please enter your ZIP code above to use the free quote tool. The more quotes you compare, the more chances to save.
Editorial Guidelines: We are a free online resource for anyone interested in learning more about life insurance. Our goal is to be an objective, third-party resource for everything life insurance-related. We update our site regularly, and all content is reviewed by life insurance experts.
Life insurance is a $6 trillion industry based entirely on risk. Life insurance underwriters are responsible for determining that risk. Each company has a list of life insurance underwriting guidelines by which the underwriter approves or denies an exam or no medical exam term life insurance application, assigns a risk classification, and sets an appropriate price.
Insurers make more profit when they don't have to make death benefit payments, so they approve applications and set rates based on the applicant's risk of early death.
Because everyone wants the best coverage for the lowest price, we've created life insurance underwriting guidelines that will give you a complete overview of the underwriting process, including how the cost is determined, which can help you get rates as low as $12.70 a month.
To see which rates you earn with the top insurers based on their life insurance underwriting guidelines, use our FREE quote tool above.
What does an underwriter do in life insurance & how does my health impact my life insurance premium?
Once you've applied for life insurance, the application is sent to an underwriter. The underwriter's job is to review your application and determine how much risk the company is taking on by insuring you.
High risk means higher premiums. Too high of risk means your application is likely to get denied.
Your life insurance quotes are always free.
Secured with SHA-256 Encryption
What is the insurance underwriting process?
The insurance underwriting process involves an exhaustive review of your application, medical history, public records, and more to get the most accurate picture of your health and lifestyle.
If that picture shows someone who is likely to die before the insurer makes a profit off the policy, your coverage will be priced accordingly. Use our free online tool for instant life insurance quotes in your area.
What are the underwriting factors in life insurance?
There is no industry-standard price for life insurance. Rates vary for everyone. Your premiums are determined by many different factors. However, what are some factors that underwriters consider when evaluating a life insurance application? The following are tend to have the greatest impact.
Age – Age is one of the most critical factors in determining insurability. The older you are, the closer you are to death. The longer you wait to buy a policy, the higher your rate will be.
Gender – Statistically, women have a longer life expectancy than men. Because of that, they typically pay lower premiums.
Health history – Healthy people have longer life expectancies and are therefore a lower insurance risk. To determine your overall health, insurers may require a medical exam.
Family medical history – Because many diseases are hereditary, most insurers will also inquire about the health history of your immediate family. Learn more about how family history affects your life insurance rates.
Occupation – Some jobs come with a higher risk of accidental death than others. If you have a job that could raise your life insurance premium, the insurer is more likely to pay out an early death benefit, which means higher premiums.
High-risk habits – Insurers will also inquire about high-risk habits such as flying, racing, scuba diving, or any other regular activity that has a high potential for injury or death.
Tobacco use – The most common high-risk habit that insurers look for is tobacco use. Smokers pay higher rates than their non-smoking counterparts in every demographic.
If your risk in any of these areas is too high, the insurer could deny your application.
Life Insurance Underwriting Guidelines: How to get started with the life insurance application process
Every insurer has a list of guidelines the underwriter follows to determine risk.
Based on the risk factors identified in your application, the insurance underwriter uses their company guidelines to decide whether additional information is required.
If so, the insurance company will order one or more of the following reports and tests. How long is the underwriting process for life insurance? That depends largely on the speed at which you satisfy all the requirements.
Your life insurance quotes are always free.
Secured with SHA-256 Encryption
What are the medical underwriting process guidelines?
Medical underwriting requirements include medical tests, exams, and public health records used to determine an applicant's health risk.
Simple Paramedical Exam
For a simple paramedical exam, a medical examiner takes the applicant's vitals (height, weight, blood pressure, and pulse) as well as a blood and urine sample.
This exam can be conducted at a lab or in the home.
Full Paramedical Exam
For a full medical exam, an examiner takes the applicant's vitals and collects a blood and urine sample. The examiner also conducts an interview and completes a medical history report to include any questions not answered on the original questionnaire.
Blood & Urine Test
Blood and urine tests are generally ordered as a part of a paramedical exam. They are typically only ordered by themselves when following up on a previous exam, such as showing that treatment for a pre-existing condition has been effective.
Urine tests are also sometimes ordered alone for young people with a good health history applying for low face value policies. The urine test is used to verify the absence of tobacco or recreational drugs.
Likewise, an applicant who reported smoking in the past but has since quit the habit can submit to a urine test to prove they have been tobacco-free for a satisfactory period. If the test comes back clean, the insurer will give them a lower non-smoking rate.
Electrocardiogram Test (EKG)
An electrocardiogram test (EKG) measures your heart's electrical activity. It's used to identify any abnormalities in your heart's shape or size, rhythm problems, and evidence of a heart attack.
The test itself is simple and there's nothing you need to do to prepare. It involves a series of electrodes placed in strategic places on your chest, arms, and legs. The electrodes measure the electric impulses from your heart and send the results to a technician for analysis.
Treadmill Stress Test
A treadmill stress test combines EKG, heart rate, and blood pressure tests into one. The test measures how the applicant's heart responds to external stress by measuring heart rate, blood pressure, and electrical impulses while walking or running on a treadmill.
The insurer could order the test based on age, family history of heart problems, or abnormalities discovered on an initial EKG test.
Attending Physician Statement
An attending physician statement is a report from a doctor, hospital, or medical facility that's either currently treating you or has treated you in the past. It's one of the most commonly requested sources of additional medical information ordered by life insurers.
If you indicated a previous medical condition on your application, the insurer would order an attending physician statement to get all of the relevant details from the most qualified source.
Medical Information Bureau Report
The Medical Information Bureau (MIB) is an organization jointly owned and supported by over 400 insurance companies in the United States. The MIB checks for any errors or omissions on a customer's application.
What would the medical information bureau (MIB) identify?
Your Medical Information Bureau report doesn't contain your actual medical records. Most of the information comes from what you supplied to other member companies in the past.
For example, if you applied for health insurance with a member company five years ago, the life insurer can compare your current application responses with any medical exams, tests, and attending physician statements ordered by the health insurer at that time. Any discrepancies will be flagged.
If you haven't applied for life or health insurance within the past seven years, you won't have a MIB report.
Prescription History Report
You might be surprised to learn that your prescription history is a matter of public record. State and federal laws safeguard who can see those records, but life insurers are one group with fairly easy access.
Two major reporting agencies, ExamOne (owned by Quest Diagnostics) and Milliman IntelliScript, routinely gather prescription data from every major pharmacy across the country and sell reports to insurers.
If an insurer finds a prescription for a condition you omitted from your application, it will be flagged.
What are the non-medical underwriting process guidelines?
Life insurers also use non-medical resources and ask questions to gain a better understanding of your overall lifestyle.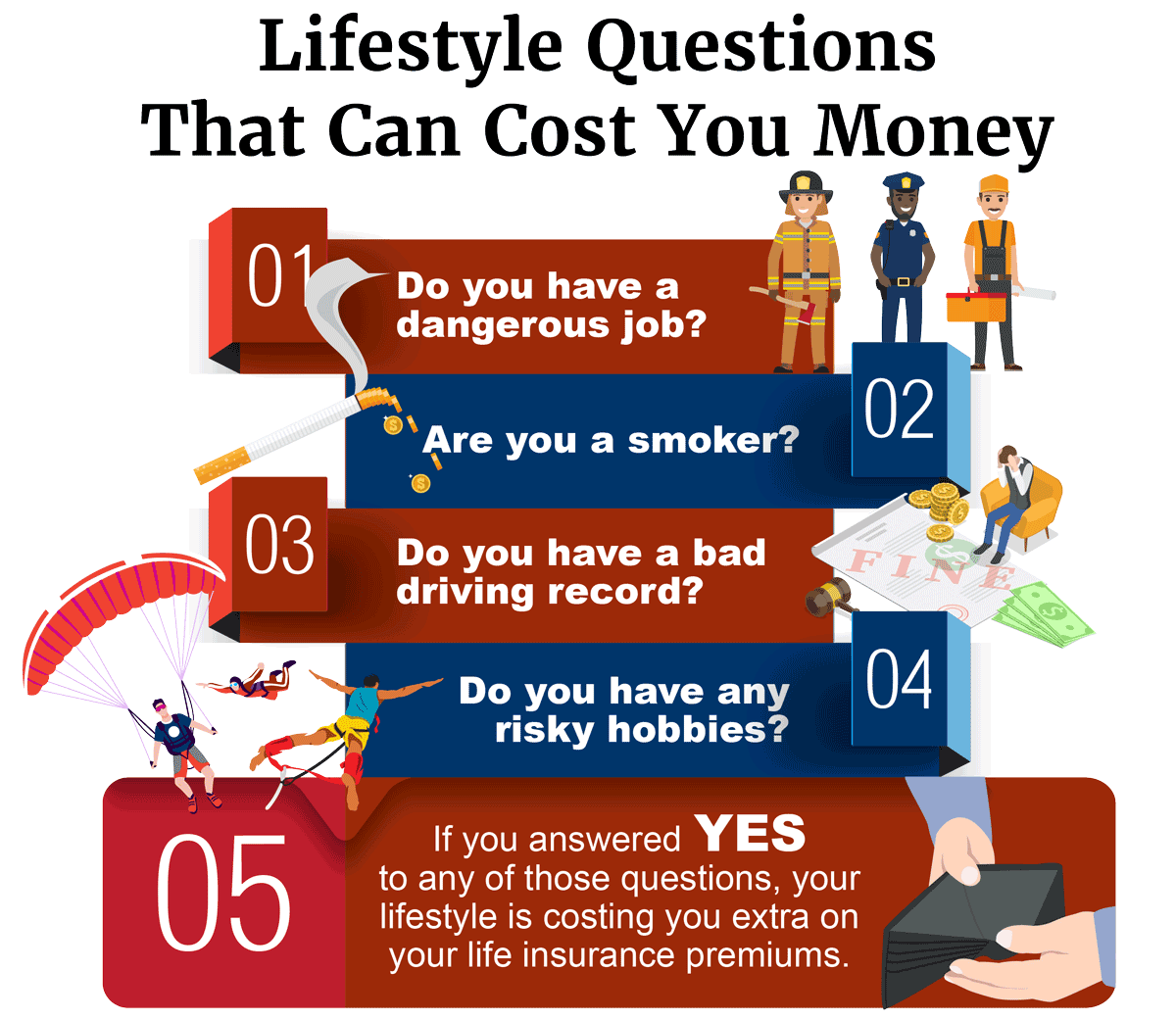 How you answer these questions might influence both your mortality risk and your ability to pay your premiums.
Personal History Interview
The personal history interview is a telephone interview in which a representative from the insurer asks a series of questions to verify that all of the information on your application is correct and that you qualify for your desired life insurance coverage.
The questions will cover your personal information, health history, financial information, and current lifestyle (habits and hobbies).
Motor Vehicle Report
According to the National Highway Traffic Saftey Administration (NHTSA), car accidents account for around 35,000 deaths per year in the United States. Life insurers access public driving records to determine your risk of traffic death.
Daily Activities Questionnaire
A daily activities questionnaire asks for information about your everyday life. Particularly, it looks to see how frequently you travel (and where) and whether you engage in regular recreational activities that the insurer deems to be high-risk.
Credit History Report
Life insurers often make a soft inquiry of your credit report to determine your risk of defaulting on your premium payments. A history of bankruptcy could result in a denial, and a history of late payments could result in higher rates.
Electronic Inspection Report
An electronic inspection report gives life insurers instant access to your public records such as criminal history, real estate purchases, and bankruptcies. They use the information to verify the information on your application as well as determine both your mortality and default risk.
What are some sample life insurance underwriting guidelines?
Many companies base their underwriting requirements on the age of the applicant and the face value of the policy.
An older person applying for a high face value can expect a lot more exams and reports than a younger person applying for a low face value policy.
To give you an idea of what to expect, here is a table of sample requirements by age and face amount from a top 10 life insurer.
In addition to these ages and face values, certain responses on an application will also trigger specific requirements, such as listing an unhealthy weight, pre-existing medical condition, or history of tobacco use.
Your life insurance quotes are always free.
Secured with SHA-256 Encryption
What is a risk class & how does it affect your life insurance premium?
Once the results of the requested reports and exams come back, the underwriter uses them to assign the applicant to a risk class. Each class has an established premium range.
So, what is the major source of life insurance underwriting risk? Hands down, it's tobacco use.
Each risk classification has a non-tobacco or tobacco designation. Tobacco increases the premiums in each class.
Some insurers use different terms (such as switching out the word "plus" for "super"), but most use some variation of the following five risk classes when determining rates.
Preferred Plus
This is the lowest risk category with the best rates. People in this class are typically young and healthy with no pre-existing conditions or worrisome family history.
Preferred
This is a lower risk category with better rates than most. People in this class are very healthy but are a little bit older or have potential warning signs such as elevated cholesterol or a family history of some disease.
Standard Plus
This is a low-risk category with below-average premiums. People in this class are healthy but are advancing in age or have health markers such as blood pressure or BMI outside of the desired range.
Standard
This is an average risk category with average premiums. People in this class have an average life expectancy, but also have minor health conditions or family history that keeps them out of a preferred class.
Substandard
This is a high-risk category with above-average premiums. People in this class are at an advanced age or have significant health issues that could decrease their life expectancy.
If their application is approved, they typically are charged the standard rate plus an additional percentage that grows based on the severity of their condition.
What are some sample life insurance underwriting guidelines risk classifications?
The following table provides sample risk classifications for various medical conditions.
This list isn't exhaustive, and classifications vary between companies based on their specific underwriting guidelines, but it can still give you a good idea of how various health conditions will influence your life insurance rates.
Life Insurance Underwriting Guidelines Policy Issue
Since the digital revolution changed the way we work, shop, and socialize, there is more raw data about people available on the internet than ever before. More and more, life insurers are mining that information to determine risk and detect fraud on applications.
Watch the below video for a brief look at how technology is changing the underwriting process.
In addition to your public records (motor vehicle report, criminal history, property records, etc.), insurance companies are also starting to analyze your social media presence when making their decisions.
For example, if your application says you don't smoke but a picture on your Instagram page from a month ago shows you smoking at a party, you could be assigned to a tobacco class at a higher rate. Likewise, pictures of you taking a yoga class could earn you a lower risk classification.
This topic is somewhat controversial right now. Some states are working to regulate how much of this personal data an insurer can use, as some feel it walks a fine line between verification and discrimination.
Until that issue is settled, you should pay close attention to the image of you that your social media pages paint and make sure they don't contradict the one painted by your life insurance application.
Your life insurance quotes are always free.
Secured with SHA-256 Encryption
How to shop for life insurance quotes: What you can do to get the best possible life insurance rates
If you're currently in the market for a life insurance policy, here is some information in addition to the underwriting guidelines that can help you compare life insurance quotes and get the best coverage for the best price.
How to get the best life insurance rate in underwriting
Certain factors such as gender and family medical history are beyond your control. To get the best rate, you need to change the variables you can so you can get life insurance with a medical condition.
Make healthy life choices.
Blood pressure, BMI, and cholesterol are key measures on a paramedical exam. Even just a few weeks of diet and exercise can make a big difference on the tests.
You should also do some research on the medical exam process so you know what to expect.
If you do smoke, not only should you quit, but it's important to do so as soon as you can. Most insurers require you to be tobacco-free for at least a year before you can claim a non-smoking rate.
As discussed, they will verify your tobacco use with a blood or urine test.
Buy life insurance early.
The previously-shown underwriting requirements showed that age is a key factor in determining rates. The longer you wait to buy a life insurance policy, the older you'll be when you apply.
If you buy early, you have a better chance of getting placed in a preferred risk category.
Pay your life insurance premiums on time.
As with most bills, if you don't pay your life insurance premiums on time, payments on your life insurance premiums, you'll be hit with penalties and could have your policy canceled.
If your policy does get canceled, you could face an additional fee to get it reinstated. If you apply for a new policy with a different insurer, they'll likely see your default on your credit history and could charge you a higher rate.
Do life insurance rates increase over time?
Premiums on term insurance can increase annually, depending on the type of policy you choose, but they are generally fixed for the life of the term.
The only time you should expect an increase is if you renew your policy for an additional term once the original expires.
Whole rates are also generally fixed, but you do have more flexibility in how you pay them. Depending on the type of whole policy you choose, your payments could vary from year to year.
With universal policies, you can change the amount and frequency of your premium payments.
For example, you can pay higher premiums or a lump sum early in the year, then pay less later.
Even though you don't have to pay on a set schedule, you do still need to pay a minimum amount each year to keep your policy active.
Once you've done everything you can to ensure you'll get the best possible rate, it's time to go find out what that rate will be.
How does the underwriting process for life insurance work?
Underwriting doesn't happen overnight. It takes time. Patience, grasshopper.
Application? Check. Paramed exam? Check. Now what?
Welcome to the wacky world of term life insurance underwriting. Now, get ready to sit back and wait. On average, this process takes about four weeks. But don't worry, a lot will happen during this time as the insurance underwriter and your Case Manager work together on your application.
It's time to meet your Case Manager.
We'll assign your application to a Case Manager during underwriting. Your Case Manager's role is to work with you and the insurance company to get your application approved as quickly as possible.
Your Case Manager will keep you updated on the progress of your application. She may ask you for help along the way if the underwriter requests information. You'll work closely together, and the more responsive you are, the quicker she can get a decision from the insurance company.
What is underwriting, anyway?
Glad you asked. It's similar to the process you go through when you apply for a student loan, auto loan or mortgage. Just like loans, you have to be approved for life insurance.
You see, it's all about risk. The company wants to make sure that if they issue you a policy, you're going to be around for a good, long time. When underwriting your application, the company looks at many things, including:
Life insurance application
Health questionnaire
Paramedical exam
Motor Vehicle Report (MVR)
Medical Information Bureau Report (MIB)
Prescription medication history (Rx Report)
If you are older or applying for a very large amount of life insurance, the underwriter may collect additional information such as:
Resting Electrocardiogram (ECG)
Financial questionnaire
Credit report
Inspection report
Physician's exam
You can see why underwriting can take a while. That's a lot of information to gather. But remember, just like you, your application is unique. Company guidelines will determine how much of this information is needed by the underwriter.
Your life insurance quotes are always free.
Secured with SHA-256 Encryption
How does the insurance company make the final decision?
The life insurance company has gathered all of this information about you, and you're left wondering if you measure up to their standards. It can be frustrating, we know. But know this: 95% of our applicants qualify for coverage.
The underwriter will take your information and compare it with the company's life insurance underwriting guidelines. This comparison allows the underwriter to place you in a group of people with similar risk characteristics.
Not every person in the group will have the exact same mortality, but overall the group will have a fairly predictable life expectancy. Groups such as this one are known as life insurance rating classes.
Your rating class provides the company the basis for determining how much you will pay for your policy. The lowest rates go to the preferred rating classes. The higher risk classes, such as standard and substandard, cost more.
Your Case Manager will let you know when your application is approved or declined. She'll also let you know the cost and, with your approval, will ask the insurance company to issue your policy.
What are the life insurance underwriting guidelines?
Underwriting guidelines vary by company. Prudential life insurance underwriting guidelines will therefore differ from AIG or Protective life insurance underwriting guidelines Our table shows general guidelines and isn't meant to be specific to any one company. Please use this table as a guide only. Your approval and the final cost will be determined by the company you apply with.
If you'd like help with this table or help with a particular company's guidelines, please contact us. You might be able to obtain a life insurance underwriting guidelines PDF from your company of choice as well.
Guidelines for family history vary widely by company and may not even apply to you if you're over 60. Some companies do not even consider the family history of cancer, and others only look for certain types of cancer.
Specific Medical Conditions
Life Insurance Rating Classes for Specific Medical Conditions
| Medical Conditions | Preferred Plus | Preferred | Standard Plus | Standard |
| --- | --- | --- | --- | --- |
| Alzheimer's | No | No | No | No |
| Anxiety/Depression | No | Yes | Yes | Yes |
| Asthma | No | Possible | Yes | Yes |
| Cancer | No | No | No | Yes |
| Crohn's Disease | No | No | Possible | Yes |
| Epilepsy/Siezures | No | Possible | Yes | Yes |
| Headaches | No | Yes | Yes | Yes |
| Heart Disease | No | No | No | Yes |
| Hepatitis A & B | No | Possible | Yes | Yes |
| Hepatitis C | No | No | No | Yes |
| Kidney/Liver Disease | No | No | No | Yes |
| Lung Disease | No | No | Yes | Yes |
| Lupus | No | No | No | Yes |
| Multiple Sclerosis | No | No | No | Possible |
| Rheumatoid Arthritis | No | No | No | No |
| Sleep Apnea | No | No | Possible | Yes |
| Stroke/TIA | No | No | No | Possible |
| Tuberculosis | No | No | No | Yes |
| Type I Diabetes | No | No | No | No |
| Type II Diabetes | No | No | Possible | Yes |
| | #blank# | #blank# | #blank# | #blank# |
Note: The life insurance company will give all medical conditions listed above individual consideration. They will likely review medical records from your doctor in their evaluation. Reach out to us to find the best company for your situation.
Term Life Insurance Underwriters: What?
Don't you just love life insurance jargon? Insurance agents and brokers use it constantly when talking to life insurance company reps and coworkers. Unfortunately for some, it can be difficult to turn off the 'jargon switch' when speaking with customers. And this isn't unique to the life insurance world. You may even use jargon in your field of work without even realizing it.
Confusing Insurance Words
Two terms that seem to cause confusion for term life insurance applicants are 'underwriter' and 'underwriting.' Who are these strange people and what are they doing to your term life insurance application?
An insurance underwriter is a person employed by the life insurance company who is responsible for compiling all of the needed information about the applicant. Once the information is collected, the underwriter then analyzes it to determine mortality risk and ultimately issues a decision on acceptance and a rating class.
The term underwriting is used to describe the process of collecting information and analyzing the mortality risk of the applicant. So, if your agent tells you 'your application is still in underwriting,' this just means the insurance underwriter is still in the process of collecting and analyzing information about you.
According to Wikipedia, the term underwriter has quite a history. Back in the 1600s, a coffee house called Lloyd's Coffee House in London was a popular hangout for investors, sailors, ship owners, and merchants. Lloyd's (also known as Lloyd's of London) provided valuable information about shipping news.
The investors used the information to assess the risk of the ship voyages, and if agreeable they would write their name on a document underneath the risk assessed for a certain ship voyage in exchange for a premium. So, they would literally 'write under' the risk. Over time, this process became known as underwriting.
Other Wacky Life Insurance Lingo
Curious about other life insurance jargon you may have come across lately? The following is a list of more industry lingo you may hear when talking with your agent or life insurance company, so you won't need an insurance underwriting process diagram to understand what's going on.
APS – Attending Physician's Statement (aka Medical Records)
App – Your Insurance Application
Paramed – Paramedical Examination
MVR – Motor Vehicle Report (aka DMV Records)
IR – Inspection Report (aka Telephone Interview)
PFS – Personal Financial Statement
HOS – Home Office Specimen (aka Urine Sample)
Delivery Requirements – These are forms, signatures, payment, etc. needed to put your new policy in force.
Now you're all set to write a jargon-laced email that will surely impress your agent! Get started comparing life insurance quotes today!
Your life insurance quotes are always free.
Secured with SHA-256 Encryption
What are the top life insurance companies by market share?
According to the Insurance Information Institute, There are nearly 1,000 life insurance companies in the United States. Each has different policies at different costs determined by different underwriting guidelines.
The following table shows the current top 20 overall providers of life insurance.
Top 10 Life Insurance Companies by Market Share & Protective Life Market Share
| Rank | Companies | Direct Premiums Written | Market Share |
| --- | --- | --- | --- |
| 1 | MetLife | $10,877,337,000 | 6.7% |
| 2 | Northwestern Mutual | $10,550,806,000 | 6.5% |
| 3 | New York Life | $9,385,843,000 | 5.8% |
| 4 | Prudential | $9,170,883,000 | 5.6% |
| 5 | Lincoln National | $8,825,314,000 | 5.4% |
| 6 | MassMutual | $6,874,972,000 | 4.2% |
| 7 | Transamerica | $4,867,311,000 | 3.0% |
| 8 | John Hancock | $4,657,312,000 | 2.9% |
| 9 | State Farm | $4,636,147,000 | 2.9% |
| 10 | Securian | $4,426,864,000 | 2.7% |
| 20 | DAI-ICHI Life Holdings Inc Grp (Protective Life) | $2,450,639,110 | 1.41% |
| | #blank# | #blank# | #blank# |
Together, these companies are responsible for nearly 65 percent of the 290 million policies in force today. If you're looking for life insurance coverage, any of them would be a good place to start.
What are some sample life insurance rates?
To give you an idea of how much life insurance coverage might cost you, here is a look at the sample premiums for a non-smoker from those top companies.
20-Year Term Life Insurance
Whole life insurance
Rates will vary from company to company based on the applicant's health history and each company's specific underwriting guidelines. However, these rates give you a general idea of the cost of both term and whole life insurance coverage.
Bottom Line on Life Insurance Underwriting Guidelines
As a business, a life insurance company's goal is to minimize risk and maximize profit. They do that by using a strict set of underwriting guidelines to both approve applications and set rates.
Knowing how those underwriting guidelines work can help you when filling out a life insurance application and better prepare you for the additional requirements that might come after. Understanding risk classes can also help you find the best price as you shop for coverage.
We wrote this guide to give you a complete overview of how term life insurance is priced and why. Did we answer all of your questions? If not, check out the many in-depth guides on this site for more information on every aspect of the life insurance process.
Now that you understand life insurance underwriting guidelines, use our free quote tool to get instant quotes from multiple insurers, and see how their prices compare for your specific risk factors.