Allstate Life Insurance Review
Allstate is a top-five insurance company for both home and auto. For nearly 100 years, Allstate has offered competitively priced universal, whole, and term life insurance policies. Start comparing Allstate life insurance quotes for free with our tool below.
UPDATED: Apr 20, 2022
Fact Checked
Ready to compare quick life insurance quotes?
Your life insurance quotes are always free.
Secured with SHA-256 Encryption
UPDATED: Apr 20, 2022
It's all about you. We want to help you make the right life insurance coverage choices.
Advertiser Disclosure: We strive to help you make confident life insurance decisions. Comparison shopping should be easy. We are not affiliated with any one life insurance company and cannot guarantee quotes from any single company.
Our life insurance industry partnerships don't influence our content. Our opinions are our own. To compare quotes from many different life insurance companies please enter your ZIP code above to use the free quote tool. The more quotes you compare, the more chances to save.
Editorial Guidelines: We are a free online resource for anyone interested in learning more about life insurance. Our goal is to be an objective, third-party resource for everything life insurance-related. We update our site regularly, and all content is reviewed by life insurance experts.
UPDATED: Apr 20, 2022
It's all about you. We want to help you make the right life insurance coverage choices.
Advertiser Disclosure: We strive to help you make confident life insurance decisions. Comparison shopping should be easy. We are not affiliated with any one life insurance company and cannot guarantee quotes from any single company.
Our life insurance industry partnerships don't influence our content. Our opinions are our own. To compare quotes from many different life insurance companies please enter your ZIP code above to use the free quote tool. The more quotes you compare, the more chances to save.
UPDATED: Apr 20, 2022
Fact Checked
Promising that "you're in good hands," Allstate has been one of the biggest insurance companies in the country for decades.
Allstate is a top-five company for both home and auto, making them a major player all around and providing confidence for our life insurance review.
You want to make sure you're buying the right policy from the right company and know that your legacy is secure. We know you have questions. How do I know if this is the right choice? Does Allstate provide life insurance, what riders does it offer?
In this life insurance review, we'll give you all the information you need to choose between term life insurance quotes, whole life insurance, and other life insurance options. You can decide if you're really in good hands.
Read on to learn all about what type of life insurance policies the company writes and what you can expect to pay for coverage. We'll look at their reputation and break down what they offer in terms of customer service. And if you're ready to start comparing life insurance rates right now, you can get started by entering your ZIP code in our easy-to-use and FREE quote box above.
How can I shop for Allstate life insurance?
Although the insurer works through insurance agents, you can do your life insurance shopping online. The website offers information on the policies, as well as the option to obtain term life quotes. There are several types of life insurance available, and choosing the right one can be difficult. There are tools to help you. We'll help too.
This section will take an in-depth look at policy options and rates. According to the 2018 Insurance Barometer Study by Life Happens and LIMRA, one in five people believe they need life insurance, and that same number of people that have life insurance already say they need more.
In other words, most people think they need either some coverage or more coverage.
That same study found that 28 percent of people said they would use the internet to research life insurance. That's a bigger number than in the past but still shows that the company's decision to stand by the insurance agent model is still a good one. Let's move into our look at shopping for life insurance.
Your life insurance quotes are always free.
Secured with SHA-256 Encryption
Are Allstate life insurance companies' ratings positive?
Several agencies provide ratings and customer satisfaction surveys for life insurance companies. These ratings can tell us about a company's financial situation as well as how well they're performing for their customers. Take a look at the ratings below.
Now, we'll delve into what they mean.
A.M. Best
This financial rating company is one of the most respected and has a special focus on insurance companies. They rate companies on a letter-graded scale based on an analysis of financial stability and creditworthiness.
The company currently has an A++ or Superior rating from A.M. Best which means the company is on solid footing financially, and you can count on it to be able to pay claims well into the future. Financial stability is particularly important for a life insurance policy. While many people hop between car and home insurance companies, a life policy is usually something bought for the duration. That means you want a company that's in it for the long haul.
Better Business Bureau (BBB)
The BBB gives Allstate an A+ rating based on its combination of 13 different factors, including complaint volume and government action. That's the best possible rating. There are 1,375 closed complaints about the insurer. While that seems like a big number, bear in mind that covers all their operations, not just life insurance.
For a huge group of companies such as Allstate, that's not a high complaint volume. The company insurance reviews come back as a major plus. For reference, they compare favorably to Geico insurance reviews per the BBB.
Moody's
Like A.M. Best, Moody's is a financial rating agency. Ratings indicate financial outlook and stability as well as the creditworthiness of the company. The insurer has a very solid Moody's rating of Aa3, which means it's in very good condition, financially speaking.
Standard & Poor's (S&P)
Standard & Poor's is another well-known financial rating agency. Again, S&P rates the insurance provider very highly. They have an A- rating, which agrees with the analysis of the other agencies. Allstate is just behind the Progressive insurance reviews according to S&P.
FitchRatings
This agency also has a focus on the insurance industry and provides financial stability ratings for companies. The insurer's good reputation continues with this rating, which is another A-.
NAIC Complaint Index
The National Association of Insurance Commissioners gathers data on complaints made against insurance companies. They are shown as an index compared to a baseline of 1.00. A number above this indicates a high number of complaints, and below means, the company has fewer complaints than average.
With a complaint index of 0.77, Allstate falls below average for complaints on the index. If you're looking into home insurance reviews, the NAIC Complaint Index would be an ideal place to start.
What is Allstate life insurance company's market share?
While the company ranks among the biggest home and auto insurance companies in the nation, they don't have quite as large a chunk of the life market. As you can see from the numbers below, however, they're gaining ground each year.
Allstate has a long way to go to reach the top ranks of the market, but they've increased both their premiums were written and their market share over the past three years. The company operates in all 50 states and the District of Columbia, as well as internationally. Allstate Life Insurance Company is a subsidiary of Allstate Insurance, which includes a large number of other subsidiaries.
In New York, policies are sold by Allstate Life Insurance Company of New York. We've already noted that it isn't a top 10 insurance company, but now we'll take a look at how they stack up to the top 10.
Allstate has a little more than a full percentage point of growth to catch up to the No. 10 spot.
At their current rate of growth, that could take several decades, but downward shifts in the market share of a company higher up could speed that process. Next, let's take a look at how Allstate insurance company is doing in terms of net income each year. These numbers represent the amount of money the company earned after all the costs of doing business. Note that these numbers are for Allstate insurance company as a whole, not just life insurance.
As you can see, Allstate has had its ups and downs. The large increase in net income for 2017 from 2016 was followed by a decrease but still left the net income higher in 2018 than in 2016. That's an overall gain over three years.
The numbers above show that the Allstate insurance company has performed above the industry average for the past two years.
What is the position for the future?
Allstate is one of the biggest insurance companies in the nation, and it's unlikely that the company is going anywhere in the near or distant future. While they have lost some ground in terms of market share in the home and auto segment, they have continued to grow in the life insurance market.
The business had a difficult year in 2018, as did many insurance companies, due to wildfires and hurricanes. That resulted in a decrease in profits for the company, but there's no sign it will hurt them in the long run.
Overall, the company is very stable and likely to stay strong in the future. In particular, Allstate Life Insurance Company has seen steady growth and isn't affected by the losses on the home and auto insurance side of the business.
Your life insurance quotes are always free.
Secured with SHA-256 Encryption
How strong is Allstate's online presence?
In spite of being one of a handful of companies that uses a captive agent system, Allstate has a very solid online presence. Online quoting options for a variety of different products are front and center on the website, indicating a dedication to meeting the expectations of today's insurance customers. Of course, independent agents are still a big part of the insurance company picture.
The main page of the site features an automatically-generated list of agents near the site visitor, with an advanced search option available, as well.
Are Allstate's commercials entertaining?
The company advertises heavily on television, and its approach has ranged from serious, comforting commercials to funnier choices. The Mayhem commercials are the most recent humorous approach from the company. Actor Dean Winters plays the Mayhem role, personifying risks that can lead to claims.
The Mayhem commercials tend to focus on home and auto insurance claims. That's not surprising since humor doesn't lend itself well to the topic of life insurance claims. On the life insurance side, it focuses more on customer testimonials and takes a more serious approach.
Allstate spends a good chunk of money on its advertising and regularly produces Super Bowl ads. The average cost of a spot during Super Bowl 2019 was $5.25 million, which means Allstate spends big money on those commercials.
Does the company do community work?
The Allstate Foundation is a charitable organization that works in a variety of community initiatives. They have four main areas of focus:
The Good Starts Young® program, which assists youth with academic achievement
The Nonprofit Leadership Center, which helps to educate the leaders of nonprofit organizations
Purple Purse®, an anti-domestic violence program designed to help victims achieve financial independence
Allstate Helping Hands®, a more locally-focused part of the foundation through which Allstate employees work to improve their communities
Allstate also sponsors college football, professional and community soccer, and endurance racing. The company funds several charitable initiatives through these sponsorships, such as the Field Goal Net Program. Allstate places logo field goal nets in stadiums across the country and makes a donation to scholarship funds for every field goal kicked into those nets.
Your life insurance quotes are always free.
Secured with SHA-256 Encryption
Are Allstate life insurance's employees happy?
A company with happy employees tends to be a company with happy customers. What about the employee reviews? Let's take a look at who works there, for how long, and how happy they are with their jobs. Allstate has a 3.4 out of five rating on Glassdoor, where more than 5,000 people reviewed their work experience.
Of those, 56 percent said they would recommend Allstate to a friend. Payscale has a similar rating, with another 3.4 out of five. Respondents rated their overall job satisfaction at three out of five. Employees list the pros of working there as a good work/life balance, good benefits, and a friendly culture.
Cons include a lack of pay raises over time and a lack of promotions and room to progress. Allstate has made several lists in recognition of its workplace culture and won several awards. These include:
World's Most Admired Companies, 2019 – Fortune
World's Most Ethical Companies® 2015-2019 – Ethisphere Institute
Military Friendly Employer Gold Award 2020, 4-time award winner – The Military Friendly Company
Human Rights Campaign Corporate Equality Index (100 – perfect score) 2009–2019
Top Corporation for Women Business Enterprises (Silver Level) 2019 – Women Business Enterprise National Council
Top Companies for Women Technologists Leadership Index, 2019 – Anita Borg Institute
Top Companies for Executive Women, 2016-2019 – National Association for Female Executives (NAFE)
Top 50 Companies for Diversity (2019, 16-time award winner) – DiversityInc
How much does the average male vs. female Allstate life insurance cost?
As a general rule, women pay less for life insurance than men. The reasoning behind that is life expectancy. Women live longer than men on average. Rates for men and women fall in line with that expectation. Why is Allstate so bad for the fellas? Don't worry, men tend to have higher rates for the majority of life insurance companies.
While the difference isn't enormous, it's noticeably bigger with longer-term policies. The longer a company has agreed to cover you, the more life expectancy comes into play.
What are Allstate term life insurance and permanent insurance policies?
There is a wide range of different types of life insurance policies, but all of them fall into one of two categories. These are term and permanent life. Term life provides coverage for a specific period of time, after which it can usually be renewed or converted to permanent life.
This type of coverage is the most affordable, especially if a large amount of coverage is required. This is usually the type of policy that's best for people with a short-term need for a lot of coverage. It's a good choice, for example, for someone with young children who wants to make sure there is money to provide for those kids should tragedy strike.
The need for that large amount of coverage only lasts until the kids are grown, making term life insurance a great choice. permanent life insurance is intended to last a lifetime and has an end date that's an age few people attain, often more than 100 years old. It's more costly because it lasts a lot longer, and as long as premiums are paid, the benefit will be paid at some point (unless you happen to live a very long time).
Whole and universal are the two most common types of permanent life insurance. They are similar, but universal life is more flexible than whole life. Either can be a good choice for someone that needs a lifelong death benefit but doesn't require a large amount of coverage.
Your life insurance quotes are always free.
Secured with SHA-256 Encryption
What are the types of Allstate life insurance?
Allstate writes all the main types of life insurance, including term, whole, and universal. This is a key component of our review.
Term life insurance with Allstate
Allstate offers term life insurance with online quoting and the option to purchase online, as well. The Allstate True Fit® policy is a flexible term product that allows the insured to select the exact long-term life insurance policy that would be best for them. Most companies offer term policies in set lengths, such as 10, 20, and 30-year terms.
The company deviates by allowing the policy term to be set to any length between 10 and 30 years. Like all term policies, the coverage is renewable, so don't forget to check out the life insurance renewal process. Regardless of the term length you select, you can renew the policy up to age 95. Renewals after the original policy term are subject to rate increases based on the policyholder's age at the time of renewal. The policy can also be converted to whole life at the end of the term.
Whole life insurance
Whole Life Advantage® is Allstate's whole life policy, which offers level rates along with a guaranteed death benefit. Like all whole life policies, it also includes a cash savings account. The policy also offers the opportunity to earn extra credits, which are accumulated as cash and earn interest. These credits can be used to buy more coverage, pay premiums, or pay back policy loans.
Your life insurance quotes are always free.
Secured with SHA-256 Encryption
Universal life insurance
A little more complex and a little more flexible than whole life, universal life is another form of permanent coverage. Allstate Lifetime UL® includes death benefit protection that ensures the benefit as long as premiums are paid. Both the premium amount and death benefit are flexible.
They can be changed over time as your needs change. The policy also includes a cash value account that can be either linked to an index or provide a guaranteed annual return.
Variable Universal Life Insurance
Similar to the basic universal policy, variable universal life offers a wide variety of investment options for the cash value account. This approach has more market volatility and more risk.
What tools does Allstate life insurance offer?
Allstate offers a lot of assistance with the process of shopping for life insurance. This includes a wealth of articles on their website covering various aspects of life insurance and several videos, as well. The site also includes a life insurance needs calculator. This can be used to determine how much coverage an individual needs.
They also offer the LifeTrek tool, which is designed to help you choose the right type of life insurance. Answer the questions and the tool will guide you to the right policy for your needs. Of course, agents are also available to help with any questions about life insurance.
How do I cancel my Allstate life insurance policy?
We weren't able to find any specific information about how to cancel a life insurance policy. As with most things concerning products, you can contact your agent to cancel or for any other changes.
Your life insurance quotes are always free.
Secured with SHA-256 Encryption
How to Cancel
Canceling a life insurance policy generally follows a few common steps and can only be done by the policyholder. You'll likely have to submit the request in writing. In most cases, there is no refund on a life insurance policy when you cancel.
If you have a whole or universal policy, you'll likely receive a payment for the amount that's in the cash value account at the time of cancellation. Cancellation will usually go into effect on the date requested but may take some time to process. If you send in your request by mail it will likely take a little longer.
Bear in mind that if you have auto, homeowners insurance, or both with Allstate and are receiving a bundling discount on those policies, canceling your life policy will cause those premiums to go up when the discount is removed.
How do I make a claim on my Allstate life insurance policy?
Allstate offers a step-by-step guide to filing a life insurance claim. There are several ways to get your claim started:
By phone at 1-800-366-3495
By contacting your Allstate agent directly
By downloading the claim form and faxing it to 1-877-499-6428
To file a claim, you'll need to have the following information:
Name of insured
Policy number
Social Security number
Date of birth
Date of death
Place of death
Once you have started the claims process, Allstate will request that you submit certain documentation. Bear in mind that only the beneficiaries of the policy can file a claim. Allstate will provide you with the claim form that all beneficiaries must sign. Send it back along with a certified copy of the death certificate and any other documents the company requests specifically.
All documents must be sent by mail. They can't be emailed or faxed because they require original documents. Claims can be paid in a variety of ways. You can select any of the following:
A single check
An Allstate Advantage Account, which includes a Visa card and checks
A direct deposit into your bank account
A monthly payment
Allstate says that they process most claims within seven to ten business days of receiving all the documents.
How do I get an Allstate life insurance quote online?
The company offers online quotes for its term life policies. Any other policy will require contact with an agent. The quote system is easily accessible from the website.
Enter Your ZIP Code
When you enter your ZIP code, Allstate will also ask you if you'd like to bundle any other policies. If not, leave it as term life only.
It's as simple as entering your ZIP Code and clicking "Get Started".
Enter Basic Personal Information
On the next page, you'll enter your name, date of birth, and gender. Allstate will need most of your basic personal information to proceed with a quote.
Enter Your Home Address and Email Address
In the next step, Allstate will request your full home address. It should be noted that at this point entering contact information may result in the solicitation (trying to sell you a policy). It may mail you life insurance information at the address you enter.
You'll then will be asked for an email address. This email address will be used to send you a quote and likely further attempts to sell you life insurance. Insurance rates may vary from place to place, so be sure to provide accurate information during this process.
Enter Basic Information About Yourself
In this step, Allstate will ask for your height, weight, and gender.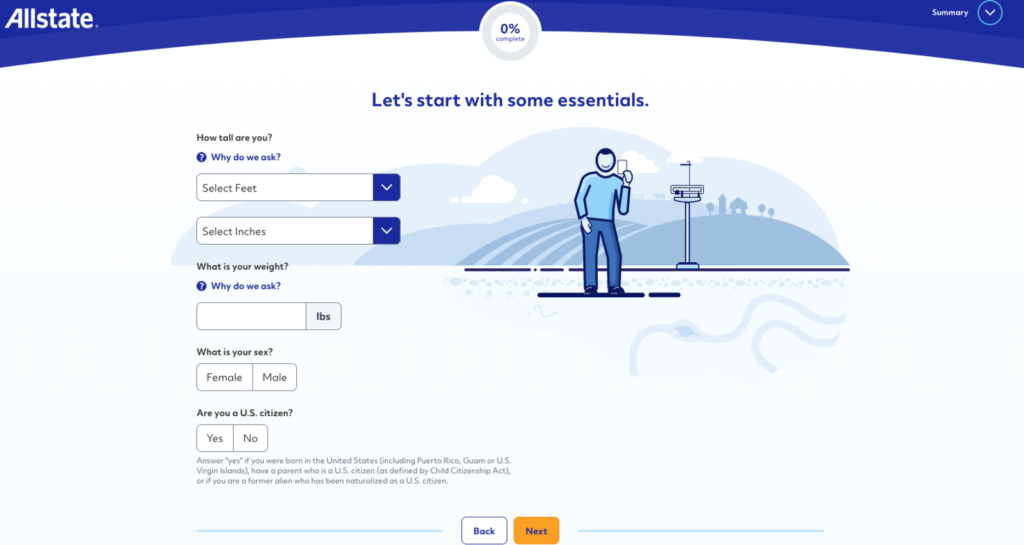 Don't forget that your weight and height may play a factor in your insurance quote since it can be correlated with overall health.
Answer Medical Questions
In this step, you'll be asked a few basic medical questions. At this point, the quoting system returned an error and we were unable to obtain further screenshots, nor could we complete the quoting process. It's safe to guess that the next steps will involve selecting your coverage amount and term length before returning a quote.
Your life insurance quotes are always free.
Secured with SHA-256 Encryption
Are the designs of Allstate's website and app appealing?
Allstate has a clean and professional website that's easy to navigate. The main categories at the top include all the things customers will be looking for when visiting, and it takes only a few clicks to find what you're seeking. We did run into a problem with the quoting system, but it's not clear whether it was a system issue or related to the sample information we entered.
Allstate also has a mobile app that can be downloaded for Android or iPhone. The app is mainly aimed at auto insurance, and we didn't find any indication that it includes life policies, although it's possible.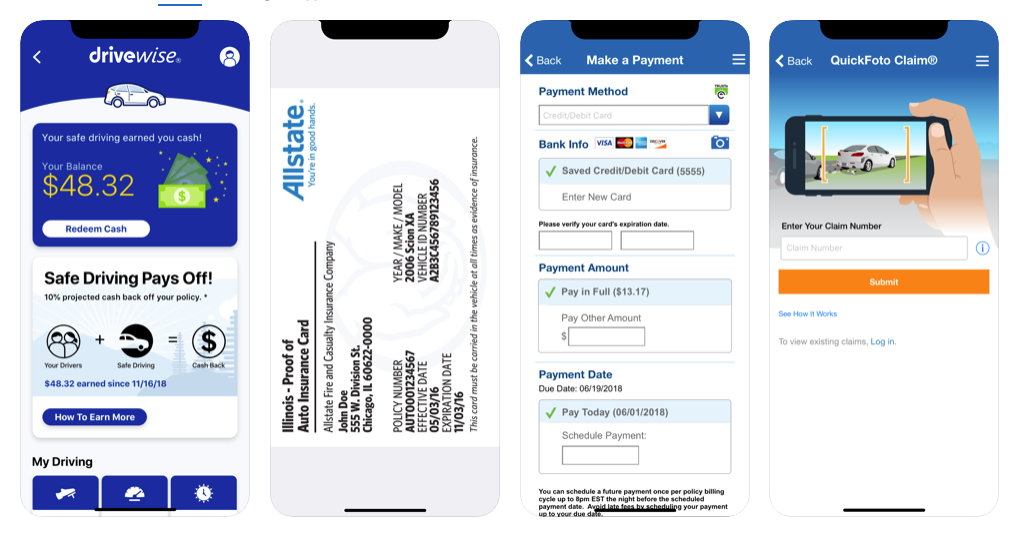 The app offers access to policy documents and billing, but as we have already said, it doesn't appear to include life policies. It is highly rated, with a four-star rating on Google Play and a 4.8-star rating on the Apple App Store.
What are the pros & cons of Allstate life insurance companies?
Every insurance company has its good and not-so-good points that need to be weighed to decide if the company is right for you. Let's break down the pros and cons of choosing Allstate to summarize our life insurance review.
What is the history of Allstate Life Insurance?
The company was founded by another famous company in 1931. General Robert E. Wood, Chairman of Sears, Roebuck and Co., founded Allstate with board approval. The goal was to create an auto insurance company offering value and excellent service. In 1950 the company introduced the "You're In Good Hands" slogan, which is still in use today.
Seven years later, in 1957, Allstate began offering life insurance products. Separation from Sears started in 1985, as agents began moving into neighborhood offices. In 1993, Sears sold off 19.8 percent of the company in the biggest IPO up until that time. By 1995, Sears was no longer the parent company. They've been on the Fortune 500 list ever since, ranking at number 82 in 2019.
Your life insurance quotes are always free.
Secured with SHA-256 Encryption
What's the bottom line?
Allstate has been around for a long time and is one of the largest insurance companies in the country. They are solid and unlikely to have financial troubles in the future. You can count on them to be around if and when your claim needs to be paid. They offer all the main types of policy and have a lot of extra perks and flexible policy options. They're a good choice if you want term life for a very specific period of time. To get your best rates, take advantage of our FREE quote tool below.
Frequently Asked Questions: Allstate Life Insurance
If you still have some questions, here are a few more answers.
#1 – Does Allstate have no-medical-exam life insurance?
The website states that a medical exam may be required depending on age and the answers to your application questions. This means that not all policies will require an exam, but all will require some health questions and they might request an exam in some cases. None of their policies is specifically marketed as no-exam coverage.
Your life insurance quotes are always free.
Secured with SHA-256 Encryption
#2 – Does Allstate term life insurance cover smokers?
The company will write life insurance for smokers, but they will receive smoker rates. These rates are automatically more expensive than non-smoker rates.
#3 – Can I get a discount on life insurance if I have other Allstate policies?
The insurer offers a bundling discount, but it doesn't affect the life insurance rate. You can get a discount on your auto and your home insurance, however, when you buy a life insurance policy. That will reduce your overall insurance bill. Get started comparing life insurance quotes right now by entering your ZIP code in our quote box below.
References:
Your life insurance quotes are always free.
Secured with SHA-256 Encryption