Is Group Life Insurance Through Your Employer Enough? A Guide to Choosing Employee Benefits
An employment life insurance plan is a group life insurance policy that is offered as a benefit through your employer. Perks of buying life insurance at work include easy access to coverage and low rates, but you might not be able to take it with you if you change jobs. Review your employer-sponsored life insurance options carefully before you sign up.
Ready to compare quick life insurance quotes?
Your life insurance quotes are always free.
Secured with SHA-256 Encryption
UPDATED: Jul 19, 2021
It's all about you. We want to help you make the right life insurance coverage choices.
Advertiser Disclosure: We strive to help you make confident life insurance decisions. Comparison shopping should be easy. We are not affiliated with any one life insurance company and cannot guarantee quotes from any single company.
Our life insurance industry partnerships don't influence our content. Our opinions are our own. To compare quotes from many different life insurance companies please enter your ZIP code above to use the free quote tool. The more quotes you compare, the more chances to save.
Editorial Guidelines: We are a free online resource for anyone interested in learning more about life insurance. Our goal is to be an objective, third-party resource for everything life insurance-related. We update our site regularly, and all content is reviewed by life insurance experts.
Quick Facts
Group life insurance is a quick, easy way to get coverage
Employers offer group life insurance as a workplace benefit
Your life insurance at work may not be enough, and you may not be able to take it with you if you leave your job
You've just started a new full-time job. In addition to picking out new office decor and treating yourself to new work clothes, you'll need to fill out a sizable stack of paperwork from human resources before starting. From tax forms to benefits information, these forms can quickly get overwhelming, especially when it comes to picking out employment health and life insurance.
Benefits like employment life insurance can be daunting when figuring out if the offered coverage is what's best for you and your family, or if you should invest in an alternative plan like term life insurance through a private insurance provider. Below, we've outlined tips on making the best decisions for you and your family with offered benefits. Read on for our advice, or skip to the infographic for the information at a glance.
Ready to compare other life insurance options to the coverage you have at work? Enter your ZIP code right now for fast, free quotes.
What Is Employment Life Insurance?
Much like it sounds, employment life insurance (also called group life insurance) is a benefit offered through your employer that pays out a certain amount to a named beneficiary if you are to pass away while employed at the company. The exact amount paid out differs from employer to employer, but it is usually around or above $10,000.
This coverage is usually offered at a reasonable rate and provides many people with life insurance coverage that they may not have ordinarily. Like other benefits offered through employers, group life insurance comes with its fair share of perks and drawbacks that will help you decide on whether or not to sign up for life insurance through your employer.
Your life insurance quotes are always free.
Secured with SHA-256 Encryption
Benefits of Group Life Insurance Through Your Employer
There are many reasons to sign up for a group life insurance offered through your employer, including its ease, affordability, and coverage options for those that may not usually have life insurance.
Policy is Affordable
One reason group life insurance is a good option for some is that it is an affordable way to ensure coverage for your loved ones. Though life insurance is something that everyone should invest in, some never get a chance to because the out-of-pocket deductible or copay costs are simply not affordable.
Group life insurance is often paid at least partially by your employer, which helps to offset the costs paid by you. You can also choose to have your payments for life insurance automatically drafted from your paycheck each pay period, meaning you won't be making physical payments or see the money go out of your account.
Easy for Employees Without Dependents
Though another life insurance policy is likely best if you have a large family or other needs, a group life insurance policy may be ideal for a single employee with no dependents. In this instance, the employee will name one beneficiary for their payment in case something happens to them; like a parent, sibling, significant other, or another relative.
This makes choosing a life insurance policy easy for employees who don't need to worry about providing for a family. Choosing life insurance coverage can be overwhelming, so having it picked out for you is ideal for some.
Provides Coverage to Anyone
Another big perk of group life insurance is that it provides coverage to employees who, otherwise, may not have access to life insurance. Though the coverage and policies aren't always ideal (but more on that later), it still provides protection to your family in case of an emergency—and sometimes, that's all you can ask for out of a life insurance policy.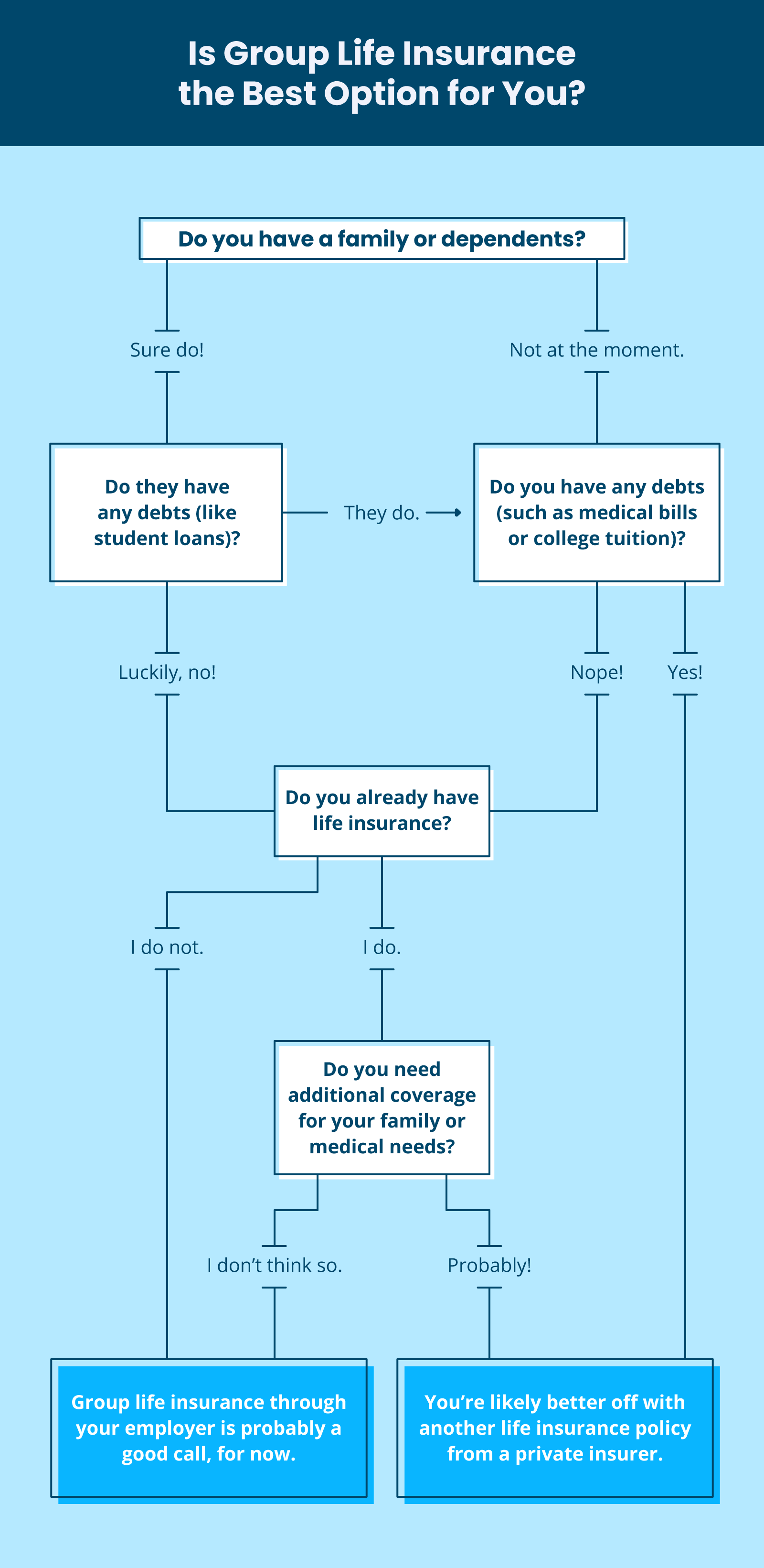 Group Life Insurance Drawbacks to Consider
Though there are several perks that come with group life insurance, there are still some drawbacks that should be evaluated when deciding whether or not to go with your employer-provided life insurance.
Policy Can Disappear
The biggest issue with a group life insurance policy provided through your employer is that it can disappear. Whether you're fired, laid off, quit, or furloughed in some cases, your employer can remove you from the policy; leaving you (and your family) without the protection that life insurance offers.
Though some group policies are portable, meaning they go with you if you leave the company for any reason, most policies will not leave with you. Signing up for a group policy provides great coverage if you're sure you will stay with the company for a long time, but that is not the case for many American workers.
According to the Bureau of Labor Statistics, in 2019 36 percent of American workers aged 35 to 44 left full-time jobs for a new one after less than a year, and 75 percent left after five years or less. Group life insurance is better than no life insurance at all, but it may be worth getting life insurance through another provider if you plan on switching jobs frequently.
Lack of Control
Another potential problem with group life insurance is that it does not offer you, as the employee, control over your policy. Many employers will offer the same base policy to every employee, and they have complete control over the terms and coverage the policy offers.
While this may be a welcome change of pace to anyone tired of sifting through different coverage options and private insurers, it also means that you are sacrificing all autonomy over your policy. This means that if your employer changes the policy; or worse, decides to opt out of a life insurance policy altogether, you and your family may be left without any coverage.
Limits and Less Flexibility
Similar to the lack of control you may have over your life insurance policy, another drawback to group insurance is the limits and lack of flexibility many plans have. Though some employers have more flexible plans that allow employees to sign up for additional coverage and riders, many employers will just offer a base policy to everyone with little-to-no room for customization.
This means that if you need a child term benefit rider, a disability rider, an accelerated death rider, or any other sort of add-on to your base plan, you may not have that option. A base policy may work great if you're single with no dependents or need for additional coverage; but this is not the best option for parents, spouses, those with disabilities, or anyone else who needs more than just base coverage.
How to Sign Up Through Your Employer
If you've decided to take your employer up on the group life insurance policy they offer, then signing up is simple. If you're a new employee, then you'll elect to receive coverage in your benefits paperwork. If you're unsure how much of a payout your beneficiary will need, go with the minimum amount offered until you have a better idea.
However, if you want to sign up for group life insurance after starting, you'll need to contact your human resources representative. You'll have a chance to enroll in your company's group life insurance policy during the open enrollment period each spring or during another qualifying life event (such as marriage, divorce, or the birth of a child).
Your life insurance quotes are always free.
Secured with SHA-256 Encryption
Additional Employee Benefits to Consider
Life insurance is often not the only employee benefit you'll be offered when starting at a new company. The standard benefits package will usually include health insurance, paid vacation time, and health savings or family savings account for you to use at your discretion.
Many modern companies have also begun to offer additional benefits to ensure employee happiness and satisfaction, such as career development budgets, unlimited paid time off, and technology stipends. Though each employee benefits plan will differ across companies and industries, here are some additional benefits to use if they're offered.
Group Health Insurance: If your employer offers group health insurance, you should consider the same benefits and drawbacks as a group life insurance policy. However, any health insurance is better than no coverage at all, so if you're between policies or don't have coverage, it's a good idea to sign up for health insurance through your employer, so you have it when you need it.
Dental and Vision Insurance: Coverage for dental and vision is often not included in health insurance plans; and as anyone who's been to the dentist or optometrist can tell you, these appointments can be costly. If your employer offers paid dental and vision plans, elect into that coverage option—even if you only go to the dentist once a year and don't wear glasses, you'll be happy to have this coverage when you need it.
Family Leave: Family leave is offered to new parents when they have a baby or adopt a child. Though the exact time off you get will depend on your company, according to the Family and Medical Leave Act, parents can use up to 12 weeks of protected time off to care for a newborn or themselves pre- or post-birth. If you need it, make sure you use as much family leave as you're offered, and remember you're entitled to at least 12 weeks off.
FSA/HSA Accounts: A Health Savings or Family Savings Account are flex spending accounts that employees can use to pay for (or offset the costs of) any medical or family needs that arise. This includes medication, eyewear, feminine products, formula, and anything else you may end up needing to pay for. When in doubt, check online or on the packaging if something is classified as "FSA/HSA eligible".
How to Make Healthy Choices With Your Employee Benefits
With all the benefits you're offered through your employer, it can be overwhelming when the time comes to opt into (or out of) benefits. Below are some tips to help you make informed, healthy decisions with your employee benefits so that when the time comes, you know what benefit options are best for you and your family's needs.
1. Consider What's Best for Your Family
No benefits will work the same for two employees. When signing up or opting into benefits, you should consider what the best option is for you and your family, if applicable.
For example, your single coworker with no kids who plans on being at the company for years may be ideal for the group life insurance policy, but a married coworker with two kids who is also supporting their elderly parents and views this job as temporary may want to look into a private insurer.
At the end of the day, you'll want to choose the benefits package that works best for your needs, whether those needs are better health insurance for your kids, more family leave, or 401(k) matching so you can retire with peace of mind.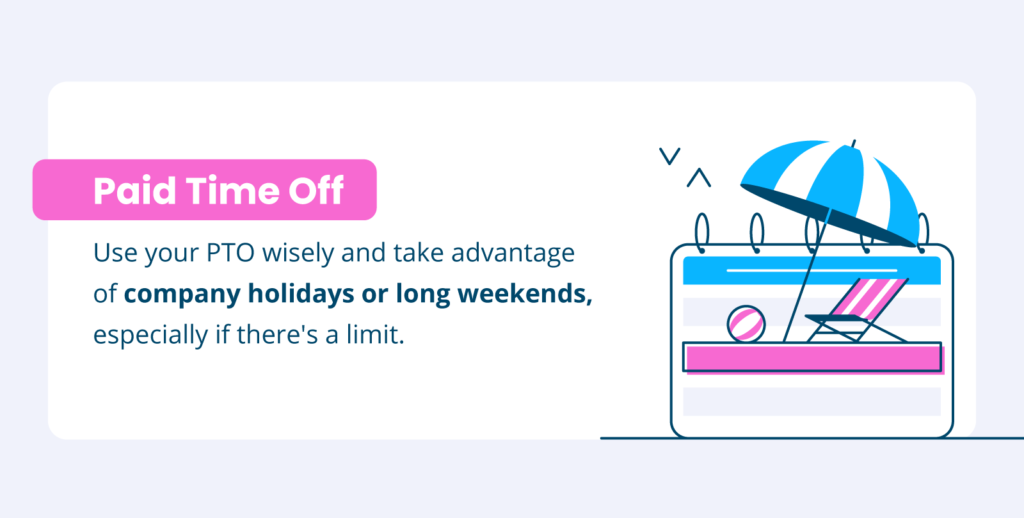 2. Do Your Research
If you're offered two jobs with different benefits packages, or you're able to customize your benefits at a new position, you'll want to do some research on what these benefits are, how they work, and if there's any fine print you should know about. For instance, if your employer retains the right to cancel your life insurance without any notice, you'll want to know that before signing up for your group plan.
3. Opt Into Offered Benefits
Some benefits are no-brainers, like paid time off and sick days, and there are other benefit options that you may not understand thoroughly or are unsure about opting into.
Of course, with benefits like insurance, it's best to do some research before signing up. With offered benefits like 401(k) matching and HSA/FSA, it's advised to opt in if you can. Not opting into benefits like these often means you're leaving money on the table, which isn't something anyone wants to do.
Group life insurance may be the best bet for you if you don't have any dependents, or if you just need coverage for a short period of time. However, if you have a family to provide coverage for, you'll likely want to shop around for a variety of life insurance quotes before deciding on the ideal insurance provider for your circumstances.
No matter what type of life insurance you opt for or benefits you're offered, be sure you're making healthy choices, such as ensuring you have a reasonable work-life balance, electing for health insurance where possible, and taking your company up on any benefits they offer at little or no cost to you.
See how your group life insurance plan at work stacks up on rates and coverage. Enter your ZIP code now to compare your options.