How to Get Term Life Insurance for Alcoholics [Quotes]
If you're wondering whether it's possible to get term life insurance after alcohol addiction and treatment, it definitely is. Find affordable term life insurance with alcohol addiction for as low as $18.49/month. How to get term life insurance for alcoholics starts by comparison shopping online. Scroll down to find coverage and compare quotes with our free tool.
Ready to compare quick life insurance quotes?
Your life insurance quotes are always free.
Secured with SHA-256 Encryption
UPDATED: Jul 19, 2021
It's all about you. We want to help you make the right life insurance coverage choices.
Advertiser Disclosure: We strive to help you make confident life insurance decisions. Comparison shopping should be easy. We are not affiliated with any one life insurance company and cannot guarantee quotes from any single company.
Our life insurance industry partnerships don't influence our content. Our opinions are our own. To compare quotes from many different life insurance companies please enter your ZIP code above to use the free quote tool. The more quotes you compare, the more chances to save.
Editorial Guidelines: We are a free online resource for anyone interested in learning more about life insurance. Our goal is to be an objective, third-party resource for everything life insurance-related. We update our site regularly, and all content is reviewed by life insurance experts.
Abusing alcohol will cost you when it comes to life insurance. But you may not realize how even an occasional drink could influence your life insurance premium. So how do you get term life insurance for alcoholics? Are there specific questions on a life insurance questionnaire related to alcohol?
Read on to learn how even a few drinks per week could be adding up to a significant sum in life insurance premiums.
And, if you've had issues with alcohol, let us guide you to ways you can clean up your medical history or driving record and lower your life insurance rates.
Where should your rates be? Enter your ZIP code above for a FREE instant life insurance quote with alcohol addiction and compare against what you're paying today. Then read on to see how you can be on the path to reduced rates.
Best Life Insurance Companies for Recovered Alcoholics
So if you're shopping for insurance, which insurance providers should you start with, and why?
First, you want to look at which insurers offer, say, term life insurance with alcohol addiction. Reddit searches won't do here. But we can help. We'll tell you the whole truth like although each insurance provider will have different minimum criteria to match, if you've been incident-free for more than two years, you can start with the following providers.
Top Life Insurance Companies for Recovering Alcoholics
| Companies | Minimum Years Sober |
| --- | --- |
| Banner Life | 2 |
| Lincoln Financial | 2 |
| AIG | 5 |
| Prudential | 5 |
| Protective | 5 |
| | #blank# |
Of course, your particular situation will ultimately determine your rate and your ability to find insurance.
Sample Life Insurance Rates for Recovered Alcoholics
So what do real rates look like? The table below will give you a reference for average quoted rates from the top 10 leading insurers for term insurance. These are the lowest potential rates available from the preferred rate pool.
Average Monthly Life Insurance Rates by Age
| Age | Average Monthly Rates for a Male, $100,000 Policy | Average Monthly Rates for a Female, $100,000 Policy | Average Monthly Rates for a Male, $250,000 Policy | Average Monthly Rates for a Female, $250,000 Policy | Average Monthly Rates for a Male, $500,000 Policy | Average Monthly Rates for a Female, $500,000 Policy |
| --- | --- | --- | --- | --- | --- | --- |
| 25 | $11.03 | $10.02 | $22.10 | $12.91 | $23.19 | $19.04 |
| 30 | $11.12 | $10.07 | $15.31 | $13.02 | $23.85 | $19.26 |
| 35 | $11.12 | $10.07 | $15.42 | $13.02 | $24.07 | $19.26 |
| 40 | $12.65 | $11.12 | $17.94 | $15.21 | $29.10 | $23.63 |
| 45 | $14.57 | $13.31 | $21.55 | $19.69 | $36.32 | $32.60 |
| 50 | $18.60 | $17.20 | $30.19 | $27.02 | $53.60 | $47.26 |
| 55 | $24.51 | $20.61 | $42.88 | $34.35 | $78.98 | $61.91 |
| 60 | $35.88 | $27.48 | $71.10 | $50.86 | $78.98 | $94.94 |
| 65 | $51.06 | $37.76 | $109.82 | $75.14 | $212.85 | $143.51 |
| | #blank# | #blank# | #blank# | #blank# | #blank# | #blank# |
However, if you're looking for term life insurance with an alcohol abuse history, check out the scenarios below and compare the monthly premiums against the preferred average rates from the table to get a better idea of what you'll likely pay.
Good Outcome
Samuel applied for life insurance when he was 52 years old.
Diagnosed at age 39
His medical records clearly document his successful treatment.
No longer consumes alcohol.
Non-smoker
Outcome – Approved at a Standard Plus rating class
Premium – $18.49 per month
Not so Good Outcome
Danielle applied for term life insurance when she was 42 years old.
Diagnosed at age 39
Follow-up visits have been favorable
Non-smoker
Outcome – Approved for a Substandard Table 2 Rating
Premium – $28.66 per month
Poor Outcome
Don applied for term life insurance when he was 59 years old.
Not diagnosed
Did not believe he had a drinking problem
Paramedical exam results: elevated liver enzyme count
This applicant has not seen a doctor in four years
Outcome – Declined
You can see that Samuel had the best outcome because it has been over 10 years since he was treated. Receiving regular follow-up appointments with his doctor also helped.
For Danielle, only two years have passed since she was diagnosed and treated, and although she had no other medical conditions and good follow-up results, this gave her a slightly worse outcome.
Don had the poorest outcome. He had an elevated liver enzyme count and was not working toward changing it. This along with his lack of doctor visits resulted in the decline of his application.
What is term life insurance?
Term life insurance policies are usually 10, 20, or 30 years in length. During the length of the policy, if the policyholder were to die, a death benefit would be paid to the beneficiary. A death benefit for a term life policy is equivalent to the face value of the policy. Typically, term life policies have $100,000, $250,000, or $500,000 worth of coverage.
You may be wondering, is term life the only policy I can get as an alcoholic? As an alcoholic, you may be eligible for permanent life insurance policies, but they will cost you an enormous amount of money each month.
Your life insurance quotes are always free.
Secured with SHA-256 Encryption
Does alcoholism void life insurance?
Most people probably wouldn't admit to having more than the recommended amount of alcohol per week, but in a recent study from the CDC of more than 34,000 Americans, researchers found that nearly 40 percent of studied candidates consumed excessive amounts of alcohol.
The study classified problematic or excessive drinking as more than 14 drinks per week for men and seven drinks per week for women.
Even if your own drinking falls below the limits today, your age and gender could be a predictor for whether you might have problems later in life if you continue to drink. The list below highlights several alarming risk factors for alcohol use in America.
Nearly 70 percent of Americans above the age of 15 have drunk some form of alcohol in the past year.
Alcohol is responsible for nearly 2.8 million premature deaths per year.
Drinking more than 2 drinks per day can have a long-term effect on your health.
The most likely predictor of excessive alcohol use is youth. People who start drinking earlier are more likely to drink excessively.
The International Agency for Research on Cancer declared ethanol to be carcinogenic in 2008.
How does life insurance define alcoholism? Alcoholism is just an aggressive state of alcohol use disorder. It doesn't take a diagnosis of alcoholism to indicate an issue with drinking.
Alcohol use disorder is evidenced by any number of symptoms ranging from behavioral characteristics such as drinking alone or driving while intoxicated to physiological issues such as nausea.
Additional symptoms — shaking from withdrawal and discoloration or redness of the face and palms — can indicate that alcohol use is a problem.
According to the AMA, addiction to alcohol or drugs a disease based on these criteria:
The illness exists in and of itself.
The user is unable to heal itself or cure symptoms without external help.
Symptoms become worse over time.
The illness can be diagnosed by the way it manifests in a person's lifestyle.
If left untreated, alcohol addiction will result in death.
Alcohol addiction is a global epidemic. The image below, taken from the University of Oxford's "Our World in Data" site, details the prominence of alcohol in the Northern Hemisphere, Australia, and throughout Europe and Russia.
Part of the problem with understanding alcohol and its dangers is that there is no medical test to determine and diagnose alcohol use disorder. Additionally, most people who could be considered heavy drinkers aren't willing or have a hard time making a connection between alcohol and the health and lifestyle problems in their lives.
For example, someone who drinks may be very functional and able to successfully manage a workday after a long night of drinking. However, productivity in the workplace could be lowered because of a lack of focus.
This is why alcohol use is such a problem for life insurance companies. Although alcohol use doesn't void life insurance, long-term health and safety issues that are a result of heavy alcohol use will trigger red flags for insurance companies.
What if I only drink casually, will that affect my rates? Possibly, since there is no clear test on what is a problematic drinker versus a casual drinker, insurance companies will error on the side of caution when it comes to qualifying addicts for life insurance.
So, what are the different types of problematic drinking?
There are three categories of problematic drinking:
Binge drinking – Having enough to bring your blood alcohol content up to the legal limit for driving. That works out to about five drinks for men or four drinks for women in less than two hours.
Risky drinking – For men, this means occasionally having more than four drinks on any given day. For women, it means occasionally having three drinks within that same time frame.
Chronic heavy drinking – This means regularly having more than four drinks in a day for men and or three drinks in a day for women.
Although chronic heavy drinking is the most severe type of high-risk drinking, any of the three categories can lead to long-term health consequences such as liver damage, heart disease, and cancer.
Alcohol Statistics
Alcohol is the third-leading cause of death in the United States. Over 88,000 alcohol-related deaths occur in the United States each year, affecting 62,000 men and 26,000 women.
Seventy-six percent of alcohol poisoning or overdose deaths are amongst working-age people between 35 and 64 years.
In 2014, 31% of all driving-related fatalities were caused by people who were driving under the influence of alcohol. Alcohol-related death caused by drunk driving will cause most life insurance companies to void the policy.
Alcohol-impaired driving fatalities accounted for 29% of the total vehicle traffic fatalities in 2018.
The prominence of alcohol misuse can often be overshadowed by other drug epidemics. However, alcohol abuse is widespread. In fact, an estimated 6.2 percent of adults over the age of 18 (over 15 million) and 2.5 percent of 12 to 17-year-olds (over 600,000) have an alcohol use disorder.
To contrast that, opioid deaths, which have received much-deserved attention, were responsible for about half as many deaths as alcohol-related deaths.
Americans spent over $253.8 billion on alcohol products in 2018. If you think that $253.8 billion per year is a great contribution to the economy, consider the costs of damage from alcohol misuse.
In 2010, alcohol misuse cost the United States $249 billion. The infographic below, taken from the Centers for Disease Control and Prevention's website, shows how alcohol drains various sectors of the economy from health care to workplace productivity.
Such staggering figures might cause you to consider alcohol to be a societal problem, but you might still be questioning whether it's a problem for you. Let's take a look at alcohol use from a health and lifestyle point of view.
What happens to your body when you stop drinking?
Compared to other controlled substances, alcohol may seem pretty tame. Part of why we think alcohol is okay to use or even abuse regularly is due to two reasons.
First, alcohol is legal for adults. Second, liquor and beer advertisers have spent vast amounts of money marketing to consumers with clever and amusing campaigns which now come with a "drink responsibly" tagline.
At the end of the day, we all know alcohol affects most of your organs. Alcohol can cause long- and short-term damage to your brain, liver, stomach, heart, bone density, kidneys, and skin. Check out the image below from drugabuse.com for a simple summary of the extent of alcohol damage to the body.
If you're still not convinced, consider the most obvious effects of using alcohol. The old tale that you kill 10,000 brain cells every time you drink excessively isn't true, but abusive use of alcohol can result in the death of a brain neuron.
Although it takes a long time for damage to appear in the brain from alcohol abuse, every time you drink, your brain's communication tools are interrupted. These cause both short-term and long-term issues. Commonly known effects that occur from drinking over time include:
Short-term memory loss, hangovers, and blackouts
Long-term problems associated with heavy drinking, including stomach ailments, heart problems, cancer, brain damage, serious memory loss, and liver cirrhosis
Increased chance of death in an auto accident or by violence or suicide
Today, researchers estimate that alcoholism shortens your life expectancy by 7.6 years. Considering that the global average life expectancy is 62.7 years for men and 66 years for women, alcohol can reduce a person's life by about 10 percent.
Check out this video below that provides additional evidence for how alcohol causes long-term effects on the brain and body.
So after all of the evidence is presented, you may wonder what can be done. Even more importantly, how can treatment options help you not only become healthier but open up possibilities for cheaper life insurance?
How can I quit drinking?
If you're a moderate or light alcohol user, you may not be considered problematic, but you might want to keep track of your alcohol use for general health purposes.
If you're looking for a helpful tool to help you control and track your drinking, check out the Happify, Leaf, or Daybreak apps.
Depending on the app you choose, you can track your caloric intake, get a sense of how much alcohol is in each drink, and track goals and limits to ensure you avoid the problem zones.
If you regularly drink and have trouble avoiding alcohol, an app may not be enough to do the trick.
Treatment for alcoholism can begin only when the alcoholic accepts that the problem exists and decides that they want to stop drinking. They must understand that alcoholism is curable and must be motivated to change. Treatment is composed of three stages:
Detoxification is the first stage – The alcoholic may need medical attention after discontinuing alcohol use. Detoxing can result in withdrawal seizures, hallucinations, and confusion from withdrawal, known as delirium tremens.
The second stage is rehab – For most people who suffer from alcohol abuse, rehabilitation is necessary. Rehab involves counseling and medications for the recovering alcoholic to acquire the skills needed for maintaining sobriety. This step in treatment can be done on an inpatient or outpatient basis. Either can be effective depending on the patient.
The third stage is maintaining sobriety – This is arguably the most important step. It requires the alcoholic to be self-sufficient and motivated. The key to maintenance is having access to support such as a sponsor or group meetings.
If you're looking to begin the process, seeking counseling and support can increase the opportunity for you to find success.
Whatever your reasons for reducing alcohol might be, when it comes to insurance, managing alcohol use is a must if you want access to lower rates.
If you're wondering what rates you might have access to today, take a quick moment to get a free instant life insurance quote in just a few clicks.
Life Insurance With a History of Alcoholism
Insurance providers want you to live as long as possible. This is simply because the longer you live, the longer you'll pay premiums to cover the expense of any benefit paid to your beneficiaries upon your death.
To assess this risk, insurance companies conduct an underwriting process.
The underwriting process involves a review of serious risk factors including your age, gender, state of residence, and medical history.
Usually, any pre-existing health conditions will require further information. Any history of alcohol use will be factored in. If you had issues with alcohol in the past, the insurance provider will want additional information.
So, what's on the life insurance application questionnaire for recovered alcoholics?
Life insurance companies want to see that applicants with a history of alcohol abuse have (1) received full treatment, and (2) have completed regular follow-up visits according to doctor's orders. The image below lists other factors that insurers will consider to determine if you are at risk of alcoholism. Medical records will also be subject to consideration.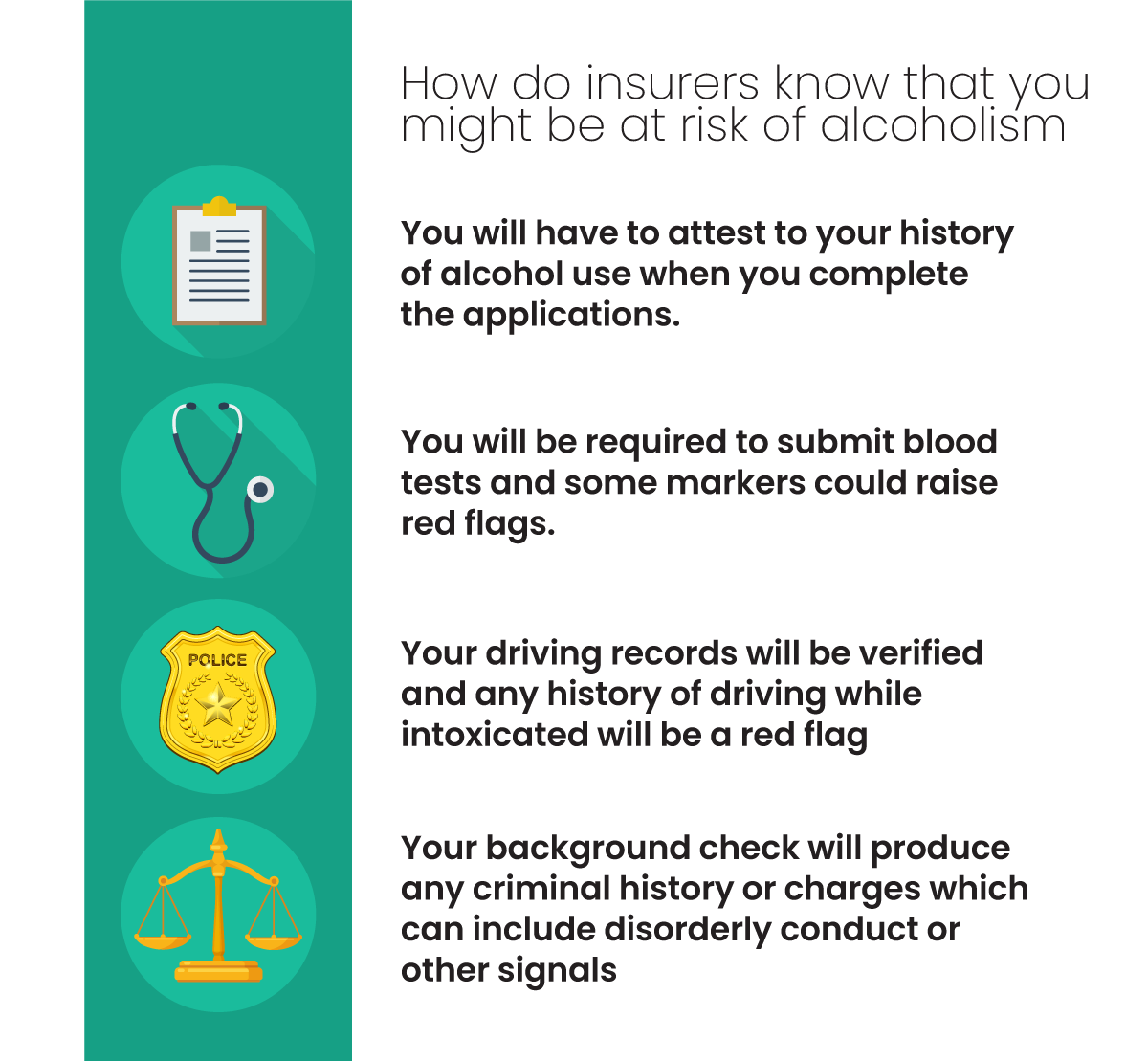 The life insurance company you apply with will be looking specifically at:
Your age at diagnosis
The amount of time since diagnosis
Elevated liver enzymes
Drinking and driving convictions
Length of time since treatment and recovery
The treatment success and adherence to treatment recommendations
Follow-up visits as recommended by a doctor
Whether you're a tobacco or drug user
Whether you've continued to drink
Any other major health problems
If you're a heavy drinker and didn't report this on your application, other warning signs could alert the insurer of increased risk. This is because insurers will try to identify your alcohol use habits through a few means:
It really doesn't pay to provide false information for your alcohol use, either. Even if you pass with flying colors on an initial application and are awarded insurance at the lowest rates, policies are written to protect the insurer from paying benefits if any inaccurate information was provided during the application process.
Your life insurance quotes are always free.
Secured with SHA-256 Encryption
What do underwriters look for?
Once you submit the questionnaire, the underwriting process begins. During this process, special attention is given to bloodwork and medical exam results.
Of course, you don't want to have any risk flags on your driving record (learn more about how your driving record could affect your life insurance here) or other alcohol-related issues that could arise from a background check.
Let's see what information each check can reveal about you.
Bloodwork & Medical Exam
As mentioned earlier, providing false information to your insurance provider, whether on your insurance application or by providing medical practitioners inaccurate information, won't work. In contrast, you don't want to do anything that might mistakenly trigger red flags about your health.
Do insurance companies test for alcohol? With a life insurance blood test, alcohol that shows up will definitely be noted. So when it comes to preparing for your life insurance medical exam, here are some best practices.
Avoid drinking for at least a week. According to American Addiction Centers, alcohol will remain in your system for a few days. To play it safe, avoid any after-work cocktails or weekend parties the week of your exam. Here are some helpful indicators for how long alcohol can remain in your system:

Alcohol can remain in your blood for up to six hours
Alcohol will remain in urine for up to 24 hours
Alcohol can remain in your hair sample for up to 90 days

Maintain a healthy diet and exercise routine. Metrics such as a higher body mass index or problems indicated in results that gauge your kidney and liver health from eating sugary foods can cause your insurance provider to worry.
If you were ever officially diagnosed with alcohol use disorder or alcoholism, keep good records for each step you take toward recovery. Attending support group meetings and providing the length of time you've been abstaining will help.
Make sure you keep track of any medications and be cognizant of using pain medications and supplements. We all have popped a few Advil® when a headache comes on, but regular use can slow down your kidneys and liver. If your medical exam produces any signs of liver damage or cirrhosis, it will be difficult to get affordable insurance.
Of course, the best thing you can do to get a great rate is to maintain a healthy lifestyle, practice techniques to maintain good mental health, and if you're in recovery, actively seek help and counseling to achieve daily success. Otherwise, you may need to evaluate getting life insurance with a medical condition.
Background Checks
It may seem somewhat invasive, but your underwriter will search to see if you have any issues with your driving record.
If you've had your license suspended or had a DUI (driving under the influence), DWI (driving while intoxicated), or DWAI (driving while ability impaired) within the last two years, you may not qualify for insurance.
However, some insurers will be willing to offer insurance at substandard rates after two to five years have passed with no further offenses.
If you've had a DUI over five years ago and can show a history of abstinence from any alcohol or illegal substances, you may even be able to qualify for standard or preferred life rates.
Finding a good rate after getting a DUI may take some time and effort and shopping, but finding an insurer that rewards people who are successful in recovery is worth it.
What do the ratings mean?
Insurance companies will typically group you into a class or rating pool. For most people with any issues from alcohol use, whether health-related or related to criminal or driving offenses, qualifying for the best rating pool won't be possible.
Typical rating classes break out into three categories.
Preferred Plus – This is the premier rating pool with the lowest offered rate. To qualify, you're considered to be in great health with no medical for family history of medical issues.
Preferred – This category is reserved for people in good health that might have had previous health issues or a family history that might be cause for concern later on.
Standard Plus – This category is for people with some current or expected health concerns. For instance, a tobacco user is expected to have complications from smoking in the future. They would qualify for this rate, but it would be much more expensive than preferred or preferred plus rates.
If you've had alcohol-related issues, time will be your friend. The further in time you are from those problems, the better the rating you get.
Getting the Best Life Insurance Rate After Quitting Alcohol
If you've been flagged as a heavy alcohol user by your insurance company, you'll be subject to a higher rate pool. That's because alcoholism often manifests as a fatal disease, However, life and health insurance for recovering alcoholics can be lowered. If you stop using alcohol, you can produce certain indicators that might help your insurance provider reconsider your risk.
Some of the metrics you'll need to pay attention to are:
Overall weight loss and improved general health
Healthy blood work and organ function
History of counseling and support attendance if applicable
If you have high rates because of a DUI or number of DUIs, time is the only cure. It may take as much as 10 years without any additional infractions for an insurance company to consider offering you a reduced rate.
If you've had some time pass after a DUI, shop around to different insurers or work with a good insurance agent. Some providers may be more willing to provide a reduced risk rate than others.
Of course, the best way to keep your rates low is to avoid alcohol altogether or use alcohol only in moderation.
Your life insurance quotes are always free.
Secured with SHA-256 Encryption
How can I prepare for a term life insurance application if I'm a recovered alcoholic?
If you are in full recovery from alcoholism, there are important measures you can take to prepare yourself before applying for term life insurance. Doing so will help your chances of getting approved for the best rating class possible.
Since you'll most likely need to complete an application and a medical exam, following the tips below will help you prepare to get the best rates:
Have all doctors' names, addresses, and phone numbers available.
Make sure your doctor has copies of all records regarding the treatment, reports, and follow-up reports.
Have a list of all medications and their dosages available.
Don't skip any follow-up visits with your doctor.
Maintain an overall healthy lifestyle that includes diet and exercise.
If you enjoy drinking, maintain your consumption threshold.
Remember, having a few drinks can easily become having a few too many drinks.
Once you submit your information, the insurance companies will conduct their due diligence. In the end, getting a better rate will come down to the usual risk factors, and your ability to prove your sobriety.
Term Life Insurance for Alcoholics: The Bottom Line
The good news about applying for life insurance when you suffer from alcohol addiction is: yes, you can qualify for coverage! The bad news is the approval and rating class can be very unpredictable and subjective.
However, if you follow the advice we've provided and, more importantly, discuss your situation with your life insurance agent or broker, you can have a positive outcome.
And remember, if you aren't pleased with the offer you receive, you can always try with another company or put the policy in force and work on improving the rating class through better control and lab results.
Finding quality insurance requires some time and effort. If you're trying to find good insurance after having trouble with alcohol, you'll probably run into more than a few hurdles. You might even be tempted to put off shopping for insurance for a while.
That's not a great idea. The longer you wait to shop for insurance the more you can expect to pay. Rates go up as you get older.
So what are you waiting for? Get started comparing term life insurance for recovered alcoholics right now with our FREE quote tool here and get an instant quote in minutes.
Frequently Asked Questions: Term Life Insurance for Alcoholics
#1 – Does life insurance cover alcohol deaths?
Life insurance and alcohol deaths don't always mesh. If the policyholder dies in a car accident while drinking and driving, the life insurance policy will become void. Also, not disclosing health conditions can have your life insurance claim denied. Alcohol and drug addictions are considered health conditions.
#2 – Can I get term life insurance if I'm an alcoholic?
Yes, you can qualify for term life insurance if you suffer from alcoholism. However, your rates will most likely be very high.
References: