Gerber Life Insurance Review
Gerber isn't just about baby food. Our Gerber Life Insurance review discusses the types of life insurance plans the company offers, including The Gerber Life Grow-Up Plan and Young Adult Plan that provides life insurance for children and teens. Use our free calculator below to compare Gerber life insurance quotes against the competition.
Ready to compare quick life insurance quotes?
Your life insurance quotes are always free.
Secured with SHA-256 Encryption
UPDATED: Jul 19, 2021
It's all about you. We want to help you make the right life insurance coverage choices.
Advertiser Disclosure: We strive to help you make confident life insurance decisions. Comparison shopping should be easy. We are not affiliated with any one life insurance company and cannot guarantee quotes from any single company.
Our life insurance industry partnerships don't influence our content. Our opinions are our own. To compare quotes from many different life insurance companies please enter your ZIP code above to use the free quote tool. The more quotes you compare, the more chances to save.
Editorial Guidelines: We are a free online resource for anyone interested in learning more about life insurance. Our goal is to be an objective, third-party resource for everything life insurance-related. We update our site regularly, and all content is reviewed by life insurance experts.
Key Info
Company Specifics
Year Founded
1967
Current Executive
CEO – Keith O'Reilly
Number of Employees
500+
Total Sales / Total Assets
$4,700,000,000 / $51,800,000,000
HQ Address
445 State St.
Fremont, MI 49412
Phone Number
1-914-272-4000
Company Website
www.gerberlife.com
Premiums Written – Individual Life
$471,600,000
Financial Standing
$721,247,000 or +16.19% from Previous Year
Best For
Baby Boomers
#blank#
Buying life insurance can be stressful and confusing. There are many questions to ask yourself when beginning to look into life insurance.
Gerber Life is an insurance company that offers various types and plans for life insurance. This article will look into Gerber Life a little more deeply.
This article will be especially useful if you're asking yourself questions such as:
Do I need life insurance?
How long will I need insurance?
What's the difference between term and whole life insurance?
Regardless of the life insurance company you're interested in, it's always a good idea to shop around and try to find the best deal you can.
Don't wait! Click on our FREE quote tool above to get started.

Gerber Life's Ratings
If you're not sure if a company is legitimate or reliable, you can check company ratings to help you find information and determine if you should trust them.
| Ratings Agency | Gerber Life's Rating |
| --- | --- |
| A.M. Best | A |
| Better Business Bureau (BBB) | A+ |
| NAIC | 0 |
| | #blank# |
There are a variety of rating companies that you can refer to.
A.M. Best
A.M. Best has its own rating system called the Best Financial Strength (FSR) Scale. A.M. Best has rated Gerber Life with an A.
According to A.M. Best's FSR, an A- or higher is considered a ranking of Excellent.
This means that A.M. Best believes the company will meet continual and long-term insurance needs.
A.M. Best determines its ranking by statistical and written research. Its objective is to test the strength of the company, the nature of its security, and its performance.
Better Business Bureau (BBB)
The Better Business Bureau (BBB) has its own rating system as well. It includes ratings from A+ to F. The BBB uses information gathered from business complaints. It also uses public and business data sources.
The Better Business Bureau has rated Gerber Life an A+.
The BBB uses a 100-point scale and then gives letter grades depending on the rating range. For example, if a company scores between 97 and 100, like Gerber Life, then their rating would be an A+.
The way that points are lost depends on many factors. Ratings can drop because of the number of complaints in comparison to the size of the company. They also judge how timely and satisfactorily complaints are dealt with, as well as the age of the complaints.
The length that the company has been operating, its transparency, and the misuse of BBB ratings can also lower ratings.
NAIC Complaint Index
The NAIC Complaint Index has rated Gerber Life with a zero for their Company Complaint Index.
The National Complaint Index is always based at 1.0. The Complaint Index compares one company with other companies that are also in the market.
If the index is above 1.0, then the company has a higher-than-average number of complaints than the median. The Company Complaint Index is found by dividing the company complaints by the company's share of premiums in the market.
The NAIC Complaint Index's rating of zero is below average.
There are many different credit rating systems. Comparing different ratings will give you a comprehensive and thorough look at the company's complaint history.
Your life insurance quotes are always free.
Secured with SHA-256 Encryption
Company History
Gerber Products Company was started in 1927. Daniel Frank Gerber owned the Fremont Canning Company in Fremont, Michigan, and a pediatrician suggested that Gerber's wife, Dorothy, should strain solid foods for their baby.
Dorothy realized that this could be done easily at the canning factory. Plant workers started to ask for samples of the baby food and their popularity began.
Forty years later, Gerber Products Company began selling life insurance for children and adults in 1967.
In 2007, Gerber was sold to Nestle, who owned it until 2018, when they announced that it would be selling Gerber Life to Western & Southern Financial Group for $1.5 billion.
Western & Southern Financial Group leases the Gerber trademark.
Gerber Life's Market Share
The market share of a company is the total industry sales over a fiscal year divided by a company's total revenue of sales.
| Company | Market Share |
| --- | --- |
| Northwestern Mutual Life | 6.42% |
| Metlife | 6.00% |
| AARP (New York Life) | 5.68% |
| Prudential | 5.57% |
| Lincoln National | 5.36% |
| MassMutual | 4.19% |
| Aegon | 2.94% |
| John Hancock | 2.83% |
| State Farm | 2.83% |
| Minnesota Life | 2.70% |
| Western & Southern Financial Group (Gerber Life) | 0.93% |
| | #blank# |
Western & Southern Financial Group is the parent group of multiple life insurance companies and specializes in the life insurance industry. As of 2018, they had a market share of close to 1 percent.
Gerber Life's Position for the Future
Gerber Life's position for the future looks promising and stable.

Financial Category
2016
(in Billions)
2017
(in Billions)
2018
(in Billions)
Assets Owned and Managed
$66.7
$74.8
$75.1
Total Equity
$8.3
$9.2
$8.8
Life and Health Premiums and Annuity Deposits
$3.2
$3.4
$4.3
Net Income
$387.7
$620.7
$721.2
#blank#
#blank#
#blank#
Company financials show that Western & Southern Financial Group did exceptionally well in 2018. That's the same year the company acquired Gerber Life.
It's logical to assume the company's financial increases are partly because Western & Southern Financial Group acquired Gerber Life.
Gerber Life has most of their portfolio in high-quality investments to ensure that they have a financially stable and long-term company plan.
Gerber Life's Online Presence
In more recent years, technological advancements have heavily influenced the way companies interact with their customers and how they market. Social media and a company's online presence are great ways to check out a company and see how the public perceives them.
Gerber Life's Facebook page has a rating of 4.6 out of 5. It is recommended by 329 people, and they have 1,150,543 likes. There are also reviews from customers to give them an idea of how other customers feel about the company. They add posts about twice a week.
Gerber Life's Instagram profile has 556 posts and about 13,400 followers.
Their LinkedIn profile shows that they have 1,386 followers and 300 employees on the platform.
The company's Twitter account has 26,200 followers, and it posts about twice a week. Their Twitter account has been active since 2009.
Pinterest and YouTube are both heavy traffic platforms and are excellent marketing applications to market your business. Pinterest shows that there are 8,500 monthly visitors to their page, and they have 317 followers. There are many saved pins from their Pinterest boards.
The company's YouTube channel has 1,960 subscribers, and they have uploaded a total of 75 videos. They upload multiple videos a year to their channel.
Gerber Life's Commercials
Gerber Life is very proud of its history. Gerber is a family name and offers many types of insurance. The commercial below gives a brief description of the company history and some plans the company offers.
Many of Gerber Life's commercials feature young children or grandparents. This is because Gerber Life offers life insurance for infants to seniors. They also offer life insurance for grandparents who would like to purchase insurance for their grandchildren.
Gerber Life also has commercials geared toward specific insurance plans. The commercial below is an advertisement for their Gerber Life Guaranteed Life Insurance plan.
The company's commercials are very informative. They provide a phone number for potential customers to reach for further information.
Gerber Life in the Community
Western & Southern Financial Group is Gerber Life's parent company. Western & Southern Financial Group is very active in its community.
Since Western & Southern Financial Group is located in Cincinnati, they are extremely involved with helping give back to the Ohio city.
They have sponsored and donated upwards of $50 million over the past five years. They also have supported more than 300 nonprofits and organizations.
They have six title sponsorship events. These are the community groups that Western & Southern Financial Group has partnered with:
Western & Southern Open
Freestore Foodbank
Walk MS
Ride Cincinnati
Thanksgiving Day Race
Cribs of the Nativity
The Western & Southern Open raised $68 million to help businesses in the region and to help increase economic development.
The financial group also partnered with Freestore Foodbank, which raised over $1 million and provided over 300 million meals.
Seven research grants have been given through Ride Cincinnati. These grants have been benefiting cancer patients in Cincinnati since 2007.
The company has been the title sponsor for Cincinnati's Walk MS since 1992.
This walk raises money for the National Multiple Sclerosis Society to research MS. They have contributed over $2 million.
The Thanksgiving Day Race has raised more than $120,000 for 10 local charities. These charities include the Ronald McDonald House and the UC Health Barrett Cancer Center.
Their partnership with the Cribs of the Nativity raised $40,000 for the Salvation Army.
The financial group also has a foundation. This foundation and company associates donated $1.34 million to United Way in 2019.
The Artswave campaign supports over 100 arts and community organizations in the area. Associates with Western & Southern Financial Group pledged close to $300,000.
They also sponsor galleries at the Cincinnati Art Museum, the Taft Museum of Art, Music Hall, and other local art initiatives.
The company's employees also donated 377 hours of their time to build a house for a local single mother in 2019. The Spirit of Giving campaign helped support 63 families and 43 seniors in the community of the 2019 holiday season.
The company recently presented its 13th annual Dr. Lawrence C. Hawkins Educator of the Year award.
This award is given to one outstanding Cincinnati Public School Educator. This educator is chosen for the award for their dedication and focus, outstanding educational results, and personal commitment. The award was founded in 2007 by Western & Southern Financial Group.
They have also donated more than $1 million to nonprofits that promote youth development and education. This includes matching associate donations to 19 universities and colleges at Xavier University's Williams College of Business.
Gerber Life's Employees
Glassdoor, Payscale, and Indeed are all search engines for jobs that offer employee reviews as well as company outlooks. They also offer information on salaries and benefits offered by companies. Gerber Life was present on all three of these company websites.
Glassdoor gave Gerber Life a 2.7 out of 5 rating. About 32 percent of employees said they would recommend the company to a friend. The approval rating of the CEO was 100 percent.
Payscale showed that the average pay of employees was vastly different depending on what job title the employee has.
For example, account managers make a range of $21,000 to $46,000, but actuarial assistants make $71,000 to $122,000.
Indeed gave Gerber Life a 2.8 out of 5 rating overall. These ratings were found by asking employees to rate their work-life balance, pay and benefits, job security and advancement, management, and work culture.
From these reviews, Gerber Life does not quite have a three out of five rating for working for the company.
Shopping for Life Insurance
When shopping for life insurance, you need to do your research, including rates from different companies to get the best coverage. There are various aspects of life insurance that you may consider, such as:
What kind of coverage is offered?
How much coverage do I need?
What plan is best for me?
Am I high-risk and what can I do about it?
When deciding how much life insurance to purchase, you should buy a policy that will replace the amount of income you contribute that will be lost if you die. You also need to decide whether you need to replace all of your income or just a portion, and for how long.


The small calculator was provided by Gerber Life.
Coverage Offered
There are multiple types of coverage offered, but not all companies offer all types of coverage.
Types of Coverage Offered
Gerber Life offers two types of coverage: term and whole life insurance.
Term life insurance is what the length of your coverage is called. Whole life insurance is an insurance plan that will cover you for your entire life, premiums never increasing, if you pay the premiums until the maturity date.
Term
Gerber Life offers term insurance for their adult life insurance and also for their senior life insurance.
The insurance plans offer terms of 10, 20, or 30 years. The customer chooses the length of term to cover them as long as they need it.
The application is conveniently located on the company website on the Term Life Benefits page. The online application can give many customers an approval decision immediately.
Gerber Life doesn't require a medical exam for all individuals interested in their Term Life Benefits.
Medical exams are required for those who are 51 years of age and older or individuals who apply for coverage exceeding $100,000.
Gerber Life has affordable monthly plans for coverage ranging from $100,000 to $300,000. Their policies start at $15.42 per month. They offer the same coverage amount and term life for their Term Insurance for Seniors.
The $15.43 premium is based on a 20-year term life policy. This policy's coverage is at $100,000 and automatically deducted from a checking or savings account of a healthy 18-year-old female who pays with an automatic monthly payment.
Term insurance may be a good option if you're a senior.
If you're 79 years old and in bad health, then it may be more logical for you to buy a term of 10 years, and not 20 or 30.
The Gerber Life Term Life Insurance Plan webpage provides customer reviews and testimonials.
These reviews and testimonials were used by Gerber Life to rate their plans. According to Gerber Life, 83 percent of customers of the Gerber Life Term Insurance plan would recommend it.
Gerber Life gave the overall rating of the Gerber Life Term Life Insurance Plan a 4.2 out of 5. They rated their customer service, based on reviews, a 4.2 out of 5. The ease of doing business for this plan was rated a 4.3 out of 5.
Whole
Gerber Life offers a few options for whole life insurance:
Grow-Up Plan® for children 14 days to 14 years old
Young Adult Plan for children 15–17
Gerber Life College Plans
Gerber Life Guaranteed Life Insurance Plan for adults ages 50–80
Gerber Life Grow-Up Plan
The Gerber Life Grow-Up Plan® is offered to parents, grandparents, or legal guardians for children 14 days old to 14 years old.
If premiums are continually paid and paid on time, the plan will accumulate cash value. Cash value is cash that Gerber Life will set aside for its customers over time.
The Grow-Up Plan® premium does not change.
At the age of 18, the policy doubles automatically.
This means that if you had a $10,000 policy on your child, it would become $20,000 when the child turns 18. There is no extra cost associated with the policy doubling.
The plan also allows you to take a loan out on your policy if you need emergency cash so you don't have to sell and lose your life insurance.
So if you're about to lose your house, you could take a loan against the policy, and you would still have life insurance protection.
The Grow-Up Plan® has policies ranging from $5,000 to $50,000 in coverage.
Since this coverage is whole life insurance, it continues into adulthood, regardless of occupation or health. The coverage can be kept as an adult, or coverage can be added at the average adult rate.
The Gerber Life Grow-Up Plan® offers reviews and testimonials of the company by its customers.
According to the webpage, 90 percent of the Grow-Up Plan® would recommend the insurance plan. This percentage was calculated from 1,179 recommendations against 1,317 reviews.
The overall rating for the Grow-Up Plan® is 4.4 out of 5.
Their customer service is rated at 4.3 out of 5. They have rated the ease of doing business, based on reviews, at a 4.2 out of 5.
The value of the plan, for the money, is rated at a 4.5 out of 5. They have also included 34 pages of testimonials.
Gerber Life Young Adult Plan
The Gerber Life Young Adult Plan is a whole life plan for teens aged 15 to 17.
The Young Adult Plan coverage is a fixed rate and won't change as long as the teen, parent, or guardian owns the policy. Since the policy coverage does not change cost, premiums won't increase due to health or job choices.
The Young Adult plan also includes a guaranteed cash benefit. This cash benefit is protection from the unexpected.
The Young Adult plan will double coverage at age 18. The premium won't change even though the coverage has doubled.
The Young Adult Plan isn't available to apply for online. This plan is only offered by calling Gerber Life. The plan also allows for a 30-day review of the insurance policy before you pay the first premium.
There are no reviews or testimonials for this plan on the website.
Gerber Life College Plans
This insurance plan is to help pay for college. It also has the additional benefit of providing adult life insurance.
This plan isn't affected by the stock market, but it does grow over time to help pay for college or anything else.
As long as premiums are paid, the policy will pay out $10,000 to $150,000 when the policy reaches maturation.
If the insured dies before maturity is reached, then the beneficiary will receive the money.
According to Gerber Life's website, 91 percent of customers reviewed would recommend the plan to their friends. According to these same reviews, the overall rating for the plan was 4.2 out of 5 stars.
Customer service was ranked at 4.4 out of 5 stars. The ease of doing business was ranked 4.3 out of 5 stars. The value of the plan for the money ranked at 4.4.
Gerber Life Guaranteed Life Insurance Plan
The Guaranteed Life Insurance Plan is a whole life insurance plan. It allows for individuals ages 50–80 to receive benefits, and they are guaranteed approval.
This insurance does not require a medical exam, regardless of medical history.
The application for Guaranteed Life Insurance is also on the company website.
Coverage options range from $5,000 to $25,000 — except in South Dakota, where the maximum amount of coverage is $15,000.
These payments can be taken out in $1,000 increments. This policy also accrues cash value, which is cash that Gerber Life sets aside over time. The longer the individual owns the policy, the longer the cash value accumulates.
Your premium won't change unless coverage is increased or payments are changed to occur more frequently.
This life insurance plan can be used for final expenses. These final expenses include medical bills, unpaid debt, and burial costs.
The Gerber Life Guaranteed Life Insurance webpage provides ratings and testimonials of their customers, just like the Term Life Benefits page. Based on 83 customer reviews of the Gerber Life Guaranteed Life Insurance plan, 81 percent approved of the plan.
The site also offers an overall rating based on these reviews. That rating is out of five stars. They also have ratings for customer service, ease of doing business, and value for the money.
Customer service rates at 4.1 out of 5. The ease of doing business is rated at 3.9 out of 5. The site also rates customer reviews, regarding the insurance value for their money, at 4.1 out of 5.
Burial & Final Expense
Gerber Life's Guaranteed Life Insurance is adult insurance that will help cover burial and final expense costs. $225 is available to help these expenses from Social Security if you qualify. The average funeral can cost as much as $10,000.
Factors That Affect Your Rate
Many factors can affect your insurance rate. These factors include:
Demographics
Current health and family medical history
High-risk occupations
High-risk habits
Veterans or active military status
Demographics
A person's age and sex will affect insurance rates. Older individuals have higher premiums than younger individuals. This is because younger people are considered less of a risk to insure.
For example, an 18-year-old female will have lower rates than a 30-year-old male.
This is because women have lower payments on premiums than men do. Men have a higher mortality rate than women and therefore are a higher risk to insure.
Current Health & Family Medical History
Current health and family medical history can both increase your insurance rate. When applying for insurance, you'll be asked about many health factors.
One of these factors will be weight. There is a high correlation between weight and high blood pressure, high cholesterol, and chronic diseases such as diabetes. Because weight gain can lead to a higher risk of health issues, being overweight can increase premiums.
When buying life insurance with a medical condition, there are various conditions and medical issues that can increase premiums. Some of these issues include:
Heart disease
Various cancers
History of stroke
Essentially, there is the possibility of paying higher premiums if you have conditions that the insurance company believes they will have to pay for.
If you're a 60-year-old with cancer, then you are a higher risk to insure than a 40-year-old without any chronic illnesses.
If you're adopted and don't know your medical history, the insurance company will base your application on your medical history alone.
High-Risk Occupations
If you have a high-risk career, that could raise the premium of your life insurance. Some high-risk careers include:
Underground miners
Aircraft pilots
Roofers
Underground miners have a high risk of cave-ins, and it's a job that does have more of a chance of getting seriously hurt or killed than an accountant.
The occupations are considered a higher risk to insure because the jobs are dangerous, thus increasing the risk of the insurance company.
High-Risk Habits
High-risk habits can make insurance rates increase. These habits include:
Smoking cigarettes or cigars
Excessive drinking
Reckless driving
Below average health
Skydiving, parachuting, bungee jumping
Smoking cigarettes or being a tobacco user will increase premiums.
The same is true for alcoholics. This is because the insurance company will be taking a higher risk of having to cover health costs in a smoker or excessive drinker.
It's also a higher risk for them to provide insurance to people who are in poor health. Some companies will expect the individual wanting to be insured to be smoke-free for a designated period of time before they can qualify for a non-smoker's rate.
If you're a 50-year-old woman who has smoked cigarettes for 40 years, then you'd have a higher premium than a 50-year-old woman who didn't smoke, given they were in good health.
Veteran or Active Military Status
If you're a veteran or active military, then you'll be considered high-risk.
Servicemembers' Group Life Insurance (SGLI) is automatically issued to military service members.
Many service members aren't aware that they can buy life insurance since they are covered by SGLI.
Veterans' Group Life Insurance (VGLI) is available to qualifying veterans and former service members. This insurance allows the former military to keep their medical insurance by continuing to pay their premiums.
Getting the Best Rate With Gerber Life
It's important to remember all of the factors that will affect your rates. If you're searching for life insurance, then there are some things you can do to try and get lower rates.
Losing weight and quitting smoking could reduce rates because you're making yourself less of a risk in the eyes of the insurance company. Also, premiums do go up with age, so the sooner you purchase life insurance and lock in a premium, the lower the rate you'll get.
Gerber Life's Programs
Gerber Life does have some programs that they make available for their clients.
Gerber Life has a Gerber Life eService available on its website. This service is a convenient payment center for customers. It offers customers the opportunity to manage their policy and pay on the website at their convenience.
They offer a Gerber Life newsletter. The newsletter is sent via email and contains exclusive offers, tips, and news.
The Customer Service Center is available 24/7 if needed.
On their website, Gerber Life has an Understanding Life Insurance section. This section provides an ample amount of information about life insurance, the kinds of insurance offered, and how to pick a policy.
They also offer a Gerber Life blog that discusses topics such as family insurance or parenting tips. The blog offers a lot of different tools, like free calculators and resources to help file your taxes.
Your life insurance quotes are always free.
Secured with SHA-256 Encryption
Canceling Your Policy
Gerber Life can't cancel your coverage as long as you keep paying your premiums.
How to Cancel
It is very easy to cancel your life insurance.
#1 – Go to Gerber Life's Website
The web address is www.gerberlife.com.


Find the heading that says "Customer Service" on the menu at the top.
#2 – Click on "Customer Service"
You will be given several options in the drop-down menu for customer service.


Scroll down the drop-down menu until you find "Contact Gerber Life."
#3 – Click on "Contact Gerber Life"
You will see a page that takes you to multiple contact options.


Here you will find the company FAQs, email information, and additional contact information.
#4 – Select a Contact Method
Here you can find contact information for:
Customer Service
Company email address
Company fax number
Company street address to write to Gerber Life

There are also direct numbers for different insurance plans.
#5 – Confirm Cancellation and Collect Cash Value If Available
Contact Gerber Life, and they'll help you cancel and determine if you have any cash value you can collect.
Your life insurance will cancel your coverage if you stop paying the premiums. While you could just stop paying, it is never advised.
One reason not to stop paying premiums is that you can still receive your cash value from the life insurance that you have collected over the years.
If you don't cancel, then you won't receive the cash value.
You can also sell your life insurance. This is called a viatical settlement. The downfall of trying to sell your life insurance is that you'll probably have to sell your policy for less and you'll have to pay commission.
How to Make a Claim
Gerber Life has two different claim numbers and addresses to send to, but only one number and address is for life insurance.
For life insurance claims, call 1-800-628-0560. This number will give you information and send your claim forms. They are open 8 a.m.–7 p.m. (ET) Monday through Friday and 9 a.m.–5 p.m. (ET) on Saturday. The claims department is closed on Sunday.
Any life forms or claims are to be sent to:
Gerber Life Insurance Company
Life Claims Processing Unit
445 State Street
Fremont, MI 49412
How to Get a Quote Online
To get a quote online, follow these nine simple steps.
#1 – Go to Gerber Life's Website
Again, their website is www.gerberlife.com.


The home page for the company looks like this.
#2 – Find the Type of Insurance That You Would Like a Quote For
Click on that heading. The heading will have options that pop up underneath it.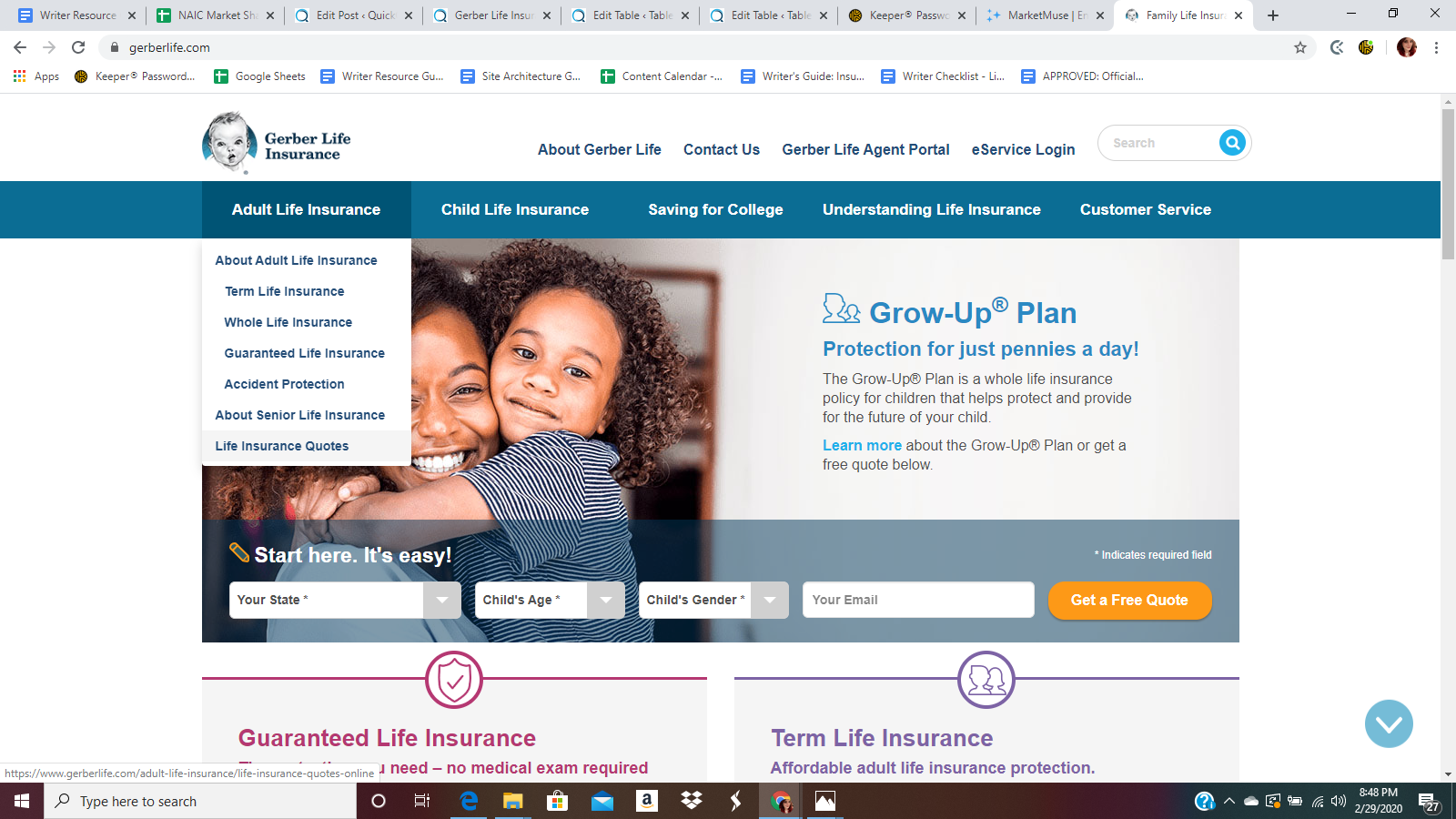 Click on Life Insurance Quotes.
#3 – Provide Your Information
You will fill your personal information out on this page.


This information will help determine the quote you will be given.
#4 – Select Your State
Now, select the state you live in. This box will allow you to scroll for the state you live in.


Click that state.
#5 – Select Your Age
Scroll through the tab until you find your current age or the age of the person you want to insure.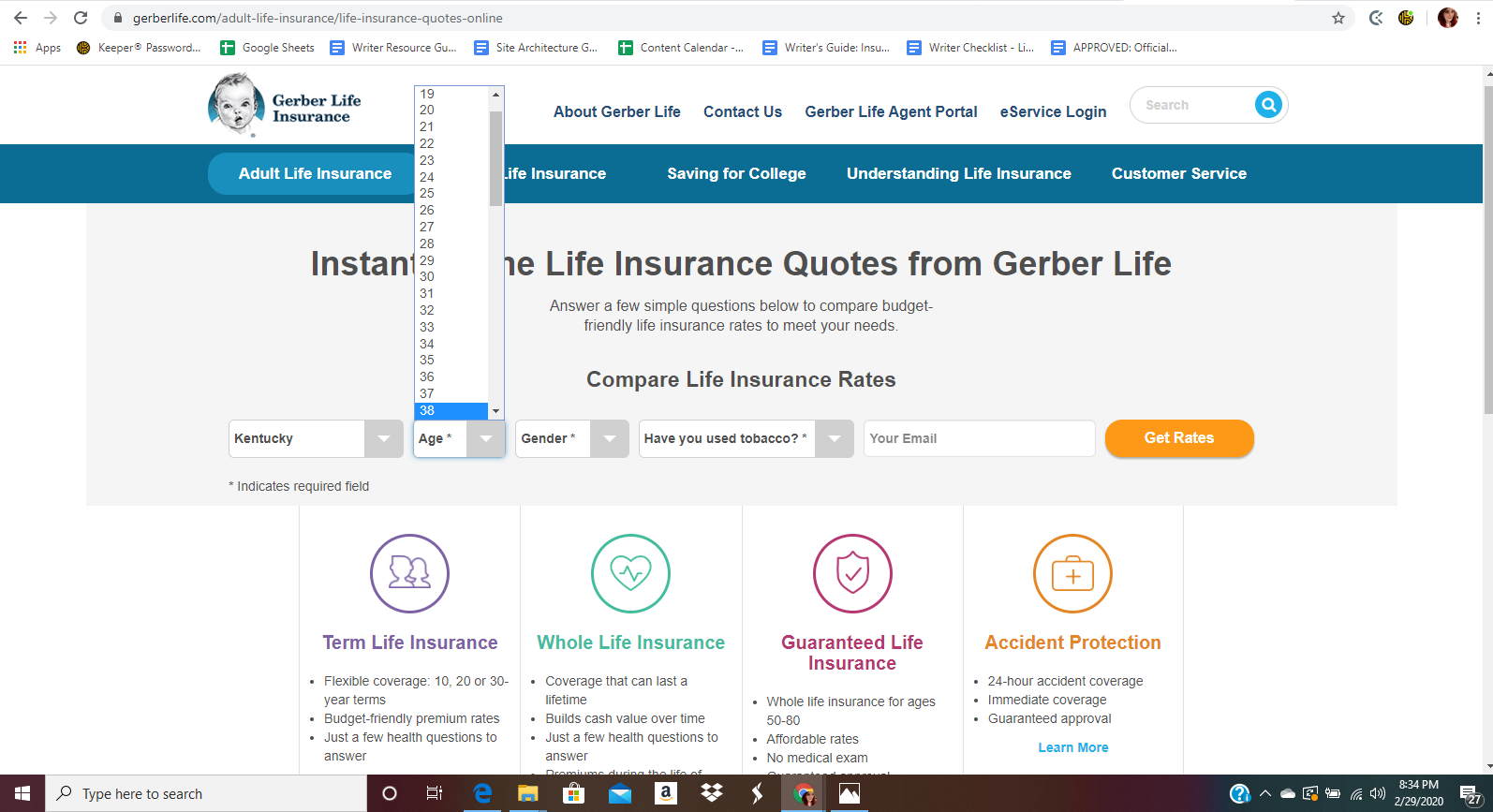 Click on the appropriate age.
#6 – Choose Your Gender
Now, choose if you are female or male.


Click the appropriate gender.
#7 – Select Your Tobacco Use
The next step is to choose whether you are a smoker or non-smoker. If you are a smoker, then you will have to answer more about your habit.


Click "No, I do not use tobacco" if you do not smoke.
#8 – Provide Your Email Address
Finally, enter your email address and press Get Rates. Click the empty blank and type in your email address.


Now, Click "Get Rates."
#9 – View Your Results
These are your quoted rates. The rates given will be from different types of insurance plans that the company offers.


You can press Learn More for more information.
Your life insurance quotes are always free.
Secured with SHA-256 Encryption
Design of Website/App
The Gerber Life company website is easy to navigate and use.
The website homepage displays different insurance plans that Gerber Life offers and also explains the different types of insurance they offer. Contact information is on the homepage and they offer email, phone, and fax options to contact them.
The applications for most of the insurance plans are online. The online applications will return with immediate approvals or denials for many individuals.
The search option on the website makes it extremely easy to find specific topics and gather information about them. The website has a large assortment of information regarding specifics for each plan.
The home page easily links to each insurance plan and is formatted to be an easy-to-navigate site.
Pros & Cons of Gerber Life Insurance
Every insurance company has pros and cons.
Pros
Gerber Life is a company that has been around since 1967 and has strong name recognition.
Most people are familiar with Gerber baby foods, and it makes them feel more comfortable using an insurance company with a name they are familiar with.
Gerber Life also has many insurance options. They offer coverage from 14 days of age to 80 years old. They also offer term and life insurance options.
Gerber Life also offers parents, guardians, and grandparents the option to lock in lifelong premiums for their children or grandchildren. This would allow coverage rates that would not increase after the child grows older and if they develop medical issues.
Cons
Gerber Life does have a few cons.
The BBB does show that there have been 88 complaints in the last three years. The type of complaints is as follows: advertising/sales, billing/collections, delivery issues. The most complaints were found in the product/service category.
Another downfall of Gerber Life is the fact that the Grow-Up Plan® and Young Adult plan seem to be identical except for the ages of individuals covered. There isn't a difference between the price of babies or infants.
The Bottom Line
Gerber Life is a stable company that has been around for decades. They are rated well, and it's projected that they should have a stable and promising future.
The company offers various affordable life insurance coverage plans. There are plans available for families and for all ages of life.
Don't wait! Click on our FREE quote tool below to get started.
Your life insurance quotes are always free.
Secured with SHA-256 Encryption
Gerber Life Insurance FAQs
Here are additional questions and answers about Gerber Life.
#1 – Can I add additional coverage to my life insurance?
Yes, you can. Gerber Life offers multiple coverage additions. These are called riders. Gerber Life has these riders available:
Return of premium rider – Allows a person to get their money back if they live past the end of their term
Accidental death rider – Gives extra coverage if your death is because of an accident
Critical illness rider – Requires the policy to pay a lump sum if you are diagnosed with a critical illness
Term conversion rider – Allows a person to convert a term life policy to a whole life without the need of a medical exam
Disability income rider – Allows a person to collect payments regularly from the policy if they cannot work due to disability.
#2 – Will my family have to pay taxes on the policy when I die?
No. The proceeds that your family receives from your insurance policy when you die get a federal income tax-free benefit. There is a possibility they may use the money as part of your taxable estate, and you'll have to pay estate taxes.
#3 – What happens during the underwriting process?
Underwriting is the process in which the insurance company accesses your personal information, financial status, but more importantly, your health, to determine how much of a risk you are and how likely you are to die during your policy. See guidelines here: Life Insurance Underwriting Guidelines.
#4 – Will I have to take a medical exam?
If you buy a Guaranteed Life Insurance Plan from Gerber then you won't have to have a medical exam. It's guaranteed for individuals who are ages 50–80.
#5 – What is a graded death benefit limitation?
The graded death benefit limitation is applied to the first two years of coverage of when the policy is issued.
If a death happens within the first two years of the policy for any reason that isn't an accident, then the beneficiary will be paid all premiums plus 10 percent interest. If the death is accidental and within the first two years of the policy, then the beneficiary will get paid the full death benefit.
The first two years are considered a grace period.
If the insured party dies after the first two years of the policy for any reason, then the entire face amount of the policy will be paid to the beneficiary.
If the person insured dies by suicide within the first two years of the issue date, then the premiums paid for the policy, and 10 percent less of any debt that's against the policy will be given to the beneficiary.
#6 – What happens if I want to change my beneficiary?
If you need to change your beneficiary then you can easily do it at Gerber Life's website.
The form allows you to easily update your information.


Just fill it out online and press Click Here to Continue.
#7 – How does the Gerber Life College Plan differ from a 529 plan?
The Gerber Life College Plan isn't a savings plan, but an individual endowment policy. This policy will mature in 10–20 years, which is a choice you make.
The Gerber Life website defines an endowment policy as a life insurance contract that pays out a lump sum of money upon the policy's maturity or upon the death of the insured person (such as a parent).
This essentially means that with the Gerber Life College Plan, when the policy reaches maturation, it will pay out a lump sum of money. It also has a life insurance policy attached and all of its advantages.
A 529 Plan is a qualified tuition plan.
That means that it is sponsored by entities such as:
State agencies
States
Educational institutions
The insured party either has a prepaid tuition plan or a college savings 529 plan.
The prepaid tuition plan allows the insured party to purchase credits from participating educational institutions. They help save on room and board expenses, but most of these plans have residency requirements.
The college savings plan is a savings account opened on behalf of the child, also known as the beneficiary. There are different investment options, such as:
Mutual funds
Bonds
Stocks
Age-based portfolios
Once the beneficiary reaches college age, investments automatically switch to more conservative investments.
#8 – If I have to take a loan out against my policy, will I get charged?
Whenever you take a loan out on your policy, you'll be subject to pay an 8 percent interest rate.
#9 – If I change jobs or get sick, will my premium change?
If you buy a whole life insurance policy, then your premiums will lock in and they will never change, as long as you pay consistently and on time.
#10 – What happens if I cannot pay my premiums?
Any time that you may think that you need cash or cannot pay for your premiums, then contact the company. Gerber Life may be able to pay your premiums from your cash value if you talk to them.